DVDizzy.com | DVD and Blu-ray Reviews | New and Upcoming DVD & Blu-ray Schedule | Upcoming Cover Art | Search This Site
Bad Lieutenant: Port of Call New Orleans DVD Review
The Bad Lieutenant: Port of Call - New Orleans

Theatrical Release: November 20, 2009 / Running Time: 122 Minutes / Rating: R

Director: Werner Herzog / Writer: William Finkelstein

Cast: Nicolas Cage (Terence McDonagh), Eva Mendes (Frankie Donnenfield), Val Kilmer (Stevie Pruit), Alvin "Xzibit" Joiner (Big Fate), Fairuza Balk (Heidi), Shawn Hatosy (Armand Benoit), Jennifer Coolidge (Genevieve), Tom Bower (Pat McDonagh), Vondie Curtis Hall (Captain James Brasser), Brad Dourif (Ned Schoenholtz), Irma P. Hall (Binnie Rogers), Denzel Whitaker (Daryl), Michael Shannon (Mundt), Shea Whigham (Justin), Lucius Baston (Midget), Tim Bellow (Gary "G" Jenkins), Joe Nemmers (Larry Moy), JD Evermore (Rick Fitzsimon), Lauren Swinney (Antoinette), Nick Gomez (Evaristo Chavez), William Finkelstein (Dave Jacobs), Sam Medina (Andy), Lance E. Nichols (Jeremiah Goodhusband), Tony Bentley (Hurley), Jeremy Aaron Johnson (Yasco), Gary Grubbs (Chief of Police), J. Omar Castro (First Narcotics Detective), Kerry Cahill (Second Narcotics Detective), Noel Arthur (Renaldo Hayes)
Buy from Amazon.com: DVD • Blu-ray
The existence of The Bad Lieutenant: Port of Call, New Orleans raises a number of head-scratching questions. Such as: How did acclaimed, selective German director Werner Herzog (primarily a documentarian in recent years)

come to direct a quasi-remake of Harvey Keitel's third best-known 1992 film? And how did he do it with Nicolas Cage and his Ghost Rider love interest Eva Mendes, without anyone noticing?

Besides its title and living up to it, this Bad Lieutenant doesn't have much in common with the earlier drama directed by Abel Ferrera. Cage plays Terence McDonagh, a police detective not in pre-Giuliani New York but in post-Katrina New Orleans. In the opening scene, McDonagh jumps into some neck-high water to save a prisoner destined to drown. That jump does permanent damage to McDonagh's back and the strong pain medication he needs puts him on the path to "bad." The "lieutenant" part follows, as McDonagh is promoted from sergeant.

For his first assignment with the new title, McDonagh is picked to supervise the investigation of a gruesome homicide. A family of five African immigrants, young kids and all, is found murdered execution-style in their home. The shootings appear to be drug-related and once the sales territory of the deceased target is determined, the police turn their attentions to fellow dealers.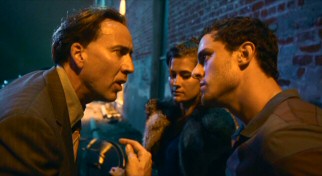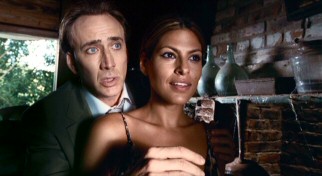 This film isn't merely a procedural crime drama, though, because McDonagh is plagued by a number of character defects that are given notice and repeatedly intertwine with his professional life. This antihero shares many vices with Keitel's unnamed cop from the earlier film, high among them cocaine and sports gambling. McDonagh has a history of secretly pocketing confiscated drugs from the department property room. He's also wont to stop couples leaving nightclubs in hopes of scoring some hits and maybe something extra.
The few people that are in the lieutenant's personal life do not appear to be positive influences. His girlfriend Frankie (Mendes) is a high-priced call girl who's always ready to get into whatever controlled substances he has on hand. McDonagh's father (Tom Bower), a retired cop evidently still respected, is hitting the sauce and that's according to his boozy mess of a second wife (Jennifer Coolidge).
While trying to pin the slaughter on a drug kingpin known as "Big Fate" (rapper Xzibit, whose handle gets dropped into his birth name Alvin Joiner), McDonagh keeps visiting his bookie (Brad Dourif) to bet more money on college football spreads. He gets saddled with both a critical teenage witness (Denzel Whitaker) and his father's dog whose name he can't remember. He also clashes with some important people, piquing the interest of internal affairs and getting him re-assigned to that tempting property room.
Three days before seeing this, I watched Harvey Keitel's Bad Lieutenant. That film, one of the handful that have dared to go to theaters with an NC-17 rating, was gritty and striking. You never for a second doubt Keitel as being, basically, evil incarnate. The actor truly committed to the part, plunging himself into an exploration of the depths of darkness and the potential of redemption. Playing a similarly corrupt officer, Nicolas Cage comes across as simply putting on airs of badness and addiction.
That isn't as big a problem as you might imagine, though, because I think it's just about impossible to classify Port of Call as anything but a dark comedy. Cage is often hilarious and too often for Herzog not to have intended it. Figuring out where this humor comes from may be the most stimulating exercise the film inspires. Is it because Cage has become ubiquitous, his limited characterization range put on display and critically assaulted every few months? That might be part of it, as he finds himself in something potentially lasting for a serious scholastically-dissected filmmaker. It's an amusing notion. It's also an amusing part, one that is filled with precious moments that, extracted from context and edited together, would make for a YouTube clip as pleasurable as the Wicker Man remake montage viewed over 2 million times. Seeing gray-suited Nic Cage take crack pipe hits, crack jokes in the face of death, wave his gun around, and for a stretch of 15 minutes talk like he just received a Botox injection is as funny as anything cinema offered in 2009.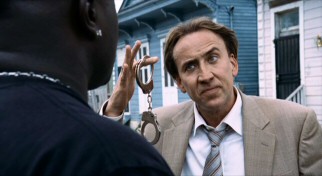 Praising the comedy of a film with such dead-serious poster and cover art might make you think that I enjoyed it in a way different than intended. (Speaking of that DVD cover art, if that tagline -- "The Only Criminal He Can't Catch is Himself" -- doesn't make you chortle, try playing find the "A Film by Werner Herzog" credit; you may need a microscope.)

But any movie that spends multiple minutes with an alligator and two iguanas in focus clearly has a sense of humor. Still, this is no farce. It is less intense and more accessible than the Ferrera drama, but the nicely-constructed treatment of the investigation sustains interest alongside McDonagh's absurd but believable descent.

Three of Cage's most recognizable co-stars claim a paucity of screentime in nonetheless pivotal roles. Val Kilmer plays the lieutenant's partner, who disappears for the bulk of the film but is there at the start and end. Fairuza Balk gets two scenes as a transferred colleague who thinks she's seducing McDonagh. And Revolutionary Road Oscar nominee Michael Shannon is a cop who finds it difficult to disassociate with McDonagh's evidence-pilfering.

Port of Call marks the theatrical screenwriting debut for William Finkelstein, a 20-year veteran of TV crime shows including "L.A. Law", "Law & Order", "NYPD Blue", and "Cop Rock."

The longer I study the movie industry, the less irony I find. For example, Cage's best-reviewed film in years ends up being by far his least distributed star vehicle and one of his all-time lowest-grossing releases as well. The same freedom that truly independent studios offer filmmakers becomes an obstacle to widespread consumption. The Bad Lieutenant's independent studio, First Look, brings it to DVD and Blu-ray next Tuesday.
DVD Details

1.85:1 Anamorphic Widescreen
Dolby Digital 5.1 (English), Dolby Stereo 2.0 (English)
Subtitles: English for Hearing Impaired, Spanish
Not Closed Captioned; Extras Not Captioned or Subtitled
Release Date: April 6, 2010
Single-sided, dual-layered disc (DVD-9)
Suggested Retail Price: $9.99 (Reduced from $28.98)
Black Keepcase
Also available on Blu-ray Disc ($29.98 SRP $14.99 SRP)
VIDEO and AUDIO
Bad Lieutenant looks as good as any new film, as its DVD's 1.85:1 anamorphic widescreen picture satisfies in clarity, cleanliness, and detail. The Dolby 5.1 soundtrack gets noticed in only a few places, but it is sufficient throughout. A basic English stereo track is also offered.
BONUS FEATURES, MENUS and PACKAGING

A modest collection of extras begins with a "photography book" compiling over 100 color stills shot by the director's wife, Lena Herzog. Noticeably more artistic than your typical publicity and continuity photos, these compositions include a few behind-the-scenes and location shots but mostly capture in-character moments.

Next and most significant comes "The Making of Bad Lieutenant: Port of Call New Orleans".

This 31-minute documentary moves us through filming chronologically. We get a few interview remarks from Herzog and Nicolas Cage, but most of it takes a fly-on-the-set approach that conveys a sense of the actual production process. Among the highlights are the highway alligator being prepped, Val Kilmer's interrogation rehearsal, Cage fumbling his way through a Bill Murray Tootsie quote, and the aftermath of Herzog getting bit by an iguana. This may test some viewer's patience, but in most ways it's preferred to a glossy press-ready piece.

Finally, we get not one but two theatrical trailers for Bad Lieutenant: Port of Call. An "Alternate Trailer" (2:08) establishes the cast of characters. The Cage-centric standard trailer (2:30) appears on the Previews menu alongside the individually-accessible disc-loading trailers for Triangle, Double Identity, Veronika Decides to Die, and Polar Storm.

On the DVD's animated main menu, a montage shares the screen with a New Orleans skyline and Cage and Mendes' cover head shots.
CLOSING THOUGHTS

The Bad Lieutenant: Port of Call New Orleans was chosen by Roger Ebert as one of the twenty best films of the recently-concluded decade. While I can't summon anywhere near that much enthusiasm for this, I can definitely call it interesting. The title invites an understanding and comparisons that don't really fit, but Werner Herzog's film merits consideration of its own. Boasting hallucinatory reptiles, a harmonica-fueled shootout, and an utterly unhinged Nicolas Cage performance, Bad Lieutenant entertains most frequently as a dark comedy trip. With a fine feature presentation and an adequate making-of featurette, First Look's DVD meets expectations without exceeding them.

Related Reviews:
New: Breaking Bad: The Complete Second Season • An Education • The Men Who Stare at Goats • The Princess and the Frog
Starring Nicolas Cage: Knowing • Ghost Rider • Con Air • Next • National Treasure • National Treasure: Book of Secrets • G-Force
Eva Mendes: The Spirit • The Wendell Baker Story | Fairuza Balk: Return to Oz | Michael Shannon: Revolutionary Road
Xzibit: The X-Files: I Want to Believe | Jennifer Coolidge: Gentlemen Broncos | Brad Dourif: Child's Play (Chucky's 20th Birthday Ed.)
Deja Vu • Life on Mars: The Complete Series • Gone Baby Gone • No Country for Old Men • A Serious Man
COPS: 20th Anniversary Edition • The Curious Case of Benjamin Button • Hot Fuzz • Primal Fear (Hard Evidence Edition)

DVDizzy.com | DVD and Blu-ray Reviews | New and Upcoming DVD & Blu-ray Schedule | Upcoming Cover Art | Search This Site

DVDizzy.com Top Stories:


Reviewed April 1, 2010.



Text copyright 2010 DVDizzy.com. Images copyright 2009 First Look Studios, Saturn Films, Millennium Films, Polsky Films, Osiris Productions, Edward R. Pressman Productions.
Unauthorized reproduction prohibited.