Review by Aaron Wallace

After several successful seasons on the televised variety series that brought them fame, Jim Henson's Muppets closed out the 1970s by taking a big screen turn in The Muppet Movie, with results even more winning than that of "The Muppet Show." Two years later, they returned to the box office with even more of their uniquely charming humor in The Great Muppet Caper.

In this excursion, the Muppets return to their roots as they attempt to produce a movie starring themselves but are repeatedly foiled in the eyes of all but the home audience. The self-referential, sometimes self-deprecating humor

that is the Muppets' hallmark therefore returns in full force, though it's all in service of the greater story: a spirited crime-fighting adventure. As is often the case with iconic characters, the line distinguishing Kermit the actor from Kermit the character is blurred, to amusement's benefit. He's joined by best buds Fozzie Bear and Gonzo in playing a trio of investigative journalists (also named Kermit, Fozzie, and Gonzo) looking for their big break.

That break comes when famed fashion designer Lady Holiday (Diana Rigg) reports that her prized jewels have been stolen. The three reporters catch an immediate flight to London (to Italy, actually, but they exit where they need to) to catch the thieves for Lady Holiday, who is preoccupied with an impending show that has prompted her to take on an extra hired hand in her office: secretary and aspiring model Miss Piggy. Of course, it's only a matter of time before paths cross for the frog and pig, and while Piggy's "real-life" adoration for Kermit still is not reciprocated, the characters in their movie fall for one another.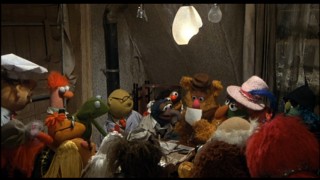 While the tone and personalities found in "The Muppet Show" are alive and well in The Great Muppet Caper, the format and formulas of that show are not. This well-realized production stands on its own as a wholly lovable film that will score just as many laughs from those who've never before encountered the Muppets (whoever those uncommon and unfortunate individuals in this day and age may be) as it will from the fans who have seen it time and time again and found that it never grows old. The narrative is nicely structured, never lingering on one subplot for too long and holding viewers' steadfast interest. The Muppets' particular brand of humor is one that is laugh-out-loud funny here and there but is consistently amusing in the way that clever dialogue, witty wordplay, and gentle irreverence always are. Though aptly rated G, it flirts with the PG boundary just enough to be edgy while remaining wholesome.
Audiences rarely notice that their primary entertainers are not living, breathing human beings, but puppet hybrids controlled and voiced by someone else. That's partly due to a talented supporting human cast, but the bulk of the credit belongs to the folks behind the Muppets themselves, who are able to near-literally bring these creatures to life. Viewers who suddenly remember that the stars are not alive during the course of the film are likely taking notice only because of impressive "Muppeteering" that shows itself off in ways even "The Muppet Show" did not.
Only an inept review would put a Muppet movie in the spotlight and not discuss cameos or music, both staples of the franchise. John Cleese, first season "Muppet Show" host Peter Ustinov, Jim Henson himself, one of his other creations, and a host of now-forgotten celebrities provide the former, while an exuberant soundtrack of grand musical numbers provide the latter. From the opening "Hey, A Movie!" (a personal favorite that harkens back to the Hollywood of old) to the comical "Happiness Hotel" (an ode to the make-shift inn that houses many of the Muppets) to the Oscar-nominated "The First Time It Happens" (one of the movie's most elaborate), The Great Muppet Caper is as fun a musical as they come.
The story, humor, and music all hold up to this day and while modern audiences may find the picture dated in appearance, everything else feels fresh. As with most Muppet ventures, one is hard-pressed to walk away unhappy, and it's that kind of feel-good, endearing warmth that has enabled their longevity.
In 1955, Walt Disney opened the doors to Disneyland and Jim Henson introduced the world to a little green frog named Kermit. Both celebrate their 50th anniversary this year. The Great Muppet Caper is only one of Kermit's many classic works. Fast forward from its premiere through 24 years, four more theatrical films, a handful of television specials, theme park attractions, and an acquisition by the Walt Disney Company, and four reissues of Kermit's greatest silver screen moments make their way to DVD this Tuesday to celebrate his golden birthday. Columbia Tri-Star Home Video released this same movie on DVD a few years back with mediocre but acceptable treatment, but this marks the first time its been stamped with the Disney logo. How much difference a new distributor makes is outlined below.
DVD Details

1.85:1 Anamorphic Widescreen,
1.33:1 Reformatted Fullscreen
Dolby Digital 5.1 (English)
Dolby Surround 2.0 (French)
Subtitles: English; Closed Captioned
Release Date: November 29, 2005
Single-sided, dual-layered disc (DVD-9)
Suggested Retail Price: $19.99
White Keepcase
VIDEO and AUDIO
The Great Muppet Caper is presented in anamorphic 1.85:1 widescreen that matches its original aspect ratio and simultaneously in pointless pan and scan that serves to attract few, if any, additional consumers and waste plenty of disc space. The opening credits segment might scare some, as the transfer is terribly grainy, but fortunately that improves shortly thereafter. Some scenes suffer from a few artifacts and just how much grain shows up varies from one scene to the next. The original footage is a quarter-century old and wasn't of the highest quality to begin with, so stellar appearance isn't expected. With that in mind, the transfer on this disc is acceptable, though Disney has proven that they are capable of the kind of extra effort that would have resulted in a more polished presentation.
How does this compare to the 2001 Columbia TriStar DVD release? Even dropping a couple of two-channel soundtracks as Disney has done, these new transfers offer an average bitrate nearly 1 Mb/s lower than before simply by putting them both on the same side of the disc. This tightened compression doesn't matter, though, as there is next to nothing in the way of detectable difference. The film remains about as grainy as it did in its first DVD incarnation, with Disney's transfer offering extremely minimal improvement at best. Print flaws remain present in the same places, and so on.
| | |
| --- | --- |
| | |
| Screencap from Columbia TriStar's 2001 DVD release | Screencap of same frame from this 50th Anniversary DVD |
This comparison illustrates how similar the transfers on Columbia TriStar's 2001 DVD and this new 50th Anniversary Edition DVD from Disney are. You'd be hard-pressed to point out any differences (with still frames, at least) at this size or even at full 720 x 480.
The Dolby Digital 5.1 Surround soundtrack is less satisfying than the visuals, as it sounds flat and sometimes muffled. Almost all sound comes directly from the center channel and nowhere else, although occasionally the rear speakers will join in for a passing car or barking dog in the park. The exception to this lies in the music. Sweeping segments of score make use of all the speakers but sometimes come out with too much volume, so remotes may need to be kept at the ready. The enveloping songs are the one area in which one is really grateful for the 5.1 track, though they, too, could use some polishing. The French 2.0 track sounds better for everything but the musical numbers and having that mix available in English would have been appreciated. Hopefully Disney sees fit to release a remastered soundtrack for this film in the near future.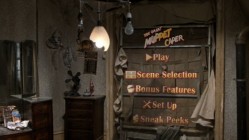 BONUS FEATURES, MENUS, and PACKAGING

Disney goes through phases when it comes to bestowing DVD treatment, and lately, they seem to be in a rut of delivering underwhelming presentation of films and TV shows that deserve much more. This is the very kind of release one would expect to be seen as an important one, especially given the "Anniversary" tag that means so much in the world of home video. So naturally, there are two audio commentary tracks (one from the people behind the scenes and one from the Muppets themselves), retrospective interviews, a making-of documentary, a brief Kermit biopic, and theatrical trailers.... Or, there's none of that, and actually only one bonus feature that doesn't amount to much of anything. Sadly, the latter scenario is the case.

"Pepe Profiles Present - Miss Piggy: The Diva Who Would Not Be Denied" (5:40) is the kind of thing that one sees on the Disney Channel, enjoys, and might even like to own, but not if it's used as an excuse to not include features that would truly be a bonus. Basically, Pepe the Prawn, a funny but overused newcomer to the Muppet family (i.e. the Raven-Symone of Henson) takes a look at what he sees as an unlikely path to fame for the pig and interviews plenty of other Muppets in the process, including the "Divine Miss P." herself.

What's lost from the film's earlier DVD release? Not much. Columbia TriStar's now-discontinued disc contained three Muppetisms (2 minutes worth of character-centered TV spots of no specific relevance

to the film) and four trailers for other Sony properties. That's about on par with Disney's disc and maybe a tiny step below it. Like video/audio quality, though, this 50th Anniversary Edition disc's supplements clearly do not offer improvement enough to qualify this as an "upgrade."

The 16x9-enhanced menus go inside the Happiness Hotel for a few sound effects and some light animation that are appropriately atmospheric but quickly become annoying. Choosing "Play", selecting a scene, or going to the set-up menu will present screen caps of the widescreen and obviously inferior fullscreen transfers from which one can choose right or wrong. Inside the packaging, there's the typical chapter listing insert (which unfortunately does not list each song by scene) and a mini-booklet that advertises all six of Disney's recent Muppets DVDs and their future plans for the franchise. There's a coupon for $3 off any of the four Kermit's 50th Anniversary Edition DVDs inside, which makes buying these DVDs individually a good idea.

Lady and the Tramp open this disc, along with previews for The Muppets' Wizard of Oz, "The Muppet Show": The Complete First Season, and a Disney Channel Movie Surfers' look at The Wild and The Shaggy Dog (does this count as TV-on-DVD?). If hungry for more, snack on these Sneak Peak menu previews: Kronk's New Groove, upcoming Disney Princess DVD releases, and Playhouse Disney's "JoJo's Circus."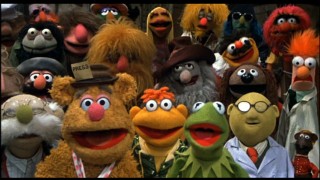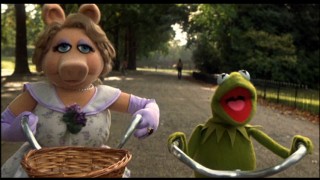 CLOSING THOUGHTS
With The Great Muppet Caper, everything that makes the Muppet clan so beloved by so many is evident and this highly memorable theatrical outing is one of several projects that can be called their best. Funny and engrossing, this movie is more than just a diversion, it's an occasion for sincere enjoyment. The movie is highly recommended for all, as are the three feature films that are released alongside it. Unfortunately, Disney's Anniversary Edition marks a missed opportunity to give the movie (and the Muppets in general) the respect they deserve. Still, with imperfect-but-acceptable audio and video quality and a fantastic movie adventure, anyone who doesn't already own this gem on DVD will surely want to pick up this new edition now.
More on the DVD / Buy from Amazon.com
Buy the out-of-print original Great Muppet Caper DVD of from Amazon.com Marketplace
Post-Review Note: If you're wondering why The Muppets Take Manhattan and Muppets From Space are left out of this 50th Anniversary group, it is because Columbia TriStar Home Video (CTHV) has retained rights to those two films, which were produced by TriStar Pictures and Columbia Pictures, respectively. Unlike the first two Muppet films, which were independently produced and merely distributed by Columbia, these two will remain in the Sony library unless Disney (or another studio) purchases the rights. In related news, on January 31, 2006, CTHV will release The Muppets Movie Collection, a three-film box set containing The Muppets Take Manhattan, Muppets From Space, and the 2002 direct-to-video film Kermit's Swamp Years. Suggested retail price is a low $23.96, making the discounted Amazon preorder under $17. Of course, the set is not likely to include anything new or different from the currently in-print and bargain-bin-priced Manhattan, Space, and Swamp Years discs.