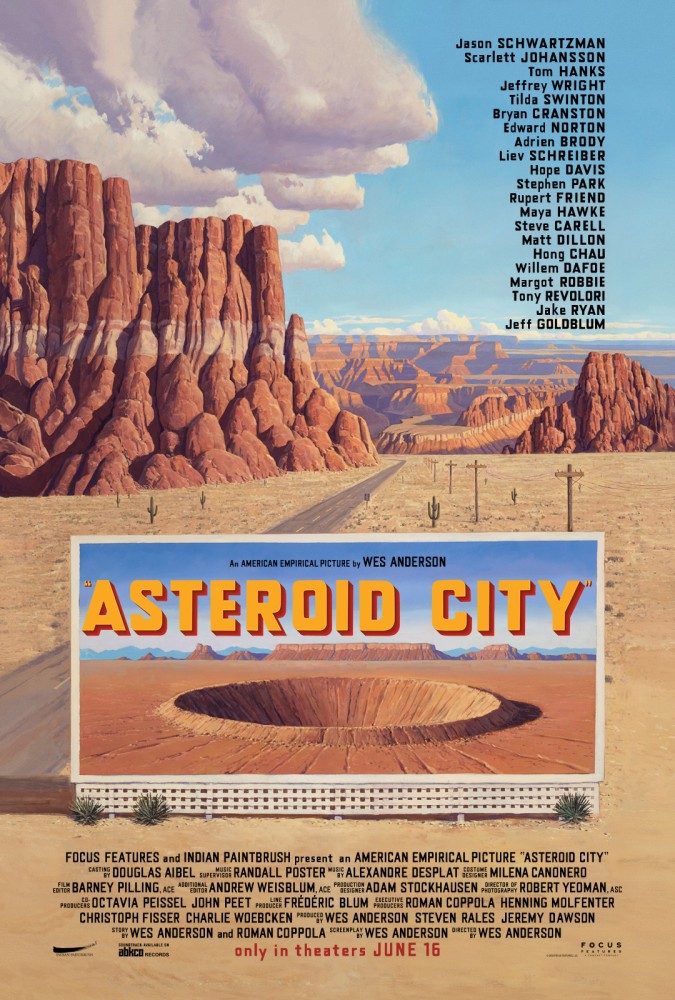 Although it looks like Wes Anderson at his most Wes Andersoniest, "Asteroid City" is an improvement over the director's last two efforts, which by default makes it his best live-action film in over a decade. Jump to review ↓
---
Having discovered and taken to the work of writer-director Wes Anderson early in his career while I was still a teenager has made for an interesting career to follow. Anderson's first three films — Bottle Rocket, Rushmore, and The Royal Tenenbaums — remain personal favorites and when I recently tried to put together a list of my all-time top 100, those three plus Anderson's stop-motion Roald Dahl adaptation Fantastic Mr. Fox all made it in.
From a business point of view, Anderson's early career was shaky. Even with power producer James L. Brooks backing it, Bottle Rocket barely made it to theaters and only found an audience later. Rushmore, distributed by a Disney with an altogether different business strategy, won acclaim but performed marginally. By the time the filmmaker's esoteric but rewarding fourth and fifth films — The Life Aquatic with Steve Zissou and The Darjeeling Limited — came and flopped, it seemed like Anderson would forever struggle, not with critics who generally appreciated his quirky, offbeat comedies, but with the studios and moviegoers who factor into the second part of "show business."
Somehow, though, Anderson kept making movies exactly how he wanted to and things turned around for him. Moonrise Kingdom, a staggered release in the summer of The Avengers and The Dark Knight Rises, stuck around and became lucrative counterprogramming, giving Anderson his best box office numbers in over a decade. Then, two years later, The Grand Budapest Hotel became a genuine global sensation, grossing nearly $200 million worldwide on a modest $25 M budget to near-universal acclaim. Anderson, personally adding three more Academy Award nominations to the three he had generated in all the years before, was no longer on the fringes of the industry.
This would have seemed like super exciting news to the younger me, the NYU freshman who illegally downloaded Royal Tenenbaums and liked it enough to pay to see it on the big screen. But, Grand Budapest Hotel, an effete European jaunt, was easily my least favorite of the director's work to date. It was a clear case of Anderson prioritizing style above substance and while I enjoyed the symmetrical, candy-colored compositions in all their varied aspect ratios, I felt nothing in response to the meandering story and the broad caricatures who drove it.
It would be ridiculous to think that my personal preferences would mean anything as an apparent outlier in a sea of worldwide acclaim. Still, I hoped that the qualities that made Anderson's early work resonate so deeply with me — the humanity, intelligence, and deft blending of humor and pathos — might resurface as his repertory continued to grow in size and stature and the prospect of studio resistance or interference grew more unlikely. The French Dispatch found Anderson leaning in further to his fragmented and defiantly uncommercial approach. It looked cool and had its moments, but the prospect of Anderson claiming a fifth spot in my all-time top 100 list seemed as far-fetched as ever.
The director's 11th and latest film, Asteroid City, looks like Wes Anderson at his most Wes Andersoniest, but I'm happy to report it's an improvement over his last two efforts, which by default makes it his best live-action film in over a decade. It tells the story of a variety of visitors to a desert small town in the mid-1950s. That story is presented as a palatable and cinematic rendering of what a black and white frame story describes as a play for television. It's a layer of self-awareness that is likely to not do as much for anyone as it does for Anderson, who shares story credit with longtime occasional collaborator Roman Coppola and takes screenplay credit all by himself.
More than a quarter-century into the filmmaking game, Anderson seems capable of working with any actor and making any film he wants to. Think Woody Allen at his peak, without any ambiguous baggage that could later sink him. Of course, Anderson is nothing if not loyal and he reunites with so many prior collaborators. Quasi-muse Jason Schwartzman gets his most substantial Anderson role since The Darjeeling Limited and his first top-billed one since Rushmore more than a lifetime ago. Edward Norton, Tilda Swinton, Adrien Brody, Jeffrey Wright, Jeff Goldblum, Willem Dafoe, and Seu Jorge all gladly accept the morsels this ensemble piece affords them in reconnecting with Anderson. Scarlett Johansson, heard but never before seen in an Anderson movie, gets a focal role looking more like a Hitchcock heroine than she did playing Janet Leigh in Hitchcock. And the biggest new addition to Troupe Anderson is a bona fide movie star as big as any alive, the one and only Tom Hanks, who plays the grumpy and pragmatic father of Schwartzman's character's recently-deceased wife.
Asteroid City gives us the most realistic and relatable characters in a live-action Anderson movie since The Darjeeling Limited sixteen years ago. This is cause for celebration and one of the principal reasons the film is easier to enjoy than his most recent efforts. Even dealt with briskly, themes of grief, parenting, and not fitting in resonate. The most inventive production design and cinematography in the world can never compensate for a hollow narrative and Anderson's lesser works are a testament to that. The distinctive auteur finds a better balance here, ensuring that we care about the widowed photographer, the famous actress, and the Junior Stargazers all gathered together here. There is never any shortage of passion and confidence in Anderson's movies. But here there is some compassion to go with it, something that I assumed that Owen Wilson alone brought to the early works they wrote together.
There is little reason to go into detail about the plot, which does align a bit more with later Anderson stories, with its generational divides and government cover-up. I still miss the intimate nature of early Anderson, which possibly for budgetary reasons focused on just a few principal characters. Nowadays, the filmmaker is always thinking bigger, perhaps because there are a dozen or two great actors who will feel left out if they don't get a part. Breaking a streak that began back in 1998 with Rushmore, Bill Murray does not appear here, with the minor role of a motel manager he was to play getting filled by Steve Carell. Anderson has recently clarified that it was a schedule-derailing case of COVID that kept Murray sidelined and not concerns over the Aziz Ansari movie that got shut down for alleged Murray misconduct.
With a huge cast, a wandering focus, and an ordinary runtime, it is hard for us to invest completely in any of this. But Asteroid City is a fun time, full of amusing moments, from a martini-dispensing vending machine to a stop-motion alien that, in theory anyway, most drives the plot. The standout character is the dusty titular locale where atomic bomb tests are intermittently audible and visible. Anderson takes delight in developing the setting, putting the distinctive retrofuturism that predates just about all of us through his signature yellows and blues.
Anderson's methods are easy to recognize and parody, but no one has been foolish enough to try to ape them since Rian Johnson's cringeworthy 2009 caper The Brothers Bloom. What would be the point, when such imitation would be obvious and there's barely even a market for the genuine article, let alone an off-brand version of him? The uniquity of Anderson's bold creative voice may forever be his saving grace. Few other directors commit as fully to a tone and style and those who willingly pigeonhole themselves are most unlikely to endure, attract A-list talent at a deep discount, and draw media coverage to splashy Cannes premieres with high profile specialty division releases every few years. As someone who's spent his entire adult life writing about movies, I sincerely hope that Anderson continues to do his thing his way for decades to come. The movies may not be what they used to be narratively and emotionally, but they're still almost always artful, highly cinematic, and diverting.
Like Luke's work?
Consider leaving a tip and sharing this review to support DVDizzy.