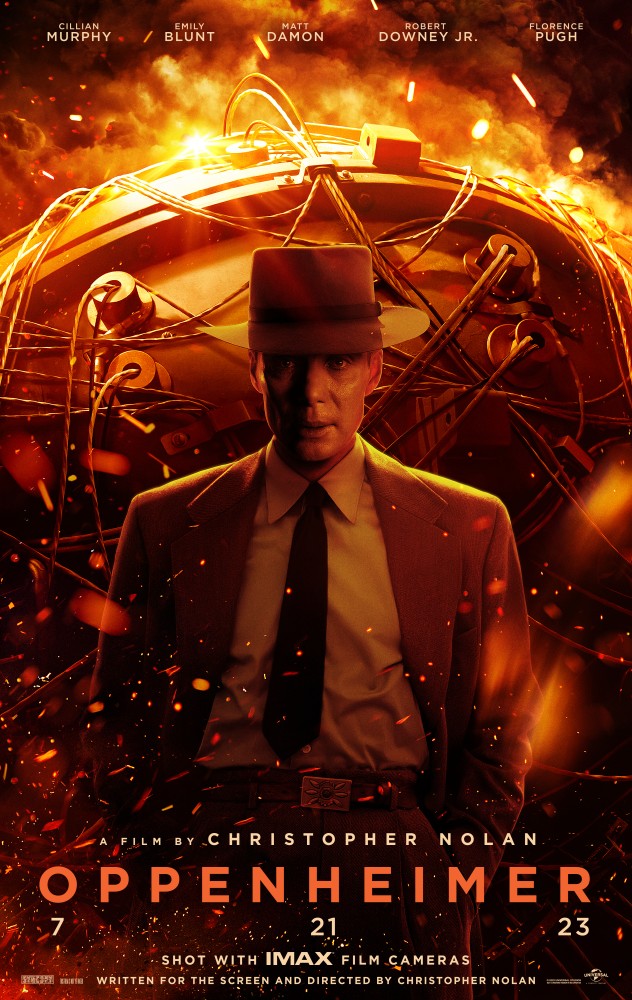 With this ambitious, gripping epic, Christopher Nolan finds plenty of ways to breathe vitality into what could easily be a stage play. Jump to review ↓
---
Most of the time, the average person does not know by either name or reputation who directed the movie they're watching. The two exceptions to this rule are when the viewer is an unusually well-versed cineaste and when the filmmaker has an artistic thumbprint and legacy distinctive enough to recognize. The latter applies to merely a handful of directors in history, legends like Hitchcock, Spielberg, and Scorsese. This class undoubtedly includes Christopher Nolan, a brand onto himself who is widely known and deeply respected, especially on the Internet where most of his works are heralded as masterpieces, particularly by the young males who comprise a majority.
Nolan's reputation was cemented by his Dark Knight trilogy, three extraordinary Batman movies that redefined comic book cinema. But whereas many associated with an iconic slice of pop culture choose to milk their success as much as they can (e.g. J.K. Rowling, Peter Jackson), Nolan has shown little interest in returning to or expanding the world of Gotham. His calling has always been dynamic original storytelling. His breakthrough, 2001's Memento, was an unabashedly independent, mind-bending mystery. The success of the DC blockbusters has afforded Nolan the power and deep pockets to keep swinging for the fences, but he's repeatedly displayed an unmistakable preference for creative, challenging, thought-provoking fare over branded mainstream works that could be made by anyone else.
Oppenheimer, Nolan's twelfth and latest film, might just be his most ambitious yet. It comes after his previous effort, 2020's Tenet, became arguably his biggest disappointment to date. Critics were cooler on the inventive but incomprehensible sci-fi thriller than they were towards any of Nolan's first ten movies. Despite putting up solid numbers around the world, the repeatedly-delayed domestic release fell far short of the director's usually robust ticket sales. Anyone could tell you that timing was to blame for the underperformance, with moviegoing then reduced to a drip in North America, which only contributed one-sixth of the film's worldwide haul. Nonetheless, that mid-pandemic experience was enough to sour things between Nolan and Warner Bros., who had been in collaboration since Nolan's 2002 remake Insomnia.
After firing some potshots at Warner Bros.' COVID solution, to make films available to stream day and date with theatrical release on the subscription streaming service then called HBO MAX, Nolan decided to find a new distribution partner, an easy task for someone with a track record like his. Universal welcomed the director, and once again, we're getting a new Nolan movie in wide theatrical release in the director's favorite window of mid-July.
Oppenheimer carries a reported $100 million production budget and a confirmed runtime of just over three hours. It has no heists nor conventional action. What it has is absorbing, meticulously researched history of a 20th century scientific breakthrough that still shapes the world in which we all live.
There's a good chance you know the name, for J. Robert Oppenheimer was widely credited and celebrated as one of the last heroes of World War II for his work as the director of the Manhattan Project. Over the course of three hours, Nolan gives us a much better understanding of the man himself and the context from which this theoretical physicist emerged as the "father of the atomic bomb."
Nolan's screenplay jumps around a bit chronologically and even opts for a parallel black-and-white timeline as he did on Memento. But Oppenheimer is easy to follow and ultimately highly rewarding for those who do that. Picking up his sixth Nolan film credit and by far his biggest to date, Cillian Murphy plays Oppenheimer from his college days into old age. The gaunt academic specializes in theory and spearheads the then-new study of quantum mechanics. He also poisons his professor's apple and has some steamy extramarital sex with a Communist (Florence Pugh). I know it might be hard to believe, but this three-hour movie about a scientist is never boring and it's also never cheesy in the way that movies like A Beautiful Mind and Good Will Hunting occasionally were.
Respected for his intellect but sometimes questioned for his non-vanilla political views, Oppenheimer gets tapped to head the Manhattan Project by no-nonsense General Leslie Groves (Matt Damon). The splitting of the atom paves the way for the engineering of a weapon more powerful than any before it and Oppenheimer welcomes the challenges of the undertaking, assembling a team and building a little top-secret community in the middle of the desert of Los Alamos, New Mexico. Of course, this project is to be both enormously taxing and massively consequential. Nolan's film does not get caught up in the scientific minituae of the operation, keeping humanity in focus at all times.
That, of course, makes for gripping cinema. Realizing the once in a lifetime opportunity of the role, Murphy commits fully and provides a compelling foundation for this entire epic drama. It is tough to imagine him not earning his first Academy Award nomination for this performance. Nolan and his longtime casting director John Papsidera deserve credit for surrounding Murphy with one of the largest and most talented supporting casts ever assembled. The filmmakers seem to have considered 35 years of cinema to find the perfect actors to portray the people (mostly men) involved in this story. Some choices, like Damon, Casey Affleck, and Matthew Modine, make sense as fitting director-actor reunions. Others kind of surprise, in the sense that you wonder whether The Diary of a Wimpy Kid trilogy (Devon Bostick), The Santa Clause (David Krumholtz), and "Drake & Josh" (Josh Peck) have really been on Nolan's radar.
It goes without saying that if you're an actor and Christopher Nolan asks you to play — or even just read for — a part, you say yes. No one is too accomplished for that, which explains why Robert Downey Jr., Emily Blunt, and Pugh all welcome relatively minor roles here. Just about everyone hits the notes needed, whether they're a surprise (hello again, Josh Hartnett and Olivia Thirlby) or exactly the kind of actor you expect to see here (Jason Clarke, Kenneth Branagh, David Dastmalchian). It's smart of Nolan to populate the cast with instantly recognizable actors, allowing even the most minor of characters to make an impression and be easily distinguished from others with similar duties and backgrounds. The closest to a miscast we get is filmmaker Benny Safdie as Edward Teller, and well he looks the real guy and, as in the recent Are You There God? It's Me, Margaret, his being out of place does little to diminish the proceedings.
It is little surprise that Nolan ensures these proceedings are rich and full of life. After Dunkirk, cast doubts over his ability to make fulfilling historical cinema, sophomore attempt Oppenheimer restores our faith. This is undoubtedly the director's best movie since Interstellar nearly a decade ago and it deserves to compete for all the awards a half-year from now. To date, Nolan has been recognized more by the public than his peers and his lack of any personal Academy Awards reflects as much on genre biases as it does on his shortcomings. Nolan is not without those, as wildly imaginative movies like Inception and Tenet have fallen short of their intended brilliance. There is very little to take issue with in Oppenheimer, however.
The movie does continue another half-hour or slightly more after what feels like its natural conclusion, providing more on Oppenheimer's personal consequences with a seemingly implausible but no doubt historically accurate Kafkaesque witch hunt. These scenes let Downey, known by an entire generation primarily as Iron Man and Sherlock Holmes, engage in some good old-fashioned acting while for the first time resembling a man who's nearing the age of 60. It's not quite the knockout punch the movie sets it up to be, but it's fascinating aftermath presented capably and thankfully can only serve to course-correct the career of an offbeat talent who recently called his last film, 2020's Dolittle, a "two-and-a-half-year wound of squandered opportunity."
Nolan finds plenty of ways to breathe vitality into what could easily be a stage play. The director's innate attraction to the technical side of the art form proved especially delightful in my screening, a true 70mm film projection. Of course, the Trinity test manages to be an arresting sequence for the ages, but with the consistently high caliber of drama throughout, on par with labors of love like Apollo 13 and First Man, we're never left wanting or needing any additional set pieces or creative license.
The one thing remaining to be seen is whether Nolan's drawing power remains intact. A 3-hour, R-rated adult drama with lots of talking and minimal visual effects, Oppenheimer is a hard sell here and has uncertain commercial value anywhere else. It is opening across from Barbie, a high-stakes game of chicken that has inspired much conversation and creativity throughout the Internet. The critical acclaim this will inevitably attract should help, but at a time when the runaway top-grossing film of 2023 is The Super Mario Bros. Movie, is that really a huge factor? Whether or not the box office goals are hit and Oppenheimer remains in contention for awards, the key takeaway is that Nolan remains committed to making smart, thoughtful cinema that resonates and inspires.
Like Luke's work?
Consider leaving a tip and sharing this review to support DVDizzy.