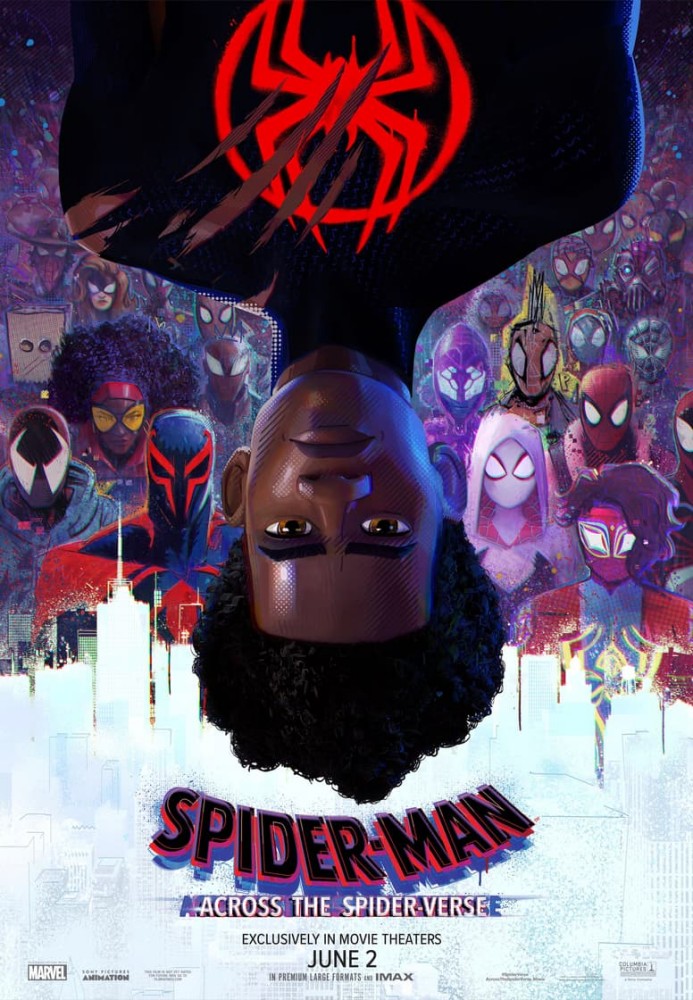 "Across the Spider-Verse" has its sights set on the kind of acclaim reserved for the rarest of sequels. You know the type. "The Godfather Part II." "Toy Story 2" and "3". Sequels that expand and enrich the mythology established in the original film, without simply repeating beats. Jump to review ↓
---
"Spider-Man: Across the Spider-Verse" Movie Review
It's not hyperbole to declare Spider-Man: Into the Spider-Verse a watershed. The 2018 movie, something of a hard sell amidst the ongoing deluge of superhero cinema and far-reaching Marvel timelines, ended up being as close to perfection as any piece of American animation. We've gotten five-star masterpieces in that class before, but only in the very best works of Pixar Animation Studios and not really anywhere else since Disney's 1990s renaissance. Spider-Verse breathed new life into every area of pop culture that it occupied and the years since its release have further mined the concept of multiverses, all the way up to Everything Everywhere All at Once, this year's Best Picture winner at the Academy Awards.
To succeed so fully as both art and commerce set up the makers of Spider-Verse for disappointment when it came time for the inevitable sequel, something that no one could pretend was an afterthought in this age of franchises. Outside of Pixar, comparable but lesser achievements in American animation have proven hard to sustain. DreamWorks hits like Shrek, How to Train Your Dragon, and Kung Fu Panda gave way to more ordinary sequels and the usual diminishing returns, barely changing the studio's modest trajectory. In the case of Nickelodeon/Paramount's Rango, 2011's Oscar winner for Best Animated Feature, that success literally failed to launch a studio or brand in any meaningful way. Even Warner Bros. Animation's The Lego Movie, 2014's unforeseeable gem of a comic adventure, which sparked a highly entertaining Batman spin-off and a moderately creative direct sequel, somehow flamed out in just a few years, changing ownership and going dormant.
Phil Lord and Christopher Miller, the duo who wrote and directed Lego Movie and penned and produced its underperforming 2019 sequel, seem determined not to experience that all over again here. The pair produced Spider-Verse and won the Best Animated Feature Oscar that seemingly, unfortunately stands in the way of an even bigger honor for which it deserved to vie. For this sequel, unmemorably subtitled Across the Spider-Verse, Lord and Miller both take writing and producing credits.
Despite replacing the three directors at the helm of the original movie with a new and less seasoned triad, this second installment proves to be a rich and highly fulfilling follow-up. Across continues the saga from a mix of two perspectives: original teenaged protagonist Miles Morales (voiced again by Shameik Moore) and his estranged friend from another dimension, Gwen Stacy (Hailee Steinfeld), a.k.a. Spider-Woman.
The two are wrestling with similar issues, each keeping their life of vigilante heroics secret from a father in law enforcement and practically everyone else. One key difference is that Miles is doing it in something resembling contemporary Brooklyn and Gwen is jumping through dimensions as part of a secret society of Spider-People. In his universe, Miles is not terribly threatened by what he dismisses as a villain of the week, a faceless foe named Spot (Jason Schwartzman) who can create holes that allow him to travel through space instantly and haphazardly. It makes for visually imaginative, mind-bending conflict, but it's clear that Across the Spider-Verse has bigger ideas in mind than mano a mano street combat.
After Gwen pops by to pay Miles a visit, he follows her to another universe and ends up smack in the middle of action in a city called Mumbattan (an inventive blend of Mumbai and Manhattan) and then at the headquarters of the secret society he isn't supposed to know about. Miles' presence there triggers alarms and introduces him to still other heroes who are going through variations of his own personal journey. They include British punker Hobie (Daniel Kaluuya), India's Pavitr Prabhakar (Deadpool's Karan Soni), and Miguel (Oscar Isaac), the leader of the Spider-Society who is especially troubled by his day pass-equipped intruder.
Since computers became the primary tool in the medium of animated filmmaking at the turn of the century, we've gotten hundreds of features from dozens of studios. Despite that healthy competition, there haven't been a ton of bold, original works that move and inspire us. There have been the crème de la crème Pixar movies, like WALL-E, The Incredibles, and Toy Story that we know for sure will still be watched and admired a half-century from now. But for every CGI instant classic like those, there are a dozen or more works aspiring to nothing more than momentary diversion. Many of them make money and some of them enough to make sequels. But they don't challenge viewers or get deep into their heads and emotions, tasks not traditionally associated with big blockbusters.
Lord and Miller began their careers with exactly that type of movie, 2009's Cloudy with a Chance of Meatballs, a fine and spry effort at the better end of the animation industry's agreeable standard mediocrity. But now a known and respected commodity, the team no longer seems content to settle for that kind of benign product. Across the Spider-Verse has its sights set on the kind of acclaim reserved for the rarest of sequels. You know the type. The Godfather Part II. Toy Story 2 and 3. Back to the Future: Part II. Sequels that expand and enrich the mythology established in the original film, without simply repeating beats.
For how prevalent they are in today's marketplace, sequels are such a difficult act to master. While benefitting from proven results and built-in brand recognition, the makers of sequels have to give viewers more of what they like without simply giving them more of what they like. It's easy for moviegoers to distinguish between labors of love (e.g. John Wick: Chapter 4, Creed III) and sequels that exist purely to rapidly enhance the bank accounts of its creators (e.g. Fast X). It's a fickle business and you can't begrudge anyone cashing in on a project guaranteed to sell tickets on title alone instead of toiling away on new undertakings that may or may not connect. But you have to love when creators and a studio overtly prioritize the art.
Across the Spider-Verse has taken four and a half years to make it to theaters after its predecessor. That may not seem like a long time to you if you're an adult still trying to process how differently time moved during the global pandemic. But it's a eternity to children who in theory are among this franchise's primary audience. A fourth-grader who saw Into the Spider-Verse in theaters over the 2018-19 Christmas break will start high school in the fall. Like the cleaner who restored the stolen Woody in Toy Story 2 said, "you can't rush art." Admirably, the makers of Across the Spider-Verse have not tried to and you cannot argue with the dazzling results.
This outing delivers the same higher caliber of storytelling and visual dynamite of the first film. It never dumbs down its ideas or slows down its action to make sure every viewer is still onboard. Between eight live-action Spider-Man movies, thirty or so other Marvel Cinematic Universe expeditions, and countless forays into Batman, the X-Men, Superman, and lesser comic book heroes, you might reasonably assume everything that could be said about superheroism has been. But the rare thinking masterpiece like Pixar's two Incredibles movies and now these two Sony Spider-Verse films somehow make the subject matter feel fresh and limitless, unearthing all kinds of resonant human emotions in the spandex-clad leaps and bounds none of us will ever actually experience for ourselves. The more superhero movies that get made, the more it takes to stand out, and the more impressive it becomes for a film, let alone sequel, to do just that.
The electric crowd reaction which came as the end credits appeared, more than two hours into the second Spider-Verse, is something I will never forget, a moment of pure, unadulterated moviegoing delight that is a great anomaly even when you're attending up to four movies a week with a theater full of excited moviegoers relishing the privilege of a free advanced screening. Those who mistake animation for a genre, consider all movies mere escapism, and think they need a kid to see this might not appreciate the quality and complexity of this film. As for the person who just read twelve spoiler-free paragraphs about this, I expect and sincerely hope that you do.
Like Luke's work?
Consider leaving a tip and sharing this review to support DVDizzy.