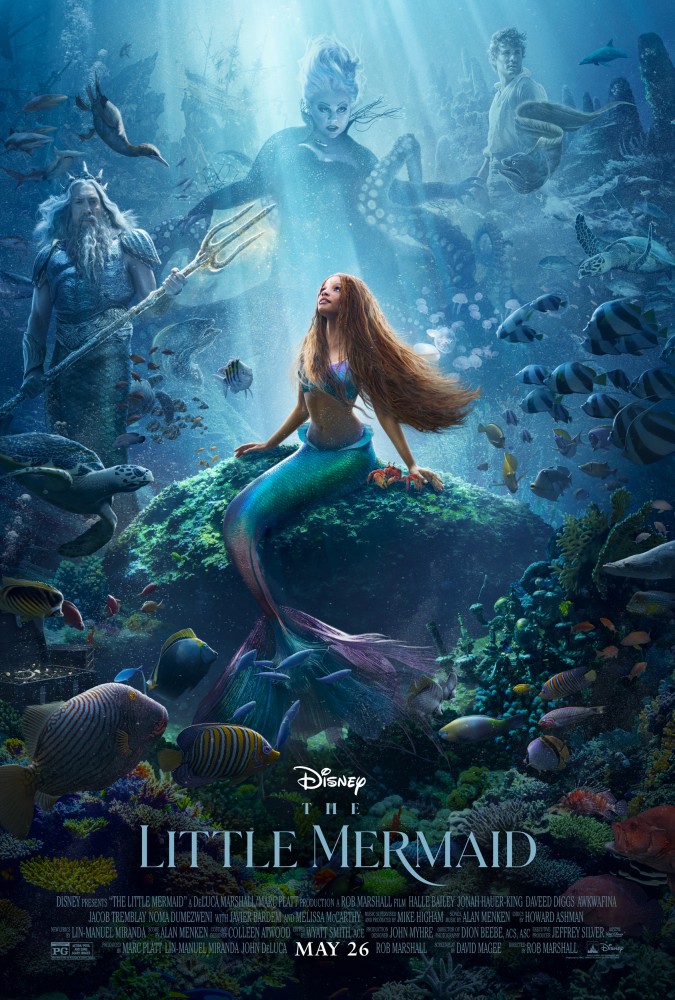 Perhaps it is unfair to expect this inevitable remake to improve upon Disney's animated masterpiece in any way, but it absolutely does not. Jump to review ↓
---
"The Little Mermaid (2023)" Movie Review
Remakes of animated hits have unquestionably been the most lucrative form of live-action Disney-branded cinema over the past ten years. Under the recently restored leadership of CEO Bob Iger, modern Disney has become the dominant media empire in the entertainment world by its brand-driven strategy. Many of those brands — Marvel, Lucasfilm, 20th Century Studios — have histories that predate Disney's acquisition of them earlier this century. The live-action Disney movie, a voluminous tradition when Walt was still running things and still thriving into the 1990s and 2000s, has now more or less grown obsolete with the exception of the studio's new takes on beloved classics.
While a few have seized the changing marketplace to premiere on Disney+ to less industry and shareholder scrutiny, most of these remakes have gone to theaters and performed extremely well. Disney fans of my generation, who grew up in the 1980s and '90s amidst a golden age of animation, often discuss the studio's "Big Four" — the four blockbusters released in between 1989 and 1994 which seem to eclipse all others in the company's rich animation canon in both popularity and artistic achievement. Three of those four — Beauty and the Beast, Aladdin, and The Lion King — have already been given the "live-action" treatment (requiring quotes since 2019's The Lion King was made entirely of photorealistic animation) and each grossed between $1 and $2 billion worldwide. Now, the fourth has its day in the sun with the release of The Little Mermaid.
This undertaking would seem just as destined for box office glory as the aforementioned three remakes, but Disney's casting of African American musician and actress Halle Bailey in the titular role of Ariel has made this one something of a lightning rod for spirited debate, hot takes, and straight up racism as the company digs deeper still in its very public commitment to diversity and inclusivity in storytelling. Disney's politics have become an ongoing news story of late, particularly as the company currently wages a war with Florida governor and presidential candidate Ron DeSantis over how Walt Disney World is governed.
If no news is bad news, then Disney cannot be too upset with how the project has courted some controversy, even as The Little Mermaid's trailer drew a record number of dislikes on YouTube when it debuted last fall (prompting YouTube to hide dislike tallies). There aren't a ton of family films garnering high-profile headlines up to four years prior to their release and if we're not going to talk about Disney casting a black Ariel, what else is there to say about yet another lavish, new, effects-heavy live-action remake?
The story of the project's controversy cannot be closed until the film opens worldwide, at which point its performance will be dissected and the impact of the negativity towards the color-blind casting will either be validated or marginalized. As for the film itself, there isn't a whole lot to upset or surprise anyone.
Adding yet another Disney musical to his filmography, Rob Marshall (Mary Poppins Returns, Into the Woods) directs and produces Mermaid 2023 and the most significant thing he does is pad. The 1989 animated classic ran just 83 minutes and this one clocks in at a hefty 135. There are a trio of new songs written for the film by Hamilton creator Lin-Manuel Miranda, a producer here who also takes credit for some updates and a reprise to the original tunes penned by Howard Ashman and Alan Menken.
The story, loosely adapted from Hans Christian Andersen's 1837 fairy tale, is fundamentally unchanged from the 1989 movie. Redheaded mermaid Ariel, one of seven daughters of undersea monarch Triton (Javier Bardem) is fascinated with the human world above. She ends up saving seafaring Prince Eric (Jonah Hauer-King) from a shipwreck. Then, she turns to her sea witch aunt Ursula (Melissa McCarthy) and reluctantly agrees to give up her voice in exchange for legs. Per the contract, the now-silent Ariel has three days to secure a traditional true love's kiss.
Looking out for Ariel are three little friends: Triton's loyal advisor Sebastian the crab (voiced by Daveed Diggs), the genial tropical fish Flounder (Jacob Tremblay), and the most reliable source around for human artifact disinformation, Scuttle, formerly a male seagull who now is a female diving bird (voiced by comedian Awkwafina).
The screenplay by Marshall's Mary Poppins Returns scribe David Magee does not take many chances or find a creative new way to present the material in what is one of the most widely seen Disney movies of all time. An opening quote by Andersen and some overhead photography of waves crashing suggests a filmic artistry you generally don't encounter in a live-action Disney remake. But such ambitions are soon set aside, allowing us to go through the beats you most likely know and love.
The biggest casualty is Chef Louis and his crab-chasing song "Les Poissons", which are both omitted here along with the adjacent dinner scene. Two separate new tunes of longing are performed by both Eric and Ariel. It's always jarring to suddenly encounter original songs amidst a collection of ones you know by heart and despite clear effort, Miranda's additions don't truly fit in with the others musically. Still, the only one that is a definite dud is "The Scuttlebutt", a beboppy ditty unmistakably Miranda's, performed primarily by Awkwafina.
Perhaps it is unfair to expect this remake to improve upon the animated film in any way. Unsurprisingly, it absolutely does not. But one does struggle to see any reason other than financial for Disney to keep revisiting their most beloved works in this way. At least on the remakes of Aladdin and Mulan, the studio was able to address some claims of cultural insensitivity. The Little Mermaid hasn't really sparked any major concerns (at least since the studio digitally re-animated that priest's kneecap) from the aquatic community so this exercise feels almost entirely commercial. A few lines in "Kiss the Girl" get updated. We also get a cameo by Jodi Benson, the original voice of Ariel, which is fun.
Otherwise, it is largely business as usual for 2020s Disney. Eric, who looks a little too old for our heroine, has a black mother (South-African-British stage actor Noma Dumezweni). Ariel's six sisters seem to come from every continent of the world. Of the principal cast, only McCarthy as the villain Ursula seems to take copious inspiration directly from the animated film. Clearly having fun, the actress is the biggest standout. By contrast, Sebastian, Flounder, and Scuttle lose most of the charm they previously held in 2D animation as they make the leap to somewhat anatomically accurate, somewhat off-putting CGI.
The 1989 Little Mermaid is a film that many members of my generation would watch again and again, delighting in the colorful characters, visuals, and music, all of which ushered in an exciting age of outstanding Broadway-influenced Disney animation. The new Little Mermaid is something that I, a childless adult, would consider a moderately rewarding one-time viewing. Disney is running out of animated classics to reinterpret, which explains why next year will bring Mufasa: The Lion King and the studio is already prepping movies as recent as Moana for this treatment. It's been an absurdly profitable run, but I think a return to original storytelling, while far more daunting for even the best of creative teams and marketing departments, can only lead towards distinctive adventures that do more than prey upon nostalgia and goodwill.
Like Luke's work?
Consider leaving a tip and sharing this review to support DVDizzy.