Horror is the Chipotle of movie genres. As you do when you go through the upscale fast food joint's assembly line, those making horror films have to answer a number of questions. Sequel, remake, rip-off or original? Splatter or suspense? Supernatural or human menace? If supernatural, demons or ghosts? PG-13 or R? If you do the math, it seems like you can get an impressive number of varieties out of such options.

But like Chipotle, they basically all end up tasting the same. And unlike Chipotle meals, most horror movies aren't good or satisfying. Landmark horror films generally think outside the box and come up with a way to distinguish themselves. But once in a while, a movie goes through the standard questionnaire and winds up standing out in a meaningful way.

The Conjuring is one such movie. The title, the poster, and probably the trailer? All routine. The order? Dutifully filled out: original, suspense, supernatural, demons, R. The reception? Most unusual. Curiously released by Warner on the weekend they've in recent years assigned to their biggest films, like the final Harry Potter movie and Christopher Nolan's tentpoles, The Conjuring opened to near-universal critical acclaim. It went on to become a box office powerhouse, grossing $137 million domestically and $300 M worldwide, on a production budget of just $20 million.

The film stars four familiar actors you've almost certainly seen before, but none of them stars big enough to earn prominent billing. Instead, the marketing campaign highlighted two of the film's features: that it was "from the director of Saw and Insidious" and that it was "based on the true case files of the Warrens." Directors generally aren't of interest to the average moviegoer, among whom I doubt that one in ten could identify James Wan as the filmmaker in question. The true story angle, though, can be alluring, not just for biopics and docudramas but sometimes horror movies as well. Of course, many horror movies make that claim, often protected by a softer, less disputable verb like "inspired." But The Conjuring opts for authenticity down to real names and a period setting.
In 1971, married couple Ed (Patrick Wilson) and Lorraine Warren (Vera Farmiga) are respected paranormal investigators. Text explains that she is a gifted clairvoyant and he is the only non-ordained Demonologist recognized by the Catholic Church. Their lectures are popular and the remarkable footage they share from their past cases intrigues and captivates their large audiences. After one such presentation, the couple is consulted by Carolyn Perron (Lili Taylor), a woman whose family of seven has been experiencing an assortment of grief in their remote new home in nearby Harrisville, Rhode Island.
We've been witnessing the unrest that has befallen Carolyn, her truck driver husband Roger (Ron Livingston), and their five daughters immediately upon moving in. Their dog Sadie sensed something wrong with the house, refusing to go inside. She is found dead the next morning. Other anomalies have also been disturbing the family, especially in the middle of the night. One daughter (Joey King) feels something grabbing her feet. Another (Mackenzie Foy) sleepwalks. There are reports of a deathly odor that passes. Doors creak, the wall by the staircase shakes free of the family photos hanging on it. Clocks repeatedly stop at 3:07 AM. And Mom is inexplicably developing prominent bruises all over her body.
The Warrens confirm what we suspect: the house is genuinely haunted. They discover the place has a sordid history of owners, which has included witchcraft and murder-suicides. A simple relocation won't do, either, as the seemingly demonic presence looming over the family may have already latched onto them and could follow them where they go. The Warrens decide the place needs a cleansing. They move in with the Perrons to observe the place with equipment like UV lights and temperature-sensitive cameras. They're joined by a young assistant (Shannon Kook) and a skeptical police officer (John Brotherton), all determined to get to the bottom of this and free the Perrons of their relentless horror.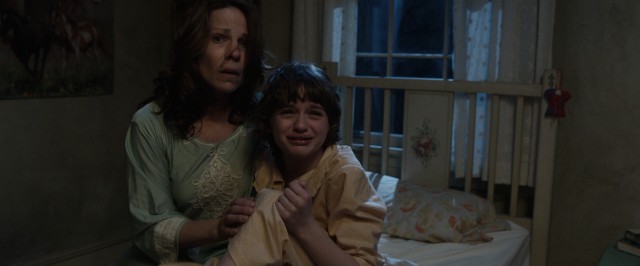 The Conjuring decidedly does not reinvent the wheel. In recent years, the haunted house seems to be horror's most frequent premise. But Wan, the seasoned cast and the sharp crew are able to breathe some new life into the subgenre, aiming a little higher and scaring a little more than your typical entry.

The film combines the first-rate production values and technical prowess of major studio pictures with the economic, psychological thrills of effective low-budget fare. The results are agreeable.

In just a handful of outings, Wan has managed to repeatedly deliver that elusive creature, the unsettling horror film. His methods do not seem hard to recreate. But few horror movies have the patience or belief in their viewers to try to reproduce such an experience. Wan's film revels in the set-up. Largely avoiding the cheap thrill of the jump scare, he instills goosebumps with scenarios that slowly pay off: self-opening doors, things that go bump in the night (or day), and unpursued glimpses of the otherworldly. The director seems to recognize what should be perfectly obvious: the further we move away from the familiar and mundane, the less frightening a horror movie becomes. Children are scared of boogeymen, hobgoblins and monsters under the bed. For the rest of us, there's more terror in something believable, easily-missed and just slightly askew.

The director alone cannot take credit for this film's achievements. He's got a splendid cast laying tremendous groundwork. The four adult leads are invaluable at conveying authentic family life. Having dabbled in genre fare elsewhere and recently, Wilson and Farmiga are unsurprising up to the film's challenges. But Livingston, in his first horror film since 1997, and Taylor, who's understandably avoided the genre since 1999's ill-regarded The Haunting, are equally game and make integral contributions to the sustained atmosphere of tension.

The Conjuring does not succeed on fear alone, though. This is feel-good, do-good horror, a slight but significant twist that distinguishes the film. Earning its R rating with nothing worse than good-old fashioned scares, this is the rare thriller that teens can enjoy with their parents. The kind that's full of cathartic release, followed by enjoyable reflection on the most disarming parts. It doesn't hurt either that the period setting not only equips this with apt period tunes but also renders this a fitting throwback to a golden age of horror cinema.

I would be remiss not to acknowledge that the film is written by Chad and Carey W. Hayes, two brothers who have finally experienced their first critical and commercial triumph after nearly 25 years in television and film. Their inspiring display of perseverance follows many genre disappointments, including the moribund 2005 House of Wax remake and The Reaping (2007).

Despite its great and unusually leggy performance, Warner can't resist putting The Conjuring in stores in time for Halloween night viewing. Just barely three months after opening in theaters, the hit is available in a single-disc DVD and the two-disc Blu-ray + DVD + Digital HD UltraViolet combo pack reviewed here.

Watch a scene from The Conjuring:

Blu-ray & DVD Details

2.40:1 Widescreen (DVD Anamorphic)
Blu-ray: 5.1 DTS-HD MA (English), Dolby Digital 5.1 (French, Spanish, Portuguese)
DVD: Dolby Digital 5.1 (English, French, Spanish)
Subtitles: English for Hearing Impaired, French, Spanish; BD-only: Portuguese
Not Closed Captioned; Extras Subtitled
Release Date: October 22, 2013
Suggested Retail Price: $35.99
Two single-sided, dual-layered discs (1 BD-50 & 1 DVD-9)
Blue Eco-Friendly Keepcase in Lenticular Cardboard Slipcover
Also available as standalone DVD ($28.98 SRP) and on Instant Video
VIDEO and AUDIO
As mentioned above, despite its $20 million budget, The Conjuring boasts all the polish of today's big budget fare. That shows in the Blu-ray's exemplary 2.40:1 widescreen presentation. The visuals remain sharp and clean in both light and dark scenes. Though you can tell it's shot on video, it retains a filmic look throughout.
The 5.1 DTS-HD master audio commands more notice than the taken-for-granted visual strength. The enveloping sound design produces an engaging experience. The booming bass reaches glass-rattling heights at a relatively low volume, but despite some peaks it doesn't require frequent level adjustment. The film is dynamic enough sonically to make you appreciate your home theater.
BONUS FEATURES, MENUS, PACKAGING and DESIGN

On Blu-ray, The Conjuring is joined by a half-hour of bonus material in the form of three featurettes. Naturally, the Blu-ray presents them in HD.

"Face to Face with Terror" (6:39) gathers the recollections on the dramatized case from the real Perron family and Lorraine Warren. The kind of piece the end credits make you hungry for,

this photograph-aided featurette adds real value to the set.

"A Life in Demonology" (15:39) celebrates the Warrens and their work with Lorraine's memories and reverential comments from admiring colleagues, director James Wan, and screenwriters the Hayes brothers.

Finally, "Scaring the '@$*%' Out of You" (8:04) is a making-of featurette that focuses on hiring Wan. The director shares some of the methods proven to generate scares, all of which the cast and crew voice an appreciation for.

In contrast to what the studio has admirably doing this fall, bringing bonus features back for DVD viewers, The Conjuring skimps on extras, only including the lattermost of the three aforementioned featurettes, "Scaring...".

The Blu-ray opens with an UltraViolet promo and the trailer for We're the Millers. The DVD opens with the same, but follows with trailers for Man of Steel, The Hangover Part III, The Hobbit: The Desolation of Smaug, and Getaway.

Both discs use Warner's standard menu design of scored poster art (which in this case is basically the cover art too). The Blu-ray doesn't support bookmarks, but does resume unfinished playback of the film and extras.

The Conjuring's eco-friendly blue keepcase is topped by a slipcover, whose creative lenticular face turns the title from white to red, extinguishes Lili Taylor's match, and has those background hands clap (both spoiling and immortalizing one scare). An insert supplying your UltraViolet redemption code (good for at least two years) joins the plainly-labeled black discs.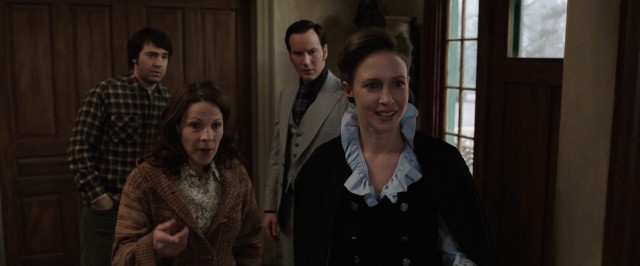 CLOSING THOUGHTS
There aren't many horror movies those not drawn to the genre need to see, but The Conjuring is one of them. A frightening family haunting done right, this film gets the little things right and that enables it to reach unusual heights for what looks like just another supernatural scare.
Warner's Blu-ray combo pack is basic and lighter on extras than you'd probably like, but it still earns a recommendation on the strengths of the tasteful thriller it terrifically presents.
Buy The Conjuring from Amazon.com: Blu-ray + DVD + UltraViolet / DVD + UV / Instant Video