Danish author Karen Blixen, who wrote under the pen name Isak Dinesen, passed away in 1962 at the age of 77. She couldn't have known it, but she would make two major contributions to the world of cinema in the 1980s.

First, her 1937 memoir about the seventeen years she spent in Kenya would become Out of Africa, the 1985 winner of the Academy Award for Best Picture. Two years later, a Danish film would be made from a short story published in a 1950 Ladies Home Journal issue and collected in Blixen's 1958 book Anecdotes of Destiny. Babette's Feast would proceed to win 1987's Oscar for Best Foreign Language Film.

The passage of a quarter-century has served to diminish the legacy of epic Out of Africa. Today, the epic romance is one of just four Best Pictures designated "Rotten" on Rotten Tomatoes and the 7.0 rating it clings to on IMDb is the lowest held by any winner since 1963's Tom Jones. Babette's Feast, on the other hand, has not come to be perceived as an undeserving Oscar pick. It may not be remarkably well-known (it sits right in the middle of its relatively obscure class of Foreign Language winners by number of IMDb votes), but it remains well-regarded by those who know it, carrying a 7.7 average user rating and having just one critic dare to assign it a splat on Rotten Tomatoes.
Babette's Feast starts slow. It tells the story of a Christian pastor and his two comely daughters -- named Martine and Filippa after Martin Luther and his collaborator Philipp Melanchthon -- who find it easy to resist the advances of suitors, human romance seeming of little importance in the family's pious world view. An interested, clownish Catholic Frenchman (Jean-Philippe Lafont) offers one of the sisters singing lessons and grows ecstatic at the prospect of her joining him in the Paris opera. The sister puts a stop to such notions and the Frenchman's lessons after a single session.
The two women grow old as spinsters (now Birgitte Federspiel and Bodil Kjer), continuing to live by their father's preaching after he passes away. In 1871, a Madame Babette Hersant (Stéphane Audran) shows up with a letter of reference for a job as cook. Babette has narrowly escaped France's civil war, unrest that has claimed the lives of her husband and son. Martine and Filippa have no money to pay her, but seeing the desperation and hopelessness in her, they agree to ler her stay on as volunteer. The sisters show Babette around the kitchen, acclimating her to the plain bread and ale soup and salted fish they typically eat.
The arrangement continues for a number of years until one day when Babette gets a letter from France revealing that her only tie to the country -- a lottery ticket bought on her behalf -- has paid off and she is to win 10,000 francs. Martine and Filippa accept the news solemnly, believing their cook's good fortune will prompt her to leave them and return to her homeland. But first, Babette has a request: to put together a "real French dinner" in honor of the late Pastor's centennial birthday, paid out of her own lottery winnings.
The sisters reluctantly oblige, but come to regret that when they see the exotic animals boated in for the meal, including live quails and a giant turtle. One sister has a nightmare of this "witches' sabbath" they have agreed to. The extravagant meal proceeds as planned, with Babette cooking for twelve one night. Aided by a young boy and an old man, Babette serves stuffed quail, turtle soup, and juicy fresh fruit. Glasses of assorted sizes are filled with champagne, vintage wine, and water. She awakens the taste buds of every aging, mild-mannered diner in attendance, the significance of the courses lost on all but one visitor, a former Swedish diplomat of France (Jarl Kulle), who is vocal as he recognizes and admires the fanciful delicacies being served to this simple, uncultured congregation.
Babette's Feast isn't especially complex or nuanced. The plan for the meal is announced halfway into the film and the remaining fifty minutes are dedicated to preparing and serving this banquet.

It's a simple design, but one which provides immediate joy to Babette's diners and viewers alike. Your appreciation steadily rises while the film unfolds, as you come to appreciate seemingly throwaway sequences from earlier in the film that come to take meaning.

Adapted and directed by Gabriel Axel, a Danish filmmaker who spent much of his long career directing television movies, Babette's Feast has a sharp sense of humor it keeps hidden for some time. Its heartwarming nature similarly takes time to reveal itself. By the final act, though, both features are impossible to miss, as an elaborate, artful exercise in haute cuisine manages to heal old wounds and produce uncharacteristic smiles on the faces of its guests. Even if the eponymous meal doesn't strike you as appetizing -- and the main course ("Cailles en Sarcophage", literally "quails in coffins") is very likely to seem off-putting -- you are somehow able to appreciate how delicious, decadent and unprecedented such ornate dishes are for these guests used to dried fish and stale soup.

The meal is the movie and its pleasures are comparable to a multi-course feast that pulls out all the stops. The first half that seems kind of slow and stuffy absolutely factors into your appreciation of the second half. The histories and perspectives of these characters are what enable you to enjoy this as more than just a cinematic European precursor to Food Network. The film is sneaky and deceptive in that way, working you into a lull resembling the existence of these devout, pastoral Christians, only to bring you to life with the fanciful celebration. Babette's Feast works not only for its content but for in the sly, effective way it chooses to present it.

No one associated with Babette's has managed to surpass the reception of this little film, which grossed a decent $4.4 million from its limited Orion Classics US engagement in the spring of 1988. Writer-director Axel gained some notice for his 1994 drama Royal Deceit (a.k.a. Prince of Jutland), a retelling of the 12th century Danish legend that inspired Hamlet with a cast led by Gabriel Byrne, Helen Mirren, Christian Bale, Brian Cox, and Kate Beckinsale, though it wasn't well-received or theatrically released outside of Europe. He contributed a short segment to an anthology documentary and made only one feature film after that, evidently enjoying retirement to this day. Much of the cast has since passed away and those who haven't unsurprisingly have not had the privilege of participating in another crowd-pleasing critical darling.

Such films are special and rare, quite often once-in-a-lifetime for their makers. Thus, no one will object to Babette's Feast, recently named as the favorite movie of the currently-reigning Pope Francis, being admitted this week into The Criterion Collection, taking spine #665 in a two-disc DVD and the single-disc Blu-ray reviewed here.
Blu-ray Disc Details

1.66:1 Widescreen
2.0 DTS-HD MA (English)
Subtitles: English
Not Closed Captioned; Foreign Extras Subtitled
Release Date: July 23, 2013
Suggested Retail Price: $39.95
Single-sided, dual-layered disc (BD-50)
Digipak in Slipcover
Also available as 2-Disc DVD ($29.95 SRP) and on Amazon Instant Video
Previously released as MGM World Films DVD (January 23, 2001)
VIDEO and AUDIO
The picture quality on the Criterion Babette's Feast Blu-ray ranges from very good to excellent. The video isn't quite as sharp and detailed as today's fare, looking a tad milky at times. A few shots show some minor imperfections. Still, if not quite sumptuous, the remarkably clean results are highly pleasing given the film's age and origin. The 2.0 surround DTS-HD master audio soundtrack is perfectly satisfactory as well, with dialogue remaining crisp and intelligible throughout as it is perfectly translated by flawless English subtitles.
BONUS FEATURES, MENUS, PACKAGING and DESIGN

The Blu-ray's all-HD video extras begin with a new French language interview with director/screenwriter Gabriel Axel (8:41),

recorded earlier this year at Denmark's Karen Blixen Museum. Axel is far more alert, alive, and articulate than you expect a 95-year-old man to be. He warmly recalls the film, its influences, its cast, its creation, and an offer he had to make a sequel.

French actress Stéphane Audran, the film's Babette, reflects on her best-known performance and working in an unfamiliar language in Allerton Films' 2012 interview "Through Babette's Eyes" (24:21). She considers the film from a variety of angles, including costumes and the film's U.S. promotional tour, providing much insider insight.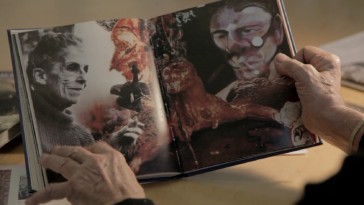 "Table Scraps: Notes on Babette's Feast" (26:00) is a visual essay from filmmaker and go-to Criterion resource Michael Almereyda.

Actress Lori Singer (leading lady in the original Footloose) voices Almereyda's thoughts on the film (arguing it's neither about religion nor food) and his histories of author Karen Blixen, director Axel, and actress Audran to complementary film clips and photos. The piece concludes with photographer Peter Beard sharing his experiences and images from his time with Blixen at the end of her life.

"Karen Blixen - Storyteller" (1:30:07) is a feature-length 1995 Danish documentary celebrating the life and work of the author behind Babette's Feast. Scholars and associates weigh in and Blixen herself is heard in letters and recorded appearances, many of the latter in English, in which Blixen typically wrote. It's a comprehensive and well-produced film, but not the easiest watch.

"An Artist of the Everyday" (17:00) interviews author and sociology professor Priscilla Parkhurst Ferguson, who discusses the history and importance of French cuisine, how the film incorporates it, and its varied responses around the globe. It's a valuable perspective on the central subject matter.

Finally, we get the film's original Orion Classics trailer (1:28), which utilizes stills, critical acclaim, and the Foreign Language Film nomination (not yet a win) to promote Babette's for American audiences.

The menu plays Filippa's singing over shots largely of Babette's meal preparation. The disc kindly resumes playback and allows you to set bookmarks on the film.

Criterion departs from their usual Blu-ray packaging here, with a side-opening slipcover housing a Digipak, where one finds the disc across from a more substantial than usual booklet. The 64-page thermally-bound companion includes the complete Isak Dinesen/Karen Blixen short story on which the film is based. A most enjoyable read, it has been faithfully adapted in Axel's film, save for a relocation from Norway to Denmark. Around that story, we get the usual film and disc information as well as "Mercy and Truth Have Met Together", an essay by cinema writer and professor Mark Le Fanu, who considers the film as an adaptation, a multilingual production, and as a work of Gabriel Axel.
CLOSING THOUGHTS
Babette's Feast is a film that slowly and gradually wins you over. What seems to put you to sleep early on comes to take meaning in the joyous second half all has been building to. The result is a substantive yet appealing drama you needn't be an art house snob to enjoy.
Criterion's Blu-ray serves up a pleasing feature presentation, nearly three hours of comprehensive video supplements, and a great booklet including the original short story. It seems impossible to be disappointed in any way by this thorough, delectable release.
Support this site when you buy Babette's Feast now from Amazon.com:
Criterion Blu-ray / Criterion DVD / Instant Video