Reality television. Today it means extreme competitions, gimmicky game shows, talent searches, self-improvement programs, and celebrity train wrecks. Before all of those became in vogue, there was "COPS",

a show which has never pretended to serve a greater good or used manipulative techniques to manufacture suspense. Born out of the five-month Writers Guild of America strike of 1988, the series follows police officers in various major cities around the United States as they carry out their duties on calls big and small.

"COPS" debuted on March 11, 1989 on Fox, the three-year-old TV network that was then able to provide just five and a half hours of original programming exclusively on weekend nights. Nineteen years later, nearly everything about primetime has changed. Networks have been added, dropped, merged. No longer the "fourth network", Fox is a major player long boasting around-the-clock content. Sitcoms have faltered. Hour-long dramas have risen along with their production values. And though often synonymous with "trash", reality TV has dominated the decade.

Through it all, "COPS" has persisted, never moving from its Saturday night perch and never drastically messing with its sincere original documentary-style format.
The title and design suggest that it's law enforcement heroism that has kept the show on the air so long and made it one of today's most syndicated. That's not entirely true; it is the folks on the other side of the law, captured on the handheld video, which give the show its greatest value. We're reminded at each episode's start that these suspects "are innocent until proven guilty in a court of law." But while evidence and testimony may be needed to convict them of crimes, most are instantly culpable of being entertaining. Weak lies, irrational actions, drug paraphernalia, general slovenliness, and impaired communication skills have easily become as familiar to the series as the cop car commentary, timestamps, odd digitally blurred face, and reggae group Inner Circle's long-immortal theme song "Bad Boys."
Even novice channel-surfers are certain to have encountered a "COPS" episode in one of its various showtimes in syndication, where reruns of the show have now lived on for the past fifteen years. It would appear that most viewers know and appreciate the series from there. Last season (2006-07), first-run "COPS" was ranked 102nd in Nielsen ratings that placed its average viewership at 5.8 million people. Most of the series below it either were promptly cancelled or call the CW home. The networks consider Saturday an undesirable night for primetime programming, yet "COPS" remains there (along with longtime neighbor "America's Most Wanted"), as a kind of comfort food for those spending Saturday night inside. A reminder that no matter how bad things may be, they're a lot worse for those seen on the show.
Consistently funny and raw, occasionally shocking and exciting, once in a while just sad, "COPS" is one of life's least shameful guilty pleasures.
Unorthodox though the show may seem next to other contemporary programming, "COPS" is joining its TV brethren in the lovely universe of DVD. Next week, 20th Century Fox Home Entertainment issues "COPS": 20th Anniversary Edition, a two-disc set that undoubtedly offers fans of the show its most exciting home video release to date.

Though the moniker is summoned a year too soon, the "20th" is warranted in that this is the number of the season currently airing Saturday nights on Fox, unaffected by the recently-wrapped writers' strike that harked back to the series' conception.

In presentation, the 20th Anniversary Edition DVD opts for a less sensationalistic tone than the three previous "COPS" DVDs that were released in March 2004. Their titles and covers, especially Bad Girls, made clear that a certain flashy theme was being maintained rather than the series' standard, eclectic blend. Here, we get three noteworthy hour-long episodes, 2˝ hours of additional segments from over the years, and a host of bonus features comprised of 90 minutes audio commentary and nearly 2 hours of video extras. All this arrives at the quite reasonable list price of $29.99, a tag most often applied to new movies rarely given so many supplements.

A clear look at each of the set's offerings follows.

"COPS 20th Season Special" (43:08) (a.k.a. "20 Years... Caught on Tape") (Originally aired September 29, 2007)

This is essentially a "Best of 'COPS'" episode, with enough highlights from the first 19 seasons to fill an hour of air. Flashy snippets are the order of the show and the brief excerpts are arranged by themes like car and foot chases, suspects under the influence, and domestic disturbances. This isn't representative of a typical show, as most of the clips are meant to be fleeting diversion rather than involving mini-drama. Still, it's consistently entertaining as a compilation of memorable moments from the past two decades.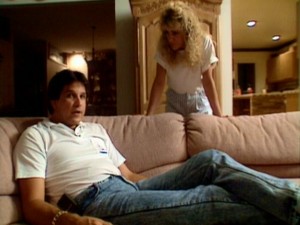 "COPS Pilot Episode" (45:15) (Originally aired March 11, 1989)
At its start, "COPS" proves to be utterly compelling television. This premiere episode (and the entire season, actually) takes us to Broward County, Florida, where drugs are the chief concern. There are a number of busts, most memorably a muscle-bound 20-year-old who's staunchly opposed to having his baggage inspected at the airport. An effort is made to incorporate human drama of the featured police officers into the proceedings. Not always the most natural, the depictions of home life nevertheless are very interesting, especially the captain's wife who thought marrying a cop would be exciting, only to find he'd rather watch Superman and not talk about work. An effective and affecting blend is on display in this survey of one week of activity, which includes a body eerily floating in water and a sweaty crack house interrogation.
It's worth noting that Oscar-winning actor Burt Lancaster provides the opening narration here, which differs from the succinct, matter-of-fact statements very familiar to regular viewers. There are also many more blurred faces than usual.
"Las Vegas Heat" (43:25) (Originally aired February 19, 2005)
This episode has somewhat the feel of a "Law & Order" as it primarily deals with a murder mystery, when a 70-year-old Vegas "graveyard shift" bartender is discovered beaten to death. We tag along with detectives as they follow up leads, eventually pointing to a strung-out prime suspect. Some much-needed comic relief is provided from less serious incidents, ranging from a street robbery set-up and a confessional car thief to public urination and the village idiot hiding beer cans in his tight jeans. This inclusion serves to show how chilling "COPS" can be when it deals with deadly, senseless crime. Unsurprisingly, the forensic investigation is more arresting than similar scripted fare.
Disc 2 gives us one show segment from each of the first twenty seasons. They're divided into two chunks, with each season's selection securing its own chapter stop. This is really the best part of the DVD for giving "COPS" fans the series' patented blend of variety in consistently captivating sequences running about 7 minutes apiece.

"First Ten Seasons" (1:12:00)

Season 1's clip finds the Broward County cops busting drug dealers out of an RV, led by a shirtless hippie "customer." Season 2 follows a Portland patrolman as he checks in on former and present prostitutes. The legendary Season 3 excerpt takes us to Las Vegas, where a cop pretending to be a wealthy sheik orders two escorts for what Borat would call "sexy time."

In Season 4, a foul-mouthed mulleted man puts up a fight when he is ejected from a Kansas City restaurant for unclear reasons. Season 5's dreary segment tags along with members of the Los Angeles homicide unit as they investigate the crime scene of a pretty young woman's murder.

Season 6 features an alley car chase turned foot pursuit when a shirtless Nashville man runs out of a beer-filled stolen vehicle. Season 7 provides one of the lengthy high speed car chases that Los Angeles is famous for. Season 8 serves up the bizarre case of a Fullerton, California man who survives a gunshot to the head in a botched suicide attempt. For Season 9, there is a tense hostage situation at an apartment complex in Homestead, Florida in which the suspect goes up in flames. Season 10's unforgettable incident involves a large pig residing in an unoccupied Kansas City home, who issues horrendous squeals while resisting "arrest."
"Second Ten Seasons" (1:09:30)
Season 11 gives us the case of a pantless abductor in Atlanta who upon being stopped drives off to eventually flip over. Season 12 is one of those must-see house calls in which a heavily intoxicated Indianapolis resident has put a bad beating on a friend and, holding no remorse, can't keep hilarious statements from coming out of his mouth. In Season 13's piece, cops in Arizona's Maricopa County enjoy a car chase with a persistent and armed pair of drivers. Season 14 finds San Bernardino County cops nabbing a teary female drug user who's clearly under the influence. Season 15 treats us to a New Orleans Mardi Gras segment in which blurred nudity abounds and below-the-waist flashers are arrested.
In an excerpt from Season 16's "Bad Girls 2" special, Spokane Police deal with a 7-Eleven shoplifter who bites. Season 17's "Tased and Confused" clip takes us along as Cincinnati cops respond to a fight among friends, the heavily-pierced of whom gets tased despite his concerns. Season 18 serves up another suspect who flees in car, this time in Gwinnett County, Georgia and with less reason. Another car chase represents Season 19 and is distinguished by an apologetic driver. Season 20 presents a surreal incident, captured via dashboard camera, in which a pullover subject steps out and opens rapid fire in Kansas City.
Though the nature of DVD leads one to expect unrated content, what's here appears to be identical to what aired sometimes with a content disclaimer. All profanity remains bleeped and the little nudity remains digitally blurred, aside from the bonus featurettes, which include a few sets of Mardi Gras breasts and some swearing.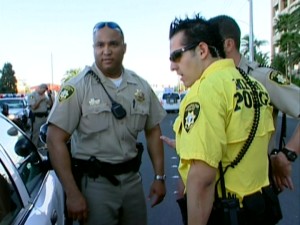 VIDEO and AUDIO
Though "COPS" generally boasts high production values, the on-the-job and often on-the-run nature of this cinéma vérité yield shaky handheld visuals that won't ever be mistaken for carefully choreographed film. Accepting this photographic style, the series can still easily be judged on picture quality. The presentation here is quite pleasing, with sharp, clean picture and crisp two-channel stereo sound. The 1989 pilot episode and early season excerpts have a softer look than the more recent show content, but all the tape-based video can be deemed superior to its syndication equivalent. Particularly useful based on the unstable sound recordings are subtitles, which are offered on the three Disc 1 episodes in English, French, and Spanish but missed on Disc 2 and bonus content.
BONUS FEATURES, MENUS, PACKAGING and DESIGN

A robust serving of bonus features is spread across the two discs.

Disc 1 provides audio commentary on the original pilot and "Las Vegas Heat" episodes. On the pilot, creator and executive producer John Langley is joined by former Fox executive and series supporter Stephen Chao as well as two featured cops, former Broward sheriff Nick Navarro and current sergeant Jerry Wurms. It's an interesting conversation that Langley and Chao dominate. They recall how unusual the show and its format were at its inception while also noting how this first episode differed from what would come.

Langley is particularly vocal about formulas he's glad were dropped -- conventions of fictional TV drama like music and establishing shots in addition to the cops at home material he labels "soap opera." Navarro and Wurms provide updates on the episode's featured officers and star criminal.

On "Las Vegas Heat", Langley is accompanied by former sheriff Bill Young, detective Sheila Huggins, and sergeant Tom Jenkins, three officers who feature in the episode. They're able to provide meaningful screen-specific commentary, with Huggins leading talk on the central homicide and Jenkins discussing his lighter peripheral incidents. While most of the conversation deals strictly with this unique hour-long show, a few tidbits speak about "COPS" at large, such as the effect the camera has on questioning subjects.

"Parodies and Tributes" (15:15) is just what it sounds like. As a sucker for compilations of various media, I found it especially delightful. "COPS" parodies, plot points, and references from an assortment of movies and TV shows are showcased in six minutes of clips. They include "My Name is Earl", Reno 911! Miami, "The X-Files", "Futurama", "King of the Hill", There's Something About Mary, Borat, Walking Tall (2004) and Dude, Where's My Car?. With this much homage entertainment emanating from within Fox, I wish other studios would have been either approached or savvy enough to lend their relevant works as well. The second half of the piece is devoted to an excerpt from Troops, the late-'90s independent "COPS"-meets-Star Wars Internet flick which is introduced by writer-director Kevin Rubio.

"Famous Fan Favorites" (12:10) is another entertaining featurette. It does a fine job of stringing together comments from celebrity "COPS" fans with relevant show clips. The fairly bizarre collection of those interviewed: a trio of Reno 911! characters (portrayed by creators Kerri Kenney, Thomas Lennon, and Robert Ben Garant), actors Luke Wilson and Chris O'Donnell, Lethal Weapon director Richard Donner, comedians Larry the Cable Guy and Paul Rodriguez, deaf Oscar winner Marlee Matlin, and tennis great Pete Sampras.

"The Story of COPS" (22:00) is an excellent overview of the series which deftly balances interviews, show clips, and behind-the-scenes footage. That last component is certainly the most compelling, as we see the show's two-men crews tag along with police officers, profanity and nudity censored in the editing room, and the general process of developing an episode. The interview subjects are mostly the commentary speakers and some of what they say overlaps those tracks, just like we see a tiny sampling of Disc 1's parodies. There's still a wealth of gold here, from Inner Circle in concert and a discussion of their theme song to show promos and excerpts of John Langley's "COPS" precursors for Geraldo Rivera.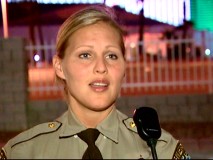 "Cops on COPS" (30:50) catches up with ten officers who have appeared on the show over the years. Each provides a first-person reflection on a memorable incident that involved them, which we get to see. It's quite cool to get the cops' retrospective perspective and the featured occurrences are both varied and intriguing.
Last and least is "Lights! Camera! Action! Toughest Takedowns" (34:50), a compilation of seven show segments featuring high-speed pursuits. The first six chases are automotive in nature (at least they start that way), while the last one is all foot pursuit. Some of these are interesting and exciting, but they're less so when lumped together and viewed in succession and the piece could use chapter stops.
About the only area neglected among these delightful bonus features is the "COPS" cast on the other side of the law. I've often wondered just why so many of these suspects sign releases allowing them to be seen at some of their lowest moments. It's pretty understandable, however, that rounding up convicted and likely embarrassed criminals for interviews wasn't high on the DVD producers' priority list. It's also worth briefly noting that a "Lost Episode" mentioned in the press release does not appear to be found here.
Most of the menu screens are static, silent, and adorned with appropriate imagery (police tape, badges, guns, batons, handcuffs). The exception is each disc's Main Menu which opens with a little intro of high-tech graphics and footage before settling on a similar screen with wailing sirens and flashing lights in action. Gladly, all of the featured show content is broken into chapters and given scene selection menus.
Disc 1 opens with a promo for the 20th season of "COPS" on Fox. Aside from the two discs, the only thing found inside the standard keepcase is a double-sided for Fox TV DVDs.
CLOSING THOUGHTS
"COPS" is one of those shows that even those who enjoy it don't expect to spend money on. But they'll want to reconsider that position now that Fox has put together such a swell two-disc collection to commemorate this fascinating, enduring series' 20th year on television. Loaded to the brim with content, the set delivers an outstanding blend of episodes, segments, and terrific, comprehensive new bonus features. This DVD release seems like one you'll probably have to find rather than it finding you, but now that you know, there's no excuse not to get this for yourself or the "COPS" fan in your life. With complete season sets not being the most practical or feasible idea, this will likely be the show's definitive DVD release. As such, if you care for the show, make space in your collection for it. This 20th Anniversary Edition DVD earns a hearty recommendation.