DVDizzy.com | DVD and Blu-ray Reviews | New and Upcoming DVD & Blu-ray Schedule | Upcoming Cover Art | Search This Site
Planes, Trains & Automobiles Blu-ray + DVD + Digital HD Review (30th Anniversary Edition)
Planes, Trains & Automobiles

Theatrical Release: November 25, 1987 / Running Time: 92 Minutes / Rating: R

Writer/Director: John Hughes

Cast: Steve Martin (Neal Page), John Candy (Del Griffith), Laila Robins (Susan Page), Michael McKean (State Trooper), Kevin Bacon (Taxi Racer), Dylan Baker (Owen), Carol Bruce (Joy), Olivia Burnette (Marti Page), Diana Douglas (Peg), Martin Ferrero (Motel Clerk), Larry Hankin (Doobie), Richard Herd (Walt), Susan Kellerman (Waitress), Matthew Lawrence (Little Neal Page), Edie McClurg (Car Rental Agent), George O. Petrie (Martin), Gary Riley (Motel Thief), Charles Tyner (Gus), Susan Isaacs (Marie), Lulie Newcomb (Owen's Wife), John Randolph Jones (Cab Dispatcher), Nicholas Wyman (New York Lawyer), Diana Castle (Stewardess), Julie H. Morgan (Stewardess), Bill Erwin (Man on Plane), Ruth De Soza (New York Ticket Agent), Ben Stein (Wichita Airport Rep) / Uncredited: Lyman Ward (John), William Windom (Bryant)
Buy Planes, Trains & Automobiles from Amazon.com: Blu-ray + DVD + Digital HD • DVD • Instant Video
It's Thanksgiving today and while that's reason for much of the country to already start celebrating Christmas, to do so would be to overlook a holiday that is both widely celebrated and rather unique in its nature. In contrast to the overwhelming number of Christmas movies out there, there are just a few Thanksgiving ones. And really there's only one classic:

John Hughes' masterful 1987 cross-country comedy Planes, Trains & Automobiles. Sure, you'll see the occasional list of Thanksgiving movies, recommending you to check out Pieces of April or Home for the Holidays. There's also Dutch and Hannah and Her Sisters. But Planes, Trains & Automobiles is the best and it's not even up for debate.

The fifth of eight films both written and directed by Hughes, Planes is clearly a product of the 1980s. The soundtrack is full of the era's music, from Hughes favorites The Dream Academy to synth pop band Book of Love. The cast is populated by actors who had worked with Hughes before and would work with him again. But even the passage of thirty years hasn't dulled the comedy or the haunting gut punch of emotion you probably don't expect on a first viewing. This year and any year, if you only watch one Thanksgiving movie, let it be Planes, Trains & Automobiles.

Paramount Home Entertainment isn't big on catalog releases these days, having licensed much of their library to Warner Bros. But Planes must be a perennial bestseller because the studio has reissued it on the thirtieth anniversary of its theatrical release. "Reissued" may be too strong a word. The studio has bundled the 2011 Blu-ray along with the original 2000 DVD and thrown in a Digital HD to give it greater appeal as the industry pushes to move away from physical media. Since the discs themselves are unchanged, I feel like my 2011 Blu-ray review can be as well. I certainly stand by everything I wrote in it and I'm still pleased with how it reads. I will however update the sections below as they pertain to this repackaging that would be easy to mistake for the previous "Those Aren't Pillows!" Edition Blu-ray. Enjoy...
---
The name John Hughes has become shorthand for a certain kind of movie, a high school comedy equal parts hilarious and sweet. Hughes was better than anyone else at making those movies, having written and directed Sixteen Candles, The Breakfast Club, and Ferris Bueller's Day Off. It's reasonable to assume that's all Hughes did. As a matter of fact, though, he had success with other subjects. In the 1990s, his last full decade in film, Hughes wrote one profitable family film after another. Most of them aren't great, but the one that seemed to send him in that direction, Home Alone, is. Years earlier, Hughes impressed with a different sort of family movie, scripting the R-rated National Lampoon's Vacation and its equally celebrated PG-13 Christmas installment.
In between these different phases, Hughes wrote, directed, and produced Planes, Trains & Automobiles. No teens or children prominently feature in this film. It is rated R, but surely ranks among the tamest movies to receive that rating since the 1984 introduction of PG-13. This 1987 cross-country buddy comedy is up there with Hughes' very best and proves his incomparable talent was not only suited for tales of adolescence.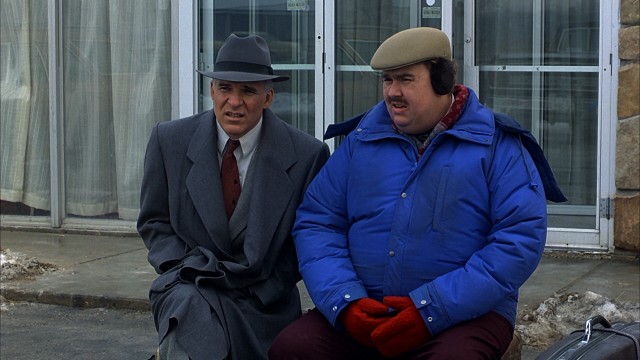 Planes opens in New York City on the Tuesday before Thanksgiving. Uptight marketing man Neal Page (Steve Martin) is eager to get out of his meeting and catch his 6:00 flight back home to Chicago. Alas, getting to the airport is a tall challenge in rush hour, holiday week Manhattan traffic. In his mad dash to land a cab, Neal parts with $75, only to have the taxi drive away with someone else in it. That someone else is shower curtain ring salesman Del Griffith (John Candy) and Neal is about to see a whole lot of him over the next three days.
Turns out Neal and Del are on the same flight and in neighboring seats at that. The two strangers haven't even boarded the plane when we figure out they've got a classic case of personality clash. Rotund, easygoing Del is an annoying blabbermouth, who gets by on favors and friendship. Neal just wants to quietly get home to his wife (Laila Robins) and three young children, but it is not to be. With the Windy City getting some inclement weather, the flight gets redirected to Wichita, where Neal opts to share a cab with Del to the motel room he thought to reserve before everything in the area got booked. Though Del is getting on his every nerve, his personal connection has to be better, Neal reasons, than trying to sleep on an airport floor.
The problems keep piling up for the new acquaintances. First, they're stuck sharing a bed in the only available room. Overnight, they are robbed. Amidst some pretty pointed bickering and a touch of gay panic, Neal and Del try everything they can think of to get to Chicago, from a train that breaks down to a rented car that goes up in flames. "One disaster after another" is one of the oldest designs in comedy. It fueled the majority of silent romps and is still widely in use today. It's a framework that could easily get old fast if the setbacks are too over-the-top or not particularly inspired. But John Hughes knew comedy inside and out; accordingly, his great wit devises fresh, funny, and imaginative obstacles that defy expectation. Where other writers or directors would accept one big joke, Hughes builds a complex network of jokes.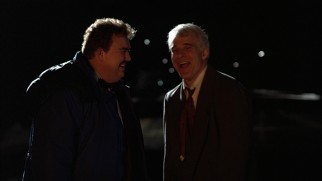 At the risk of intellectualizing away some laughs, you can take any gag in the movie and dissect it to figure out why it pays off so brilliantly.

Each is constructed on layers of setup. For instance, there is the big show-stopping scene in which Neal and Del are accidentally driving down the wrong side of the highway. On its own, not really a funny situation, but set up as it is here, it is riotous. You're already in good spirits from the previous scene, in which removing his coat while driving proves most difficult for Del. That bit concludes with some sharp maneuvering, effectively waking Neal from sleep. He's groggy and Del is woozy from night driving and having to briefly steer with his thighs. That perfectly segues into the two having difficulty comprehending a concerned couple's attempts to warn them. (Neal: "He says we're going the wrong way..." Del: "Oh, he's drunk. How would he know where we're going?") That proceeds for a while, complete with Del pantomiming inebriation. By the time two huge 18-wheelers come straight at them, an ominous predicament that plays on anticipation, you're sure to be beside yourself in laughter.

To me, this is one of the funniest movies ever made. I know that classic comedies are at a disadvantage from being regularly recognized as such. And humor is so subjective. I'd classify most of Steve Martin's other work as moderately diverting. But paired here with John Candy at his most lovable and obnoxious produces an odd couple for the ages. Their chemistry and timing is as strong as any comic duo. If Candy hadn't died seven years later, I have no doubt that attempts would have been made to reteam them. I have plenty of doubt that reunion would have been as pitch-perfect as this.

I don't know of any comedy screenwriter since maybe Frank Capra whose work can stand up to Hughes' first ten years in movies. He was already backing out of Hollywood and finished with directing when Candy's 1994 death gave him the push to leave altogether in favor of reclusion. That Candy and Hughes passed away too soon heightens the impact of their collaborations. Their disappearing acts factor into their legend, with both respected as comedy gods. People love Steve Martin too, but The Big Year's flopping just can't produce the same sentiment as death. Every mediocre new credit he takes on chips away some at his legacy. But enjoying leading man status and eight-figure payouts well into your sixties is probably worth some legacy-chipping (right, Robert De Niro?).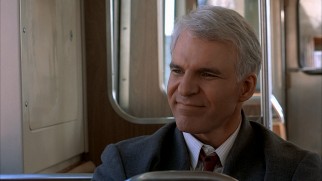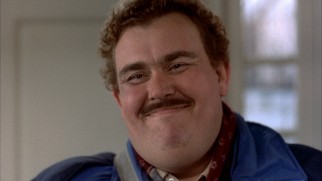 Getting back on topic, Planes, Trains & Automobiles is just a perfect tempest of excellent ideas and execution. Running 87 minutes plus credits, it is one of the tautest films out there. There isn't so much as a shot, let alone a scene, that doesn't add something valuable. Though this is, without a doubt, a two-man show, there isn't a supporting performance that doesn't stay in mind here. Some of the more memorable: a silent, smirky Kevin Bacon as a fellow would-be taxi passenger, the underappreciated Larry Hankin as an odd Kansas cabbie, and Dylan Baker, who continues to enjoy a respectable and prominent career, makes a magical, uncharacteristic film debut as the phlegmy Owen (Gus' son), who gives the guys an uncomfortable ride. (This movie gets the most mileage out of sinus-clearing since The Odd Couple.) Hughes favorites Edie McClurg, Lyman Ward, and Ben Stein show up. There is also a brief but effective appearance by Michael McKean, which somehow warrants fourth billing.

One of the more interesting things about this movie is its R rating, which is earned in a single car rental counter scene in which the F-word is used again and again as an adjective (and once as a verb). The entire rest of the movie is pure PG-13 (PG, if made prior to 1984). Today, the usual practice is to aim for PG-13 and cast as wide a net as possible. To do so, you're allowed one non-sexual use of the F-word (though recent films have been getting away with a few more). Nowadays, most R-rated comedies go wild and pile on as many foul words and crude jokes as possible. Getting a PG-13 on Planes would have been so easy; just use the TV-friendly version of the scene.

But Hughes and Paramount believed in the scene or simply didn't mind an R rating enough to stick to their guns and leave it in. I can't think of any contemporary mainstream comedy that would do the same.

Another thing that distinguishes Planes is its Thanksgiving setting. Though there are literally hundreds of Christmas movies, other holidays don't get so much love. You'll occasionally encounter a list of Thanksgiving movies and this one is always mentioned, along with the likes of Home for the Holidays, Hannah and Her Sisters, and Pieces of April. Hughes' subsequent cross-country comedy Dutch also fits the bill. As far as I'm concerned, though, Planes, Trains & Automobiles is the only Thanksgiving movie you need. While the holiday itself looms mostly as a destination, the film really nails the feel of it, from traffic (and lack thereof) to weather to nightmarish travel. I tend to also observe the fourth week in November with A Charlie Brown Thanksgiving, the partially claymated "Home Improvement" episode "The Wood, The Bad and The Hungry" and the deliciously dated, guest star-studded "Saved by the Bell: A College Years" installment "A Thanksgiving Story" (all of which I recommend you check out some time, preferably as soon as you finish reading this review). But if you feel like something is missing in between the Halloween and Christmas seasons, Planes, Trains & Automobiles will fill all of your needs on its own.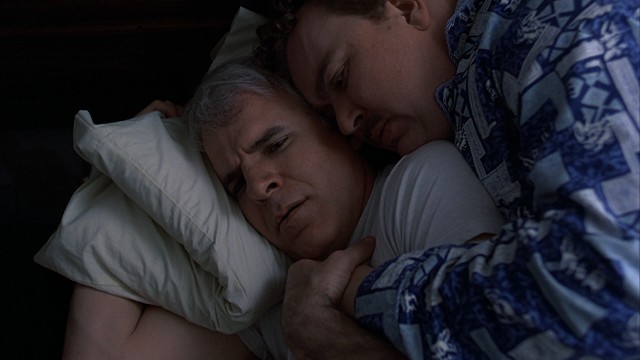 I'd be remiss if I didn't mention Hughes' prowess in putting together an appealing soundtrack whose performers and songs you typically do not otherwise know. The first time I saw the movie, back in the late spring of 2001, I questioned some of the choices, specifically the instrumental "Power to Believe" from The Dream Academy (who had also been used a year earlier on Hughes' Ferris Bueller), which quickly and jarringly renders dramatic an early motel scene. I've since come to relish it above everything else dropped in here, which includes a sparing but appealing score by Ira Newborn, Blue Room's "Everytime You Go Away" cover (the perfect note on which to close the film), and "I Can Take Anything", the end credits' fun "love theme" incorporating and repeating dialogue from the movie. Few comedies put as much thought (not soundtrack sales thought) into their music as those by Hughes.
I fell in love with Planes, Trains & Automobiles at first sight, bought the DVD in time for Thanksgiving 2001, and have watched it more times than almost all of the many hundreds of discs in my collection. I was really bummed not to get the chance to review the 2009 "Those Aren't Pillows!" Edition DVD, in between whose announcement and release Hughes sadly passed away, a celebrity death that affected me in the way that Michael Jackson's seemed to affect many. I had actually started writing about the movie and its maker back in the wake of his death, but those thoughts have been lost. My sadness at his lack of a second act and my great appreciation for his work continue and I'm thrilled to now review the movie in its Blu-ray Disc, available exclusively at Best Buy since September 2011 and receiving general retail release on November 6, 2012.

Blu-ray Disc Details

1.78:1 Widescreen (DVD Anamorphic)
Blu-ray: 5.1 DTS-HD MA (English), Dolby Mono 2.0 (Spanish, Portuguese);
DVD: Dolby Digital 5.1 (English)
Subtitles: English for Hearing Impaired; Blu-ray only: English, French, Spanish, Portuguese
Not Closed Captioned; Extras Subtitled
Release Date: October 10, 2017
(Blu-ray originally released as Best Buy exclusive September 25, 2011, and in general retail November 6, 2012)
Suggested Retail Price: $12.96
Two single-sided discs (BD-50 & DVD-5)
Blue Eco-Friendly Keepcase (Best Buy version in Lenticular Cardboard Slipcover)
Also available on DVD ($8.99 SRP) and Amazon Instant Video
Previously released as "Those Aren't Pillows!" Edition DVD ($14.99 SRP),
standalone Blu-ray (September 25, 2011/November 6, 2012), and barebones DVD (November 21, 2000)
VIDEO and AUDIO
Planes, Trains & Automobiles looks just about perfect in this Blu-ray's stunning 1.78:1 presentation. Its original DVD transfer impressed me greatly, but 1080p resolution easily tops that. The element is stunningly clean throughout, void of any perceptible intrusions or technical shortcomings. Perhaps the movie's strong DVD sales numbers have encouraged Paramount to show a little more love and care. Or maybe they're just that good at picture quality; even on DVD, it was an area that they long excelled.
The obligatory 5.1 DTS-HD master audio track is also delightful. As covered above, Planes has a great musical sensibility and it really shines in this presentation. In addition, the dialogue is always crisp and intelligible, and never drowned out. While it doesn't have the dynamism of action and effects-driven movies, this mix does everything it should in an entirely satisfying way and can be considered reference quality for its era and genre.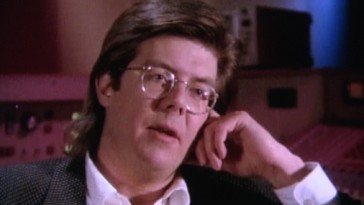 BONUS FEATURES, MENUS, PACKAGING and DESIGN

Though I treasured my DVD for a decade, I always wished it wasn't barebones. This Blu-ray addresses that by retaining the "Those Aren't Pillows" Edition DVD's four extras and adding a couple of brand new features.

"Getting There is Half the Fun: The Story of Planes, Trains and Automobiles" (16:38, SD) is a very cool featurette. It is comprised primarily from a press Q & A with John Hughes, Steve Martin, and John Candy, conducted back in 1987 at a convincing "Paramount International Airport" set.

Thanksgiving Movies and Specials:


In addition to those often funny remarks (and behind-the-scenes aftermath), we get B-roll from production and new reflections from executive producer Neil Machlis, casting directors Jane Jenkins and Jane Hirshenson, and actors Michael McKean and Edie McClurg.

Next comes the all-new documentary "John Hughes: Life Moves Pretty Fast" (HD), which is divided into "John Hughes: The Voice of a Generation" (27:39) and "Heartbreak and Triumph: The Legacy of John Hughes" (25:51). This is the kind of respectful retrospective Hughes long deserved; it's just too bad it took death for him to get it. The piece is limited by the fact that it largely only deals with and excerpts (in stunning original aspect ratio hi-def, no less) five Paramount movies: Ferris, Planes, Pretty in Pink, Some Kind of Wonderful, and She's Having a Baby. I wish they realized how much this would have benefitted from other studios' participation, especially Universal (to gloss over Sixteen Candles and The Breakfast Club is nuts). Related to that are the glaring absences to the interview pool: Molly Ringwald and her fellow detainees. And why can't Steve Martin seem to come in for reflection?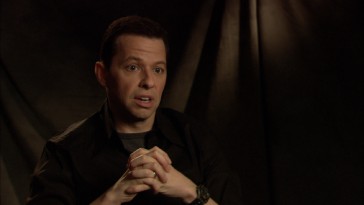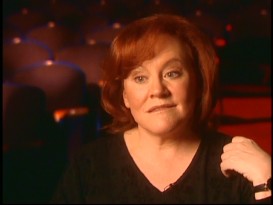 While this falls short of the definitive Hughes celebration, it's still an excellent documentary and includes new interviews with actors Matthew Broderick, Jon Cryer, Lea Thompson, and Alan Ruck, repeat director Howard Deutch, producer Lauren Shuler Donner, producer/National Lampoon CEO Matty Simmons, and costume designer Marilyn Vance, along with plenty of archival interviews with Hughes himself (all you'd get from him since about 1991) and some cast members. There is even production footage and photos, which share the screen in visually interesting way.
The first half seems to tackle his career in chronological order, mostly stopping with Ferris. We learn of Hughes' fast screenwriting processes and hear about the realism of his high school tales. The second segment discusses his actors and characters, his methods, and his interest in music. The piece concludes with thoughts on the man himself and his exile, with the participants recalling where they were when they got the news of his 2009 passing. Without hearing from his family members, there is still an over 10-year gap in Hughes' story which remains to be told. Nonetheless, his collaborators are candid and sincere, giving us an interesting portrait of an undersung genius. The second part is hindered by a slight but noticeable lip-synch issue.
Returning us to Planes-specific extras, "John Hughes for Adults" (4:02, SD) gathers more footage from the 1987 airport Q & A session, more B-roll, and more from the modern interviews, these parts focused on the writer/director. "A Tribute to John Candy" (3:00, SD) pays homage to the late actor with those same elements (including Martin's Q & A comments) plus clips from the movie.
Finally, there is the deleted scene "Airplane Food" (3:24, HD), which is supposedly added to some TV broadcasts. It has Del sharing his cuisine preferences for each airline, as he, Neal, and their elderly neighbor (the recently deceased Bill Erwin) get and swap their meals. It's the same quality as the film, although less essential than anything in it and thus an understandable cut.

There are doubtlessly many more deleted scenes; Hughes shot a lot of footage and at one point assembled a 3-hour cut. McKean mentions some of his material that was lost. Supposedly, Paramount has the footage and it may have even deteriorated, which would be a shame. At some point, the studio should really investigate and see if anything is worth preserving and presenting.

Oddly, the movie's theatrical trailer still isn't included. Presumably, there is some music issue that has kept this off all of the movie's 5-inch discs. It's noteworthy for featuring some footage unused in the film.

Based on what the packaging states about bonus features, it seems like Paramount intended to include the 2006 "Those Aren't Pillows!" Edition DVD here. Instead, they've included the original 2000 DVD. That means you get the movie and absolutely nothing else.

This 30th anniversary edition loses the neat lenticular slipcover with different artwork that at least accompanied some pressings of the film's Blu-ray and dubbed it "Those Aren't Pillows!" Edition.

Online stores suggest that has been replaced by a comparable slipcover whose red and green color scheme and gift-wrapped presents among suitcases seems overtly designed to make you think this is a Christmas movie, but no such slipcover was included with my review copy. Here, the two plain discs share a standard blue keepcase with a Digital HD insert.

It must be repeated that the case artwork's airline electronic scrollbar, reading "ALL FLIGHTS CANCELLED... YOU'RE SCRE", is one of the weirdest graphic design choices I've ever seen. I think we can all guess what unseen letters come next, but to quote the TV version of the car rental scene following a non-existent announcement is weak, especially without the slipcover to hide it.

The Blu-ray's uncreative menu is a static, silent expansion of the keepcase artwork (minus the offensive scroll). The DVD gives us a very mild update on the same artwork. Par for Paramount, the Blu-ray doesn't resume, but you can add bookmarks to the film.
CLOSING THOUGHTS
If you're a regular reader, you may have noticed that I've lavished praise on no fewer than four all-time favorite movies in the past month. 'Tis a joyous season for me. This very week, I celebrated Scrooged as my favorite Christmas movie and now here is my favorite Thanksgiving movie, Planes, Trains & Automobiles, released to theaters by the same studio on the same day a year earlier. I bet if Paramount made a New Year's comedy in 1989, I would have loved that too; crazily enough, Columbia Pictures did and I do (Ghostbusters II). But enough about me...
Planes, Trains... is a wonderful movie. It's as hilarious as anything and also manages to resonate in profound ways. I strongly encourage you to make it a part of your Thanksgiving and of your collection. This Blu-ray is an ideal way to own the film, serving up a practically flawless feature presentation, a great and unexpected new hour-long John Hughes retrospective, and all four of the deluxe DVD's fine bonus features. This all adds up to one of the world's easiest recommendations.
Support great cinema and this site when you buy Planes, Trains & Automobiles
now from Amazon.com: Blu-ray + DVD + Digital HD / DVD / Instant Video

Related Reviews:
John Hughes -- Written & Directed: Ferris Bueller's Day Off • The Breakfast Club | Screenplay: 101 Dalmatians (1996) | Story: Drillbit Taylor
John Candy: Cool Runnings • Follow That Bird | Steve Martin: Father of the Bride • The Big Year
Buddy Comedies: Due Date • Monsters, Inc. • The Odd Couple • The Other Guys
1980s Movies: Scrooged • The Princess Bride • Say Anything... • Teen Wolf • Top Gun
Thanksgiving: A Charlie Brown Thanksgiving • Alvin's Thanksgiving Celebration • Home Improvement: The Complete Sixth Season
Planes, Trains & Automobiles Songs List (in order of first use): Balaam & The Angel - "I'll Show You Something Special", Yello - "Lost Again", The Dream Academy - "Power to Believe", Emmylou Harris - "Back in Baby's Arms", Steve Earle & The Dukes - "Continental Trailways Blues", Book of Love - "Modigliani (Lost in Your Eyes)", Dave Edmunds - "Gonna Move", Westworld - "Ba-Na-Na-Bam-Boo", Cast - "Over the River and Through the Woods", Steve Martin - "Three Coins in the Fountain", John Candy and Cast - "(Meet) The Flintstones", Ray Charles - "Mess Around", Silicon Teens - "Red River Rock", Steve Earle & The Dukes - "Six Days on the Road", Stars of Heaven - "Wheels", Steve Martin & John Candy - "Blue Moon of Kentucky", Blue Room - "Everytime You Go Away", E.T.A. featuring Steve Martin & John Candy - "I Can Take Anything (Love Theme from Planes, Trains and Automobiles)"

Buy Planes, Trains and Automobiles: The Original Motion Picture Soundtrack CD on Amazon Marketplace
DVDizzy.com | DVD and Blu-ray Reviews | New and Upcoming DVD & Blu-ray Schedule | Upcoming Cover Art | Search This Site

DVDizzy.com Top Stories:


Reviewed November 3, 2011 / October 24, 2012 / November 23, 2017.


Text copyright 2017 DVDizzy.com. Images copyright 1987 Paramount Pictures and 2006, 2011, and 2017 Paramount Home Entertainment. Unauthorized reproduction prohibited.