DISC 2: VICTORY THROUGH AIR POWER, TRAINING SHORTS, AND BONUS FEATURES
Disc 2 opens with a cheerful 38-second introduction by Leonard Maltin. He talks about Victory Through Air Power and the bonus features to be found here.

VICTORY THROUGH AIR POWER

Maltin introduces this as "the most unusual feature film Walt Disney ever made." Victory Through Air Power, he says, is meant to send a message rather than entertain. Adapted from a book by Alexander P. de Seversky, this 1943 film calls on America to focus energies on long-range bomber planes in order to win World War II.

Victory Through Air Power opens with messages which declare that America has been saved from past struggles by men of vision of courage. The scrolling notes then reveal that the film is dedicated to Billy Mitchell, an Army general whose advice to look into aerial assaults in the years after World War I went mostly ignored or ridiculed by the nation.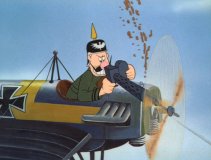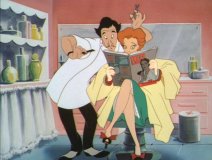 After this, we are treated to an amusing animated history of aviation, which starts from the turn-of-the-20th century test flights by the Wright brothers. We see aviation being explored by various nations for various purposes and then airplanes put to limited use in World War I. While it does purport to be a documentary of sorts, it keeps a light-hearted tone and features some warm, colorful '40s-style Disney animation.

This evolves into a fact-imparting section on how air power has advanced in the recent years to a potent and efficient means of carrying out war, which segues into Alexander de Seversky, whose credentials are given.

Born in Russia, Seversky lost his right leg when his plane was shot down at the age of 22. Seversky came to America in 1918 and becomes a friend and advisor to Billy Mitchell, and eventually a naturalized citizen. Made a general in the American army, Seversky goes on to invent a number of instruments to improve military aviation. After this, twenty-one minutes into the film, de Seversky makes his first appearance and talks briefly about how the introduction of aircrafts means changes the face of traditional warfare.

More animated artwork maps out the plan for Europe to respond to Nazi Germany, which is powerfully depicted with a dramatic score and expressionistic animation. Even with an abundance of dramatic cues, at this point, the film is simply recanting war strategies with narration, which may leave some viewers cold. The point the film makes, is that the Allied powers need to embrace military aviation to get the advantage over the robust Nazi units. Surface fighting, we're told, gives Hitler the edge.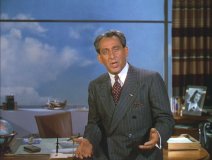 De Seversky speaks directly to the camera for much of the film, a method which is livened up by having him move around while doing it to avoid it seeming like a lecture. De Seversky's friend and fellow aviator H.C. Potter directed his live action sequences, while Disney veteran David Hand (Snow White and the Seven Dwarfs) supervised the animation which was directed by James Algar, Clyde Geronimi, and Jack Kinney.
Including the 4½-minute introduction, the film runs just under 1 hour and 10 minutes. Presented in a slightly windowboxed 1.33:1 (fullscreen with overscan) transfer, Victory Through Air Power features surprisingly clean picture quality and strong audio in its Mono track. The sound effects of the air bombings are heavy on bass and the DVD soundtrack reveals an attention to detail in the film's sophisticated audio mix. One minor detraction is that sometimes, de Sevorsky's on-screen comments are mixed quite a bit lower than the rest of the audio, so you may have to adjust the volume.
Victory Through Air Power is a unique old Disney film. One doesn't watch it in the same way they watch other early works from the studio like Treasure Island. In 1943, the film was meant to inform and persuade, and its message is no longer relevant six decades later. Nonetheless, its nature, subject matter and interesting use of Disney animation makes it rewarding to watch.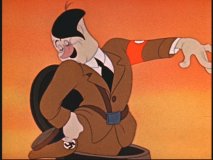 TRAINING SHORTS
In a 92-second introduction, Leonard Maltin proclaims these Training Shorts the "least celebrated" but perhaps "most significant" of Disney's wartime creations. Disney made these films to teach specific skills to various branches of the armed forces. Maltin explains that these films have gone unseen for a long period of time because they were made in secrecy and only recently declassified.
Four Methods of Flush Riveting (9:30)
Produced under the technical direction of The Lockheed Aircraft Corporation, Disney's Burbank neighbors, this training short utilizes quick, inexpensive animation to teach the skill of flush riveting.
Naturally, this is a rather dry instructional video. There is very limited animation, and as Maltin points out in his intro, it was not created to be entertaining. There is, nonetheless, a novelty factor to seeing a Disney project like this.

Stop That Tank (21:32)
This instructional video made for Canada begins with some comic cartoon relief for soldiers. An animated Adolf Hitler is portrayed as a raving madman who remains shouting about being oppressed, even when he is condemned to hell. The video and audio quality of this short is noticeably lesser than the shorts on Disc 1. The animated antics run just over 3 minutes, and the rest of the short praises the Boys Anti-Tank Rifle. Like the previous training short, there is some limited animation which demonstrates the usefulness and parts of this weapon. There's also live action footage of soldiers firing the rifle and very brief cartoon moments intended to lighten the mood. This short is intended to be informative, not entertaining, and in that regard, it succeeds!

Training Film Montage (5:11)
With narration from Maltin, this reel contains bits and pieces from some of the over 200 training films Disney made for the army. Maltin's commentary explains why one film was restricted; it contained formulas to mix a glue that could be used to create weather-sealed patches on wooden airplanes. Maltin touches upon a wide range of instructional films and also discusses the different methods of animation which were used for these works.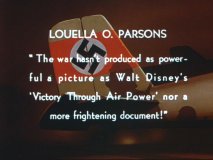 BONUS FEATURES

"On the Set of Victory Through Air Power" (5:40) culls together rare behind-the-scenes footage from the production of this 1943 film. As Maltin points out in the short introduction, Walt looks pretty tired, which he chalks up to long days prior to the nighttime filming sessions. There is no audio for this footage and the video is rather crude. But it's certainly a unique and interesting supplement, and maybe even easier to appreciate in itms odd, nearly-faded state. It's also one of the few glimpses of Walt we get in this set.

The theatrical trailer (2:11) for Victory Through Air Power is a nice inclusion that shows how this early Disney film was promoted to audiences. Considering how many Disney films are lacking their trailers on DVD, from The Lion King to most live action films, this bonus feature is certainly appreciated.

The Galleries on this set are truly impressive. They are divided into 7 sections.

Production Art Galleries contains conceputal artwork from 18 of the shorts on Disc 1: "The Thrifty Pig", "Seven Wise Dwarfs", "Donald's Decision", "The New Spirit", "Donald Gets Drafted", "The Army Mascot", "Food Will Win the War", "The Vanishing Private", "Der Feuhrer's Face", "The Spirit of '43", "The Winged Scourge", "Education for Death", "Private Pluto", "Fall Out; Fall In", "Victory Vehicles", "The Old Army Game", "How to be a Sailor", and "Commando Duck."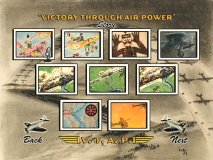 Each short's gallery has anywhere from two to over forty images which can be viewed as pages of thumbnails or full-sized artwork. They offer a blend of black & white sketches, colored sketches, and full-color cels. Select images from "Donald's Decision", "The New Spirit", "Donald Gets Drafted", "Food Will Win the War", "Der Feuhrer's Face", "The Spirit of '43", "The Winged Scourge", "Education for Death" and "How to Be a Sailor" offer enlightening audio commentary from Leonard Maltin, indicated by a microphone icon on the thumbnails page.

This is a real treat to not only see these shorts but to get this bonus material to enhance one's appreciation of the way they look.

The next set of galleries are for Victory Through Air Power. A whopping total of 168 images are included and separated into Visual Development, Story (the biggest section, by far), Backgrounds, and Publicity. A number of these stills contain commentary from Maltin, too.

The gallery on "The Gremlins" (not to be confused with the 1984 Joe Dante film Gremlins) contains 31 conceptual images from an interesting collaboration between Walt Disney and children's author Roald Dahl. Dahl's first book was to be the first adapted into a feature film, too. But the project was scrapped after Dahl was disappointed by the conceptual artwork and Walt Disney couldn't secure copyrights to the term "Gremlins." In a fascinating tidbit, Maltin reports that Dahl's experiences in the Disney studio were an inspiration for writing Charlie and the Chocolate Factory.

Rounding out the galleries are Posters (a collection of 27 attention-grabbing messages from Disney), Dispatches from Disney's (a quickly-disregarded publication that Maltin explains in commentary), Joe Grant's Sketchbook (self-explanatory artwork from the Disney character designer and animator who is profiled elsewhere on Disc 2), and lastly, an Insignia Gallery of 59 various Disney logos for the war effort.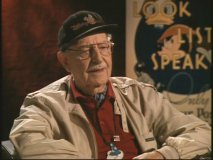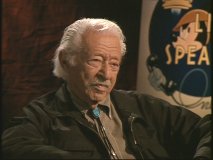 In "A Conversation with John Hench" (14:15), the ever-enthusiastic Leonard Maltin gets to talk with the longest term Walt Disney Studio employee. Hench discusses how the studio in Burbank was transformed practically overnight following the 1941 bombing of Pearl Harbor. Hench started in Disney's story department and moved onto layout, colors, effects animation, and camera operation. Hench has some great stories to tell, and Maltin is able to eke out some of his first-hand view of Disney history.

"A Conversation with Joe Grant" (14:45) lets Maltin speak with the longtime Disney animator and storyman. Grant compares the modern terror situation in America to the World War II atmosphere. Grant discusses the changes he saw at the Disney studio once uniformed men showed up. He also lends some insight to the shorts "Der Fuehrer's Face", "The New Spirit", "Education for Death" and "Reason and Emotion" and the feature Victory Through Air Power. He even touches upon the subject of working with Dick Huemer. Grant clearly has a good time reminsicing about his Disney past.

"A Conversation with Roy Disney" (20:44) allows Walt's nephew to recall his boyhood memories of the Disney studio during World War II. As with the others, Maltin himself is made part of the interview. But Roy speaks charismatically and the interview flows nicely. Among other topics, Disney recalls animators who were eager to return to fare like Snow White, the popularity of Disney insignia, and a bit of primitive promotion he participated in for Victory Through Air Power. Roy also talks about releasing these much-rumored films to the general public and the usefulness of remembering history.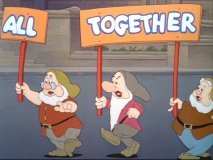 CLOSING THOUGHTS

More copies of Walt Disney on the Front Lines are produced in this third wave of Treasures than any others. It's quite easy to see the appeal of this Limited Edition 2-disc set. While the entertainment value of these shorts is still rather subject to how much you enjoy classic Disney animation, there's a historical angle that makes this fascinating beyond their age. These shorts represent a distinct period when the Disney studio had to depart
from the feature-length fantasies that remain among their most beloved works today and incorporate the realities of World War II into animated shorts.

For many, the simple concept of wartime propaganda is interesting. When you marry this practice with Disney animation and their landmark characters, the fascination levels soar. At a time when Disney keeps many of the studio's most treasured works in the vault for no reason, the controversial nature of these shorts makes this "On the Front Lines" release all the more surprising and unique.

Many have been anticipating Wave 3 of the Treasures since they were announced spring of 2003, or even since the last wave was released in December 2002. I'm glad to confirm that this On The Front Lines displays a great care and attention that went into its production. The set looks great and I cannot think of a single complaint to make against it. It is sure to please all of those who find the subject matter interesting. Those who think they do not have an interest may very well be surprised to find the set thoroughly engaging. Think World War II through Disney cartoons and you have an interesting concept executed with the highest quality in this Walt Disney Treasures set. This history lesson makes the most of DVD technology and classic Disney shorts.

More on the DVD / Buy from Amazon.com Marketplace