DVDizzy.com | DVD and Blu-ray Reviews | New and Upcoming DVD & Blu-ray Schedule | Upcoming Cover Art | Search This Site
Muppets Most Wanted Movie Review

Muppets Most Wanted is now available on home video. Read our review of the Extended Edition Blu-ray + DVD combo.
Muppets Most Wanted

Theatrical Release: March 21, 2014 / Running Time: 112 Minutes / Rating: PG

Director: James Bobin / Writers: James Bobin, Nicholas Stoller

Cast: Ricky Gervais (Dominic Badguy), Ty Burrell (Jean Pierre Napoleon), Tina Fey (Nadya), Steve Whitmire (Kermit the Frog, Foo Foo, Statler, Beaker, Lips, Rizzo the Rat, Link Hogthrob, The Newsman), Eric Jacobson (Miss Piggy, Fozzie Bear, Sam Eagle, Animal), Dave Goelz (The Great Gonzo, Dr. Bunsen Honeydew, Zoot, Beauregard, Waldorf), Bill Barretta (Pepe the King Prawn, Rowlf the Dog, Dr. Teeth, The Swedish Chef, Bobo the Bear, Big Mean Carl, Baby Boss, Carlo Flamingo, Leprechaun Security Guard), David Rudman (Scooter, Janice, Miss Poogy, Bobby Benson, Wayne), Matt Vogel (Constantine, Floyd Pepper, Sweetums, Pops, Robin, Lew Zealand, Crazy Harry, '80s Robot, Camilla, Uncle Deadly), Peter Linz (Walter, Manolo Flamingo), Tony Bennett (Himself), Hugh Bonneville (Irish Journalist), Jemaine Clement (Prison King), Sean Combs (Himself), Rob Corddry (First AD), Mackenzie Crook (Prado Museum Guard #1), Cιline Dion (Piggy Fairy Godmother), Lady Gaga (Herself), Zach Galifianakis (Hobo Joe), Josh Groban (Maximum Security Prisoner), Salma Hayek (Herself), Tom Hiddleston (The Great Escapo), Tom Hollander (Theater Manager), Toby Jones (Prado Museum Guard #2), Frank Langella (Beefeater Vicar), Ray Liotta (Big Papa), Ross Lynch (Young Florist), James McAvoy (UPS Guy), Chloλ Grace Moretz (Newspaper Girl), Dylan "Hornswoggle" Post (Prisoner One), Usher Raymond (The Usher), Miranda Richardson (Berliner at Window), Saoirse Ronan (Herself), Til Schweiger (German Cop), Danny Trejo (Danny Trejo), Stanley Tucci (Ivan the Guard), Christoph Waltz (Himself)

Songs: "We're Doing a Sequel", "I'm Number One", "Big House", "I'll Get You What You Want (Cockatoo in Malibu)", "Macarena (Bayside Boys Remix)", "Interrogation Song", "End of the Road", "I Hope I Get It", "Moves Like Jagger", "My Heart Will Go On", "Something So Right", "Working in the Coal Mine", "Together Again"
Preorder Muppets Most Wanted from Amazon.com: Blu-ray Combo Pack • DVD • Instant Video
2011's The Muppets was a tremendously satisfying revival for Jim Henson's lovable, colorful, furry creations. It evoked past productions but brought new entertainment to the table while also functioning as a celebration of its enduring characters and an acknowledgement of their creative downtime. Critics loved it, most moviegoers loved it, and it finally won the franchise an Oscar for Best Original Song. For a Thanksgiving week Disney release, the film's box office performance was somewhat soft; worldwide, it grossed a little more than half of what the live-action 101 Dalmatians did in 1996-97.

But Muppets came close to doubling its reasonable production budget domestically and Disney wasn't about to let its 2004 purchase of the property -- for undisclosed terms believed to be slightly under $200 million -- languish on TV specials. With the brand's goodwill restored and home video sales proving strong, Disney announced a plan to make a sequel sooner rather than later.

The sequel, titled Muppets Most Wanted, opens in theaters today and reminds us its delightful predecessor is a tough act to follow. Not that this effort, the Muppet gang's eighth theatrical outing, aims anywhere near as high as the previous installment. From that film, director James Bobin is back and now shares writing credit with returning scribe Nicholas Stoller. Jason Segel, the face and co-writer of the last film, is gone and missed. Not even given one of the countless cameo opportunities, Segel's focal Gary is only momentarily shown from the back along with fellow no-show Amy Adams' Mary. Those characters and ones played by Chris Cooper and Rashida Jones are otherwise not even mentioned, though Muppet fan turned Muppet Walter retains a fairly prominent presence and one cameo (Zach Galifianakis' Hobo Joe) gets a reprise.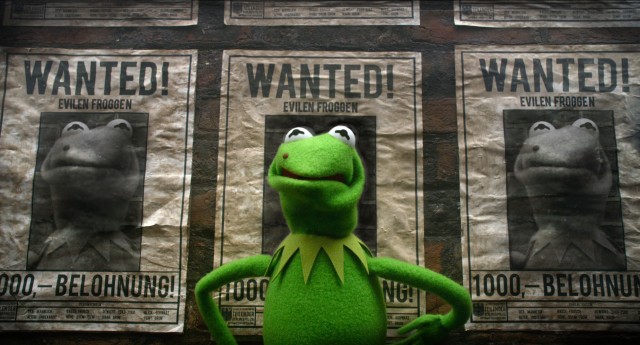 Though it opens at the end of The Muppets, the crowd of paid extras dispersed and the musical euphoria evaporated, Muppets Most Wanted isn't interested in looking back, but forward. It does so with an international plot recalling The Great Muppet Caper, the 1981 sequel that quickly followed 1979's original The Muppet Movie. Caper grossed less than half of what its predecessor made and clearly ranks among the lesser entries in the series.

While Most Wanted should fare a little better, I'd be surprised if its likely front-loaded showing gets close to its recent benchmark domestically. Foreign markets should show growth, though, because as movies like Cars 2 and Madagascar 3 have proven, sequels that make use of European settings get an uptick in business there.

In this film, the Muppets are approached by Dominic Badguy (Ricky Gervais), who insists his surname is pronounced "Badgey" but isn't fooling us. Dominic wants to be the gang's manager on a world tour. De facto leader Kermit the Frog thinks they need time to rehearse an act, but Dominic's feigned airs of success and power convince the large, varied group to instead embark on a train ride to Berlin, where they'll begin performing immediately. Surprisingly, under Dominic's management, the Muppets book respectable venues, performing to packed houses and glowing reviews. But the tour is simply a charade, an alibi for Dominic's real dealings with Constantine, the world's most wanted criminal frog, who engineers an escape from a Siberian gulag and, applying a dab of green makeup to his face and a sticky mole in the same place to Kermit, is able to switch places with the Muppets' sensible showman.
While Kermit is arrested and sent to Siberia, the other Muppets accept that the thickly Russian-accented Constantine is Kermit fighting a cold. The tour takes them to locations near Dominic and Constantine's targets. The string of thefts grabs the attention of an American CIA agent (Sam the Eagle) and a French INTERPOL detective ("Modern Family"'s Ty Burrell), who begrudgingly team up after battling over jurisdiction and the size of their badges.
In Siberia, Kermit plots an escape many times, but is thwarted in each attempt by the officer Nadya (Tina Fey), who's seen it all been done before. Harboring a secret infatuation, Nadya assigns Kermit to direct his fellow inmates (played most notably by Ray Liotta, Jemaine Clements, and Danny Trejo) in the gulag's annual revue, which contributes some to this film's high song count. Again, Bret McKenzie functions as music supervisor and the various songs he writes and produces evoke the same winning spirit and versatility as his best-known work, the "folk duo" Flight of the Conchords and their self-titled HBO comedy series.
Muppets Most Wanted doesn't come anywhere close to the heights of 2011's The Muppets. Despite its trailers' claims that the sequel is always bigger and better,

this film doesn't believe that at all (it even slyly acknowledges "the sequel's never quite as good" in the reflexive opening number). It demands comparisons not to the franchise's three hallowed starts/restarts but to the gang's less enchanting follow-ups: the aforementioned Caper, The Muppets Take Manhattan, Muppet Treasure Island, and even the poorly-regarded Muppets from Space. Based on the careers of the three prominently-billed human leads, you might even expect a TV-caliber production. While this would be exceptional for a television movie, it's still pretty good for a theatrical film.

It misses the clout and personalities of Segel, Adams, and Cooper. Its story makes the opening search for a plot seem all too believable, as if putting the cart before the horse, Disney greenlit a sequel without a strong idea for one. The passion and reverence of the previous film now seems most easily attributable to Segel and while they might seem misplaced or redundant here, no quality on display (accents, criminals, identity theft) makes a suitable substitute. The messiness of this tale (which again reduces the Muppets, aside from Kermit, to relatively minor roles) is easily written off with a joke or a break of the fourth wall.

Save for a couple of amusing ones, the abundant, now-expected cameos don't do much besides make you think, "Oh, I guess [Christoph Waltz/Til Schweiger/Salma Hayek/Frank Langella] is a Muppets fan." Really, who in their right mind would turn down the chance to become part of such a fun tradition?

Muppets Most Wanted is enough fun to add to that tradition and maybe as the songs become more familiar, it will reveal itself to be more than that. My first impression is that it's an enjoyable time, but not an especially memorable one that those outside the Muppet fan base will be talking about a decade from now. This sequel is better than I feared it would be, but not nearly as good as I hoped it could be, following what I considered to be 2011's best film.

Pixar's Monsters University-themed short Party Central precedes Muppets Most Wanted in theaters. Sadly, I arrived too late to my screening to catch more than its end credits, though I'm thankful I missed that instead of the beginning of Muppets.

Preorder Muppets Most Wanted from Amazon.com: Blu-ray Combo Pack / DVD / Instant Video


Related Reviews:
Muppets Most Wanted
The Muppets • The Muppet Movie • The Great Muppet Caper & Muppet Treasure Island • The Muppet Christmas Carol
The Muppet Show: Season 1 • The Muppet Show: Season 2 • The Muppet Show: Season 3
A Muppets Christmas: Letters to Santa • The Muppets' Wizard of Oz • Henson's Place: The Man Behind the Muppets
Follow That Bird • Night at the Museum: Battle of the Smithsonian • Cars 2 • Monsters University • Men in Black 3
Now in Theaters: Divergent
DVDizzy.com | DVD and Blu-ray Reviews | New and Upcoming DVD & Blu-ray Schedule | Upcoming Cover Art | Search This Site
Search This Site:
DVDizzy.com Top Stories:
Reviewed March 21, 2014.


Text copyright 2014 DVDizzy.com. Images copyright 2014 Disney and Mandeville Films. Unauthorized reproduction prohibited.