Chuck Norris had his tonsils removed with a chain saw. So says the 2009 Chuck Norris Calendar that's hanging on my wall.

That confession raises two obvious questions. Easier to answer, "Why does Chuck Norris have a 2009 wall calendar?" Individuals are rarely the sole subject of a mass-produced calendar and those that are tend to be teen icons, pop stars, supermodels, or athletes.

Norris is not quite any of these things. The nearly 69-year-old man is a repeat karate champion turned actor who arguably reached his creative peak in the mid-1980s. That's when he headed a number of profitable but since-forgotten action films like Missing in Action and The Delta Force. Norris later enjoyed an 8-year run as the star of CBS' hour-long drama "Walker, Texas Ranger." But that show left the airwaves in 2001 and you don't see 16-month calendars devoted to the likes of Jane Seymour and Sammo Hung. "Walker" continues to air regularly in syndication (as you can guess, I'll have more on that later), although you're just as likely to spot Chuck in one of his assorted Total Gym infomercials.

The real reason why Norris has a new calendar out and why his name remains familiar to 21st century teenagers is the Internet. Back in 2005-06, wild and bizarre feats were attributed to Norris, playing off his tough guy image. They quickly spread and multiplied. You've probably read or heard them and might even be able to complete some from memory ("...he waits", "Too bad he has never cried", and so on). An Internet fad was born (or rather "phenomenon", since it's ongoing) and Norris became an even bigger cult icon than Conan O'Brien's famed Walker, Texas Ranger Lever made him. A book of Chuck Norris Facts was published in 2007 and became a New York Times bestseller, while prompting a lawsuit from Norris. Wisely recognizing the demand, Norris' Top Kick Productions company put out the calendar.

The other question you're asking is why do I have a Chuck Norris calendar? I suppose that's because I get a kick out of Chuck Norris. Not as in I'm a fan of him or his work, but in the same way that web surfers with excess time find amusement in making absurd YTMND animations featuring him. It's an ironic appreciation, one which leads me to stop on "Walker" reruns when channel-surfing and make sure to watch the hilarious "Karate Kommandos" opening every couple of months. Yes, I've even read both editions of Norris' autobiography and gotten enjoyment out of noticing the minor differences. What's not to love about a bearded redhead who although he's pushing 70 hasn't aged in 20 years, had his copious chest hair ripped out by Bruce Lee, advocates family values and using the Bible in public schools, has made a career of roundhouse kicks and unfathomable beatdowns, sings his show's theme song, and has kids ranging in age from 7 to 43? If Tom Selleck, Patrick Duffy, Richard Dean Anderson, or Mr. T had lent themselves as well to such widespread adoration, maybe one of them would be wearing a beret and stubble on my wall right now. But there can only be one Chuck Norris and the world is probably best that way.

Having spelled out my somewhat illogical devotion to Carlos Ray Norris, you should see how reviewing last week's new "Walker, Texas Ranger": The Sixth Season DVD poses a bit of a personal challenge. Do I actually like Chuck Norris or merely just the idea of him? By requesting this 5-disc, 17-hour set for review, I was thinking I'd figure that out.
Norris plays Cordell Walker, a Dallas ranger whose dangerous life is the subject of the series. Apparently, Dallas is teeming with evil; urban gangs, organized crime, smooth white collar kingpins, international trafficking, and your run-of-the-mill creeps are all found in the region of Walker's jurisdiction. There is an unwritten rule, perhaps the only one in Cordell's hypothetical codebook, which states that all problems should be settled with hand-to-hand combat. And so, they are. Nary an episode goes by without at least two or three outbreaks of fisticuffs, each several minutes long or at least feeling that way.

No criminal has a chance of avoiding the forceful wrath of Cordell Walker. There's not a sheet of paperwork or a shred of protocol in sight. When needed, Walker and his allies will torture, abuse, and flat out murder suspects to get answers and their man.

The show never questions the methods or ponders the morality of such antics. The heroes should have a long record of police brutality and excessive force. But they don't. It's simply understood that Texas Rangers exact violent justice with their fists and feet.

The core cast numbers four. Often by Walker's side is his partner, Ranger Jimmy Trivette (played by Clarence Gilyard). Though never a threat to Walker's spotlight, Trivette emerges as likable and convincingly principled. When the show needs levity, it gives us banter from the dynamic duo. The same can also be provided by Walker and his girlfriend, Alex Cahill (Sheree J. Wilson), who at the start of the sixth season becomes the ranger's fiancée. The city's assistant district attorney, Alex is incredibly well-adjusted for being the most kidnapped woman on Earth. Apparently, she spends all her free time on community service, at least in this season, in which the HOPE Center (standing for Help Our People Excel, thanks to the clever Walker) is opened and prominently featured throughout.

Rounding out the leads is C.D. Parker (Noble Willingham), Walker's retired former partner. As owner of C.D.'s Bar & Grill, the old coot supplies a laid-back hangout for the regulars to frequent. C.D. is seen less this season and would disappear halfway into Season 7 for actor Winningham to make an unsuccessful bid for one of Texas' seats in the House of Representatives.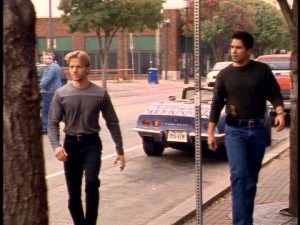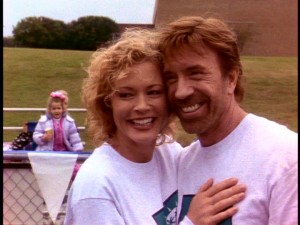 Though not claiming opening title sequence acknowledgement, two recurring characters rival C.D. in screentime while serving as "young blood" on the program. They are Detective Carlos Sandoval (Marco Sanchez) and anti-gun karate expert Trent Malloy (James Wlcek). The two childhood friends were introduced in a pilot for a spin-off. It had been aired as a two-hour "Walker" episode two years earlier, with the characters staying on to appear in about one out of every two episodes. In the series' sixth season, the spin-off finally came to fruition. "Sons of Thunder" took over the "Walker" time slot for the spring. It was cancelled after just six episodes and the characters were unceremoniously dropped from "Walker", never to return.
The Sixth Season's guest stars include some familiar faces, but no one who really prompts a "How could they get them?" Best suited to the show and most effective in the ludicrous parts handed to them are character actors like Gary Busey, James Remar, and Randall "Tex" Cobb. We also get some television returns from past-prime performers like "Magnum, P.I."'s Larry Manetti, John Schneider of "Dukes of Hazzard", and "Six Million Dollar Man" Lee Majors. Some country singers also try their hands at acting, the most notable being Lila McCann.
By Season 6, the show has gotten somewhat bloody, but it remains a far cry from the type of carnage seen in a tough R-rated film. Still, this raises the question of intended audience. In plot, characters, and sophistication, "Walker" seems to aim at twelve-year-old boys. But they shouldn't be watching such violent fare. And on a network long known to skew old, how the elderly embraced the series enough to keep it active for eight seasons is curious.
If you watch enough "Walker", especially in succession, you're bound to notice certain trademarks. Such as how the same formula is employed again and again: people unwilling to provide answers resort to combat, only to get beaten into talking despite having numbers heavily slanted in their favor. Walker escapes this season without so much as a scratch, although he personally ends the lives of many suspects.

Realism is understandably and sometimes delightfully low; all the peril Walker and company face on a regular basis has no effect on their humors in the lighter material.

In case you couldn't already tell, "Walker" is, in a word, preposterous. It promotes violence as a can't-fail answer to the extreme. It seeks dramatic poignancy with original nondiegetic songs that had to have been penned on Applebee's napkins. Stunt doubles are prevalent, even for Norris on the types of punches and kicks he's famous for. The series is also overly reliant on stock footage, filtered video effects, and random flashbacks. Each element adds humor. Comedy is truly this show's saving grace. If it were a little more realistic, subtle, or simply better, it might just be unwatchable. As is, it's a uniquely entertaining entity, like a kind of "Mystery Science Theater 3000" on which you effortlessly provide the commentary yourself based on the things that most amuse you. (Some possible candidates: "Kick Drugs" mentions, disjointed openings that bear no relation to the rest of the episode, and the freeze frame comic tag.)

Paramount has managed to fit the sixth season of "Walker" onto just five discs instead of the six or seven they typically use. That makes sense, since the 1998-99 season ran a bit shorter than past ones, and does not cause problems.

Succinct synopses of the 23 episodes follow. Amazingly, I've even been able to select my ten favorite episodes of the season. I've designated them with a star (

). Regular readers, keep in mind that while I often pick out the best episodes of a season set, my criteria here is slightly different. The chosen episodes tend to be more absurd than proficient and lend themselves to most appreciating the show's camp value.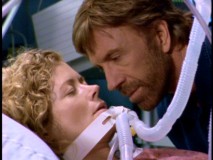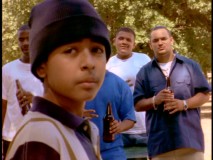 Disc 1

1. The Wedding (Part 2) (44:28) (Originally aired September 26, 1998)
In the aftermath of the wedding blitz, Walker divides his time worrying about the critically wounded Alex and tracking down the attack's perpetrator (Tobin Bell of the Saw franchise).

2. Trackdown (43:13) (Originally aired October 3, 1998)


Walker aids Hector Lopez (Greg Serano), a young man whose boss withheld his earnings. Before Hector is released from prison, he reluctantly becomes the center of an effort to uncover a guard drug ring.

3. Royal Heist (45:11) (Originally aired October 10, 1998)
Trivette goes undercover, infiltrating a band of robbers as a driver. Carlos becomes big brother to a troubled youth being courted by a gang. RuPaul guest-stars as bar owner "Bob."
4. War Cry (43:08) (Originally aired October 17, 1998)
Believing their water to be poisoned, reservation Indians wage a war against the business suspected of polluting it.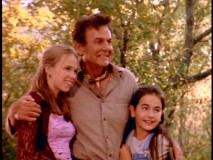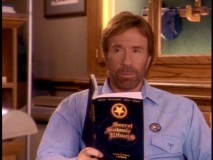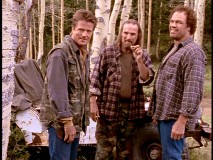 Disc 2

5. Code of the West (43:11) (Originally aired October 24, 1998)
After escaping from prison, a man targets all of those who helped convict him of murder, including a judge working with Alex and misfortunate youths. In the best comic "Walker" tag ever, the characters discuss who would play them in a movie.
6. The Children of Halloween (43:14) (Originally aired October 31, 1998)
In the spirit of Halloween, a nice boy karate student and other children are abducted by Satanist creeps.

7. Survival (45:11) (Originally aired November 7, 1998)
Walker and friends' Utah camping trip is spoiled when the three brute Trammel brothers kidnap Alex and take her to their secluded mountain cabin.
8. Second Chance (43:11) (Originally aired November 14, 1998)
The rangers try to secure a life-saving bone marrow transplant for the daughter of an Irish peacemaker, while IRA extremists seek to kidnap the same girl for their means.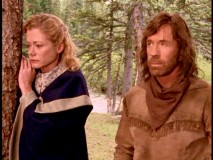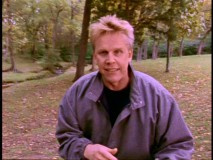 Disc 3
9. Paradise Trail (43:09) (Originally aired November 21, 1998)
C.D.'s birthday present for Walker sets up the series' fourth and final Hayes Cooper episode, in which the "Walker" cast portray 19th century characters. Bounty hunter Cooper (Norris) helps a slave-turned-doctor (Gilyard) and well-off Mormons stay safe from outlaws.

10. Eyes of a Ranger (45:10) (Originally aired December 5, 1998)
An aspiring teenaged singer (Lila McCann) gets discovered

performing community service at HOPE, while the Rangers pursue her near-rapist, a domineering man they suspect of running a heroin market.

11. On the Border (44:43) (Originally aired December 12, 1998)
Walker, Trivette, and Alex investigate the death of a truck driver allegedly dealing drugs and the small-town sheriff (Lee Majors) whose story seems suspicious.

12. Lost Boys (44:02) (Originally aired January 9, 1999)
Carlos' honor student nephew (Bernie Guzman) is accused of killing a cop, a charge that Walker refuses to believe is true.
13. Special Witness (45:12) (Originally aired January 16, 1999)
A ruthless assassin (Gary Busey) sends Trent to the hospital with a severe beating witnessed only by a Special Olympian.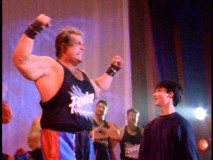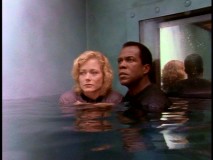 Disc 4

14. The Principal (45:12) (Originally aired February 6, 1999)
When a high school's principal is killed, Walker and Trivette take over his duties undercover. To rid the school of its uncontrollable drug market, Walker brings in the motivational musclemen of The Power Team. James Remar plays a Navy SEAL-turned-teacher supplying student dealers with product.
15. Team Cherokee (Part 1) (43:10) (Originally aired February 13, 1999)
The success of a Walker-supported Cherokee auto racing team prompts misdeeds from a rival squad. Trent and Carlos hunt for a missing teenaged girl.
16. Team Cherokee (Part 2) (44:20) (Originally aired February 20, 1999)
Walker steps behind the wheel to race for the Cherokees against illegal opposition. Trent and Carlos must retrieve the incriminating evidence against the girl's kidnapper after their car gets stolen.
17. livegirls.now (43:11) (Originally aired February 27, 1999)
Walker and Trivette investigate a website where local models -- including Trivette's newest girlfriend -- disappear after posing for photos.
18. No Way Out (42:39) (Originally aired April 24, 1999)
To get to Walker, a vengeful criminal kidnaps Alex and Trivette, giving everyone a chance to remember Walker's past heroics in flashback clips.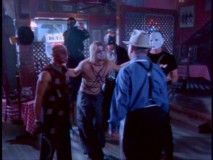 Disc 5

19. Brothers in Arms (45:12) (Originally aired May 1, 1999)
An informant's tip puts the Rangers on the heels of "Panther" (Grand L. Bush), a major player in drug and weapon trafficking. It just so happens he's Trivette's brother and he's got a big secret.
20. Mind Games (43:09) (Originally aired May 8, 1999)
Walker and Trivette lead a manhunt to locate an escaped convict, while C.D. suspects foul play in a friend's son's "fishing" death.

21. Power Angels (45:02) (Originally aired May 15, 1999)
Walker and Trivette square off against German troopers in an athletic competition for charity. In the more serious storyline, a deadly gambling ring merits investigation after claiming the life of Trivette's old NFL teammate.

22. Jacob's Ladder (43:30) (Originally aired May 15, 1999)
Members of a community who witness a gang shooting are afraid to testify against the suspect after others coming forth are attacked by arson. Even firefighters aren't safe from the violent gang.
23. In Harm's Way (Part 1) (42:52) (Originally aired May 22, 1999)
A sadistic group records their costumed killing sprees. With a hospitalized, critical C.D. among the victims, Walker and Alex try to nab the murders' mastermind. Rendering this a cliffhanger, Walker must land an airplane while under attack from enemy fire.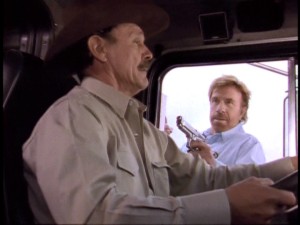 VIDEO and AUDIO
These episodes are ten years old, a fact made evident by the presentation. In contrast to today's television dramas, "Walker, Texas Ranger" appears in 1.33:1 "fullscreen." It has the look of a late-'90s TV show; the picture is a little soft and rather grainy, but the element is otherwise clean. In short, the DVD about meets one's expectations visually, which is to say that the show is a lot more sightly here than it is in Hallmark Channel reruns but far short of today's network dramas on DVD.
The Dolby Surround soundtrack fares even better, delivering music, dialogue, and no shortage of punch/kick sounds evenly and effectively. Though subtitles aren't provided, closed captions are.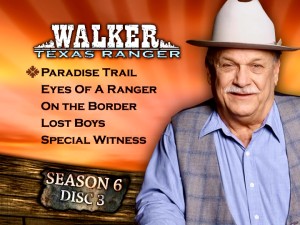 BONUS FEATURES, MENUS, DESIGN and PACKAGING

There are no bonus features of any kind to be found here. It just doesn't make sense for a studio to take time to clear rights, prepare content, transfer to digital media,

and manufacture it in bulk, without making a tiny effort to include some unique supplement of worth. Old episode promos, a photo gallery, DVD-ROM wallpaper, a 20-second Chuck Norris introduction... something. But of course, it's common to find zero supplements on a TV series out of production, especially one distributed by Paramount and CBS.

Before Disc 1's menu loads, you're given the chance to view previews. Should you go this way, you're treated to short promos for "Mannix", "Cannon", "Jake & The Fatman", and "MacGyver" DVDs. These are also available from the disc's menu, where they're easy to mistake for a fifth episode.

Menus are a typically minimalist affair, with a single static, silent screen serving all of each platter's needs in the absence of special features, scene selections, and viewing options. A different character adorns each disc's home menu, but not even the usual "Play All" feature is provided.

Paramount does a favor for those short on DVD storage space by fitting all five discs into a standard-sized keepcase. Judging from what I've seen, this is not consistent with the box sets used on the show's six previously released seasons. It's also not as sturdy; the plastic rod which allows the two flip pages to flip didn't survive transit for me. If not for these two misfortunes, I'd probably be fine with the packaging, which uses the reverse side of the artwork to provide episode titles, airdates, and synopses that show through the clear keepcase (especially when Disc 5 is removed). However, there's no denying that the compact design seems cheaper than it should for something carrying a $50 list price.
CLOSING THOUGHTS

I've concluded that "Walker, Texas Ranger" is entertaining, just not quite in the ways it was intended. Is it possible to appreciate the camp value

and also find the show involving, exciting, and so on? Absolutely and even the most ardent fans would have to acknowledge that. But the silliness is more striking than the drama for me and, I'd guess, most viewers. That makes catching it on cable more appropriate than owning, even if the presentation here is undoubtedly preferred to Hallmark's reruns.

As for the Sixth Season DVD, the unglamorous picture, lack of bonus features, and high yet reasonable price tag are all somewhat off-putting. If you haven't already started collecting the series, you're better off waiting for the Complete Series set that should be coming soon (perhaps by the end of this year). Otherwise, the fan consensus seems to be that the later seasons are better than the earlier ones. So if you're selective about your "Walker" DVD purchases, maybe this makes the cut.