If you can view the three Lion King films as a loose trilogy, then you might consider The Lion King II: Simba's Pride the weak link. Lacking the power and prestige of its predecessor and the clever irreverence and humor of Lion King 1½, The Lion King II feels like a traditional animated sequel. But, to its credit, Simba's Pride happens to feel like a very good traditional

animated sequel, easily surpassing the great majority of Disney's direct-to-video fare.

While the powerful "Circle of Life" opening from the original is impossible to duplicate, Simba's Pride begins promisingly with a similar sequence that uses the song "He Lives in You", written for the follow-up soundtrack Rhythym of the Pride Lands and incorporated into the much-praised Broadway play. Like a decent amount of Disney's direct-to-video sequels, Lion King II proceeds with structure and situations that are like the first film, but with a twist.

In the dramatic end of the original film, we saw Simba and Nala had a child. We learn in the beginning of Simba's Pride that their newborn cub was actually a girl, named Kiara. Enter the twist.

Kiara is every bit as curious and adventurous as her father was as a young cub in the beginning of the first film. Simba is now a loving father, concerned and a bit overprotective of his daughter. Simba has turned into a king who aspires to be like Mufasa, but his memories and unsual history gives him a unique position and distinguish him from his seemingly flawless father.
Timon and Pumbaa have pretty much assumed the royal advisor position that Zazu maintained in the first film (rightfully so, since Rowan Atkinson doesn't return to voice the hornbill), and Simba calls on them to watch over Kiara as she blissfully goes out to explore the pridelands. In her journeys, she comes across Kovu, a seemingly pleasant young cub. They're quite different, but they quickly gets along. The only trouble is that Kovu happens to come from the banished Outland pride.
Whereas the first film used William Shakespeare's play Hamlet as a basis, this sequel relies heavily on Shakespeare's Romeo and Juliet. Kovu's mother Zira (voiced by Suzanne Pleshette) is filled with bitterness and has taught Kovu to hate Simba and his family. Zira and the lions of the Outlands view Scar as a martyr, unjustly dethroned and murdered. Simba has equally strong feelings against the Outland lions, the offspring and supporters of the uncle who was clouded by darkness, and he won't allow Kiara to interact with Kovu.
Zira feels the same way, until she sees Kovu befriending Kiara as a means to getting her revenge on Simba and putting her son into the throne. Zira's intentions are clearly heinous, but there's an ambiguity to Kovu, in spite of the hate-filled vengeance training he has received growing up. There's also an uncertain menace to Nuka (voiced by Andy Dick), Kovu's jealous dimwit older brother who's embittered at being passed up, and Kovu's sister Vitani.
Meanwhile, Simba wants to keep Kiara safe and protected, and the scenes in which he explains the circle of life to her are intentionally reminiscent of the very talk that Mufasa had with him.
Now grown up, Kiara (voice of Neve Campbell) tries to go hunting on her own, and after a close encounter, she once again comes across Kovu (now voiced by Jason Marsden). They hit it off again, and Kovu asks to be a part of Simba's pride. But Simba remains haunted by memories of Scar,

and he feels certain that Kovu can't be trusted, in spite of Kovu's claims that he's left his family. Relying on both Romeo and Juliet and the successful coming-of-age structure of the first film, The Lion King II proceeds to tell this story of star-crossed lovers, torn by feuding families.

Standing next to something as magical and enchanting as the original Lion King, this 1998 follow-up can't help feeling inferior, but that's about the worst you can say about the film. Simba's Pride has much going for it, including a strong soundtrack and impressive visuals worthy of big screen exhibition (which it received in Europe). Another strength of the film is the return of nearly the entire original voice cast, including Matthew Broderick as Simba, Moira Kelly as Nala, Robert Guillaume as Rafiki, and Nathan Lane and Ernie Sabella as enjoyable comic relief Timon and Pumbaa. Even James Earl Jones returns, so that Mufasa's few lines are delivered with the unmistakable baritone.

It is to the film's credit that the remarkably cinematic world of The Lion King is aptly captured here, with its unique blend of Shakespeare and the Savannah. Even in the distinctly direct-to-video world and with a different set of characters, Simba's Pride stays faithful to the spirit of its predecessor and captivates in a similar, but lesser way. Among the lamented class of non-theatrical Disney sequels, this one finds itself near the top.
VIDEO and AUDIO
The Lion King II is given a new digital-to-digital 1.66:1 anamorphic widescreen transfer, and it looks terrific. This new video presentation offers substantial improvement over the non-anamorphic Limited Issue DVD released in the fall of 1999.
Colors are rich and accurate, and the picture remains remarkably clean. It also remains appropriately sharp, with no signs of edge enhancement, and nearly nothing in the way of unsightly grain. There is a great level of detail, and in both vibrantly bright and dark scenes, the transfer remains consistent and consistently satisfying. It may not be quite as pristine as a brand new direct-to-video film like The Three Musketeers or The Lion King 1½, but the above-average animation here is excellently rendered in this pleasing presentation.
The film is presented in 5.1 tracks of both the Dolby Digital and DTS varieties. Sound was one area the previous DVD release didn't need improvement in, but the rich DTS track is a new inclusion. The soundtrack is filled with bass, but not excessively so. This is an active sound mix, atmospheric noises make good use of the surrounds, whether it's powerful thunderclaps or subtle bird calls. Dialogue sounds crisp and precise, but natural within the film's narrative world. The DVD's audio genuinely satisfies in every way. The DVD also offers Dolby Digital 5.1 tracks dubbed in French and Spanish.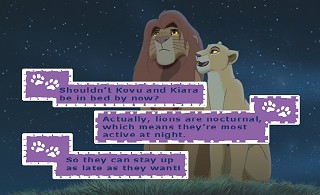 BONUS MATERIALS

Disc One

There are just two Bonus Features on the first disc, and both offer different methods of playback. Disney's Song Selection gives you direct access to the film's six songs,

which play with animated subtitles for you to sing along with. A "Play All" option allows you to play the six sequences in succession.

The second, under the heading of Backstage Disney, is "Lion King's Matter-of-Facts." This lets you watch the film à la VH-1's "Pop-Up Video"; fun facts and trivia related to what's on the screen appear throughout the film. This is a neat addition, though one which informs (with its welcome tongue-in-cheek tone) almost entirely about real animals and not the making of this sequel.

"Matter-of-Facts" makes use of a subtitle track, but showcases colorful graphics rather than simple, plain text. Selecting this option from the menu also selects an alternate audio track, which makes a sound (such as a lion's roar or a bug buzzing) every time a new fact pops up on screen. If you'd like to simply watch the movie and have the facts pop-up silently (and I think you will), you can change to a different soundtrack and achieve this.

Disc Two

Per the EasyFind menu system, Disc 2's bonus material is separated into four sections.

There is just one supplement under the first heading, "Music & More": a video for the end credits version of "Love Will Find a Way." This 4½-minute music video edits together clips of the film with clips of the song's lovestruck performers, Heather Headley and Kenny Lattimore. An abbreviated 1 minute, 53 second version of this music video appeared on the film's Limited Issue DVD release.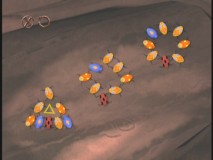 The second section, Games & Activities, appears to be where the most effort went. The first game and most significant bonus feature is "Timon & Pumbaa's Virtual Safari 2.0." Like the two previous installments, Timon and Pumbaa narrate you on a journey through a 3-dimensional computer animated world. This time, the comic sidekicks are riding high on an elephant named Gertie.
As has been established, Timon offers sarcastic comments, Pumbaa provides some facts, and you bring the 'interactive' element to it by choosing which direction to take. Naturally, everything on the safari again goes wrong, and when it's all done, you get to see photos of the journey you've taken. Though it's not as inspired as the mock theme park in "Virtual Safari 1.5", this activity is still mildly amusing and it makes good use of 5.1 surround sound. There's even a hidden surprise or two.
"Pride Land Games" aims squarely at youngsters. A Nathan Lane sound-alike narrates as Timon, guiding you through three little activities about shapes and numbers in order to get grubs and help Kiara and Kovu cross a crocodile-filled lake. It's not as exciting as it sounds.
The last game is Rafiki's Challenge, which was originally announced for The Lion King Platinum Edition under the name of "Rafiki's Three Gourd Monty." Nearly 11 months later, we finally get to play. Unseen narrator and host Rafiki has three identical gourds and he hides a gem under one, which you are to keep your eye on as he mixes them all up. After the mixing period is done, you have to guess which gourd the gem is under and then a dramatic reveal tells you if you got it right. If you're wrong, you guess again until you're right. Play repeats a few times, as the game gets faster but never too difficult. It's a very basic game, but it's more fun than most, and Rafiki offers some fun banter.
Backstage Disney is the section that we look to for behind-the-scenes material among the often fluffy bonus features on Disney DVDs. The first listing here is "Find Out Why", a series of five educational shorts featuring Timon and Pumbaa. These animated shorts, sponsored by the National Science Foundation, were made in 2000 and each runs 90 seconds. Through Timon's rampant speculation and Pumbaa's vast knowledge, these cartoons answer questions about why things are the way they are,

tackling lightning, sneezes, adaptation, wind patterns, and airplane flight. These shorts don't have anything to do with Lion King II, but are amusing, informative and therefore, a neat inclusion.

Second is "Lots About Lions" (2:50), a brief, light-hearted featurette on real lions narrated by Timon and Pumbaa (good sound-alikes, but sound-alikes all the same). Between this, the "Find Out Why" shorts, and the "Matter-of-Facts" track, this DVD set kind of feels like a grade school science class, but the material is handled in an entertaining fashion.

"Proud of Simba's Pride" is a brief electronic press kit featurette from 1998. Though it runs just under seven minutes, its intent is clear (to cover the making of the sequel) and it does provide some insight, in spite of the slick format. In interview clips, we get to hear from director Darrell Rooney, executive Sharon Morrill, producer Jeannine Roussel, and voice cast members Neve Campbell, Jason Marsden, Suzanne Pleshette, Nathan Lane, Ernie Sabella, and a scruffy Matthew Broderick. It's short and glossy, but with footage of storyboard sessions and voice recordings, this featurette provides the type of behind-the-scenes look that the original Lion King's DVD could have used a lot more of.
The last section is devoted to the original short "One By One", which was produced by Don Hahn and Roy Disney and is presented in 1.66:1 anamorphic widescreen and Dolby Digital 5.1. This 6-minute short features no dialogue or sound effects, only music fueled by Swahili chant from Lebo M, who wrote the piece for the follow-up to The Lion King soundtrack, Rhythym of the Pride Lands.
It's an unusual, but evocative piece which showcases some imaginative cel animation. Originally intended to be part of the now-abandoned Fantasia 2006, "One By One" stands okay on its own, but would have benefitted from some background information or a director's commentary.
Unfortunately, one of the two extras from the Limited Issue, a 70-second Lion King II video trailer, was not included. This shouldn't be too surprising, considering that The Lion King Platinum Edition didn't include a single trailer for the film.
Disc 1 opens with previews for Aladdin Special Edition, Pooh's Heffalump Movie, and Mickey's Twice Upon a Christmas. The Sneak Peeks menu adds direct access to promos for Mulan Special Edition, Home on the Range, the new Disney Princess Collection DVDs, and The Lion King on Broadway, as well as a "Play All" option.
Together, the two discs contain 8.24 GB of data. Since one single-sided, dual-layered disc can hold 7.95 GB of data, this set just just barely required a second disc without utilizing further compression. The film was recently released in Europe as a single-disc set, but here it matches the other two Lion King films, like Lion King 1½, just barely needing a second disc.
MENUS and PACKAGING
Disc 1's 16x9 menus have a brief animated introduction. Outside of that, the menus remain pretty static, with the exception of minor animation such as characters appearing in the stars or waterfalls flowing, and a looped portion of the film's appealing score on the Main Menu. There are also animated transitions between menus, which display a basic layout and graphics per Disney's new EasyFind system. However, the new option to have the DVD play itself through like VHS ("FastPlay") is not provided.
Included in the Setup menu are the THX Optimizer tests designed to perfect your audio and video settings for optimal viewing.
This 2-disc Special Edition DVD is housed in a cardboard slipcover which opens up like a book, just like the other two Lion King films. Inside, there is a 4-page "DVD Guide" with a one-page write-up on the movie, lists of scenes and bonus features, and a page prompting you to "Complete Your Lion King Collection Before These Films Disappear Into The Vault!"
A sticker on the package's front notes that you can save $4 if you send in your proof-of-purchase from The Lion King 1½ or The Lion King Special Edition DVD or video. The form for this rebate offer is part of a tiny booklet that contains ads for Mickey's Twice Upon a Christmas, Mulan II, Mulan Special Edition, and Home on the Range.
CLOSING THOUGHTS
The Lion King II could not possibly live up to its majestic predecessor, so it is no small feat that this sequel doesn't disappoint. Showcasing a strong story, well-defined characters, and winning animation and music, Simba's Pride distinguishes itself well above most Disney direct-to-video fare. It even approaches the caliber of the studio's finest animated output, and falls short only because it relies so much on the first film for its successful structure.
With this Special Edition release, all three films about the monarch family of Pride Rock have been treated well on DVD. Like its kin, The Lion King II has received first rate, practically flawless video and audio. Though it's very light on content for a 2-disc set, it still offers more than most direct-to-video Disney films on DVD, and the bonus material is entertaining if not particularly specific to the movie.
Those who have been collecting DVDs long enough to get the lightweight Lion King II Limited Issue that Disney released five years ago will almost certainly want to upgrade to this new edition which surpasses the old disc in every way.