By Aaron Wallace

Mickey's still the leader, but this club is made for neither you nor me. No, "Mickey Mouse Clubhouse" is made for your kids. The half-hour series premiered on Playhouse Disney in 2006

and has come to DVD eight times since then, most recently in a compilation called Minnie's Bow-tique.

Like many other preschool programs, "Mickey Mouse Clubhouse" relies on a basic formula. Mickey and the gang are presented with some relatively low-stakes dilemma toward the beginning of each episode and they ask for audience participation (that is, for your children to shout at their TV) to help them solve it.

That interaction comes by way of a floating Mickey-shaped computer called the Mousekedoer, in some ways the star of the show. Any time that Mickey summons the Mousekedoer, kids can expect four choices to come floating their way. Each of these options will be a Mouseketool, one of the four being ideally situated to the obstacle at hand. While I doubt the average child will find him or herself making similar choices in their daily lives, the opportunity to match up problem with solution obviously encourages some critical thinking.
For the adult watching this show, the appeal is found entirely in the happily familiar cast of Disney characters. It's been a while since we've seen Mickey and his cartoon kin on anything other than stationary, so to see the "super six" (Minnie, Goofy, Donald, Daisy, and Pluto co-star) in original works on a semi-regular basis is heartwarming in and of itself. While computer animation is something relatively new for these products of the '20s, '30s, and '40s, their design here is stylized so as to feel natural in this clubhouse world and even appear a bit toddler-esque in their features. The show thereby avoids the risk of feeling disrespectful or artificially contemporary.
Adding icing to the cake is the frequent appearance of less-celebrated icons such as Ludwig Von Drake, Pete, Clarabelle Cow, and more. Like the main characters, these guest stars are faithfully portrayed, though Pete is friendlier here than we've seen him before. Those of us who'd given up on seeing Willie the Giant in something new this millennium (or hadn't even had the optimism to think of it) can feel some pride in Disney for remembering its wide stable of personalities.
I suspect that the very young viewers for whom this show is actually made will, likewise, take to this show because of its starring 'toons. Though the studio may have forgotten it for a while, these characters have delighted audiences young and old alike for generations. Though toddlertainment is naturally less universally accessible than most of their other works, their essential charm is very much intact.
There are four episodes in the Minnie's Bow-tique collection, at least one which has yet to air on TV. Each has Minnie's name in the title and she does indeed feature prominently throughout, but leading man Mickey naturally stays front and center.

The packaging advertises "Minnie's Pajama Party" as never-before-seen and online episode guides seem to confirm that. Those same guides, however, suggest that the title installment, "Minnie's Bow-tique", hasn't aired yet either (a fact the packaging fails to mention).

1. "Minnie's Pajama Party" (Not yet aired)
As you might have gathered from the title, Minnie throws a pajama party. She invites some cool friends (co-ed, I'm afraid, so parents beware!) for one swell throwdown.

2. "Minnie's Bow-tique" (Not yet aired)
Minnie opens up a bow store (in all fairness, this seemingly superfluous enterprise makes a bit more sense in a world populated by bow-loving cartoons). Among her first customers is an unlikely bow shopper: Pete.

3. "Minnie's Bee Story" (Originally aired August 1, 2009)
Buzz Buzz the Bee debuted in 1951 Donald Duck short Bee on Guard and we haven't seen him since -- until now. He's looking very different these days (quite a bit like Mickey in bee form, in fact), but that he's been remembered at all is pretty cool. Minnie and the gang help Buzz Buzz after he gets lost.

4. "Minnie's Picnic" (Originally aired February 9, 2008)
Mickey Park is debuting a new space for picnics and Minnie celebrates by hosting one for her friends.

Note: The order above reflects the actual sequencing of episodes on the disc, not the erroneous order in which they are listed on the DVD packaging. Also note that the recently deceased Wayne Allwine (since replaced by Bret Iwan as the voice of Mickey Mouse) is credited in all four of these episodes.

VIDEO and AUDIO

The episodes are presented in their original 1.33:1 fullscreen, to no complaints. That's to be expected from a digital production like this. Likewise, the Dolby 2.0 Surround soundtrack does a fine job. French and Spanish dubs are available. The only subtitle track is English for the Hearing Impaired.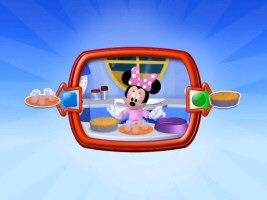 BONUS FEATURES, MENUS and PACKAGING

The only "bonus features" on the DVD are two modes of alternate play, available on two episodes: "Minnie's Bee Story" and "Minnie's Pajama Party". In each of these bonus play modes, the episodes will pause on occasion and present the viewer with a choice.

The first mode is "Adventure Mode Level I", which presents two options that usually involve something simple like matching. The second mode, "Adventure Mode Level II", provides four options that demand something a bit more challenging, like counting.

Both levels are available in an interactive "Active Play" mode and an "Auto Play" mode. The former asks the viewer to use the remote control to make their choices. The latter lets your kids sit back and watch as the DVD makes the right choice for them. I'm not sure there's any point at all to the "do nothing" version. "Active Play", on the other hand, promises to add mileage to toddlers' use and enjoyment of these two episodes.

The 16x9 main menu is rather blurry and pixelated, but animated with Minnie and Daisy pointing to the menu options while the other characters appear through a window. The disc is found inside a standard white keepcase, along with some ads and a Disney Movie Rewards Magic Code. Adorning the keepcase is a glossy cardboard slipcover that replicates the cover art.

The DVD uses Disney's FastPlay, so you'll need to manually access the menu screen if you want to access it at all. Sneak peeks found on the disc include Beauty and the Beast: Diamond Edition, "My Friends Tigger & Pooh": Super-Duper Super Sleuths, "Little Einsteins": Animal Expedition, promos for Disney Blu-ray and the Disney Movie Rewards program, The Princess and the Frog, Ponyo, Toy Story & Toy Story 2 on Blu-ray, Ponyo, "Handy Manny" on Playhouse Disney, and Tinker Bell and the Great Fairy Rescue.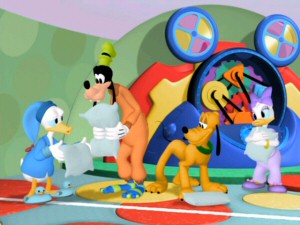 CLOSING THOUGHTS
Don't get me wrong, if you don't have children, merely being a dedicated Disney fan isn't enough to make you enjoy two hours of "Mickey Mouse Clubhouse". Those with a fondness for Walt Disney's original creations will, however, appreciate Disney's unusually long-term memory if they do end up seeing the show. Minnie's Bow-tique presents four decently entertaining episodes, some of them previously unseen. The DVD's alternative playback modes compliment the critical thinking skills already moderately exercised in the show. If you're in the market for toddlertainment, "Mickey Mouse Clubhouse" is a choice that should entertain your kids and give you something you can relate to at the same time.