UltimateDisney.com | Review Index | Recent Live Action Page
Rudyard Kipling's The Jungle Book DVD Review
Rudyard Kipling's The Jungle Book

Theatrical Release: December 25, 1994 / Running Time: 111 Minutes / Rating: PG

Director: Stephen Sommers / Writers: Ronald Yanover, Mark Geldman (story & screenplay); Stephen Sommers (screenplay); Rudyard Kipling (characters from novel)

Cast: Jason Scott Lee (Mowgli), Cary Elwes (Captain William Boone), Lena Headey (Katherine 'Kitty' Brydon), Sam Neill (Colonel Geoffrey Brydon), John Cleese (Dr. Julien Plumford), Jason Flemyng (Lt. John Wilkins), Stefan Kalipha (Buldeo)

Rudyard Kipling's The Jungle Book takes the characters that Disney fans are undoubtedly familiar with and tells a quite different story. This film adaptation very loosely uses the 1894 novel to create a "more realistic" and less imaginative adventure. Animals may be given personality, but they are not given dialogue.

Mowgli, the man-cub who was raised by the wild animals of the jungle, has grown into a man. He is about to be discovered by the world which he was born into and quickly left - the human world. Mowgli (Jason Scott Lee) discovers a beautiful young woman who goes by Kitty (Lena Headey) and not unlike Tarzan, wants to learn more about these strangers like him.

Leaving behind his friends from the animal kingdom, Mowgli is able to speak and act like a human being, with some schooling from his new British friends, Kitty and her father (Sam Neill). Though Mowgli is enamored of Kitty, she is engaged to Captain William Boone.

Despite a strong performance from the talented Cary Elwes, Boone is only slightly more complicated than the standard villain. He hunts for sport, and is clearly not without some faults. Boone then seeks to take advantage of Mowgli by pressuring him into revealing a highly sought lost city of treasure.

Personally, I found the movie to be mildly entertaining but not particularly great. Its depature from Kipling's book and the 1967 animated film that is more vividly in the public conciousness is not entirely welcome. If you are able to get over that, the film works quite well as a high budget, cinematic adventure. Beautifully filmed and well-crafted, the film falls just short of the dramatic effectiveness needed to qualify it as a success.

DVD Details

2.35:1 Anamorphic Widescreen
Dolby Digital 5.1 (English)
Subtitles: English, French, Spanish
Closed Captioned
Release Date: April 23, 2002 / Repriced July 1, 2003
Single-sided, dual-layered disc (DVD-9)
Suggested Retail Price: $14.99 (Was $19.99)
Out of Print - Discontinued in 2005

VIDEO and AUDIO

The Jungle Book is wonderfully photographed and this 2.35:1 anamorphic widescreen transfer is satisfactory in every regard. The wide color palette is vibrantly captured and the picture remains sharp and detailed throughout. Certainly a film which would be drastically butchered in pan-and-scan; just see the 1.33:1 trailer included for proof of that.

At the time this was released, it appeared Disney would be doing their live action catalogue right. But, this and the concurrently-issued disc of Adventures of Huck Finn (also directed by Stephen Sommers) were among just a handful of anamorphic widescreen releases out of the slew of catalogue DVDs rushed out by Disney over the next two years. Fortunately, this is just about the perfect video presentation for the film. Stephen Sommers somehow lucked out, and fans of his two Disney films should be delighted.

The Dolby Digital 5.1 track makes for a pleasing audio experience. The film has an active sound mix that blends some potent effects with a dramatic and often-present score. The ambient noises from the jungle environment are nicely conveyed, and when engaged, the surrounds really serve to put you further into the film.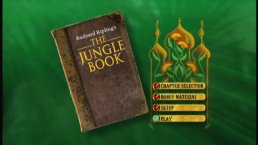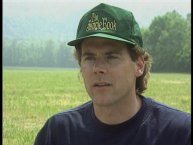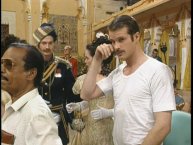 BONUS MATERIALS
"The Making of Rudyard Kipling's The Jungle Book" is a very enjoyable documentary on the film's production. Running 26 minutes and 50 seconds, the piece opens at Sound Stage 3 of the Disney Studio. Hosted by Patrick Van Horn, this supplement details the large-scale production shot on location with cinematic photography and a whole group of wild animals. Topics discussed include the author himself, shooting scenes in 6 locations over 2 continents, the score and orchestration headed by Basil Poledouris, and working with trained animals. A number of cast and crew members comment here, including star Jason Scott Lee and, most of all, screenwriter/director Stephen Sommers.
Though not stated on the back of the package, there is also the film's original theatrical trailer, presented in 1.33:1.
The menus have some fluid backgrounds and animated introductions and transitions. The 16x9 frames are accompanied by selections from the film's score.
The disc opens with trailers for Return to Never Land, Atlantis: The Lost Empire, Cinderella II: Dreams Come True, The Hunchback of Notre Dame II, and 101 Dalmatians II (then simply known as 101 Dalmatians: The Animated Sequel). There is no Sneak Peeks menu to access these individually.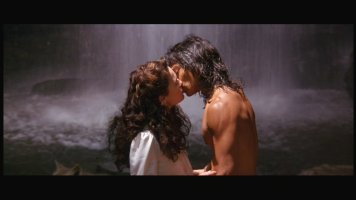 CLOSING THOUGHTS

Out of their huge live action catalogue, this is an odd title for Disney to give such excellent DVD treatment. If you enjoy the movie, this is a a great DVD release and an easy title to wholeheartedly recommend. Between the quality presentation, noteworthy bonus features, and low price, Rudyard Kipling's The Jungle Book has received a great disc.

Further defining this disc as an oddity, Disney discontinued it in 2005 with no fanfare or apparent logic. It can still easily be purchased via Amazon.com Marketplace without fear of getting a bootleg, but being taken off the market has already made prices soar. They'll continue to do that, so if this is a favorite of yours, don't hesitate....

Related Reviews:
Angels in the Outfield (1994) | Cool Runnings (1993) | Iron Will (1994)
The Jungle Book (1967) | The Jungle Book 2 (2002) | Lilo & Stitch (2002)
Jungle 2 Jungle (1997)

DVDizzy.com | DVD and Blu-ray Reviews | New and Upcoming DVD & Blu-ray Schedule | Upcoming Cover Art | Search This Site

DVDizzy.com Top Stories:


Reviewed April 22, 2004. / Updated November 10, 2005.



Text copyright 2016 DVDizzy.com. Images copyright 1994 Walt Disney Pictures.
Unauthorized reproduction prohibited.