Monkeys, Go Home! is a pleasant comedy that is more likely to entertain adults than children today. However, this lightweight, upbeart family-friendly production won't leave many disappointed, regardless of age. Dean Jones, a staple of live-action Disney films from the '60s and '70s, plays Hank Dussard, an American man who comes to France to claim his inheritance from his mother who has passed away. Turns out Hank is the new owner of an olive garden, but he soon learns from local priest Father Sylvain (Maurice Chevalier) that running such an endeavor by himself would be a difficult prospect for a single man, since picking olives calls for several individuals with small, delicate fingers, ideally the children that "Monsieur" Dussard does not have.
But Hank comes up with a plan, and brings in four female chimpanzees who he thinks are the perfect solution to his olive-picking dilemma. Hank wants to keep his radical idea to use his army of the four monkeys (given French names of Delphine, Celeste, Madeline, and Monique) under wraps, so as not to draw attention. Unfortunately, word gets out soon enough and the Hank's radical plan angers secretary of the town board Marcel Cartucci (Bernard Woringer) and his assistant, the local butcher (Harari). The townies insist that Hank's plan is no laughing matter and that his operation is slave labor for the monkeys and could make human olive-pickers extinct. Hank needs to think of a way to stick to his plan for monkey business, while dealing with the curveballs those ferverntly against him throw his way. Dussard has the wise Fr. Sylvain and the beautiful young Maria Riserau (Yvette Mimieux) helping him along the way.

This time, Dean Jones shares the car with a monkey,
whose entire face is in the frame.
Monkeys, Go Home! is a smart comedy and remains charmingly amusing today, as it seems not to fall victim to age like so many other old live-action Disney films do. Much of the plot regarding town politics and the olive business will float right over the heads of children, but the chimp humor should please the youthful crowd, while not disengaging an older audience. Monkeys holds up well as a comedy thirty-five years later, and it mostly abstains from the lamebrain physical slapstick "humor" that bogs down many Disney comedies from the period (such as Jones' Blackbeard's Ghost). The exception is one scene near the end that unfortunately lays on the pratfalls at full strength. Fortunately, it is a small blemish to an otherwise witty and enjoyable little film with three spirited performances from leads Chevalier, Jones, and the lovely Mimieux and solid turns from the assortment of supporting characters.
DVD Details

1.33:1 Reformatted Fullscreen
Dolby Surround 2.0 (English)
Subtitles: English
Release Date: May 21, 2002
Single-sided, single-layered disc (DVD-5)
Suggested Retail Price: $14.99
White keepcase
VIDEO and AUDIO

Monkeys, Go Home! receives a no-frills catalogue release from Disney DVD, and I feared that would mean the hideous video quality that the similarly-treated Blackbeard's Ghost received. But, Monkeys actually looks pretty nice considering its age. This is a very colorful film, from Hank's blue car and Maria's red skirt to the busy town streets and the festival segments. The colors are all vivid and detail is good throughout. There is a minor but consistent problem with digital artifacts and video noise that does not amount to a major distraction, but does keep the video quality from achieving the perfection that the recent Vault Disney DVDs obtained.

Obviously, the film does not look like new films today do, close-up shots possess the grainy shortcomings of the camera technology of the time and the visuals certainly display the recognizable color tone and palette of dated '60s and '70s movies, which is accurate representation of the movie's filming process. Still, considering the age of the material, the visuals are rather pleasing, particularly for a catalogue release.

Alas, this is not where we end, because we come to the aspect ratio problem, which seems to be daunting so many of Disney's catalogue DVDs. As with other older live-action titles, original aspect ratio information is not readily available for Monkeys, Go Home!, so I'm relying on determining how the film looks framed here. Since it was released in the 1960s, when widescreen was already the norm, I think it's safe to say that this is not the movie's original theatrical aspect ratio. While the film does not suffer from the major framing problems seen on Blackbeard's Ghost, some shots do seem to be poorly-framed, particularly in wide shots when a fourth monkey's face isn't entirely in the frame or the shot of the town festival sign which loses one or two letters on each end. My guess is that Monkeys' original aspect ratio is something like the 1.75:1 widescreen ratio that was used for Old Yeller and Pollyanna. As such, you're not missing an abundance of visual information, and it is certainly not as noticeable and problematic as on Blackbeard, but as such this otherwise pleasant video transfer suffers from the fact that Disney couldn't release the film, displayed in the ratio that it was framed for and intended to be seen in.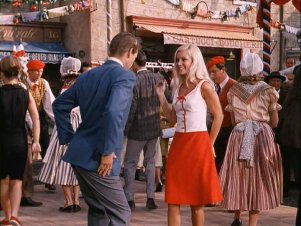 In terms of quality, the sound is equally positive with this adequate 2.0 English track. All dialogue is clear (well, considering the French accents) and the film's upbeat soundtrack is properly conveyed. While obviously this isn't like the soundtracks of the films of today, I could not find fault in the audio. In fact I was pleasantly surprised that clarity and consistency were as good as they were, considering the film's age and the DVD's seemingly lack of effort. Overall, the audio is faithful to the original soundtrack of the film, and that is up to par.
BONUS FEATURES
Nothing. Not even a trailer, as Monkeys suffers the barebones (and I do mean barebones) catalogue title DVD treatment that Disney is laying on its abundance of unreleased movies. After five years of dilly-dallying catalogue releases in the DVD format, Disney now finds itself churning out its missing live-action movies in a ruthless fashion to spare all expense, resulting in disappointing feature-less discs.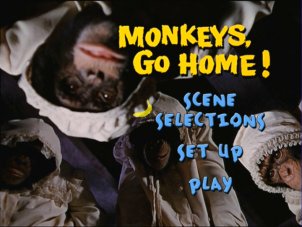 CLOSING THOUGHTS
As a film, Monkeys, Go Home! is one of Disney's more pleasing live-action efforts of the '60s and it holds up well as family-friendly entertainment today. The DVD is a mixed bag. It is featureless, but low-priced (carrying a SRP of only $14.99). Video quality is good, but it does not appear to be in its original aspect ratio. If you don't plan on buying this one on principle, I can understand that. Just do not expect a re-release anytime soon. For those for whom this comedy holds fond memories, it might be worth the $9.99 this can be had for in stores. The lack of original aspect ratio is troubling and not minor enough to overlook, but logistically speaking, one can watch this DVD without being too bothered by framing problems, and this is truly the best this film has ever looked. So if you feel you must own this movie, this is the choice home video release, although it is definitely disappointing that Disney couldn't give this title better DVD treatment.