By 2014, only one two-digit jersey number will be unavailable to every team in Major League Baseball: 42. A new movie carries that number as its title and dramatizes the reason for the unprecedented league-wide retirement.

As you likely know, that was the uniform number assigned to Jackie Robinson, the African American man who single-handedly broke the MLB's color barrier back in the 1940s.

Robinson's achievement is more than just historical or chronological. He didn't just play professional baseball, he exceled at it in the face of rampant prejudice, winning Rookie of the Year, National League MVP, and making six consecutive All-Star teams over the course of his ten seasons with the Brooklyn Dodgers. Time has helped the significance of Robinson's career sink in. While encouraging voters to consider his gameplay and not his cultural importance, he was a no-brainer first ballot selection for the Baseball Hall of Fame in 1962. In the half-century since, he has come to be appreciated even more than he was in life, featuring near the top of any list of greatest athletes and warranting an annual observance in Jackie Robinson Day, the one day when all MLB players wear #42 in his honor.

A feature filming of Robinson's story was inevitable and occurred as early as 1950, with the slugger playing himself and Ruby Dee portraying his wife in The Jackie Robinson Story. With the exception of short-lived 1981 Broadway musical The First, subsequent biopics have premiered on television, from a 1978 ABC Afterschool Special to TNT and HBO telemovies. But Robinson's story was big enough for the big screen and 42 seeks to do it justice as a cinematic period drama.
The film opens in 1945, as Brooklyn Dodgers general manager Branch Rickey (Harrison Ford) vows to defy Major League Baseball's unwritten code of racial segregation. Rickey sets his sights on UCLA alum, Methodist, and Negro League shortstop Robinson (Chadwick Boseman) and extends an invitation for him to join the Dodgers' AAA farm team, the Montreal Royals. After proving himself in the minor leagues, Robinson gets the call up to the majors and begins making history not just for the color of his skin but by the quality of his play.
To succeed, Robinson must triumph over the day's ubiquitous racism, which Rickey tries to prepare him for while imploring him to keep his cool. Black reporter Wendell Smith (Andre Holland) obtains alternate accommodations for Robinson and his wife (Nicole Beharie) where necessary and aims to make Jackie comfortable with the press' questions and possible reactions from opponents. Before Robinson even joins the Dodgers, a number of his would-be teammates create a petition to prevent such a move. Fans of both the team and their opponents let the newlywed first baseman know they aren't happy with this kind of social progress. The manager of the Philadelphia Phillies (Alan Tudyk) spouts a constant stream of hateful, pointed obscenities at Robinson in his every at-bat.
It isn't easy, but Robinson endures the taunts and helps put the Dodgers in contention for a pennant, inspiring children and teammates in the process.
42 provides an unlikely writing and directing credit for Brian Helgeland, a 52-year-old who's spent half of his life in the business, rising from horror sequels and TV series to become an Oscar-winning scribe of L.A. Confidential. Helgeland made his feature directing debut on the 1999 Mel Gibson flick Payback and he's been scarce in recent years, penning underperforming mainstream action films like 2010's Robin Hood

and the 2009 remake The Taking of Pelham 1 2 3. There's nothing in Helgeland's long résumé to explain how he'd get this job, but he is mostly up to the challenge.

His version of Jackie Robinson's tale is feel-good entertainment for the masses. At times, Helgeland is guilty of spoon-feeding the story to the broadest audience imaginable. Simple dramatizations and on-the-nose dialogue undercut the production's impressive period authenticity and the plentiful dramatic power of the actual events. At the same time, Helgeland has done his research and packs the picture with savory, verifiable detail. By focusing on Robinson's rookie season, the movie doesn't have the proverbial big game to lead up to, nor the rags-to-riches turnaround obligatory for sports dramas. For Robinson and his teammates, the winning season is a learning experience, one marked by both tension and tolerance.

A ten-year veteran who has toiled on television dramas like "Lincoln Heights" and "Persons Unknown", Chadwick Boseman seems to have landed the role of a lifetime when beating out the many hopefuls for the role of Jackie Robinson. But an athletic hero and cultural icon is not necessarily a juicy character. Through no failing of Boseman's, it's neither a performance nor a personality that will really stay with you. Supporting roles have somewhat of a greater impact on the viewer, starting with Harrison Ford doing a rare bit of stretching as the wildly-eyebrowed codger with an unrecognizable accent. Though downplayed in trailers, Ford does earn the pre-title second billing he is given and proves it's not too late for an old dog to uncover some new tricks (he turned 71 on Saturday).

Beyond Ford, 42 avoids big movie stars, instead casting seasoned workmen in parts they're well suited for. TV actors like Christopher Meloni ("Law & Order: SVU"), Toby Huss ("The Adventures of Pete & Pete"), T.R. Knight ("Grey's Anatomy"), and Hamish Linklater ("The New Adventures of Old Christine") enjoy some of their most substantial film roles to date. John C. McGinley of "Scrubs" and Oliver Stone film fame does a remarkably well job of adopting the voice of 1940s sportscaster Red Barber.

42 opened in theaters right before Jackie Robinson Day and just a couple of weeks into the ongoing MLB season. The timing seemed to make sense for a film not expecting (or deserving) major awards. And the movie was able to transcend the usual limitations of off-season to gross a plenty profitable $95 million domestically (a baseball movie record) on a $40 M production budget. Warner Bros. displays further prudence by releasing the film's DVD and Blu-ray combo pack on Tuesday, the night of MLB's All-Star Game, an opportunity ripe with promotional possibilities.
Blu-ray & DVD Details

2.40:1 Widescreen (DVD Anamorphic)
Blu-ray: 5.1 DTS-HD MA (English), Dolby Digital 5.1 (French, Spanish, Portuguese)
DVD: Dolby Digital 5.1 (English, French, Spanish)
Subtitles: English for Hearing Impaired, French, Spanish; BD-only: Portuguese
Not Closed Captioned; Extras Subtitled
Release Date: July 16, 2013
Suggested Retail Price: $35.99
Two single-sided, dual-layered discs (BD-50 & DVD-9)
Blue Eco-Friendly Keepcase in Cardboard Slipcover
Also available as standalone DVD ($28.98 SRP) and on Amazon Instant Video
VIDEO and AUDIO
42 is a greater feast technically than dramatically. Gladly, the Blu-ray treats the movie to the highest caliber of picture and sound. The 2.40:1 video is sharp, clear, and striking, full of detail, classy, suitable color timing, and nice compositions. The terrific 5.1 DTS-HD master audio soundtrack may be even more impressive, as it dynamically puts you in the middle of a ballpark, enveloping you with crowd chants and olden stadium sounds. Dubs and subtitles are kindly supplied in French, Spanish, and, on Blu-ray only, Portuguese.
BONUS FEATURES, MENUS, PACKAGING and DESIGN
Warner's 42 Blu-ray holds fewer bonus features than expected.
"Stepping Into History" (9:14) devotes a few minutes to the characterizations of Harrison Ford as Branch Rickey and Chadwick Boseman as Jackie Robinson. The remarks of the actors, some co-stars, and writer/director Brian Helgeland about their performances are complemented by clips and B-roll.
"Full-Contact Baseball" (10:05) considers how the sport was played in the 1940s and how 42's cast aimed to do it justice and look genuine with the help of baseball consultants.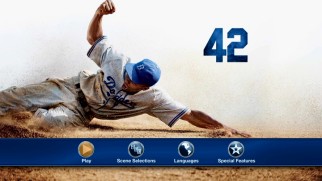 Finally, "The Legacy of the Number 42" (9:17) collects thoughts on Robinson's significance from the filmmakers, cast, MLB commissioner Bud Selig, Robinson's son David,

and former athletes including surviving Dodger teammates, Hall of Famer Hank Aaron, and NFL star Jerome Bettis.

Identical to the DVD sold on its own, the second disc here only includes "Stepping Into History."

The Blu-ray opens with an anti-smoking spot and a trailer for Pacific Rim. The DVD follows those with promos for Man of Steel, The Great Gatsby, Jack the Giant Slayer, and UltraViolet. 42's own trailer is regrettably not included.

A single-sided insert supplies your unique UltraViolet code for streaming the film. It is the only sheet joining the two plainly-labeled discs inside the slipcovered eco-friendly Blu-ray keepcase.

Typical for Warner, the simple main menus play score over static recycled poster art. The Blu-ray doesn't support bookmarks, but does resume playback of the unfinished film.
CLOSING THOUGHTS

42 is more or less what you expect it to be: a sharply-produced, widely appealing dramatization of Jackie Robinson's ever-inspirational story. At times, it relies too heavily on invention as it paints its characters in broad strokes.

More often, though, the film sticks to facts and resists urges for unneeded exaggeration. While society has taken huge strides in the past seventy years, this tale will remain relevant as long as racism, prejudice, and baseball continue to exist.

Warner's Blu-ray combo pack only offers three narrow supplements, but the feature presentation stands out as one of the finest around in an age when most new films' get delightful HD transfers. While I can't guarantee you'll itch to revisit it often, the film is well worth seeing and likely to leave you feeling good.

Support this site when you buy 42 now from Amazon.com:
Blu-ray + DVD + UltraViolet / DVD + UltraViolet / Instant Video