A NOTE about the film's "ORIGINAL THEATRICAL CUT"
When The Lion King was released to IMAX theaters last December, changes were made. None of these changes were really necessary or affect the movie significantly by themselves. Since IMAX theaters use such a large screen, and Lion King was animated for regular theatrical release (and well, it was fine for 70 mm showings as well), Disney decided to add detail to the film's existing animation. In theory this is a cross between harmless formatting and George Lucas revisionism, but it would seem to be a non-issue when Disney announced that The Lion King DVD would contain both "the original theatrical cut" and a new Special Edition featuring newly-added musical number "The Morning Report."
Those of us who follow Disney closely had our suspicions that the DVD wouldn't really have the original 1994 theatrical cut. After all, Beauty and the Beast's "Theatrical Cut" had a number of changes made.
Now we know for certain that Disney's dubious marketing of The Lion King can be labeled as "false advertising." Because the original theatrical cut of The Lion King is now relegated to the bootlegged "Asian imports" that will likely fall into the background at the second-hand online marketplaces, with a legitimate studio DVD released.
Some of the changes to the original theatrical cut include:
- new black & orange Disney opening logo, in place of the blue castle logo
Theatrical Cut Opening Logo:


"Original Release" on the DVD:

- re-animation of Mufasa's appearance in the clouds
- re-animation of the dust that flies up when Simba plops down on the cliff (which supposedly carried a hidden acronym or word of sorts)
- re-animation of the waterfalls in the "Can You Feel the Love Tonight?" sequence (thanks to Pher for screencap comparison)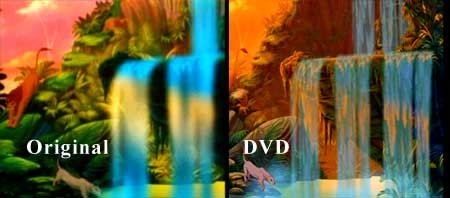 - re-animation of the supporting character crocodiles in the "I Just Can't Wait to Be King" musical number

Theatrical Cut, as seen in Elton John Music Video:


"Original Release" on the DVD: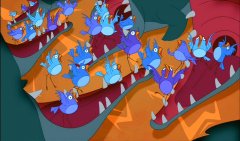 While the individual changes are small enough to go unnoticed by some, there's a number of things that are troubling about this practice, which I and others have pointed out on our site forum. To paraphrase things I have stated on the forum, here's why the lack of the original theatrical release is disappointing, in spite of the nature of the changes:

1) It's wrong to screw around with the theatrical cut of a film, if you're not going to provide the original theatrical cut. I felt this way about E.T., which in spite of all expectations, Universal properly presented on DVD in its original form. I feel this way about the Star Wars movies. Essentially, the original theatrical release of a film IS the film.

I have no problems with filmmakers revising their works if they want to. They made the film, and authors are free to add onto or revise their books. Under no circumstances, though, should an original form be allowed to disappear or go unreleased. Think ahead, 41 years from now, when a 50th Anniversary of The Lion King arrives on some kind of format. Are people going to want the film that was re-edited 8 years after theatrical release, or the original theatrical presentation?

2) It's wrong to advertise something as containing an original theatrical cut, when it plainly does not. There's no misinterpretation here - Disney's original press release clearly stated it. In a September 4 USA Today article, the film's producer Don Hahn insisted that the original 1994 theatrical cut would be included:

How far back into its library will Disney go to make "improvements"? Would the studio do this to The Jungle Book? Snow White? When should a movie be left alone?

Disney's answer: Not to worry. It's all about options. The original version of The Lion King, with no remixing, no tinkering and no new song, will also be included in the DVD.

"The purists out there can see the movie exactly as it was in 1994," Hahn says. "Those who enjoy seeing new innovations can sing a new song."

False advertising is wrong, and often illegal - so I'm not sure why this is permitted, particularly from a studio that has sued other studios (Columbia Pictures) for using the phrase "from the creator of Scream." (DVDs of the film with the offending line in the trailer - I Know What You Did Last Summer - had to be recalled, in spite of the fact that Kevin Williamson indeed wrote the screenplays for both horror films.)

3) It sets a terrible precedent. If arguably their most popular film isn't available in its original form (maybe ever again), who's to say that it won't happen for other animated classics that are due to be released on DVD later this decade - films like Aladdin, The Jungle Book, and others. They CAN improve the dinosaur sequences in Fantasia with animation like Dinosaur - but what's the point?

Before you counter with the intuitive "it doesn't make a difference, it's just little changes" argument, think about it. By the very same argument, if it doesn't make a difference, why do it? Wouldn't the time, effort, and money be better placed making a half-way decent documentary or some supplements with substance for their biggest animated films?