It now seems impossible to question Jennifer Aniston's movie star credentials. In the past three years, Aniston has been a focal part of three of the few comedies to cross the $100 million mark domestically. You could easily credit the success of Just Go With It to the enduring popularity of Adam Sandler. And you could note that Aniston was only a supporting player in Horrible Bosses.

But, the actress takes top billing in We're the Millers, which quietly became a bona fide blockbuster at the end of summer. To dispute that she has been one of the rare modern actors to turn television fame into major leading film roles would be as ludicrous as to have to debate which of the six "Friends" alumni is most prospering these days.

Though Aniston is billed higher, We're the Millers assigns its lead role to her Horrible Bosses and The Bounty Hunter co-star Jason Sudeikis, a "Saturday Night Live" cast member who is similarly handling the small to big screen transition smoothly. Sudeikis plays David Clark, a Denver drug dealer who hasn't much changed since college. Serving a large and varied clientele, David is doing okay for himself and doesn't mind spending his days watching YouTube videos alone in an apartment that's said to smell like cheese and feet. In a rare instance of looking out for someone else, David is robbed of several thousand dollars of his saved earnings plus a valuable amount of his pot.

David's wealthy supplier (Ed Helms) gives him a dangerous opportunity to make it right. He'll have to smuggle "a smidge and a half" of potent marijuana from Mexico back into the US over Fourth of July weekend. David decides the task would be easier if he were to look like the father of an ordinary vacationing family. He gets the two youths he was looking out for in the initial skirmish -- nerdy loner Kenny (Will Poulter) and pissy homeless girl Casey (Emma Roberts) -- to pose as his children. Promised a portion of the mission's proceeds, stripper/newly-evicted neighbor Rose (Aniston) reluctantly agrees to play David's wife.
Taking their surname from the street they all call home, the Millers try to look normal and innocent in a cozy, rented RV, whose every nook and cranny is filled with neatly-packaged bricks of drugs.
With the plot seemingly resolved just 42 minutes in, the movie places a number of obstacles in the fake family's path: RV problems, an overly friendly clan of vacationers (headed by Nick Offerman and Kathryn Hahn) who just happen to be affiliated with the DEA, and the lethal Mexican drug lord (Tomer Sisley) who did not sign off on this transaction.
We're the Millers offers a slight twist on family road trip comedies like RV and National Lampoon's Vacation. These four barely acquainted, down and out Coloradans try to look normal despite their unusual life experiences. It's a fairly predictable outing, with the group inevitably falling into traditional nuclear family roles and an obvious romance thrown in for good measure. It unfolds with episodes centered around such all-American activities as camping and a carnival.
Though full of expletives that earn the R rating the premise probably demanded, the film is not as edgy and outrageous as it thinks it is. For reasons that are hard to pinpoint, it feels like a product of the early 2000s,

like a movie that Aniston could have made after Office Space while Matthew Perry did The Whole Nine Yards. It's all diverting enough, but funnier movies have made better use of comparable material, some of them featuring these same actors, like the creative Horrible Bosses, whose currently filming sequel is scheduled to open in theaters a year from now.

While not as entertaining without Charlie Day and Jason Bateman to bounce off, Sudeikis is a competent leading man who sells this story and both sides of his character better than most actors could. Seemingly best suited for PG-13 material resembling her signature sitcom, Aniston has repeatedly gravitated to R-rated comedies in recent years to adequate results. She seems a little too eager to demonstrate her sex appeal in PG-13-steamy stripping scenes that filmmakers wouldn't think to give most actresses in their mid-40s. Even so, Aniston retains her ordinary appeal like a Sandler or Ben Stiller character who's easy to warm to. Meanwhile, the interestingly-eyebrowed Poulter impresses as a good sport while completely hiding his English accent and making you forget you may have seen him in the last Chronicles of Narnia movie. Comedy veterans like Offerman, Hahn, Thomas Lennon, and Luis Guzmán add a little flavor in passing.

Director Rawson Marshall Thurber oddly picks up only his second feature film credit since helming the enjoyable Dodgeball: A True Underdog Story (2004). Perhaps Thurber resisted directing without writing, which he hasn't done until now. Bob Fisher and Steve Farber emerge from a similar hiatus, taking their first writing credits of any kind since the blockbuster 2005 comedy Wedding Crashers. Attributed with story, that duo also shares screenplay with the raunchy, less commercially successful team of Sean Anders and John Morris (She's Out of My League, Hot Tub Time Machine).

After drawing mixed reviews, We're the Millers settled for second place in its August opening weekend, sandwiched between fellow new releases Elysium and Planes. Without ever winning a weekend even during an historically dry season, Millers would outperform both of those and most other summer movies with an unusually leggy performance. Its stealthy grosses of $150 million domestically and $116 M and counting overseas on just a $37 million budget make it one of 2013's most profitable films.

Whether always planned or conceived latter to reward the success, today's Warner Bros. Blu-ray + DVD + Digital HD UltraViolet combo pack treats this hit to a meaty combo pack that includes an extended cut alongside the theatrical one on Blu-ray. (Both edits are also available in a Two-Disc Special Edition DVD, of which only the theatrical cut-wielding first disc appears here.) Receiving the same R rating and explanation as the theatrical cut, the extended cut runs 8 minutes and 50 seconds longer. The cuts are achieved by branching and the differences between the two can be as minor as 20-second snippets.

Watch a clip from We're the Millers:

Blu-ray & DVD Details

2.40:1 Widescreen (DVD Anamorphic)
Blu-ray: 5.1 DTS-HD MA (English), Dolby Digital 5.1 (French, Spanish, Portuguese)
DVD: Dolby Digital 5.1 (English, French, Spanish)
Subtitles: English for Hearing Impaired, French, Spanish; BD-only: Portuguese
Not Closed Captioned; Extras Subtitled
Release Date: November 19, 2013
Suggested Retail Price: $35.99
Two single-sided, dual-layered discs (1 BD-50 & 1 DVD-9)
Blue Eco-Friendly Keepcase in Lenticular Cardboard Slipcover
Also available as Two-Disc Special Edition DVD ($28.98 SRP) and on Instant Video
VIDEO and AUDIO
Multiple cuts of a two-hour film plus nearly an hour of bonus features on one disc might push compression too far on DVD, but the dual-layered Blu-ray fits everything without any concerns. The 2.40:1 widescreen transfer looks perfect, boasting the detail and polish you expect of a 2013 films in 1080p. The 5.1 DTS-HD master audio is similarly satisfying, with needle drops helping to keep the mix spirited and engaging.
BONUS FEATURES, MENUS, PACKAGING and DESIGN

"Millers Unleashed - Outtake Overload" (7:38) shows us alternate improvised lines which director Rawson Marshall Thurber and the cast explain are part of the comedy process.

Stories from the Road consists of seven shorts. "Extreme Aniston" (2:20) gathers some thoughts from the actress about different

aspects of the film. "The Miller Makeovers" (3:44) discusses the before and after looks of each "family" member and other characters' unstylish costumes. "Road Trippin' with the Millers" (2:48) addresses filming in an RV. "Don't Suck Venom" (2:18) covers the tarantula bite scene. "Getting Out of a Sticky Situation" (2:42) looks at Luis Guzmán's scene. "I Am Pablo Chacon" (1:38) has cast members declaring themselves to be the film's drug kingpin. "Rollin' in the RV" (1:53) further comments on the film's large recreation vehicle.

"Livin' It Up with Brad" (3:46) celebrates and analyzes Ed Helm's ostentatious character.

"When Paranoia Sets In" (3:16) is a mock exposé speculating on the mysterious substance standing in for marijuana and if the movie isn't a front for actual drug smuggling.
Eight deleted scenes (16:18) mostly extend existing ones in ways hinted at in bonus feature clips, including three versions of the crude encounter with Guzmán's Mexican cop, more with the Fitzgeralds, and Ben Folds (who makes it into the Extended Cut) and Ed Helms singing TLC's "Waterfalls" as a duet. None of these warrant pushing the film any closer to two hours.

"Gags & More Outtakes" (3:01) is a more ordinary reel of unused ad libs and bloopers without remarks. "Bully from Toy Story" is a surprisingly fitting reference for Poulter!

As stated above, the DVD included here is Disc 1 of the Two-Disc Special Edition sold separately. It gets all the same bonus features as the Blu-ray,

minus the extended cut (which must have Disc 2 to itself there). Kudos to Warner for bringing special features back to DVD. Unfortunately, it does seem like too little, too late for the many who have gotten out of the habit instead of graduating to Blu-ray.

The Blu-ray opens with trailers for Man of Steel and HBO's Clear History. The DVD opens with an UltraViolet promo, an anti-smoking ad, and trailers for Man of Steel, The Hobbit: The Desolation of Smaug, Getaway, and Clear History.

Each disc takes Warner's standard approach of attaching score to a poster design. The Blu-ray resumes unfinished movie playback. The DVD's submenus are amateurishly plain.

An eco-friendly keepcase holds the two plainly-labeled discs and your unique code and directions for redeeming the complimentary UltraViolet stream. The case is topped by a creative lenticular slipcover that alternates between the characters' family look and their more genuine appearances. Whoever came up with that design deserves a packaging award.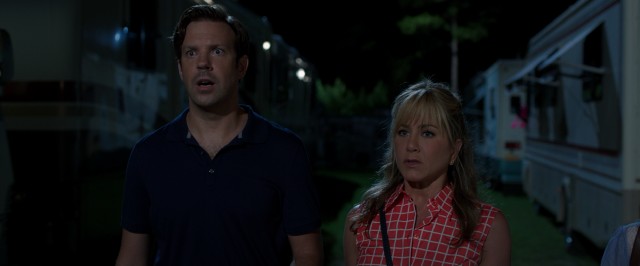 CLOSING THOUGHTS
We're the Millers falls into a middle ground for me. It's not consistently funny enough to like, but it's got enough chuckles and appeal to not dislike. While the cast and creators have provided more enjoyable comic outings in the past and I hoped for a little more based on this late summer sleeper's crowd-pleasing reception, this still warrants a look.
Warner's combo pack makes for a satisfying release, with a fine feature presentation, your choice of cuts on the Blu-ray, and an occasionally diverting 50 minutes of extras.
Buy We're the Millers from Amazon.com:
Blu-ray + DVD + UltraViolet / 2-Disc Special Edition DVD + UV / Instant Video