The zombie romantic comedy (or zomromcom, for short) sounds too specific and outrageous to be an actual genre,

but since Shaun of the Dead first proudly wore that label in 2004, a number of films have been similarly classifiable. Warm Bodies embraces that designation to the greatest degree yet, its marketing making its blend of genres clear and its February 1 theatrical release date positioning it for the Valentine's Day boost big screen romances always get. And really, what's wrong with that? If zombies are regularly behind apocalypses and holocausts on television and film, what's wrong with giving them a little levity or love?

Apparently, there's nothing wrong with it, when the film in question is as smart and funny as Warm Bodies, which became one of the best-reviewed and best-attended releases of 2013's typically stunted winter season while providing distributor Summit Entertainment with a rare non-Twilight hit.
Our lead character (Nicholas Hoult) is a zombie with a conscience. Inner monologue reveals the undead man in a red hoodie and jeans to be like many young people: wistful, insecure, and aware of his surroundings. You can't tell that without the narration, though, because to the human eye, this protagonist is every bit as troublingly slow, dangerous, and unintelligible as any zombie. Our narrator doesn't recall the specifics behind the present apocalypse or even his own name, but he reveals that the zombie life is pretty depressing. His kind needs to eat humans to survive, but that bugs him. It is with a mix of guilt and mercy that he consumes human brains; doing so gives him the delicious taste of the victim's memories, while sparing the victim of becoming like him.
The zombies have made themselves at home in a shut-down airport, where they avoid "boneys", the far gone zombies who have eaten their own flesh and become utterly indiscriminate. On a routine encounter, our hero's eye is caught by Julie Grigio (Teresa Palmer), a beautiful young blonde he feels kinship to partly out of the memories gleamed from her boyfriend's brain. The young zombie takes Julie to safety on his own personal jet (an otherwise vacant grounded commercial airplane). She calls him R, the only part of his name he can remember. And they bond, over close encounters with other zombies, including R's best friend (Rob Corddry), and R's large collection of vinyl records.
Warm Bodies moves with ease from post-apocalyptic thriller to romantic comedy, and not the vapid kind that cast Kate Hudson or Ashton Kutcher but more agreeable ones with a more creative angle than a love triangle or looming wedding. Though R is quiet and monosyllabic, communicating in shrugs and grunted words, the film is impressively still able to develop him as a romantic lead and his relationship with Julie into something other than Stockholm syndrome.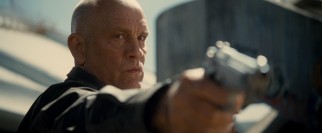 Directed by Jonathan Levine (50/50), whose screenplay adapts Isaac Marion's 2010 novel of the same name, Warm Bodies is nimble and full of great ideas. It is deftly able to transition from romantic comedy to horror action without skipping a beat or losing its way. The zombie apocalypse is more than just an angle; it drives the entire plot and creates the need for the film's terrific make-up, visual effects, and production design. Even when the film seems to cheat and expand its lead's limited vocabulary, it has an explanation and one you buy.

Like Levine's 1994-set coming-of-age drama The Wackness, Warm Bodies relies heavily on music to complement its story. The film pulls from diverse and often unexpected places, getting great use out of everyone from John Waite to Bruce Springsteen to Bob Dylan to Guns N' Roses to Scorpions to an amusingly diegetic Roy Orbison.

It comes close to abusing needle drops, as it flirts with using familiar songs to win our approval, but it earns its sympathy many times over with its story and characters.

Post-apocalyptic settings are a rich starting point for storytelling, one utilized by some of the most powerful filmic fiction of our time in an array of genres: Zombieland, "The Walking Dead", WALL•E and so on. Still, disarming atmosphere only takes us so far. Beyond that, the burden falls on a story and universe to engage. Warm Bodies follows in the footsteps of the aforementioned works but blazes its own trail to craft a world with just enough complexity and to tell a story that, though aligning with Shakespeare's most famous romantic tragedy and having a perhaps inevitable destination, is suitably and satisfyingly life-affirming. This is probably the most humanistic zombie tale committed to film and while it might not be as funny as Shaun or Zombieland, it's endlessly clever, appealing, and rewarding.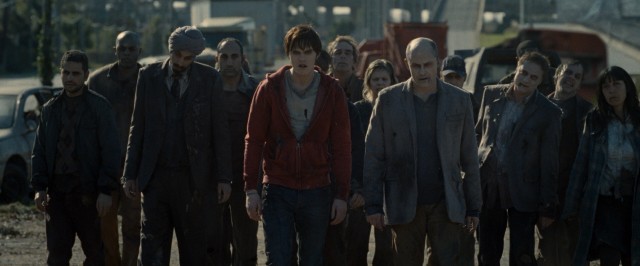 A studio is all that Warm Bodies shares with The Twilight Saga. Don't mistake the Summit Entertainment logo and mix of dark fantasy and young romance to write off this enjoyable film as more teenage fangirl fodder. It is much better than that and in fact better than any other 2013 movie I've seen thus far.
The film adds credence to the theory that Levine is a young director worth watching. The three directorial efforts of his that I have seen have been markedly different in content yet each noteworthy and increasingly admirable. It's also quite cool that the little boy from About a Boy has grown into such a capable and likable young adult actor. So few child actors make it to adulthood and continue to find work in front of the camera, but Hoult has managed to do that while filling the lead role in two of 2013's bigger films to date.
Four months after opening in theaters, Warm Bodies hits DVD and Blu-ray on Tuesday, each edition equipped with a downloadable digital copy and UltraViolet.
Watch the Warm Bodies trailer:

Blu-ray Disc Details

2.40:1 Widescreen
7.1 DTS-HD Master Audio (English), Dolby Digital 5.1 (Spanish)
Subtitles: English, English for Hearing Impaired, Spanish
Not Closed Captioned; Extras Not Subtitled
Release Date: June 4, 2013
Single-sided, dual-layered disc (BD-50)
Suggested Retail Price: $39.99
Blue Eco-Friendly Keepcase in Embossed, Holographic Cardboard Slipcover
Also available on DVD ($29.95 SRP) and Amazon Instant Video
VIDEO and AUDIO
It's not surprising that a 2013 film sports a good Blu-ray transfer. Still, Warm Bodies' clean, sharp, nice-looking 2.40:1 presentation satisfies. The grunted zombie dialogue is sometimes hard to make out, but that is the only bad thing you could say about the lively, enveloping 7.1 DTS-HD master audio mix. Gladly, English, English SDH, and Spanish subtitles will help most viewers fill in any blanks.
BONUS FEATURES, MENUS, PACKAGING and DESIGN

Warm Bodies' Blu-ray feels like a throwback to the Golden Age of DVD, both because it is loaded with extras in a way few new films are these days and because it even manages to land lead cast members on an audio commentary.

First up is that audio commentary by screenwriter/director Jonathan Levine and stars Nicholas Hoult and Teresa Palmer. It's a fun and easygoing conversation which discusses licensed music that didn't work out, getting a PG-13 rating,

body movement training, resisting blinking, Jack Black, and working with John Malkovich. While it may not be as enlightening or serious as the usual commentary, it's also not as dry and boring as the usual commentary. (Speaking of dry, the trio claims to start drinking halfway in.)

On the video side, where everything is presented in HD, things begin with "Boy Meets, Er, Doesn't Eat Girl" (9:49), a featurette that explains the project's origins, how Isaac Marion's short story became a novel and how that was tapped for film treatment by Jonathan Levine. "R & J: Nick and Teresa" (16:21) celebrates the film's romance, considering both the lead actors and their characters to slight excess. "A Little Less Dead: The Acting Ensemble" (16:41) pays notice to the supporting actors, including Rob Corddry, John Malkovich, Dave Franco, Analeigh Tipton, the parts they play and the moments they share with the leads.
As its subtitle suggests, "Extreme Zombie Make-Over! Make-Up Effects" (10:11) examines the film's make-up effects with behind-the-scenes looks at actors and extras getting transformed into zombies. "A Wreck in Progress: Production Design and Montreal" (14:59) discusses filming in the long-abandoned Mirabel Airport that lends so well to the movie's setting. It also has Palmer give us a tour of some outdoor locations around the Canadian city.
"Bustin' Caps: Weapons/Stunts" (10:09) focuses on the film's action demands, with Palmer still going on about I Am Number Four. "Beware the Boneys: Visual Effects" (7:04) looks at the film's CG characters and their on-set stand-ins.
"Whimsical Sweetness: Teresa Palmer's Warm Bodies Home Movies" (12:38) gives us some of the actress' spontaneous, jerky production videos as she chats with crew members, wanders around sets, and shows us her trailer on Halloween 2011.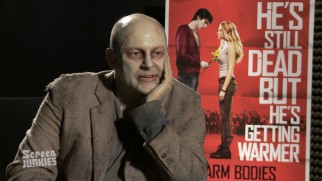 "Zombie Acting Tips with Rob Corddry" (4:43) is a sort of amusing short from the YouTube account Screen Junkies

that interviews the actor and his co-stars and showcases "behind-the-scenes footage."

Nine deleted scenes (11:11) are presented with optional Levine commentary. There's nothing too momentous among this lot; R tries to blend in more, is questioned by citizens, and there is a more touchy-feely alternate ending.

The gag reel "Shrug & Groan" (5:07) shares with us takes blown by laughter, goofs, technical stumbles, and playful character breaks, all of which prove to be reliably entertaining.

Warm Bodies' theatrical trailer (2:32) is nicely preserved.

Finally, "Also from Lionsgate" repeats the same three trailers with which the disc opens, advertising The Twilight Saga: Breaking Dawn, Part 2, The Hunger Games, and The Perks of Being a Wallflower.

The nifty menu moves character cut-outs among white splats and a paper heart adapted from the theatrical print campaign. The Blu-ray supports bookmarks and it resumes playback of the unfinished film or commentary.

Topped by an embossed and subtly holographic slipcover, Warm Bodies' eco-friendly keepcase holds a single-sided insert supplying your code for both the iTunes digital copy download and UltraViolet.
CLOSING THOUGHTS
A zombie apocalypse seems to be just the thing to elevate a film from the usual romantic comedy doldrums into an uncommonly funny, entertaining ride. It worked for Shaun of the Dead and it works perhaps to an even greater degree for Warm Bodies, surprisingly one of the year's best films so far.
Summit's Blu-ray is loaded with extras (over two hours not even counting the commentary!) and though they are a bit heavy on talking heads, there's plenty of value to complement the fine feature presentation. All in all, this is one of the easiest new film releases to recommend in a while.
Support this site when you buy Warm Bodies from Amazon.com:
Blu-ray + Digital Copy + UltraViolet / DVD + Digital Copy + UltraViolet / Instant Video