By Aaron Wallace

History repeats itself and nowhere is it regurgitated more often than in the world of film and television. One of Showtime's newest original series, "The Tudors", does just that, returning to 16th Century England to focus on the titular dynasty that governed for more than a hundred years. Specifically, it's the famous King Henry VIII -- or Henry 8, as Showtime likes to call him -- who stands in the spotlight. One of the most significant monarchs to reign over England, Henry bucked the religious dogma of his day, becoming the first king to divorce his wife and ultimately taking five more before he died.

In the midst of the Protestant reformation, Henry defied the Pope and officially broke his country's ties with Catholicism, establishing the Church of England and declaring himself its supreme leader by divine right.

Wisely realizing the immense dramatic capital wrapped up in King Henry VIII's throne, creator Michael Hirst follows in the footsteps of William Shakespeare before him. The hour-long television series turns out to be as apt a platform for the story as the theater stage. With a chronologically structured series of events and a ready-made ensemble of characters, "The Tudors" stood a very good chance of success from the outset.

And yet the show isn't very good at its outset at all. Affirming any of your sneaky suspicions about what Showtime might crank out, the first couple of episodes are confusing, not particularly compelling, and seemingly more concerned with setting a record for nudity and orgasms in primetime than telling a story. Rather than a meaningful account of this important chapter in Western history, the show initially feels more akin to The CW's "Gossip Girl".
That changes, though, when the series starts to play around with the one word that makes Henry VIII the most interesting: divorce. Frustrated with the failure of Queen Catherine of Aragon (Maria Doyle Kennedy) to produce a son, Henry (Jonathan Rhys Meyers, August Rush, "Elvis") begins to look elsewhere to forge a family. Knowing that only a legitimate son will be recognized as an heir, he becomes convinced that he must persuade the Catholic Church to grant him a divorce. Added encouragement comes from his newest infatuation, a young beauty named Anne Boleyn (Natalie Dormer, Casanova).
Eager to legally take Boleyn as his bride, Henry commissions his religious advisor, Cardinal Thomas Wolsey (Jurassic Park's Sam Neill), to secure his divorce from the papacy by any means necessary. Naturally, a number of forces oppose the divorce, not the least of which is her royal majesty, Queen Catherine. The remainder of the short season is devoted to the plotting, planning, and underhanded scheming that each of the characters devise in order to achieve the religious and legal ends that they desire.
Along the way, a few secondary plotlines are thrown into the mix, ranging from an involving marital drama with Henry's sister, Princess Margaret (Gabrielle Anwar, Wild Hearts Can't Be Broken), to a bizarre bisexual liaison featuring the king's musician, Thomas Tallis (Joe Van Moyland). Everything is kept close to the central plot, however, which quickly develops into an addictive showcase of intrigue.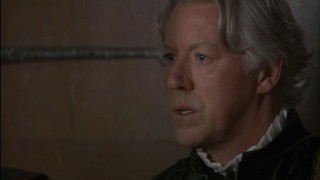 In the lead role, Jonathan Rhys Meyers is certainly memorable but too often vulnerable to overacting. While he has sneering and shouting down pat and gets his fair share of sex scenes, I kept hoping that he'd dial it back for more personable moments to no avail. Impressively adopting an accent that is both English and royal, the Irish actor doesn't flub the role but doesn't realize its full potential either.

More deserving of his recent Golden Globe nomination for the series is Kennedy, whose portrayal of the embattled Queen Catherine is sympathetic and moving. Sam Neill is effective in the second lead role as well, forever putting his face with Cardinal Wolsey's name. Natalie Dormer and Gabrielle Anwar deserve mention too, stealing some of the best scenes. The rest of the supporting cast is a mixed bag, sometimes pleasing and perhaps more often disappointing. Like the show itself, acting improves as the episodes progress.

"The Tudors" debuted in the spring of 2007, its first season spanning just over two months. The show is scheduled to return this spring but until then, fans and newcomers alike can see all ten episodes from the debut season on Showtime/Paramount/CBS's recently-released The Complete First Season DVD set. Those ten episodes are summarized below. A star (

) indicates my three favorite episodes of the season. While spoilers have been minimized, you may wish to skip this section for an absolutely first-hand viewing.
Disc 1

1. Episode 1 (55:37) (Originally aired April 1, 2007)
The characters are introduced, King Henry VIII announces his plan for war with France, and a plot against Henry's life by a disgruntled Duke is laid into motion.

2. Episode 2 (56:33) (Originally aired April 8, 2007)
Henry's infidelity and cold temperament towards Catherine increase tension in their marriage

while the conspiracy against the king runs into trouble. Meanwhile, Cardinal Wolsey steers Henry away from war in favor of peace.

3. Episode 3 (54:08) (Originally aired April 15, 2007)
As Henry looks for advantages over France,

he orders his sister to marry the much older and rather unattractive King of Portugal.

Disc 2

4. Episode 4 (57:44) (Originally aired April 22, 2007)
Henry has a near-death experience, bruising both his ego and his sense of legacy. Desperate for an heir, he begins contemplating the unthinkable.

5. Episode 5 (54:49) (Originally aired April 29, 2007)
Henry is betrayed in his international relations with France, Spain, and the Pope. Further disappointing him is Anne Boleyn's rejection of his offer to be his mistress.

6. Episode 6 (56:47) (Originally aired May 6, 2007)
Wolsey begins to seriously fret over his standing with the king while Henry's newfound brother-in-law tries to regain his favor.
Disc 3
7. Episode 7 (56:08) (Originally aired May 13, 2007)
The so-called "sweating sickness" sweeps England and throws the populace into despair. Henry panics not only over the loss of order, but also for his loved ones and his own life. Wolsey is sweating too, but for entirely different reasons.

8. Episode 8 (55:11) (Originally aired May 20, 2007)
The Pope sends a committee to England to hear Henry's case for an annulment. The trial of the 16th Century commences.

9. Episode 9 (50:20) (Originally aired June 3, 2007)
The trial continues while back in the castle, Henry receives terrible news. Also in for a rude awakening is Cardinal Wolsey, whose worst fears are realized.
Disc 4

10. Episode 10 (Season Finale) (53:54) (Originally aired June 10, 2007)
Henry is introduced to a new school of religious thought and also learns the truth about Wolsey.
VIDEO and AUDIO
The show is presented in its original 1.78:1 widescreen and is enhanced for 16x9 displays. Video quality is somewhat disappointing, with the picture often looking soft and marred by some grain. Rather than the cinematic appearance that the show begs for, the series has a cheap digital look to it. I didn't catch "The Tudors" on Showtime but I imagine this has to do with its production and not the transfer to DVD. While the quality's disappointment shouldn't be overstated -- even on a large display, it's far from unbearable -- it is certainly noticeable.
Each episode is presented with both a Dolby Digital 5.1 Surround Sound track and Dolby Digital 2.0 Stereo track. Neither are at all problematic but the 5.1 track is clearly superior. Showing surprising dynamics for a television series, "The Tudors" constantly occupies the rear speakers with score support and ambient sounds where appropriate. As expected, bass isn't tremendous, but the surround sound is definitely the way to go. If you've got the system for it, that probably goes without saying. If you're viewing on a standard television, the stereo track is happily available. Those preferring the surround sound experience will have to manually activate it themselves; the stereo track plays by default.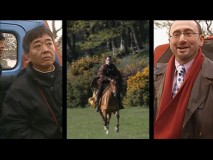 BONUS FEATURES

Bonus features reside entirely on Disc 4, where the most relevant extras are three featurettes. The first is "Production Design" (4:09), which spends plenty of time with crew and the occasional cast member to highlight the show's interior and exterior sets, both real and artificial.

The second is "Costume Design" (5:22), which allows designer Joan Bergin to show off her creations and explain the concept behind them. Finally, "Tudors Historical Sites" (22:42) follows tour guide Mark Conroy around the city of London as he visits the sites and locales that Henry VIII knew as a young man.

All three documentaries are aimed at relating the world seen on "The Tudors" to the real-life historical accounts that inspire it. In so doing, they skim over historical discrepancies but nevertheless manage to impress the viewer with the amount of research that obviously went into the series' creation and the detail that went into its execution. Even if shorter than history buffs will desire, the featurettes are very good and unquestionably the best of the special features.

Also directly related to the show is a collection of text-only documentaries on each of the principal cast members. These are still screens, ranging from one to several pages per actor, that provide a brief overview of each individual's career, filmography, and achievements. The not quite accurate release information for Jonathan Rhys Meyers' August Rush aside, these are slightly more useful than the typical (and increasingly rare) on-screen DVD biography and certainly worth browsing through. The cast members profiled are: Jonathan Rhys Meyers, Sam Neill, Jeremy Northam, Gabrielle Anwar, Callum Blue, Henry Cavill, Henry Czerny, Natalie Dormer, Maria Doyle Kennedy, Nick Dunning.

There's a Photo Gallery featuring ten stills that are either promotional shots or taken directly from the show. With no behind the scenes or otherwise rare images and less than a dozen graphics in total, there's little value in this gallery, but it does no harm.
At the end of all that comes three bonus features that bear almost no connection with "The Tudors" at all.

They are single episodes of three other Showtime series: "This American Life", "Californication", and "Penn & Teller: Bullshit!".

"This American Life" is represented with an episode entitled God's Close-Up (Originally aired April 5, 2007) (28:23). This bizarre reality-type documentary series follows several apparently random individuals as they blabber about their various beliefs about and interactions with God. No matter how sacred a quest may be (and there are as many nonbelievers here as faithful), lengthy jabbing from Joe Nobodies grows boring in a hurry and nothing about the show's design makes it any more interesting.

"Californication" is represented by its pilot, Californication (Originally aired August 13, 2007) (33:10), in which star David Duchovny sleeps around, uses abundant profanity, and engages in extremely filthy conversation as struggling writer Hank Moody. The episode finds him reveling in adultery, forgetting about his daughter just long enough for her to see a naked woman, and contemplating his love life and career. If watching a former "X-Files" star play a really lowbrow and perverted role is something you wish for, then this is a dream come true.

"Penn & Teller: Bullshit!" is represented by Ouija Boards / Near Death Experiences (Originally aired April 11, 2003) (26:33). The show displays comedy/magic duo Pen & Teller's trademark brand of unfunny cynicism as they document and subsequently ridicule those who hold various beliefs that the series deems ridiculous. In this case, it's those who play with ouija boards or claim to have had a near-death experience. No matter how you feel about the practices at hand, the team's treatment of those they interview and their smug commentary is reminiscent of shock jock trash radio at its most annoying.

Exposure to other Showtime series is the only reason you'd watch these sample episodes and trust me, you don't want to be exposed. You're better off pretending they aren't even on the disc and sticking with the "Tudors"-releated features.

Finally, "Win a Trip to Ireland" (0:49) is a "Tudors"-oriented promotional spot designed to entice potential travelers to choose Ireland for their next vacation. When the video ends, another menu is triggered which links to a sweepstakes for a free trip to the country. From that same screen, when the disc is in a DVD-ROM drive, you can access a Showtime promo and additional online episodes of "Dexter", "Californication", and "Penn & Teller: Bullshit!", though you'll be asked to consent to Showtime monitoring your computer activity and collecting data first.
MENUS, PACKAGING and DESIGN
The animated 16x9 main menu is repeated from one disc to the next, featuring a little bit of score each time. When any menu transitions, a laughable clip of a lady moaning "seduce me" plays. Don't say I didn't warn you. The discs hold three episodes each except for the fourth disc, which contains only the season finale and the bonus features.
A cardboard slipcover houses two clear, slim-line cases, with two discs inside each. Each disc is adorned with a different label picturing the king. Notable is the striking inaccuracy in the packaging's episode listing. The episode titles and even the number of episodes for the middle two discs is listed incorrectly, causing some initial confusion. Inside the case are some "Tudors"-related ads and a $25 rebate on a subscription to Showtime.
Each episode is divided into multiple chapters, with a new one beginning every five minutes or so. As the episodes run even longer than a typical hour-long drama, that's especially helpful.
There are a number of previews on Disc 4, which don't play automatically but are accessible from the Bonus Features menu. They are: "Ghost Whisperer": Season 2, "Criminal Minds": Season 2, "Jericho": Season 1, "Twin Peaks": Gold Box Set, and a 2007 "CSI" DVD combo pack.
CLOSING THOUGHTS
Though riddled with problems early on, not all of which are ironed out by the end, "The Tudors" still leaves the viewer wanting more at the season finale. While it takes an artistic license with some historical truths, the overwhelming consistency with history is impressive and its most alluring quality is the personality it brings to this fascinating piece of the past. Despite its detriments and short run, the first season offers enough to please and the very same is true for its DVD release, which provides less than stellar picture but good audio and a handful of interesting featurettes in the midst of other unnecessary bonus features. It's a complex equation that adds up to a recommendation when all is said and done.