Review by Renata Joy

Based on the mid-'90s Japanese film of the same title, Shall We Dance? brings together a cast of American actors to tell

the story of a middle-aged businessman who finds the remedy for his day-to-day doldrums by becoming a ballroom dancer.

Richard Gere stars as John Clark, a Chicago lawyer who spends most of his day writing wills. At home, his wife Beverly (Susan Sarandon), her hands full with a high-profile job at Saks Fifth Avenue, means well but never seems to have enough time for her husband. John's son Evan (Stark Sands), a character who was not featured in the original film, is away at college and appears very briefly in two scenes, which causes one to wonder why he was written into the film in the first place. The final member of the family is Jenna (Tamara Hope), a typical 14-year-old who spends family dinners on her cell phone and her free time shut in her room with friends. This plot line has the words "extramarital affair" written all over it, an underlying theme always present throughout the movie which leaves the viewer guessing about what will ultimately happen.
Luckily, the story is innocent enough. John, weary of his daily routine, becomes captivated on his nightly train ride home by the face of a woman in the window of a dance studio on the outskirts of the city. One night, he unwittingly enters the studio and immediately finds himself enrolled in beginner's ballroom lessons. He's joined by Chic (pronounced "Chick") who is taking the class to impress the ladies and Vern, a larger sweat-aholic, he hopes his lady will become his fiancée. (She appears later on in the movie played by pop singer Mya.)
The owner of the dance studio and teacher of their class is Miss Mitzi (Anita Gilette), an older woman who occasionally takes a swig of alcohol before putting on a happy face for her students. The young woman that John saw at the window is Paulina, the other teacher at the studio and a champion ballroom dancer who has fallen from the top. Paulina is played by none other than a pouty Jennifer Lopez, in a generally flat and uninspired performance.
As can be imagined, dancing ensues. Equally imaginable, John is too ashamed to let his wife in on his new secret hobby, and she in turn wonders where her husband spends his Wednesday evenings and why in the world his clothes smell of woman's perfume. Richard Jenkins and Nick Cannon play the mismatched pair of detectives she hires to follow John. In the end, they have nothing to report other than the fact that Beverly's husband likes to dance.
A notable supporting performance comes from Stanley Tucci as Link, John's co-worker who plays the role of a manly sports buff in the office only to become a sultry Latin dancer by night with the aid of a fake tan, a flowing mane, and some shining faux teeth. As overbearing, fake hair-wearing, dancing diva Bobbie, Lisa Ann Walter makes her initially annoying character grow likable with time.
All in all, Shall We Dance? is an entertaining romp, but not much more. Unlike the predecessor, which relies on facial expression and body language to convey emotion, the American version often employs long-winded voiceovers to less successfully prove the same point. The relationship between Paulina and John is never quite clear throughout the film, although it is implied that they are both attracted to one another. The closest thing to a romantic love scene between the two is a climatic dance scene which ultimately results in lots of sweaty panting and sultry looks, but with very little else.
DVD Details

1.85:1 Anamorphic Widescreen
Dolby Digital 5.1 (English, French)
Subtitles: English, French, Spanish
Closed Captioned
Release Date: February 1, 2005
Single-sided, dual-layered disc (DVD-9)
Suggested Retail Price: $14.99
(Reduced from $29.99)
Black Keepcase
VIDEO and AUDIO
Shall We Dance? is presented in its original 1.85:1 widescreen aspect ratio and has been enhanced for 16x9 televisions. As can be expected from a new film, the transfer is clean and vibrant, making it possible to see each and every salt and pepper lock on Richard Gere's head. The Dolby Digital 5.1 surround sound is crisp, allowing every syllable of J-Lo's slight Latino accent to shine through and not get lost in the many musical sequences. A French language track and French and Spanish subtitles are offered as well..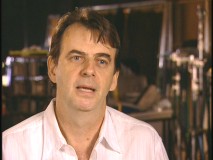 BONUS FEATURES
The most substantial of numerous bonus features included is an audio commentary by the director Peter Chelsom in which he mainly babbles about the talent of his cast, most specifically pertaining to Jennifer Lopez's talent to convey emotions without words. Personally, I viewed this so-called conveying of emotions as a weak point, since the only expressions she makes during the course of the movie are pouty and then more pouty.
"Beginner's Ballrooom" (6:28) is a short featurette about ballroom dancing which features short snippets of interviews with the cast and the choreographer about the strenuous dance schedule the actors had to undergo to get every move right. Highlights include vintage ballroom dancing footage from the 1940s and 50s.
"Behind the Scenes of Shall We Dance?" (23:02) is a typical making-of featurette which uses more interviews with the actors mixed in with scenes from the movie. It is worth pointing out that in this segment, a mysterious cast appears on Richard Gere's left wrist.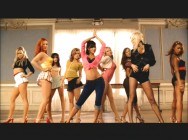 "Behind the Music" (3:54) looks at the music used in the film.

This pretty fluffy featurette mainly focuses on the Pussycat Dolls' rendition of the classic song "Sway" and a song performed by Mya Harrison over the end credits.

Next, there is the music video (3:23) for The Pussycat Dolls' "Sway", which offers little more than scantily-clad girls dancing against a backdrop of scenes from Shall We Dance?. The song itself is a catchy tune previously made popular by Dean Martin. Come to think of it, the song is much more enjoyable when not watching the accompanying video.

There are five Deleted Scenes (running 17½ minutes altogether) which range from an alternate opening sequence to a sappy montage of Jennifer Lopez teaching children how to dance, with some extended dance scenes thrown in as well. The scenes can be viewed with audio commentary by the director.

The disc opens with trailers for Finding Neverland, the 1997 version of Shall We Dance, Carolina, and a Miramax 25th anniversary spot. The menus show scenes from the film set to the lively score. The DVD itself is packaged in a black keepcase with an insert which lists the scenes and special features.