The most interesting thing about Renaissance is its unique visual style, occupying a territory between live-action and animation while opting for a color palette that is literally black & white (with little gray and only a short sequence of colors). The words "innovative" and "different" would instantly spring to most people's minds at seeing any given frame of the film. Unfortunately, as is too often the case in modern cinema, the movie's narrative fails to deliver enough merit to serve or justify the ambitious, stylized, mostly unreal mise en scène.

The setting, which Miramax's DVD cover provides as a subtitle, is "Paris 2054" and this recent future is plenty bleak, as if someone had taken the dystopian world of Blade Runner, drained it of all color, and, with elaborate motion capture, rendered it in jarringly lifelike animation. After a shady off-the-books transaction at a night club turns confrontational, a young woman named Ilona (voiced by Romola Garai) gets abducted. A researcher for Avalon, the titan cosmetics corporation whose marketing presence among Paris' skyline is soon established as ominous, Ilona's disappearance is assigned to Barthelemy Karas (Daniel Craig, the current James Bond), a serious commanding officer of a police task force.
Karas' pursuits quickly lead him to Bislane (Braveheart's Catherine McCormack), the victim's older sister who helps a little, while remaining guarded and holding suspicions of her own. Questioning additional relevant parties and following other leads while continuing to check in with Bislane, Karas stumbles upon an elaborate conspiracy which involves genetics, immortality, something that occurred in 2006, and invisible baddies.
Renaissance boasts a plot which is moderately involving, but that's primarily since it is confusing in its design, seemingly on purpose. As a result, anything made lucid empowers the viewer who's following along and picking up clues, as expository as they may be. A detective story somewhat modeled after classic film noirs, here darkness, melancholy, and paranoia fill in for intrigue and romance.
While the convoluted turn of events is able to maintain one's interest, the movie's themes, messages, and settings all feel a little derivative, hackneyed, and juvenile. Those charges probably wouldn't be as easy to make had Renaissance beaten Sin City to theaters, but a five-year production period ensured otherwise. Arriving over a year later with similar sensibilities but no graphic novel as source text, Renaissance inevitably is going to be perceived by many as trying to capitalize on the neo-noir flavor that thrilled Sin City fans. In reality, what began development feeling highly original late last decade, before either Richard Linklater (Waking Life, A Scanner Darkly) or Robert Zemeckis (The Polar Express, Monster House) had dabbled in computer-aided rotoscoping, ultimately registers less than groundbreaking in terms of technique and the gritty postmodern story isn't strong enough to make up for that.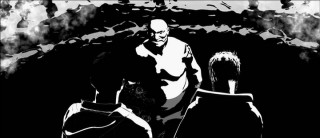 Originating from France, a nation in which art is supposedly made by connoisseurs, Renaissance is surprisingly conservative in its use of good taste. Though four writers worked on the script, the film resorts to dropping the F-word in moments where it seems like nothing more intelligent or meaningful was imagined.

There's a random display of holographic female anatomy, as if the film's seeking to make the record books for its pioneering use of rotoscoped nudity. There's also a bad guy that seems like a lazy amalgam of Jabba the Hutt and Marlon Brando during his let-himself-go years.

Though one eventually grows used to the film's atypical stylings, which essentially render heavily-shadowed characters and objects slivered in either white or black (depending on if it's night or day), they can be disorienting at times. Coupled with the absence/presence of color, the near-limitless three-dimensionality of universes and motion requires some level of patience and a tolerance for what feels like experimental visual gimmickry. Those for whom the artistry of the graphics is able to elevate the film should appreciate the future-Paris architecture and automaker Citroën's conception of a cool car 50 years from now. Those insisting on story and atmosphere can revel in a few choice sequences, one involving glass walkways over the streets by the Notre Dame cathedral, and, on occasion, a genuine sense of suspense. Unfortunately, it seems like the innovative ideas came disproportionately for the imagery, rendering the grouchy screenplay to suffer.

Note that while the names in the predominantly British voice cast ring some bells, these actors didn't perform the motion capture antics themselves, so if you're even able to get a really good sense of who's who appearance-wise, don't be surprised that you don't see a cyber-007 like the mustachioed but easily recognized virtual Tom Hanks of Polar Express.
DVD Details

2.35:1 Anamorphic Widescreen
Dolby Digital 5.1 (English, French)
Subtitles: English, English captions, French, Spanish
Closed Captioned
Release Date: July 24, 2007
Single-sided, dual-layered disc (DVD-9)
Suggested Retail Price: $29.99
Black Keepcase
VIDEO and AUDIO
Visually, Renaissance is so unorthodox that even if this DVD did grave injustice to the filmmakers' intentions, it'd be tough to tell. As it is, the film -- presented in its 2.35:1 widescreen theatrical aspect ratio and enhanced for 16x9 displays -- looks very unusual and one can assume deliberately so. Because it's probably been transferred directly from digital source to digital source, there are no anomalies present in the element. Colors, sharpness, and detail lend themselves more to short answers -- "few", "I suppose", and "intentionally limited" -- than detailed analysis, but without having seen Renaissance on the big screen, I can only make an educated guess that the creators' visions have been upheld and that, like most recent films, they have been ported over to disc without raising any concern for the typical DVD viewer. (Except those who would prefer losing 40% of the carefully-framed imagery in the name of filling their standard ratio TV set.)
In the sound department, Renaissance comes equipped with Dolby Digital 5.1 tracks in both English and French. Though this is undoubtedly a French production (albeit with a few deficit-yielding millions from Disney), the dialog only synchs up with animation on the English track, so one can deduce that the film was surprisingly created in the English language. Assuming it was translated from French at some point, the English is gladly free of awkward or incoherent phrasing. The mix is quite dynamic, with atmosphere and even certain elements of music being divided among the back speakers to engulf you with a wide sound field. There are a number of instances where the division of components amplifies the feeling that you are in the middle of the proceedings. While that's not all that uncommon these days, Renaissance is active and aggressive enough to make this mix stand out in mind.
BONUS FEATURES, MENUS, and PACKAGING

The lone supplement is "The Making of Renaissance" (26:08), a 2006 French television special that is subtitled in English. As you'd expect from the running time, this featurette covers a good amount of ground with a mix of interviews from key crew members, motion-capture production footage, and French-language movie clips.

Inspirations, the design, the technical moviemaking process, the characters, and the score are all covered in a fashion that should satisfy anyone who can handle the traditional black & white interview footage and having to read the quick-paced translated sound bites.

The very busy main menu cycles through more memorable lines and characters in a fast-moving way that the movie wouldn't. Submenus are accompanied by score but feature no animation.

The disc opens with trailers for The Invisible, The Lookout, and The Hoax, plus the very hip anti-piracy promo. The trailers are joined by previews of Neverwas and the Roger Corman Collection in the Sneak Peeks menu. Inside the case, an insert doubles as scene selections list and Buena Vista DVD advertiser.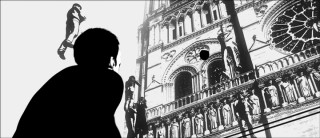 CLOSING THOUGHTS
Renaissance strives to be different and it definitely is, visually. But different isn't always better and while its unconventional approach to sights may attract attention, the hodgepodge of dark, near-future cyberpunk fare that serves as story is a bit unsatisfactory. The two planes, graphic and narrative, don't necessarily complement one another and the end result (and limited public response) fails to make a strong argument for the viability of animation being used for non-family cinema.
Miramax's DVD is quite excellent in terms of picture and sound. Those who count themselves among the film's fans might be disappointed to receive just one featurette, and in a foreign language at that, but at least it sheds plenty of light on production.