Along with four Sing Along Songs volumes which are resurfacing for their DVD debuts this week, Disney has transferred over The Very Hungry Caterpillar and Other Stories, a collection of five animated shorts adapted from the children's picture books of best-selling author Eric Carle. This 32-minute program showed up on VHS ten and a half years ago just the way it now appears on DVD, but research to discover more about its origins does not yield much. The best one can find is that this Illuminated Film Company/Scholastic Productions co-presentation came from a 1993 television series known as "The World of Eric Carle." The handful of Internet references and IMDb listing suggest this was a short-lived UK production. In any event, Disney apparently acquired the U.S. distribution rights, hired a couple of American voiceover artists to re-narrate the animation, and released it with their encouraging studio signature. Now, the DVD's white-based cover (barely altered from the 1995 videocassette) makes this title look like it could be a cousin of the Baby Einstein DVDs, another preschool-geared creation from an external source that Disney proudly distributes.

What The Very Hungry Caterpillar basically amounts to is a collection of unabridged narrations of five of Carle's books, which anyone who is either now attending first grade or attended in the past 35 years should be familiar with. The New York-born, German-educated Carle made a splash on the children's book scene with Brown Bear, Brown Bear, What Do You See? in 1967 and he has since followed up with more than 50 works, most boasting his unique styles in storytelling and imagery. An overwhelming majority of Carle's books center on animals with unmistakable personality traits

(typically spelled out in the title) or palpable dilemmas. The Very Hungry Caterpillar (1969), Carle's third publication and the one he is best known for, offers both. The first short of the feature, it tells of an insatiable caterpillar who continues to eat his way through an increasing volume of various fruits throughout a week without finding contentment. Over the weekend, he discovers a picnic basket, a tummyache, and a more filling meal, emerging as a butterfly on Sunday.

The three shorts which follow adhere to a similar formula, presenting an identifiable obstacle, some kind of journey, and, of course, a fulfilling resolution. Papa, Please Get the Moon For Me (adapted from Carle's 1986 book) tells of a girl who yearns to play with the moon. Answering her plea, her father gets out a really big ladder and attempts to obtain the celestial being for her. The Very Quiet Cricket (published in 1990) depicts a young cricket's struggle to find his voice among his noisy fellow insects. The title protagonist of The Mixed-Up Chameleon (published in 1975) takes a trip to the zoo and, seeking to spice up his life, longs to possess the unique characteristics of an assortment of animals.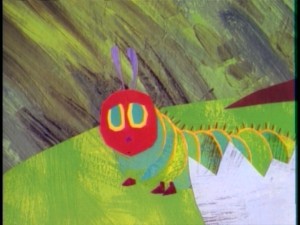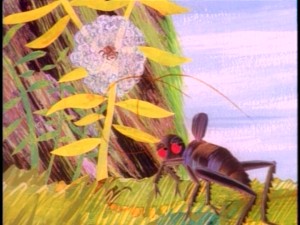 The final short, I See A Song, is less a tale than it is an exhibition of imagery, which makes sense since it stems from Carle's wordless 1973 book of the same name. In it, a black and white violinist evokes rich, colorful, semi-abstract visuals with the music he plays.
The program does a lot with a little, succeeding as Carle's tales do, with a seemingly minimalist approach. London studio Animation City employed a small amount of motion and relied upon the collage illustrations of the books, which Carle himself achieves with tissue paper and acrylics. The resulting imperfect, textured renderings exist and flow just as you would imagine Carle's artwork would if it were living and breathing. The narration, one-person recordings which alternate per short between Brian Cummings and Linda Gary, are perfectly expressive, stately, and eloquent as any good children's book-reader aspires to be. Both elements are accompanied by some nice, evocative music by Wallace & Gromit composer Julian Nott.
For the technical aspects in place to be fully appreciated, one needs to not deplore the subject itself and fortunately, Carle's simple stories make that a pretty difficult task to do. Hearing these four tales (and seeing the fifth) for either the first or fifteenth time provides fairly good reason for their lasting power. These creations continue to capture the attention of children and those who haven't lost their sense of childlike wonder with straightforward arcs, sympathetic protagonists, and a compelling depiction of the world. Admittedly, Carle's tales come across as so primitive that some adults may wish they could have spawned them to reap the rewards and riches he has, but though that may seem possible enough for any literate writer, it doesn't take away from the magnetic and enduring nature of Carle's creations, either in printed or faithfully animated form.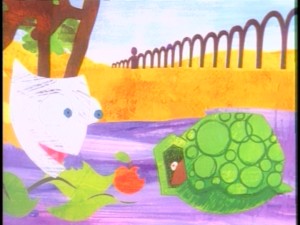 VIDEO and AUDIO
The 1.33:1 fullscreen presentation doesn't leave anything to be desired. Those with high-end systems may notice a less than perfectly crisp picture quality, but most of the would-be anomalies are clearly part of the different-looking visuals.
Sound is provided as Dolby Surround, where the rear speakers also deliver the compelling classical music and the front channels issue the narration. The disc is commendable in this area too, though praise less likely goes to painstaking restoration efforts than to twelve years of well-aged video.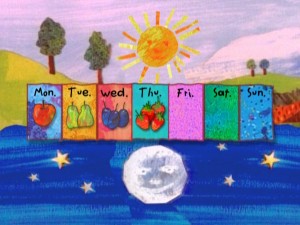 BONUS FEATURES, MENUS, and DESIGN

Out of the seven preschool-oriented DVDs Disney released this week, The Very Hungry Caterpillar

is fortunate enough to be one of just two that is actually accompanied by bonus features. Alas, only the slow-moving, extremely tot-friendly set-top game "Eating Through the Week" is provided for added value. In this well-titled game (appearing under the relevant header "Game Time"), viewers must help the very hungry caterpillar eat through the week by choosing which of the three featured graphics represents the food that the narrator informed you that he was supposed to consume that day. It basically takes you through the story, with you calling the shots (as long as you do things Eric Carle's way), moving back and forth from a snazzy calendar week graphic and the oh-so-challenging multiple choice showdown. Though this activity seems even simpler than a Baby Einstein bonus and it likely won't get a great deal of replay value, I'm sure the intended parent-and-child demographic will get at least one solid use out of it.

The 4x3 still menus hold bright imagery of characters from the stories. They are accompanied by outdoor animal sound effects and music. What more could you want?

The brief program is divided into six chapters representing the five stories and end credits; selecting any proceeds to play from that point on meaning that if you wanted just six minutes of entertainment, you'll have to stay on the ball or else the next story will begin and you might get a fuss out of an enchanted viewer who doesn't want "movie time" to end.

If anyone cares, like the other January 3rd Preschool DVDs, the start of the disc's sneak peeks promote Pooh's Grand Adventure: The Search for Christopher Robin, the February 2006 Disney Princess DVD wave, and the two delayed-but-coming Winnie the Pooh-themed Disney Learning Adventures. The Sneak Peeks menu enables you to subject yourself to further ads for Little Einsteins: Our Big Huge Adventure, Lady and the Tramp: Platinum Edition, Bambi II, and "JoJo's Circus" on Playhouse Disney.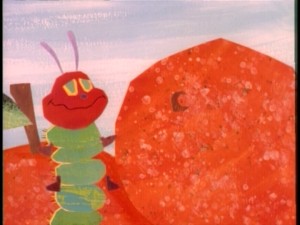 CLOSING THOUGHTS
The Very Hungry Caterpillar and Other Stories capably translates the simple but impression-making books of Eric Carle into the world of animation. Aptly produced, these five shorts deserve praise for bringing the author's visuals to life faithfully and pairing them with fine music, pacing, and narration. The program can't replace the stories in their original format, but it does make for a nice complement to them for fans of the author's works and the animation makes one's imagination visible in the way the printed page cannot.
Disney's low-key, overdue DVD release doesn't deserve points for style, but the 10½-year-old title has not suffered in picture and sound. Containing a feature that's just 32 minutes long and one bonus feature, the disc seems somewhat light in its offerings for the roughly $10 you'll pay for it, but compared to the similar in length and less enduring in content Baby Einstein DVD volumes (which sell for $5 more) and to Carle's books themselves (which $10 can't even obtain one of), the price tag seems acceptable with the right perspective and target audience.