As far as IMAX documentaries go, Space Junk 3D has one of the more succinct and eye-catching titles. Its subject matter is indeed what those words conjure, for it explores the man-made rubbish presently floating across outer space. I suspect, however, that the more scientific-minded and knowledgeable of its viewers might accuse this 2012 film of living up to its title in the pejorative sense.
Narrated by British actor Tom Wilkinson (Batman Begins, Michael Clayton, Eternal Sunshine of the Spotless Mind), Space Junk calls our attention to the "orbiting junkyard of cast-off space debris" that has resulted from over sixty years of artificial satellites being launched into space.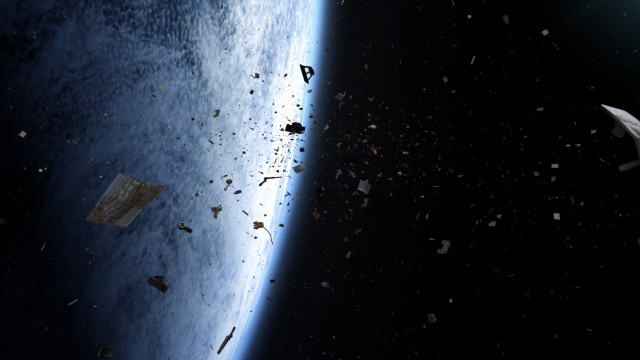 For its most substantial chunk set on Earth, the film brings us to Meteor Crater, Arizona, the world's best-preserved meteor impact site. Astrophysicist Don Kessler, the so-called "Father of Space Junk" and the film's central voice, cites that nearly mile-wide crater, created in just ten seconds 50,000 years ago,

as a reminder of the significant and lasting impact that space can have on our planet. Kessler fears that comparable avoidable fallout could result from all of the satellites currently in orbit around Earth. The science world has dismissed his posited scenario, called the Kessler syndrome, in favor of the Big Sky Theory, which argues that the enormity of space renders the chances of collision miniscule.

To me, the accepted theory seems more plausible than the one Kessler worries about, even if in February 2009 there was the first accidental collision of two artificial satellites. Kessler's speculations, given credence in sharp computer-animated visualizations, foresee random collisions of man-made objects creating hazardous small debris around the low Earth orbit. The scientist goes as far as to envision Earth developing a Saturn-like ring of this unstoppable space junk.

Assuming that Kessler's science isn't as dubious and unrealistic as it seems, wouldn't his message be better addressed to government space agencies than to the general public in an IMAX 3D documentary? The film's proposed solutions to the problem are not easily taken seriously. A tether, a space fishing net, lasers, solar sails, and a space-based recycling program sound like the ideas of a 7th grade science class' brainstorming. Again, one hopes that Kessler, as the decorated scientist NASA once assigned to this very topic, knows what he's talking about more than he lets on and is simplifying for the sake of elementary school field trips.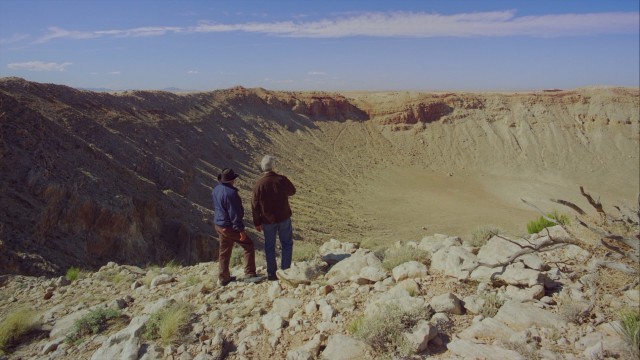 Even so, Melissa R. Butts, making her directing debut after producing the little-seen 2007 IMAX doc 3D Sun, fails to make Space Junk 3D convincing or compelling. The 37-minute film's brief passages on the usefulness of satellites, the technology behind our civilization's communication and information needs, are more visually striking and substantive than its doomsday scenarios imagining hypervelocity impacts of rocket and satellite debris as tiny as nuts and bolts. The viewer comes away with information they didn't previously have, but the information seems to lack real weight or certain consequence.
While continuing to play in select IMAX theaters, Space Junk 3D hits home video tomorrow from Image Entertainment exclusively in a Blu-ray/Blu-ray 3D hybrid single disc.
Blu-ray 3D/2D Details

1.78:1 Widescreen
5.1 DTS-HD MA (English), Spanish)
Subtitles: None
Not Closed Captioned; Extras Not Subtitled
Release Date: September 17, 2013
Suggested Retail Price: $24.98
Single-sided, single-layered disc (BD-25)
Clear Keepcase with Side Snap
VIDEO and AUDIO
Apart from one Arizona shot that seemed overly compressed and grainy, Space Junk looks terrific in both formats. The 1.78:1 large format photography is obviously clean, sharp, and full of detail, making for consistently pleasing picture quality, even if the visuals don't have the typical IMAX impact.
The 5.1 DTS-HD master audio is even better, engulfing with potent sound effects while keeping Wilkinson's narration crisp and intelligible. The disc regrettably lacks subtitles, but you won't need them unless you are truly hearing impaired.
BONUS FEATURES, MENUS, PACKAGING and DESIGN

The disc's extras begin with a short interview of Tom Wilkinson (1:32, HD), who explains his interest in the subject and his hope for change.

A short, standard-def behind-the-scenes video (2:43) collects making-of footage

and some remarks from director Melissa Butts in addition to repeating part of Wilkinson's already-heard comments.

A behind-the-scenes gallery (1:19, HD) displays photos from the documentary's production (mostly in Arizona) in a slightly animated backdrop while score plays.

Finally, a trailers section includes full HD theatrical trailers for Space Junk 3D (1:17) and eight additional IMAX 3D movies: The Ultimate Wave Tahiti, Legends of Flight, Dinosaurs Alive, Wild Ocean, Mummies: Secrets of the Pharaohs, Dinosaurs: Giants of Patagonia, Rescue 3D, and Sun. Providing both individual access and a "Play All", this is always a highlight of an Image IMAX Blu-ray.

The menu plays clips in a rectangle within a space setting adapted from the poster and cover art. The disc does not support bookmarks, but it does resume playback in the unlikely event you can't complete it in one sitting.

Space Junk 3D is packaged in a clear Blu-ray keepcase, allowing it to use the reverse side artwork to promote eighteen other IMAX documentaries available on Blu-ray from the studio.
CLOSING THOUGHTS
Typically, the hard part of IMAX documentaries is lugging the cumbersome camera around to capture striking images. The format's giant dimensions and powerful sound are ordinarily enough to sustain interest through the short 40-minute standard runtime. Removed from the six-story screen and its visceral soundtrack scaled back, Space Junk 3D lacks both the visuals and the substance to make a meaningful impression. Though the 2D/3D Blu-ray boasts first-rate picture and sound, an okay handful of extras, and a reasonable list price, there's simply not enough here to recommend either the disc or the documentary to anyone who isn't already fascinated by the notion and cause of debris floating around in outer space.
Buy Space Junk 3D's Blu-ray 3D/2D at Amazon.com