DVDizzy.com | DVD and Blu-ray Reviews | New and Upcoming DVD & Blu-ray Schedule | Upcoming Cover Art | Search This Site
Slacker: The Criterion Collection Blu-ray Review
Slacker

Theatrical Release: July 5, 1991 / Running Time: 100 Minutes / Rating: R

Writer/Director: Richard Linklater

Cast: Richard Linklater (Should have stayed at bus station), Mark James (Hit-and-run son), Jennifer Schaudies (Walking to coffee shop), Dan Kratochvil (Espresso czar, Masonic malcontent), Tom Pallotta (Looking for missing friend), Jerry Deloney (Been on the moon since the 50's), Heather West (Tura Santana look-alike), John Spath (Co-op guy), Ron Marks (Bush basher), Brian Crockett (Sadistic comb game player), Scott Marcus (Ultimate loser), Stella Weir (Stephanie from Dallas), Teresa Taylor (Pap smear pusher), Mark Harris (T-shirt terrorist), Gina Lalli (Sidewalk psychic), Frank Orrall (Happy-go-lucky guy), Abra Moore (Has change), Lori Capp (Traumatized yacht owner), Louis Black (Paranoid paper reader), Don Stroud (Recluse in bathrobe), Janelle Coolich (Shut-in girlfriend), Kevin Whitley (Jilted boyfriend), Steve Anderson (Guy who tosses typewriter), Robert Pierson (Based on authoritative sources), Sarah Harmon (Has faith in groups), John Slate ("Conspiracy A-Go-Go" author), Scott Van Horn (Nova), Lee Daniel (GTO), Charles Gunning (Hitchhiker awaiting "true call"), Louis Mackey (Old anarchist), Michael Laird (Burglar), Kalman Spellitich (Video backpacker), Scott Rhodes (Disgruntled grad student), Denise Montgomery (Having a breakthrough day), R. Malice (Scooby Doo philosopher), Mark Quirk (Papa Smurf), Kim Krizan (Questions happiness), Annick Souhami (Has conquered fear of rejection), Stephen Jacobson (S-T-E-V-E with a van), Kelly Linn (Bike rider with nice shoes), Rachael Reinhardt (Cousin from Greece), Kevin Thomson (Handstamping arm licker), Nick Maffei (Pixl-Visionary), Lucinda Scott (Dairy Queen photographer), Wammo (Anti-artist), Marianne Hyatt (Late night pick-up), Joseph Jones (Old man recording thoughts), Kendal Smith (Post-modern Paul Revere)
Buy Slacker from Amazon.com: Criterion Blu-ray • Criterion DVD • Instant Video
Writer-director Richard Linklater has been on the cusps of the mainstream and of critical reverence for a long time. His most praised works, the spread-out trilogy of European romance films that began with Before Sunrise (1995), earned him an Academy Award nomination for Adapted Screenplay in 2005 and this year's latest installment seems destined to at least repeat that feat.

Linklater got a taste of commercial success with 2003's appealing Jack Black vehicle The School of Rock, but his other two wide releases (the 2005 remake The Bad News Bears and 1998's The Newton Boys) both fell short of expectations. Several of his films have disappeared in the blink of an eye. He's an indie filmmaker who nonetheless works with major movie stars and though he's widely appreciated by those working in or writing about the business, he's not quite recognized or beloved by the general public.

Linklater's film career began in the 1980s, as he experimented with formats and techniques. Technically, his feature-length directing debut was It's Impossible to Learn to Plow by Reading Books, a drama that took a year to shoot and another to edit in a public access station. As far as the industry is concerned, though, Linklater's first real feature was 1991's Slacker, a film that went on to gross over $1 million in limited release, join The Criterion Collection in 2004, and last year become selected for preservation in the United States Library of Congress' National Film Registry. Not bad for a movie with a $23,000 production budget.

This film opens with its then 29-year-old lone writer, director, and producer doing a rare bit of acting, playing a man who gets off a bus in Austin, Texas and takes a cab ride he spends engaged in a completely one-sided philosophical discussion. He gets out to narrowly miss an old woman becoming the victim of a fatal hit-and-run by her own son, an apparent religious fanatic and possible Army veteran. That unseen accident is the closest that we get to action and its perpetrator the most extreme in a cast full of characters.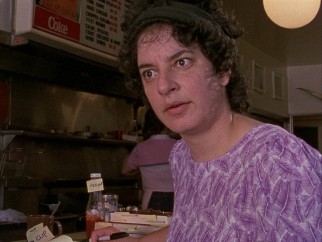 Slacker is an atypical movie most distinguished by a creative design that moves its focus from one group of people to another every few minutes. Set entirely in Austin over the course of one ordinary day, this film offers a snapshot of the early '90s that renders it an exercise in both the interconnectedness and randomness of life. It surveys a large number of Texans, most of them young, educated, broke and unemployed adults with artistic ambitions.
Portrayed by non-actors, none of whom subsequently pursued careers in front of the camera, the subjects are all interesting enough to hold our attention for a few minutes yet not interesting enough to want them to stick around longer. Past that jail-bound son, they're generally ordinary and harmless, though we get a number of oddballs and one woman who is clearly mentally ill. Their slices of life are doled out in long, unedited takes, which always conclude with us transitioning over to another pedestrian, sometimes via an established figure's exit.
A number of these personalities are colorful. There's a conspiracy theorist who rambles at a visibly uninterested young man. Another conspiracy theorist versed in the JFK assassination saga rants to a former college classmate. A group of kids kick soda cans out of vending machines to resell them at half price. A TV-obsessed guy has a number of sets running non-stop and another tied to his back at all times. A young man breaking in to a house (the film's other brush with criminality and action) discovers it's owned by a lenient, tale-telling veteran and hypothetical anarchist. A man moves out of a house without notice, leaving behind a series of autobiographical postcards for the roommates he rarely sees. A couple of young guys debate the values propagated by "Scooby-Doo" and "The Smurfs." A morbid man who hitches a ride from his stepfather's funeral touts his unemployed lifestyle. And a skinny, strange, androgynous young woman, who became the face of Slacker via its poster and cover art, tries to hawk Madonna's Pap smear.
Like Linklater's Before movies, this unfolds with little more than dialogue, a feature-length study of human interaction that few narrative films dare try. Like his follow-up feature, Dazed and Confused, it effortlessly juggles a large Texas cast and storylines that touch but do not exactly cross.

Like Waking Life, the director's first of two R-rated animated films, Slacker is full of philosophy you might categorize as "dime store" or "coffee shop" depending on the value you see in it.

Slacker avoids getting too scientific, political, heady, or loony, but its multi-faceted portrait of the human experience is far from vapid. The film certainly amounts to more than the sum of its parts. It's a non-judgmental depiction of Linklater's generation focused largely on those in their twenties full of opinions and uncertainty, a demographic Linklater seemed to escape with this very film.

This is one of those movies that creates excitement around its maker. Here is a young, new talent making a film not quite like any before it. It's impressive how many stories Linklater can tell and voices he can find without us growing tired of the experience or craving some traditional structure, overarching plot, or character development. The only time one minds the lack of convention is at the film's uneventful end, when instead of tying everything together or building to a crescendo, the director kind of reflexively considers the nature of filmmaking with what looks like friends' home movie outtakes or a jeans commercial. It's a little disappointing that such an obvious labor of love doesn't ultimately lead anywhere, at least onscreen. In terms of the real world, this project announced the arrival of a promising self-taught filmmaker and gave him a ticket out of an aimless existence resembling the ones he immortalized.

Linklater's next two films, Dazed and Sunrise, remain two of his most resonant, but twenty years later, he has neither sold out nor cemented his name as one of the great modern storytellers. Between last year's well-received, documentary-like true crime black comedy Bernie and this year's acclaimed Before Midnight, Linklater has strengthened his résumé without conforming to popular tastes or commercial sensibilities. You might expect that to make him a counterculture icon or give him a Woody Allen-like following that enables him to just do his own thing. But Linklater isn't quite there yet and he seems much more interested in exploring film's potential than maintaining a regular career or winning an Oscar. Surely, he has enough clout to have been extended offers to make a more commercial movie with a budget over $35 million. That he hasn't taken anyone up on that offer gives him an endearing artistic credibility and perhaps that is more meaningful than any big paycheck or fleeting commercial success.

While Criterion doesn't appear to be licensing Linklater's Before movies anytime soon, Slacker joins Dazed and Confused in the canon of Criterion Collection Blu-rays this week, hanging on to spine #247, which it claimed in 2004 with a loaded two-disc DVD.
Blu-ray Disc Details

1.33:1 Original Aspect Ratio
2.0 DTS-HD MA (English)
Subtitles: English
Not Closed Captioned; Extras Not Subtitled
Release Date: September 17, 2013
Suggested Retail Price: $39.95
Single-sided, dual-layered disc (BD-50)
Digipak in Cardboard Slipcover
Also available as 2-Disc Criterion Collection DVD ($29.95 SRP; repackaged/repriced September 3, 2013) and on Amazon Instant Video
Previously released as 2-Disc Criterion DVD ($39.95 SRP; September 14, 2004)
VIDEO and AUDIO
Slacker is old and low-budgeted enough to raise some picture quality fears, even in the hands of the restoration wizards at Criterion. Occupying a then unusual 1.33:1 aspect ratio, the film maintains its early '90s indie look in this grainy but very good presentation. The HD video isn't impervious to the occasional minor imperfection, but on the whole, it looks pretty terrific when you consider its origins.
The 2.0 DTS-HD master audio surround soundtrack similarly satisfies. Dialogue remains more crisp and intelligible than you'd suspect, though in long shots it is clearly and not that convincingly looped. As usual, Criterion includes English SDH subtitles for the film, but none of the extras.
BONUS FEATURES, MENUS, PACKAGING and DESIGN

Criterion is known for their bonus features and, as in all other regards, they surpass other studios on this front. Still, there is the typical solid Criterion effort and then there are Criterion's Richard Linklater releases, which shatter expectations and defy the space limitations of a dual-layered Blu-ray.

Slacker's breathtaking collection of supplements starts with three audio commentaries recorded for the 2004 DVD. First, we hear from Richard Linklater alone. Obviously the most informative of speakers, he gives insight into every moment and touch. Then, a cast commentary patches together remarks from twelve of the unseasoned locals in the film. Their lack of film experience heightens their memories of this and of the Austin that was (though some of them, specifically one of the cartoon philosophers, are unqualified for such a forum).

Finally, a crew commentary teams Linklater with longtime collaborator and director of photography Lee Daniel (not to be confused with possessive director Lee Daniels) and coproducer Clark Walker for a somewhat more technical group chat.

On the visual side, where everything is encoded in HD though limited by source materials, things kick off with a navigable series of 45 sequence descriptions from Linklater's original script, titled No Longer/Not Yet. Obviously, not all of them made it into the film and some differ from their final version, making this an interesting read.

Under the heading Showing Life, "The Casting of Slacker" recalls that process through two text screens of reflections by casting director Anne Walker-McBay. Those are complemented by clips from the 1989 cast interviews (14:43) they describe, which find the (non-)actors talking about themselves and their lives in Austin, revealing some parallels between the characters and those who portray them.

"Taco and a Half After Ten" (12:00) contains behind-the-scenes footage from production. Needless to say, it's not as slick, polished, audible, or watchable as the typical making-of featurette that has long since become the norm.
Thirteen deleted scenes and alternate takes (28:24) are preserved under the title "Ain't No Film in That Shit." It includes some lines spoken by Linklater's otherwise silent cabbie, completely cut scenes with the missing man's friends, movie buffs, and more philosophical diners, plus extensions to the "medical doctor" and the old man and his would-be burglar. There's nothing essential that's cut, but it's obviously cool to get this footage, even in its rough-looking state.
Orion's fun, widescreen redband trailer (2:50), which reportedly made Madonna bolt a full screening where it played, is preserved with its turn-of-the-'90s music selection and amusing billing block ("Cast: A LOT OF PEOPLE").
"...End of Interview!" (20:03) captures onstage and backstage footage from the Austin Film Society's 10th anniversary celebration and screening of Slacker reuniting Linklater and much of the cast. It's a very neat piece gathering warm recollections and experiences of being recognized.
A long trailer previews Viva Les Amis (10:33), Nancy Higgins' 2005 documentary celebrating a cafe featured in Slacker that has since shuttered and been turned into a Starbucks, but for a long time was popular and an integral part of Austin's scene. Linklater is among the former patrons and employees interviewed in the back of a taxi cab who lament the restaurant's loss, of which Starbucks baristas reveal their ignorance. As the full film supposedly only runs 49 minutes, you get more than a fifth of it here.
Woodshock (7:18) is a 1985 16mm short film by Richard Linklater and Lee Daniel artfully

documenting the 1985 incarnation of Austin's Woodshock rock music festival with the focus on the rowdy youths attending it.

Last but not exactly least, we get Linklater's aforementioned real first feature film, It's Impossible to Learn to Plow by Reading Books (1:26:02). Made in 1988 for $3,000, this Super 8 production aired on public access television, but was not widely seen until its brave inclusion on Criterion's DVD. Short on narrative, what sparse dialogue it has is incidental. It centers on a Texas college student (Linklater) who takes a long train ride out to see a friend in Montana with whom he exchanges audio cassette messages. They shoot hoops with a basketball filled with gas station air, watch TV, and go hiking, before the protagonist takes another long train ride back home, where his adventures include house-sitting for his folks, taking his car to the shop, filling up a jug of water, riding in a mirrored elevator, hitting the post office, shaving, partaking in a family meal at his grandmother's apartment, and, probably out of legal obligation, restlessly surfing his car radio and home television.

If you found Slacker dull, you'll want to stay far away from this tedious affair, as it takes "slow and aimless" to new heights. It's a project of evidently greater value to Linklater than us. It has a student movie feel, but one made without any real assistance or guidance. Perhaps because of that and because you can easily imagine Linklater setting up the camera before stepping into frame, some of its photography seems pretty impressive, albeit underlit. Not subjected to Criterion's high restoration standards, this quiet meander looks dark and washed-out. You can find some value in its images and connect them to Linklater's future works, but it takes considerable effort to get through this, your biggest takeaway being the ability to declare that you've seen Richard Linklater's first feature film.

It's Impossible is even joined by a 2004 Linklater audio commentary, which, given the nature of the film, might not be a bad way to see it a first time. He describes the project as a crash course in filmmaking as he reflects upon the project's challenges, unusual evolution, deliberate ambiguity, and filming locations. More interestingly, he cites his personal influences and takes note of how far he's come from the poor Texas kid who made this over fifteen years earlier.

The creative main menu presents interesting views of Austin alleys and backyards while birds chirp and cars whir by. As always, Criterion kindly equips the disc with bookmarking and resuming capabilities.
Like Dazed and Confused, Slacker gets Criterion to depart from their standard packaging in a creative way. Within a sturdy cardboard slipcover lies a Digibook that holds the disc (labeled with an Austin, Texas manhole cover and showing a hand-written chapter list behind it) and also accommodates a sturdy 70-page softcover companion book.

After a complete cast list (which, as the giant list above reveals, is the only easy way to credit this lot), the book offers a number of articles that are wonderfully illustrated with quotes, documents and behind-the-scenes photos. It's the kind of book you could expect to pay $10 for in stores included completely free with no bump to Criterion's standard $39.95 Blu-ray list price.

First, professor and author John Pierson attaches a new introduction to a reprinted 1995 excerpt from his book on the indie film movement which explains how he helped Linklater sell Slackers to Orion Classics and overcome mixed reviews at Sundance and in the New York Times. Next, "Slacker's Oblique Strategy" reprints a 2001 Ron Rosenbaum article from the New York Observer which pretentiously celebrates the film for resembling Russian literature. Reprinted from a July 1990 Austin Chronicle issue, Chris Walters' "Freedom's Just Another Word for Nothing to Do" mostly synopsizes the film following its local premiere.

"Looking Back" provides Michael Barker's 10th anniversary reflections on acquiring Slacker from the film's 2001 Austin Film Society reunion, which do not overlap too much with Pierson's remarks. Then, Linklater shares his own preproduction notes establishing rules and principles for Slacker to follow, from its nonnarrative structure to casting. Finally, veteran filmmaker Monte Hellman's short 2004 essay on It's Impossible to Learn to Plow by Reading Books is also reproduced.
CLOSING THOUGHTS
Slacker kind of plays like a more realistic, contemporary American Graffiti. It's not as enjoyable or traditional as George Lucas' one-night coming-of-age drama or as Linklater's kindred follow-up effort, Dazed and Confused, but it is an arresting and unconventional portrait of humanity that seems to benefit from the passage of time. Essentially the self-taught director's first film, Slacker is kind of depressing and could use a stronger ending, but it's a fascinating piece of art anticipating the great things to come from its maker.
Criterion's Blu-ray is as loaded as any and the substantial supplements, especially Linklater's first film (a challenging watch), a terrific companion booklet, and a winning 10th anniversary reunion, add great value to this easily recommended set.
Support this site when you buy Slacker now from Amazon.com:
Criterion Blu-ray / Criterion DVD / Instant Video


Related Reviews:
New: Tales of the City: 20th Anniversary Edition • Behind the Candelabra • Arthur Newman • Chasing Ice
Written and Directed by Richard Linklater: Dazed and Confused
1990s Independent Movies: Bottle Rocket • Crumb • RoadRacers • Following • Rushmore • The Ice Storm • Dead Man • eXistenZ
Criterion Collection Blu-rays: Badlands • Being John Malkovich • The Killing • Down by Law
DVDizzy.com | DVD and Blu-ray Reviews | New and Upcoming DVD & Blu-ray Schedule | Upcoming Cover Art | Search This Site
Search This Site:
DVDizzy.com Top Stories:
Reviewed September 16, 2013.


Text copyright 2013 DVDizzy.com. Images copyright 1991 Orion Classics, 1989 Detour Film Production, and 2004-2013 The Criterion Collection.
Unauthorized reproduction prohibited.