Generally the domain of larger-than-life and sometimes three-dimensional documentaries, the IMAX format was the exclusive home to The Young Black Stallion when it opened last Christmas. This Disney film represents an ambition attempt to provide a dramatic story in addition the usual awe-inspiring eight-story-high images.

Set in North Africa shortly after World War II, the film follows a young Middle Eastern girl named Neera (Biana G. Tamimi) who is befriended by a black stallion, named Black. When girl and horse are stranded in the desert, Black helps Neera reunite with her grandfather Ben Ishak (Richard Romanus). This all leads to an improbable but expected horse race against the local men, with captivating execution but unsurprising results.

While chronologically, this movie represents the start of the series, it is the third filming of a Black Stallion story, all based to some degree on different Walter Farley books. Young, is based on Farley's last book, co-written by his son Steve and published shortly after Walter's death in 1989. The first adaptation, 1979's The Black Stallion was directed by Carol Ballard with the same haunting lyricism he would bring to Disney's Never Cry Wolf four years later.
Young Black Stallion follows the first film's pattern pretty well, from its scenes of isolation for child and horse to the climactic end race. Compressed to less than half the length of the previous two films in the series, it's lacking most of the emotional poignancy that The Black Stallion had (as well as Mickey Rooney's inspiring performance). At the sparse running time of 50 minutes, the film's narrative defers to the more engaging visuals. That the impressive photography (a key part of the original film) takes the film's foreground is less than objectionable. But the simplistic storytelling efforts seem flat, as a result.
The weak dialogue, particularly as spoken by Neera to Black in the race sequences, seems employed to appease children, as if they would not be entertained by the sensory delights that older viewers can appreciate. As it goes through the motions, the film's plot feels lacking both in delivering the drama it should and providing all the scenes needed for coherency.
Australian director Simon Wincer has enjoyed success in the 'animal and kid' genre before with Free Willy, but the relationship on display here doesn't project as charismatically. Narratively, the film comes up short, but the stunning photography (captured sensibly with the IMAX technology) set to William Ross's affecting score creates enough cinematic appeal. Nonetheless, this kind of spectacle is clearly better suited to viewing in a large-format theater than on your television.
DVD Details

1.78:1 Anamorphic Widescreen
1.33:1 Reformatted Fullscreen
Dolby Digital 5.1 (English, French, Spanish)
Subtitles: English, French; Closed Captioned
Release Date: December 21, 2004
Single-sided, dual-layered disc (DVD-9)
Suggested Retail Price: $14.99
(Reduced from $29.99)
THX-Certified with Optimizer tests
White Keepcase
VIDEO and AUDIO
The video and audio quality here merits nothing but praise. The film's stunning photography looks brilliant in the 1.78:1 anamorphic widescreen transfer. A reformatted fullscreen version (which gains a minute amount of picture on top and more substantially crops the sides) is also viewable; you are prompted to choose at the start of the disc. The colors are just incredibly vibrant, and there's nothing close to a flaw in this sharp, pristine digital transfer.
The Dolby Digital 5.1 has all the life of a modern soundtrack and while your sound system can't compete with IMAX's, the audio presentation makes the most of a home theater surround setup. William Ross's nice score is aptly conveyed as the most significant sound element for most of the film; the climactic race sequences make for a dynamic experience as well, and the volume and fidelity remain very satisfactory at all times. The dialogue has pretty clearly all been looped in post production, and not with the most convincing effects but it is mostly intelligible.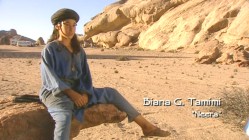 BONUS FEATURES

The bonus feature that Disney is most heartily touting is an "exclusive all-new prequel created by the original filmmakers."

With its short running time, the film omitted plenty of plot points and left room for more story. But this prequel, dubbed "The Sire", seems more like a flimsy lesson on how to get a nice, marketable 14-minute bonus feature by stretching out unused footage.

This 'prequel' (I guess preceding Young Black Stallion makes it a 'pre-prequel') opens with a bit of narrated mythology set to conceptual artwork and a few photographs of characters and locations. The rest is reverential horse footage with no plot or direction. It's not that watching horses gallop and snuggle isn't entertaining, but no sane editor would have opened their narrative film with frolicking of this length. What further establishes this montage as more like a "deleted scenes" section (or more appropriately, "deleted shots") is that it is presented in non-anamorphic widescreen and Dolby Surround 2.0, in contrast to the film's sharper treatment.

Besides this, there are five featurettes, all presented in glorious 16x9 widescreen. While these pieces on different aspects of the film's making are short, they're more entertaining than most DVD supplements.

"Finding Biana" (4:45) documents how the filmmakers' search for a girl who was an experienced rider brought them to Biana G. Tamimi. The young actress recalls the thrill of getting cast, and this featurette neatly includes some of the video footage of Tamimi's auditioning.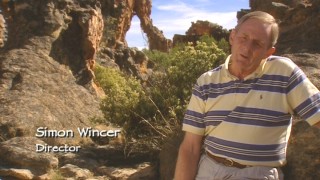 "Shooting in Namibia" (5:30) details the challenges of filming in remote locations, in extreme heat, and with a large format that requires additional efforts to look good when blown up to IMAX proportions.
"Building the Casbah" (4:05) isn't quite as interesting with its talk of sandbags and water, but it illustrates more production activity to construct a detailed set for the film.
"A Story in IMAX" (8:00) takes a look at the always-interesting world of large-format photography, allowing the filmmakers to explain certain conventions of narrative cinema that need to be adjusted to meet the traits specific to IMAX. Everyone interviewed seems to accept IMAX narratives as a new niche market, though that hasn't really taken off to date. This piece also reveals the reason that all the film's dialogue had to be "looped"; those IMAX cameras are really loud.
Like the others, "Taming the Stallions" (5:53) is appropriately titled. It profiles the previously-untrained South African horses used in the film and the handlers who worked with them.
Finally, there is the Big Black Horse Read-Along. It tells the story of the original Black Stallion film, with the usual option to read it yourself or have it read to you (with highlighting words helping you follow). It's more inspired than other Read-Alongs; the story is quite long and it's partially animated, making use of James Schucker's illustration and some apt sound effects.
The 16x9 menus are nicely animated; the Main Menu features scenes from the film, the selection scene page previews the mere 4 scenes in motion, and well-done transitions make for a more inspired than usual design. Each menu is accompanied by selections from the film's score.
Sneak Peeks at the start of the disc are for Bambi, Where the Red Fern Grows, and fellow IMAX film Sacred Planet. The menu adds a promo for Disney's ToonTown Online and as usual, allows you to play the 4 sneak peeks individually or all in succession.
CLOSING THOUGHTS
The 50-minute IMAX drama Young Black Stallion feels a bit slight for the standard asking price of a new Disney film on DVD, especially when you consider that you can get the entire first season of Gargoyles for the same amount. (Update: In the years since release, this disc has been drastically and appropriately reduced in price.) The film delivers not a full-length narrative, but breathtaking first-rate photography. Stallion's settings and visuals seem to resonate much more than its simplistic story, so if atmosphere appeals to you, this won't disappoint. The DVD is at least worth a rental, if mostly to take in its keen production values. The flawless digital presentation of the film and nice offering of supplemental material certainly don't hurt either.