DVDizzy.com | DVD and Blu-ray Reviews | New and Upcoming DVD & Blu-ray Schedule | Upcoming Cover Art | Search This Site
Quartet Blu-ray Review
Quartet

US Theatrical Release: January 11, 2013 / Running Time: 99 Minutes / Rating: PG-13

Director: Dustin Hoffman / Writers: Ronald Harwood (play & screenplay)

Cast: Maggie Smith (Jean Horton), Tom Courtenay (Reginald "Reggie" Paget), Billy Connolly (Wilfred "Wilf" Bond), Pauline Collins (Cecily "Cissy" Robson), Michael Gambon (Cedric Livingstone), Sheridan Smith (Dr. Lucy Cogan), Andrew Sachs (Bobby Swanson), Dame Gwyneth Jones (Anne Langley), Trevor Peacock (George), David Ryall (Harry), Michael Byrne (Frank White), Ronnie Fox (Nobby), Patricia Loveland (Letitia Davis), Eline Powell (Angelique), Luke Newberry (Simon), Shola Adewusi (Sheryl), Jumayn Hunter (Joey)
Buy Quartet from Amazon.com: Blu-ray • DVD • Instant Video
Are old people suddenly in fashion in Hollywood? Last year gave us the hit British ensemble comedy The Best Exotic Marigold Hotel and the Best Picture-nominated Austrian drama Amour.

Now, here's Quartet, which narrowly qualified for the same award season and managed to pick up a Golden Globe nomination. Granted, all three of these are independent films with long lists of production companies and modest theater counts, all made far from American soil. Still, each explores the lives of geriatrics and enjoyed some degree of success.

At 75, acting legend Dustin Hoffman makes his official directorial debut with this dramedy that Ronald Harwood adapted from his own turn-of-the-century West End play. Quartet is set at Beecham House, a British retirement home for musicians. This lively facility is full of gifted, accomplished septuagenarians and octogenarians. They include Wilf (Billy Connolly), a man who a minor stroke has rendered uninhibitedly flirtatious; his friend Reggie (Tom Courtenay), a teacher of teens who sees similarities, after Internet research, between his brand of music and the kids' hip hop; and the friendly, spacey Cissy (Pauline Collins).
Beecham is abuzz with a new arrival, the legendary soprano Jean Horton (Maggie Smith). One resident not pleased by Jean's presence is Reggie, who long ago was briefly married to her and still hasn't forgiven her for wronging him. Jean tries to make amends, but Reggie isn't having any of it.
Beecham's annual gala, which resident/director Cedric Livingstone (Michael Gambon) takes terribly seriously, is approaching with the future of the home riding on the important fundraising event. With one star vocalist sidelined, Reggie, Wilf, and Cissy are planning to perform their popular recording of Rigoletto from ages ago. The three friends have difficulty persuading Jean to join them for this reunion. She has officially given up singing and is reluctant to sully her legacy.
Geriatric comedies often poke fun at realities of aging: an overactive bladder, a failing memory. Quartet can't resist getting a few chuckles out of such subjects, but it aspires to more than that and pleases in the process. Like Best Exotic, this is feel-good cinema, a declaration that life can be fun and exhilarating even in one's twilight years. The camaraderie and chemistry of the seasoned cast is full of appeal and authenticity. And if the cynic inside you rejects the notion that it's never too late to find love, combat fears, or simply feel alive, consider the talent behind the camera.
Thirty-five years after his first attempt to direct (on the crime drama Straight Time), Hoffman finally sees the task through and he does so with skill and dexterity. It helps that he has a screenplay full of humanity from Harwood,

an experienced but still very active writer of stage and screen whose 21st century credits include The Pianist (for which he won an Oscar), The Diving Bell and the Butterfly, and Baz Luhrmann's Australia.

Perhaps this little film doesn't produce the crowds or passion of Harry Potter, but it allows actors like Smith and Gambon a strong forum to better showcase their still-sharp talents. Meanwhile, Connolly and Collins, the young'uns of this cast, prove that you don't necessarily lose comic timing in your seventies.

Quartet wasn't quite the word-of-mouth phenomenon that Best Exotic was. Its expansion to 725 theaters at the beginning of March was something of a non-starter as it failed to crack the top ten. Still, its less ubiquitous cast and more modest ambitions clearly resonated with more than just the early bird demographic, as it has managed to gross a respectable $18 million in North America and an additional $39 M and counting abroad.

The Weinstein Company's chief home video partner, Anchor Bay Entertainment, brings Quartet to DVD and Blu-ray on Tuesday.
Blu-ray Disc Details

2.35:1 Widescreen
5.1 DTS-HD MA (English), Dolby Digital 5.1 (French)
Subtitles: English for Hearing Impaired, Spanish
Video Extras Subtitled in English; Not Closed Captioned
Release Date: June 18, 2013
Suggested Retail Price: $39.99
Single-sided, single-layered disc (BD-25)
Blue Keepcase
Also available on DVD ($29.98 SRP) and on Amazon Instant Video
VIDEO and AUDIO
While Quartet is a movie sure to do more business on DVD than Blu-ray, Weinstein and Anchor Bay have put together a stellar 1080p presentation on the latter format. The sharp, clean, vibrant 2.35:1 picture is practically perfect. Meanwhile, the 5.1 DTS-HD master audio is breathtaking at times, with its scarce effective distribution of opera music.
BONUS FEATURES, MENUS, PACKAGING and DESIGN

The Blu-ray's main bonus feature is an audio commentary by director/executive producer Dustin Hoffman.

Hoffman does not muster as much enthusiasm as a typical first-time director. He speaks highly of all his cast members (understandably his primary interest), which is nice but does not make for an especially captivating 95 minutes. Only rarely does he move on to other topics like limiting F-bombs to two.

In addition to that, we get six short standard def making-of featurettes, which run 14 minutes and 41 seconds with a "Play All" option. Writer Ronald Harwood, producer Finola Dwyer, and virtually the entire principal cast speak highly of Hoffman's directing. Hoffman adds his voice to theirs on the other five pieces to discuss the film, its themes, the music, old age, and their experiences on this project.

The disc opens with HD trailers for The Intouchables, The Artist, and The Sapphires. None of these are accessible by menu, while Quartet's own trailer is sadly not included on the disc.

The menu plays a standard montage of scored clips, while placing a couple of music notes among the Set Up options. Unfortunately, Weinstein/Anchor Bay have yet to master Blu-ray authoring; like others from the partnership, this disc annoyingly fails to resume playback or let you set bookmarks.

Inside the keepcase, we find an insert advertising Lisa Hoffman fragrances and fragrance jewelry. That's one perk of being married to Dustin Hoffman.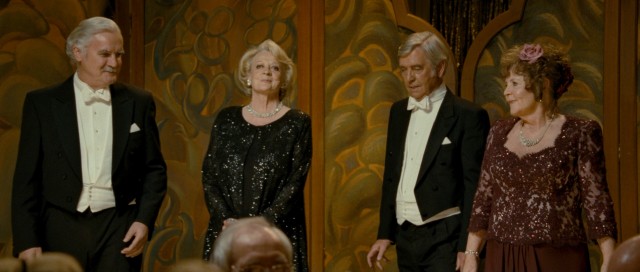 CLOSING THOUGHTS
Though fairly simple, straightforward, and predictable, Quartet is also effortlessly charming and entertaining throughout. It is quite like a smaller, retirement home variation on Maggie Smith's The Best Exotic Marigold Hotel and delights in a similar way. Anchor Bay's Blu-ray sports terrific picture/sound and a slight but adequate supply of extras.
Buy Quartet from Amazon.com: Blu-ray / DVD / Instant Video


Related Reviews:
New: Life Is Sweet • Wild Strawberries • Stand Up Guys • The Man Who Shook the Hand of Vicente Fernαndez • Pusher
Venus • Barrymore • The Last Station • Up • Enchanted April
Maggie Smith: The Lady in the Van • Sister Act & Sister Act 2: Back in the Habit • Becoming Jane • Gnomeo & Juliet
Billy Connolly: Brave • Muppet Treasure Island • Gulliver's Travels • The X-Files: I Want to Believe
Tom Courtenay: Doctor Zhivago | Pauline Collins: You Will Meet a Tall Dark Stranger • Albert Nobbs
Michael Gambon: Brideshead Revisited • The King's Speech • The Insider • Harry Potter and the Deathly Hallows, Part 2
Written by Ronald Harwood: The Diving Bell and the Butterfly • Australia

DVDizzy.com | DVD and Blu-ray Reviews | New and Upcoming DVD & Blu-ray Schedule | Upcoming Cover Art | Search This Site

DVDizzy.com Top Stories:


Reviewed June 15, 2013.



Text copyright 2013 DVDizzy.com. Images copyright 2013 The Weinstein Company, BBC Films, Yucaipa Films, DCM Productions, Headline Pictures, Finola Dwyer Productions, Decca, Hanway Films,
and 2013 Anchor Bay Entertainment and The Weinstein Company Home Entertainment. Unauthorized reproduction prohibited.