Never does one appreciate his or her health more than immediately after overcoming a spell of illness or injury. The recent film The Diving Bell and the Butterfly produces a similar experience, driving us to celebrate life's blessings by depicting a man who is suddenly and severely reduced in nearly every way.

The man is Jean-Dominique Bauby (Mathieu Amalric), a 42-year-old editor of France's Elle magazine who awakens from a stroke-induced coma to learn he's immobile and speechless, paralyzed head to toe with a rare condition known as Locked-In Syndrome.

The viewer discovers this information as Jean-Do (as he's known by friends); the camera grants us his limited perspective, complete with blurred vision and a voice that can't be heard by others. It's a device that your typical film might run with for a few seconds, but here director Julian Schnabel and decorated cinematographer Janusz Kaminski persist for about forty minutes to great effect. Rather than testing audience endurance, they convey Jean-Do's new phase of "life", a label his interior monologue questions.

Save for some details regarding what brought on this state, the patient's mind is utterly intact. But as far as his body goes, his only sign of being out of vegetation is that his left eye can still move. As Jean-Do poetically puts it, two other parts of him remain functional: his imagination and his memories. Accordingly, these tools are the same ones with which we're equipped on this journey of arduous rehabilitation.
The major obstacle Jean-Do aims to surmount is communication. He is able to blink his good eye in response to yes/no questions. Meanwhile, a speech therapist (Marie-Josée Croze) at his Berck hospital introduces him to a more complex method of conveying his thoughts, with an alphabet arranging letters by frequency of use and a system of blinks. The film makes clear how frustrating and time-consuming such a process is, yet only this demanding form of communicating gives the former journalist a voice.
With a protagonist who can't move himself or speak, you might suspect that Diving Bell wears out its welcome once you've grown accustomed to Jean-Do's plight. That's far from the truth. The movie keeps the viewer arrested throughout, with surprisingly sparse reliance on Jean-Do's standby outlets of flashbacks and fantasies.
It does this by gradually presenting insights into Jean-Do's life. There are visits from friends, acquaintances, and, most importantly, his three children and their mother (Emmanuelle Seigner). A few encounters from Jean-Do's past are recalled, taking on considerable dramatic weight in spite of their ordinary nature. And we hear the thoughts of the man, out of the blue sidelined to a bed and wheelchair, unable to rectify troubling issues in his life or to even satisfactorily express himself.
Somehow, words like "difficult" and "burdensome" don't begin to do justice to Jean-Do's predicament. And yet, some light emerges from the darkness when the middle-aged victim thinks to honor an existing contract with a publishing company. With the assistance of an indefatigable interpreter (Anne Cosigny), Jean-Do is able to share his many thoughts in print, occupy and exercise his mind, and see some hope in his bleak paralysis.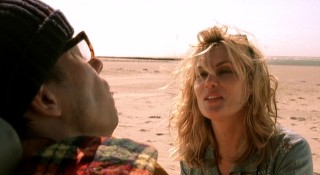 Diving Bell is a great film. As a critic, I feel obligated to point out that I'm not someone who is easily won over by subtitles or eager to trumpet something off the mainstream radar. Though the writer (Ronald Harwood, The Pianist) and director (Julian Schnabel, Before Night Falls) worked in English, Diving Bell is performed in French. As someone who doesn't speak that language, I suppose the film has an advantage; it can appear to be cool and smooth and have fewer opportunities for falsities to be detected.
Accepting that, I have to recognize that the film excels in its examination of a life and what it means to be alive. There isn't a frame that undermines reality or wavers into pretentiousness despite ample opportunity. The visual ingenuity that seems inherent to a film hanging onto consciousness is realized sensibly and effectively. The performances ring true, the focus is sharp and clear, and the themes are more compelling than just about anything found in the films of last year.
Making The Diving Bell all the more remarkable is the fact that it's based on a true story, something I hadn't realized going in. The conclusion and certain elements seem like the stuff of fiction, but some research confirms they're not. In fact, the few dramatic licenses the film takes (detailed in this well-researched Salon.com article to be read after viewing) seem unnecessary but somewhat forgivable.
Originally at DreamWorks and Universal before ending up at Pathé, The Diving Bell was ultimately distributed in North America by Miramax Films.

The art house division of Disney appears to be doing fine since separating from its founders, the Weinstein brothers (still fledgling on their own), over two years ago. At one point, Schnabel's Before Night Falls cast member Johnny Depp was to hold the lead role in what apparently would be an English language production. Thanks to the demands of his commitments to the Pirates of the Caribbean series, we instead get this wonderful, authentic, flavorful French feast.

Though not the biggest draw in the US, where its widest theater count was 213 and final gross was $6 million, the film fared better with international audiences (where its $11 M came chiefly from Central Europe and Japan). It also scored extremely well with critics. At award shows, the movie racked up dozens of accolades including Golden Globes for Best Director and Best Foreign Language Film. It received four Academy Award nominations, but didn't win any and wasn't considered (or apparently eligible) for Best Foreign Language Film (France nominated the animated Persepolis).

Riding high on acclaim, if not public awareness, The Diving Bell and the Butterfly comes to DVD next Tuesday.
DVD Details

1.85:1 Anamorphic Widescreen
Dolby Digital 5.1 (French, English, Spanish)
Subtitles: English, English for Hearing Impaired, French, Spanish; Closed Captioned; Extras Subtitled
Release Date: April 29, 2008
Suggested Retail Price: $19.99 (Reduced from $29.99)
Single-sided, dual-layered disc (DVD-9)
Black Keepcase housed in Cardboard Slipcover

VIDEO and AUDIO
Both the 1.85:1 anamorphic widescreen picture and Dolby Digital 5.1 surround sound are quite satisfactory. Much like the just-released Cloverfield, the sights and sounds are marked by manufactured shortcomings that serve a greater good. When needed, though, the two senses are sufficiently dazzled.
The thorough English subtitles do a great job of making the film accessible. There are a few instances where what's heard doesn't seem to align with what's seen, but that's inevitable on moments where words are being spelled out one letter at a time. Dolby 5.1 dubs are also provided in English and Spanish, as are subtitles.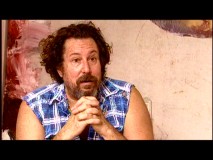 BONUS FEATURES, MENUS and PACKAGING

The first of four included supplements, "Submerged: The Making of The Diving Bell and the Butterfly" (12:40) is a general production featurette

that allows a number of principal cast and crew members to sound off on the film and director Julian Schnabel.

"A Cinematic Vision" (7:12) discusses the unorthodox filmmaking techniques used to convey Jean-Do's point of view, from cameras with latex faces attached to letting its leading man react naturally in a soundproof room.

Next is an audio commentary by director Julian Schnabel, which is highly unusual because it pairs a great film with a nigh-unbearably bad commentary. Slow, dull and reticent without questions to prompt him, Schnabel makes about two comments per minute. Almost all of these can be classified as obvious observations, actor identifications, or information that actual people or places from Jean-Do's life are used. Inevitably, a few production anecdotes and revelations emerge, but they account for about 3% of the track. You'll consider the other 97% of the time wasted and much better spent with the film's default soundtrack selected.

Last but not least is "Charlie Rose interviews Julian Schnabel" (20:42), a relevant segment from a 2007 episode of Rose's PBS talk show. Identifying himself as a painter, the director speaks openly and at length about the film and his personal interest in it, while Rose encourages him with his customary highbrow tone and evident admiration. It's a worthy inclusion and much easier to enjoy here than buying the full episode (a whopping $24.95 from Amazon) or watching freely online. An added bonus is that the film's full U.S. theatrical trailer is found near the start of the Charlie Rose excerpt.

Greeting you at the head of the disc are an anti-smoking commercial and a trailer for The Chronicles of Narnia: Prince Caspian. The menus run with the opening credits' motif of X-ray imagery, with piano instrumentals instead of Charles Trenet's "La Mer." The bonus features' looped vision of the alphabet recitation is sure to drive a slow selector mad.

Illustrating just how far the cardboard slipcover craze has gone, Diving boasts one which serves little purpose, merely reproducing the artwork below. A scene selections and extras list occupy one side of the only in-case insert, which doubles as a Becoming Jane ad.
CLOSING THOUGHTS
You can select just about any favorable adjective in the dictionary and I'd be more apt to apply it to The Diving Bell and the Butterfly than any of the several dozens of other movies from last year that I've seen. Poignant, haunting, relevant, daring... take your pick. This is a film which made a strong impression on me, someone reluctant to hop on the critical bandwagon and celebrate small off-radar works over mainstream fare.
Despite its great artistic and critical success, Miramax treats the feature to a pretty ordinary DVD. While we can reasonably assume that picture and sound are as they should be, the bonus features are a bit of a mixed bag. The 40 minutes of rewarding supplemental video make it fairly easy to overlook an unusually lifeless audio commentary. In the end, the film holds much more worth than bonus materials and it is the obvious reason you should check out this disc.
More on the DVD / Buy from Amazon.com / Buy the Book from Amazon.com