By Aaron Wallace

The problem with a title like Premonition is that it promises something exciting to come. In the case of the 2007 Sandra Bullock suspense/thriller, that promise goes unfulfilled. Bullock plays Linda Hanson, a woman who awakes one morning to find that her husband (Julian McMahon) has died and then wakes up the very next day to find him alive and well again. The next morning, he's back dead, and then alive, and then dead, and on and on. Naturally, she's disturbed by this sequence

and making matters worse is that each day, her best friend (Nia Long) and family seem to live in a reality separate from her own.

Like Linda Hanson, I, too, had a premonition. It came as I sat in a crowded theater, an entire movie flashing before my eyes from beginning to end. Eerily, the rest of the audience had this same vision. It was the theatrical trailer for Premonition, a piece that failed to excite but did disclose essentially the entire plot. That leaves little incentive for anyone who saw the trailer to watch the movie, but even if you hadn't, you'll likely figure out exactly where it's going before Mr. Hanson has died the third time.

The movie feels like a retread of so much that we've seen before -- Ghost, The Sixth Sense, Memento, The Butterfly Effect -- only it lacks the originality of these gems (well, The Butterfly Effect notwithstanding). Actually, there's nothing at all fresh or inspired in this movie. Raiding the graveyard of a hundred B flicks and flops, the film is all too happy to piece together overused story elements and stamp them as "new." I'm not one to try solving every movie before it's reached its proper conclusion, but it's nearly impossible not to foresee this ending. Maybe that's some sort of intended irony, but I doubt it.
After all, despite the title, it's not even clear if Linda is seeing visions or traveling through time. Demonstrating a disregard for logic, the movie never even asks the question, let alone answer it. Nothing makes a lot of sense. Rather than an intriguing narrative, the movie draws suspense from fast and choppy camera work, whispered dialogue, sound effects, and score.
And speaking of Klaus Badelt's score, it might just be the most insufferable thing about the entire movie. Constantly fluctuating in volume and pace, it is as tired a score as I've ever heard. By the movie's midpoint, the music becomes downright grating on the nerves. It would be better suited for a scene in a parody of suspense films.
Not everything about the movie is bad, though. The acting actually isn't bad, for one. Sandra Bullock again proves that she can capably carry a movie, even if it isn't a good one. If you can tolerate her frequent whispers and panting, you won't grow weary of her being on the screen in every scene.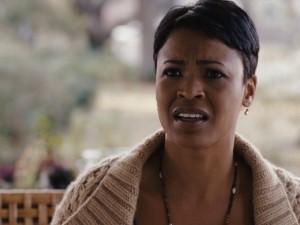 Despite all of its many flaws, the film actually can hold one's attention -- just barely and with a weak grasp, mind you, but it's held nonetheless. Much of the draw comes simply from wanting to see if the movie will at all deviate from its predictable path. That provides sufficient reason for continuing to watch, I suppose, but the truth is that had I not been watching it for this review, I probably would have fast forwarded to get my answer.
Premonition made its US theatrical debut on March 16, 2007, earning $47.8 million domestically. The modest gross was enough to make a profit but the studio would undoubtedly like to take in a little more with the help of this week's DVD release. Sony Pictures Home Entertainment has made the movie available in separate fullscreen and widescreen editions (otherwise identical) on DVD and in widescreen on Blu-Ray. The DVD contents are detailed below.
DVD Details

2.35:1 Anamorphic Widescreen
(1.33:1 Reformatted Fullscreen available separately)
Dolby Digital 5.1 (English, French)
Subtitles: English, French, Spanish; Closed Captioned
Release Date: July 17, 2007
Suggested Retail Price: $28.95
Single-sided, dual-layered disc (DVD-9)
Black Keepcase
Also available on Blu-ray Disc
VIDEO and AUDIO
Though it was originally filmed in 2.35:1 widescreen, Sony submitted only the Fullscreen Edition for this review. Of course, the fullscreen version crops the video and loses quite a bit of the original picture. Therefore, no one should consider purchasing such an inferior edition. Fortunately, the movie is available separately in its original widescreen ratio for the same price.
As this is a brand-new feature film, the video and audio quality are both quite excellent. The Dolby Digital 5.1 Surround soundtrack sounds fantastic and technically, this disc does not disappoint.
BONUS FEATURES, MENUS and PACKAGING

The longest bonus feature, of course, is the audio commentary with director Mennan Yapo and star Sandra Bullock. Their discussion varies from technical to anecdotal, never difficult to listen to but never exactly fascinating either. It's a very friendly and pleasant conversation that will probably be of most interest to Bullock's fans.

After that is the featurette, "Glimpses of the Future: Making Premonition" (15:51). It's pretty standard as far as making-of featurettes go, but perhaps more light-hearted than most.

Sandra Bullock shares a funny story from the set while other members of cast and crew discuss why they (mistakenly) think that this movie is unique.

"Bringing Order to Chaos" (11:59) rearranges the movie and presents Linda Hanson's disjointed week in chronological order with some commentary adjoining each segment in order to orient the viewer. This was definitely a neat idea but the movie only seems weaker when the smoke and mirror of confusion are removed.

"Real Premonitions" is actually made up of two segments -- "Waking Dreams" (29:13) and "Seeing the Future" (15:04) -- that can be viewed individually or in succession via "Play All". They chronicle various first-person accounts of real-life visions of the future. The first couple of stories are interesting enough but it quickly devolves into something like a psychic-promoting episode of "Unsolved Mysteries", only less captivating. There isn't much difference between the two segments so watching them together makes sense, only it's overly long and not really worth watching at all.
Rounding out the disc is a collection of material that didn't make it into the final cut. First, there's a brief but funny gag reel (3:21). That's followed by four deleted scenes: "Thursday: Linda's Mother Arrives" (1:05), "Saturday: Linda Prepares for the Funeral" (0:51), "Tuesday: Linda and Jim Hear News From the Doctor" (1:06), and "Friday: Linda Smokes" (1:05). All of them are very short and inconsequential.

There's optional audio commentary with Mennan Yapo and given that there's hardly any dialogue in these scenes, you can save yourself some time by just watching them with commentary from the get-go. For some reason, there's no "Play All" feature and at the end of each scene, you're subjected to a corporate credits screen.

Finally, there's an "Alternate Ending" (2:08), which is really more of an extended ending, taking the final cut just a few seconds further and rendering the conclusion even less satisfying. This scene, like the others, is presented with optional audio commentary from Yapo.

The disc is housed inside a standard black keepcase, which itself comes inside a cardboard slipcover that reproduces the cover art. There are no inserts found inside. The animated main menu shows various clips from the movie inside an ominous replication of the calendar that Linda draws in the movie while a bit of Badelt's maddening score plays. The Special Features menu is still but the score still plays, while all the other menu screens are motionless and silent.

There are a number of previews for other Sony titles on the disc, which can be accessed from both the Main Menu and the Special Features screen. They are: Across the Universe, The Messengers, Ghost Rider, Catch and Release, The Holiday, The Pursuit of Happyness, 28 Days, Are We Done Yet?, Daddy Day Camp, and another (older) Bullock thriller, The Net. The first three of these play automatically when the disc starts up. There's also a spot promoting various Normal Lear-produced TV titles on DVD, including "All in the Family", "Maude", "Good Times", "The Jeffersons", and "Sanford and Son", among others.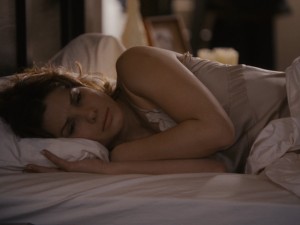 CLOSING THOUGHTS
For a suspense thriller, Premonition is neither suspenseful nor thrilling. It's not even intriguing. In fact, the kindest adjective you can grant it is "watchable". The DVD offers a good presentation and a healthy serving of bonus features for a single-disc release, but they'll only appeal to those who like the movie enough to want to watch them. Predictable and entirely unoriginal, the movie isn't worth anyone's ninety minutes or twenty bucks.
Buy Widescreen DVD / Buy Fullscreen DVD / Buy Blu-ray Disc from Amazon.com