DVDizzy.com | DVD and Blu-ray Reviews | New and Upcoming DVD & Blu-ray Schedule | Upcoming Cover Art | Search This Site
Meadowland DVD Review
Meadowland

Theatrical Release: October 16, 2015 / Running Time: 95 Minutes / Rating: R

Director: Reed Morano / Writer: Chris Rossi

Cast: Olivia Wilde (Sarah Anderson), Luke Wilson (Phil Anderson), Giovanni Ribisi (Tim), Elisabeth Moss (Shannon), Ty Simpkins (Adam Heywood), John Leguizamo (Pete), Kevin Corrigan (Joe), Merritt Wever (Kelly), Scott Mescudi (Jason), Skipp Sudduth (Ted), Nick Sandow (Garza), Mark Feuerstein (Rob), Yolonda Ross (Melanie), Casey Walker (Jessie Anderson), Juno Temple (Mackenzie - uncredited)
Buy Meadowland from Amazon.com: DVD • Instant Video
The independent drama Meadowland lets Olivia Wilde and Luke Wilson do some serious acting.

The two play Sarah and Phil Anderson, a New York married couple whose young son goes missing during a routine gas station stop.

The first original screenplay by Chris Rossi provides a portrait of parental grief. A year later, the Andersons are still heartbroken and still searching for answers. Sarah, an English teacher, is especially spiraling, tossing her Lithium prescription, shrugging off work, and turning to drugs and bad impulses. She takes a special interest in Adam Heywood (Iron Man 3's Ty Simpkins), a troubled youth from a bad foster home with Asperger's and all the awkwardness that comes from that mixed with adolescence. Phil, meanwhile, a police officer tries a support group and following up on possible leads.
Well-composed by longtime cinematographer, first-time director Reed Morano (who also directs photography here),

this R-rated character study barely played in theaters last fall, six months after premiering at the Tribeca Film Festival. But every critic who reviewed it had positive marks about the cast (which includes Giovanni Ribisi, Elisabeth Moss, John Leguizamo, and Kevin Corrigan in supporting roles), the story and Morano's presentation.

Meadowland embraces the darkness that follows unsolved tragedy. It isn't interested in solving the mystery or making things right, only in depicting the difficulty that comes with trying to go on after inexplicable hardship strikes out of nowhere. Wilde and Wilson are both terrific in ways they never get to show in the studio films they sometimes make. Being made on a shoestring budget and outside the studio system enables the film to be raw, real, and unpredictable. And though some viewers may come away unfulfilled (as evidenced by the mediocre 6.0 average user rating on IMDb), those who are comfortable with the uncomfortable should appreciate this tale's bold designs and steady approach.
DVD Details

2.40:1 Anamorphic Widescreen
Dolby Digital 5.1 (English)
Subtitles: None
Closed Captioned; Extras Not captioned
Release Date: February 2, 2016
Single-sided, dual-layered disc (DVD-9)
Suggested Retail Price: $19.96
Black Keepcase
Also available on Amazon Instant Video
VIDEO and AUDIO
As a cinematographer's directing debut, Meadowland unsurprisingly is well-composed. The DVD-only release's 2.40:1 anamorphic widescreen transfer certainly lacks the polish and detail of high definition, but doesn't trouble in any noticeable way exclusive from the format. The Dolby Digital 5.1 soundtrack is unremarkable but fine.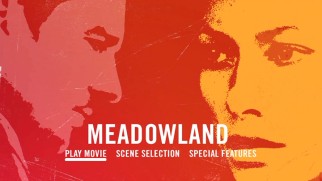 BONUS FEATURES, MENUS, PACKAGING and DESIGN

Cinedigm's DVD includes two bonus features. First and more substantial is "Meadowland: Behind the Scenes" (22:27),

an ordinary but satisfying making-of featurette that finds cast and crew remarks complimented by film clips and just a touch of production footage. It's longer and not as well-paced as bigger films' featurettes but it gets the job done all the same.

In addition to that, though unmentioned on the case, Meadowland's theatrical trailer (1:50) is preserved in 16:9 widescreen and Dolby Digital 5.1 sound. No promotional trailers for the studio's other properties are provided at all.

The scored, static menu adapts the artistic one-sheet design of Wilson and Wilde.

No inserts or slipcover accompany the standard uncut black Eco-Box keepcase of this digital copy-less release.
CLOSING THOUGHTS
The gripping and powerful drama Meadowland is a showcase for fine acting and a venue for dark, thoughtful storytelling. Cinedigm's DVD offers a basic but serviceable presentation.
Buy Meadowland from Amazon.com: DVD / Instant Video


Related Reviews:
New to Disc: Sleeping with Other People • The Diary of a Teenage Girl • Sicario • Burnt • Bridge of Spies
Pay the Ghost • Ransom • Stolen • Happy Christmas • The Vanishing (1993) • Accidents Happen • Take Shelter • Every Secret Thing
Olivia Wilde: Third Person • The Words • Butter • Her • In Time • The Incredible Burt Wonderstone
Luke Wilson: Vacancy • The Royal Tenenbaums • Bottle Rocket • Middle Men • The Wendell Baker Story
Ty Simpkins: Iron Man 3 • Jurassic World • Insidious

DVDizzy.com | DVD and Blu-ray Reviews | New and Upcoming DVD & Blu-ray Schedule | Upcoming Cover Art | Search This Site

DVDizzy.com Top Stories:


Reviewed February 2, 2016.



Text copyright 2016 DVDizzy.com. Images copyright 2015 Cinedigm, Bron Studios, Creative Wealth Media Finance, and 2016 Cinedigm.
Unauthorized reproduction prohibited.