Oscars are supposed to advance careers, but after two screenwriting nominations, one directing nod, and a pair of wins for writing and producing 2005's Crash, Paul Haggis has seen his career stall.

Haggis was a seasoned veteran of television, starting in Saturday morning cartoons and graduating to sitcoms and hour-long dramas, when he picked up two theatrical credits in close succession. His adaptation of boxing trainer F.X. Toole's stories became the foundation for Clint Eastwood's Million Dollar Baby. By the time that dark drama, 2004's Best Picture Oscar winner, had opened, Haggis had already shot and completed Crash, which premiered at the Toronto International Film Festival the preceding September.

Crash, Haggis' second film as director and co-writer, would receive general release the following May and become the rare film to open that early and still take home the industry's top prize. Doing so meant upsetting the presumed winner, Ang Lee's Brokeback Mountain. That surprising decision has since become many industry observers' go-to evidence that the Academy doesn't always get it right, criticism that has followed and perhaps driven Crash's downgrading from a provocative contemplation of modern race relations to an undeserving benefactor of Old Hollywood's lingering homophobia. All Best Picture winners endure some public backlash, but Crash seems to have been subjected to more than its fair share.

Nonetheless, the film's accolades cemented Haggis as not just a prolific screenwriter but a capable director as well. He worked more as a scribe in the years to come, contributing to such films as Casino Royale and Eastwood's World War II companion pieces Letters from Iwo Jima and Flags of Our Fathers, in addition to returning to television to create the acclaimed but short-lived NBC drama "The Black Donnellys." Haggis' directorial follow-up to Crash, 2007's In the Valley of Elah, earned star Tommy Lee Jones an Academy Award nomination for Best Actor, but failed to find much of an audience. The more commercial thriller The Next Three Days, released in 2010, divided critics yet delighted moviegoers. Too few moviegoers, unfortunately; the movie was a clear-cut flop, losing money on a modest $30 million budget.

Haggis has been scarce since then, his only writing credit coming on Call of Duty: Modern Warfare 3, a video game. The filmmaker resurfaced with Third Person, which premiered in Toronto September 2013. Despite a good amount of star power, the film didn't find a distributor until two months later, when Sony Pictures Classics acquired it. The indie label couldn't have been too excited by the picture because they waited until last June to give it a limited release. The engagement peaked in mid-July at 227 theaters, which was only enough to earn Third Person 25th place at the box office that weekend. That's not the usual route, ahem, taken for a film starring Liam Neeson, who has proven a draw in a very narrow brand of hard-PG-13 action thrillers. This is not your typical Liam Neeson vehicle.
Neeson plays Michael Leary, a fiction writer who won a Pulitzer Prize years back. He is at work on his latest novel in Paris, where he is visited by Anna Barr (Olivia Wilde), an American girlfriend half his age. Flown out there on his points, Anna is looking for feedback on her short story, but despite his cold treatment of her, there is more to this relationship than colleague critique.
Meanwhile at Bar Americano in Italy, cynical "clothing spy" Scott (Adrien Brody) connects with Monika (Moran Atias), a Romanian woman. Over cold Limoncello, the two bond with small talk about their respective young daughters. Monika is about to see hers for the first time in two years. Scott becomes involved in that reunion when he finds Monika's bag left behind at the bar and returns it to her without the 5,000 Euros she claims it held.
Our tertiary storyline involves Julia (Mila Kunis), a New York woman embroiled in a custody battle over the son she is believed to have endangered in some way. The specifics are long kept vague, but an incident has left Julia's life in tatters with pre-paid cell phones and short-lived menial jobs as she tries to get her artist ex (James Franco) to budge on the sole custody he's been assigned.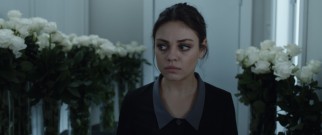 Just like Crash, these three layers are woven together with creative editing moving us from one narrative to another. One shot, Anna is picking up her clothes off the floor. The next, we're with Julia at her job picking up clothes as a hotel maid.

The marketing makes clear that at least some of the stories are inventions of Michael. But they are interconnected in other ways, via parallel plot points and most explicitly a mysterious link between Julia's New York job and the upscale hotel where Michael and Anna have separate rooms.

None of the stories is strong enough to sustain a feature film on its own, but each is sufficient at sharing the ample more than two hours Haggis divides unevenly among them. The ambiguous relation between the three layers is an effective source of intrigue, which the film preserves until its not-quite-twist ending reveals all... kind of. While this design can certainly be called a gimmick, it is a fruitful one that keeps us guessing and invested. Deflected questions drive all three storylines, as we wonder which character is using another and what trauma has befallen multiple offspring.

Critics, including many who at least initially regarded Crash highly, did not warm to Haggis' comparable juggle of a large ensemble this time around. Three out of four reviews were negative and not just borderline, but thoroughly disapproving, easily giving Haggis the worst marks of his film career. I can't agree with the majority opinion on this one. While I will acknowledge that all three storylines rely heavily on manipulation to maintain their mysteries, I found the overall result agreeable, the whole being more than the sum of its parts.

The cast is very good. It's refreshing to see Neeson take a break from administering flesh wounds and staring down wolves to play a character more believable for someone his age. Some of the more accomplished cast members (like Kim Basinger and Maria Bello) are used sparingly. But there are no weak links and no one to slow the film down to make it feel as long as it really is.

After a commercially promising start to the year courtesy of his parts in the animated sleeper The Nut Job and blockbuster The Lego Movie and Non Stop, another high-concept hit succeeding purely on his brand, Neeson has endured three box office disappointments, with Third coming between Seth MacFarlane's flop A Million Ways to Die in the West and the now floundering A Walk Among the Tombstones. The actor probably isn't worried; he's got Taken 3 (or is it Tak3n?) opening next January, followed by another action thriller from the director of Unknown and Non-Stop in April. He appears to be Hollywood's biggest sexagenarian male movie star, at least until Denzel Washington turns 60 at the end of the year.

In the meantime, Third Person received separate DVD and Blu-ray editions this week from Sony Pictures Home Entertainment. We look at the latter here.
Blu-ray Disc Details

2.40:1 Widescreen
5.1 DTS-HD MA (English), Dolby Digital 5.1 (English DVS)
Subtitles: English for Hearing Impaired, English, Spanish
Not Closed Captioned; Extras Subtitled in English
Release Date: September 30, 2014
Single-sided, dual-layered disc (BD-50)
Suggested Retail Price: $29.99
Blue Keepcase with Side Snap
Also available on DVD ($30.99 SRP) and Amazon Instant Video
VIDEO and AUDIO
I can't recall the last Sony Blu-ray I reviewed that didn't look great. It's certainly not Third Person, which boasts an excellent 2.40:1 transfer that is full of detail and void of imperfections. The 5.1 DTS-HD master audio is equally satisfactory. Though it isn't a real attention-grabbing mix, it comes to life during a dance club scene and the end credits courtesy of an original Moby song, and otherwise does a good job of dispensing dialogue. While foreign dialogue is scattered throughout, none of it is translated, nor does it need to be.
BONUS FEATURES, MENUS, PACKAGING and DESIGN

The Blu-ray's bonus features start with an audio commentary by writer-director Paul Haggis, actress/co-producer Moran Atias, editor Jo Francis, production designer Laurence Bennett, and producer Michael Nozik. Leading the way, Haggis points out little connecting details that viewers miss and acknowledges his friend Moby's musical contribution,

while Atias reveals the lengths (physically and otherwise) she went to get into her character. It's a fine track, which does not feature any really significant lulls.

The HD video extras begin with a Paul Haggis Q & A (33:29) from the KCET Cinema Series. Critic Pete Hammond talks with the writer-director, who discusses the film's origins, evolution, and influences, deflects comparisons to Crash, and reflects on casting the film and shooting it in Italy. (He repeats a number of his commentary stories.) When the floor is opened up, audience members gets Haggis to talk about geography-defying connections between the layers, shed some light on questions raised, and reflect on his career.

"The Making of Third Person" (9:49) provides the welcome usual blend of behind-the-scenes footage and cast & crew comments. It's big on describing things as if you haven't just watched the movie, but still supplies some good notes.

Finally, we get Third Person's theatrical trailer (2:12). Sony Pictures Classics remains one of the few studios wise enough to make a film's trailer a standard DVD and Blu-ray inclusion.

The disc opens with trailers for Magic in the Moonlight, Land Ho!, For No Good Reason, Only Lovers Left Alive, and Predestination, which are repeated via the menu's "Previews" listing.

The scored menu adapts the film's poster art. The Blu-ray supports bookmarks and allows you to resume playback as well.
CLOSING THOUGHTS
Third Person got a really bad rap from critics in limited release, but this three-level drama engages and intrigues throughout its long runtime. The design will recall Crash and may prompt complaints that Paul Haggis is a one-trick filmmaker. Still, the interwoven plots are used to different effect here and taken together, the line-blurring stories compel as too few films these days do.
Sony's Blu-ray sports a terrific feature presentation plus a substantial collection of bonus features. I recommend you give this at least one viewing.
Buy Third Person from Amazon.com: Blu-ray / DVD / Instant Video