With acquisitions Marvel and Lucasfilm supplying box office behemoths and both Disney and Pixar's animation divisions consistently finding success, the need for live-action movies made by Disney has diminished and in turn, the output has slowed. The class, which grew by as many as eight films a year in the mid-1990s, continues these days with around three new releases per year. One of those is usually a true sports drama, which has been a studio staple for some time. A newer staple is the live-action remake of an animated classic.

You can trace this tradition back to the '90s, when the Glenn Close-headlined 101 Dalmatians was a huge hit. The global returns of Tim Burton's Alice in Wonderland (2010) and Maleficent, the studio's 2014 reimagining of Sleeping Beauty, seem to have renewed Disney's commitment to this kind of remake, a less objectionable cash-in on established brands than the company's direct-to-video animated sequels of the '90s and Noughties.

It's a little bit of a stretch to call 2016's The Jungle Book live-action because apart from the young human protagonist, the cast is comprised entirely of CG-animated animals. Most of the settings, too, are achieved by visual effects, having been shot on a soundstage in downtown Los Angeles. The 1967 adaptation of Rudyard Kipling's stories was the last animated feature Walt Disney lived to see through near-completion and it remains one of his more highly regarded works. Disney has gone back to the well plenty of times before, from utilizing the characters in the early '90s Disney Afternoon cartoon "TaleSpin" to making 1994's forgettable live-action film starring Jason Scott Lee as an adult Mowgli to giving 2003's direct animated sequel a theatrical release.

This Jungle Book shouldn't be confused for any of those. It arrived with a substantial $175 million budget and the heightened box office expectations that come with it. At the helm is Jon Favreau, who proved his ability to direct big-budget bonanzas on the first two Iron Man movies.
Indian-American newcomer Neel Sethi plays Mowgli, a boy who was raised by wolves and is living in the jungles of India. His guardian is the black panther Bagheera (voiced by Ben Kingsley), a cautious cat who thinks this "man-cub" ought to be returned to the man village where he was found as an orphaned infant. Shere Khan (voiced by Idris Elba), the fierce, scarred, mankind-hating tiger, wants to take care of Mowgli himself, if you know what I mean.
The resourceful Mowgli winds up out in the wild on his own, a setting he's well-equipped for. Still, he runs into the giant python Kaa (Scarlet Johansson), who hypnotizes him with backstory. Then there's Baloo (Bill Murray, making his overdue first Disney-branded film), the lovable brown bear who saves his life and immediately has some return favors in mind (braving bees to fetch honey from atop treacherous cliffs). The next stop on this episodic journey is the realm of monkeys, whose temple ruins are ruled by King Louie (Christopher Walken), who in keeping with the film's scale is a massive orangutan.
The 1967 film could be described as action-adventure, but it was also a musical comedy very much in the Disney tradition. This new filming has a few comedic bits, mostly from Murray as Baloo, but is certainly primarily an action-adventure film. Visual effects abound and,

though his direction is not easily identifiable or worth celebrating, Favreau has enough sense not to bog down the film with action sequences. The two best songs from the animated feature -- Baloo's Oscar-nominated "The Bare Necessities" and King Louie's "I Wan'na Be Like You" -- are gladly retained here. (A third, Kaa's "Trust in Me", gets covered in the end credits.) But the swingin' '60s atmosphere that those tunes embody in the cartoon is absent. Favreau's film is rather serious and a bit brooding, about what you expect from a 2016 tentpole. At least it's never dull or as unremarkable as last year's Cinderella.

King Louie, a comic villain in the animated film, is turned into a serious and foreboding threat here. Kaa, in his her brief appearance, is not just sly but a genuine predator. The same elephants whose militaristic marches were played for laughs before are treated with reverence, their passing prompting genuflection for the creators of this jungle. This Jungle Book is not nearly as much fun as Walt's one, but it remains watchable and interesting, even as it piles on the tragedy and completely rewrites the ending.

It's a bit of a mystery how screenwriter Justin Marks, whose two previous feature scripts were for a TV movie called Rewind and Street Fighter: The Legend of Chun-Li, got the job and didn't even have to share credit with anyone else. But his screenplay is adequate, as is most of this film, which avoids the retooling and pandering that made Maleficent and 2015's Cinderella underwhelm.

The Jungle Book exceeded all expectations at the box office, its staggering $364 million domestic and $967 million worldwide grosses besting the hauls of nearly every live-action Disney-branded movie ever. Jungle Book currently ranks 4th among all 2016 releases both domestically and worldwide, trailing only three other Disney releases worldwide (Captain America: Civil War, Finding Dory, and Zootopia) in this remarkable banner year for the studio. Jungle Book's success was enough for the studio to greenlight both a direct sequel to this seemingly scheduled for 2018 and a comparable "live-action" (read: all-CGI) version of The Lion King that Jon Favreau will direct. Expect the latter to be huge commercially, even if it isn't as embraced by moviegoers who hold the original 1994 animated musical dear.

Despite those colossal numbers and warm receptions from both critics and the public, Disney opted to initially not release the film in a Blu-ray 3D edition when they brought it to home video in August. But as promised in their press release, that was just a temporary decision. Two and a half months later, in a rare double dip, the studio reissues this blockbuster as a three-disc Collector's Edition Blu-ray + Blu-ray 3D + DVD + Digital HD combo pack.
Blu-ray & DVD Details

1.85:1 Widescreen (DVD Anamorphic)
Blu-rays: 7.1 DTS-HD MA (English), Dolby Digital 5.1 (French, Spanish), Dolby Surround 2.0 (Descriptive Video Service)
DVD: Dolby Digital 5.1 (English, French, Spanish), Dolby Surround 2.0 (Descriptive Video Service)
Subtitles: English for Hearing Impaired, French, Spanish
DVD Closed Captioned; Extras Subtitled
Release Date: November 15, 2016
Suggested Retail Price: $39.99
Three single-sided, dual-layered discs (2 BD-50s & 1 DVD-9)
Blue Keepcase with Side Snap in Lenticular Cardboard Slipcover
Still available as Blu-ray + DVD + Digital HD ($22.99 SRP; August 30, 2016), standalone DVD ($19.90 SRP; August 30, 2016) and Amazon Instant Video
VIDEO and AUDIO
After my theatrical screening of The Jungle Book was marred both by blurry 3D and unremarkable sound, the 2D Blu-ray in August made a much bigger and better impact. Now, this Blu-ray 3D edition allowed me to appreciate the intended depth of the production's handsome visuals (albeit with the drawback of the format's hefty, uncomfortable glasses). The 1.85:1 picture is vivid, immaculate, and well-defined, showing off visuals that are often quite glorious. Better yet is the 7.1 DTS-HD master audio soundtrack, which is as active and immersive as any other I've encountered. Had the film opened around Christmastime, it could be looking at sound Oscar contention. Instead, it will just have to settle for having one of the best Blu-ray mixes around.
BONUS FEATURES, MENUS, PACKAGING and DESIGN

The Blu-ray 3D devotes all of its space to the 3D presentation of the film.

For most of the extras, you'll have to look to the standard 2D Blu-ray, which adds some new items to its already above-average collection of extras it got back in August.

First up, "The Jungle Book Reimagined" (35:02) is more substantial and distinctive than most new films' featurettes are. Shortly after the film's release, Favreau sits down with producer Brigham Taylor and visual effects supervisor Robert Legato to reflect on the movie. They discuss the project's conception, development, design, and visuals. The pieces goes into detail on the use of motion capture in animating the animals, the voice cast assembled, and John Debney's score, sharing plenty of appropriate behind-the-scenes footage in the process.

"I Am Mowgli" (8:18) looks at how Neel Sethi landed the film's only live-action role and his experience as a first-time actor without traditional co-stars.
"King Louie's Temple: Layer by Layer" (3:14) shows us Richard Sherman visiting the symphony about to record "I Wan'na Be Like You" and then plays the scene jumping between storyboards, different stages of animation, footage of Sethi acting against blue screen, and Walken recording his vocals. It conveys just how many layers there are to a big budget, effects-heavy tentpole like this.
Next, we get a feature audio commentary by director Jon Favreau. Solo commentaries are not an easy thing to pull off, but Favreau has two things aiding him here: a clear passion for the project and a whole lot of layers to comment upon. He provides a mix of technical and narrative observations, with plenty of screen-specificity and no interest in talking down to the youngsters who might have chosen this soundtrack. Among the topics covered, he talks upon the influence of Apocalypse Now on King Louie's scene and homage to and departure from the animated film.
That is where the initial Blu-ray's extras ended, but this one keeps going with five additional short featurettes.
"The Bare Necessities: From the Jungle to the Bayou" (3:30) brings us down to New Orleans to peek in on the recording of Bill Murray and Kermit Ruffins' "The Bare Necessities" duet with Dr. John and various jazz men laying down the lively music.
"The Return of a Legend" (3:41) finds legendary Disney songwriter Richard Sherman

(who worked on the animated Jungle Book and countless other '60s movies at the studio) dropping by to contribute some lyric ideas and demos for Jon Favreau and other creative crew members on this film. It's a treat to see the nearly 90-year-old Sherman full of life and creativity. He's like Disney's Stan Lee, without the cameos.

"The Jungle Effect" (3:20) gives us a look at the layers of impressive visual effects added to bluescreen shoots.
"The Jungle Book Around the World" (1:56) presents "The Bare Necessities" in a variety of languages. This is not the first multi-language reel we've seen, but it's been a while.
"Developing Kaa" (2:51) is an animatic reel of Kaa's monologue revealing Mowgli's backstory, bringing striking concept art to life.
The DVD included here is unchanged from the one released on its own and included in August's combo pack. Because Disney has treated DVD like a second-class product for nearly a decade now, standard definition viewers only get "King Louie's Temple", not the commentary, documentary or Neel Sethi featurette, despite the dual-layered disc being well under capacity.
The tasteful main menu adapts the book animation imagery from the end credits with score. Fittingly, the Blu-ray 3D renders the menu, or at least the text listings over it, in 3D.
The DVD still opens with a Disney Movies Anywhere promo and trailers for Rogue One: A Star Wars Story and Zootopia. Its menu's Sneak Peeks listing runs a Disney Movie Rewards promo before repeating the two disc-opening trailers. The updated Blu-ray opens with Rogue One and the teaser for 2017's Beauty and the Beast. Its Sneak Peeks listing runs the Disney Movie Rewards promo before repeating the two trailers. The Blu-ray 3D contains no trailers at all.
The ever so slightly wider than standard keepcase holds the three extremely plain-looking discs (a white DVD, hidden under one of the two blue Blu-rays) along with three inserts: one promoting Disney Movie Club and the other two supplying codes that will net you Disney Movie Rewards points and the ability to access the movie and its new Collector's Edition extras on Disney Movies Anywhere. The case is topped by a classy, lenticular-faced slipcover befitting the 3D upgrade.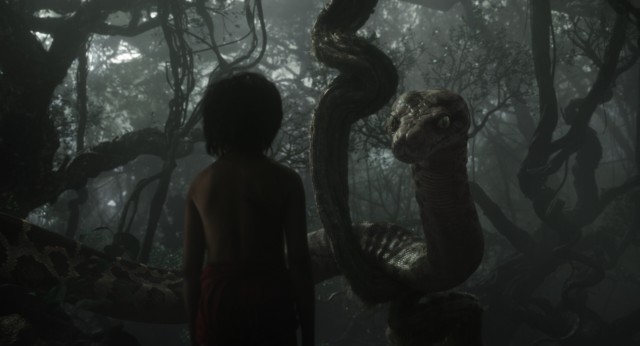 CLOSING THOUGHTS
The most surprising thing about The Jungle Book might just be how ridiculously successful it was in theaters. Jon Favreau gives us a technically sophisticated and generally competent new take on the story that previously became one of Disney's best animated features. This may not have been totally necessary, but at least it's not totally redundant or superfluous either.
Disney's Blu-ray 3D combo pack probably will not be warmly embraced by those who just bought the movie's Blu-ray combo pack in August, but it represents a slight upgrade over that edition, with fantastic feature presentations complemented by another 16 minutes of extras added to an already surprisingly good supply of bonus features. The August editions have already undergone price cuts and this one isn't extravagantly priced, making it really come down to personal preference as to the best way to own the film if you intend to revisit enough to want in your collection.
Buy The Jungle Book from Amazon.com: Blu-ray 3D Combo / Blu-ray Combo / DVD / Instant Video