The fairy tale has always been popular at Disney. Besides being a staple of the Animation Studios' output starting with the pioneering Snow White and the Seven Dwarfs, fairy tales have been at the center of various movements at the company, from the direct-to-video sequels of the '90s and early 2000s to the lucrative Disney Princess merchandise line to ABC's "Once Upon a Time."

Right now, the genre seems more popular than ever at Disney, something we can largely attribute to Frozen, whose $1.3 billion worldwide gross and more than $1 billion in merchandise sales have made it a bigger cultural phenomenon than practically any other individual film.

Frozen's success may be one factor in the direction that Disney's live-action output has taken. Under Bob Iger's command, Disney films have become clearly delineated into different brands. The biggest and fastest growing brand in Disney's relatively sparse in-house live-action slate is the live-action remake. You can probably trace the current boom back to Tim Burton's effects-laden 2010 blockbuster Alice in Wonderland (whose sequel will hit theaters next year). But the connection between Burton's Alice and Walt's 1951 musical of the same name was tenuous. The lavish Maleficent flourished last year (grossing over $750 million worldwide) on a more explicit relationship to a Disney animated classic. It is probably no coincidence, then, that new, big-budget interpretations of more of the company's cartoon masterpieces including The Jungle Book and Beauty and the Beast are on the way.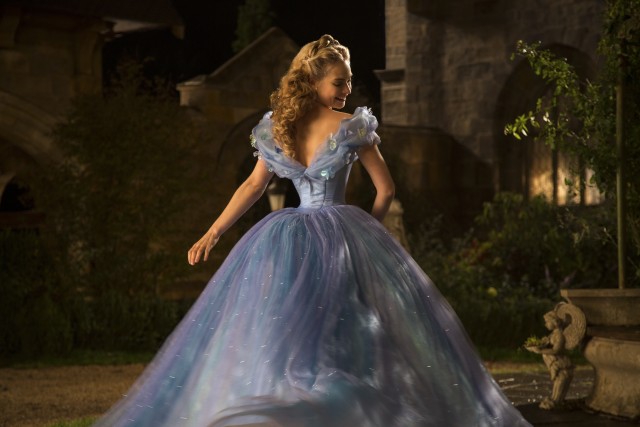 Before those, we get Cinderella, a fairy tale that seems to have been told as frequently as any other and one of a few in the foreground just a couple of months ago in Into the Woods, Disney's film adaptation of Stephen Sondheim and James Lapine's musical. This Cinderella is basically a straight live-action, non-musical retelling of the 1950 Disney animated film. The story is expanded somewhat from the cartoon's 74 minutes to a runtime closer to two hours. Characters sing less and speak more, with the exception of animal comic relief, who now largely function nonverbally.
We open with the title character as a baby named Ella born to a loving mother (an unrecognizably blonde Hayley Atwell) and father (Ben Chaplin). Mom dies when Ella is just a young girl. She grows into a beautiful, selfless young woman (Lily James for the remainder of the film), who doesn't hesitate to approve her patient father's desire to remarry. Dad does not prove to be the best judge of character because his second wife, the Lady Tremaine (Cate Blanchett), is clearly a wicked stepmother. Tremaine's two talentless, gaudily-fashioned daughters, Drizella (Sophie McShera) and Anastasia (Holliday Grainger), are also dreadful from the start to the comparably aged Ella, whom they rename Cinderella. The name reflects her dirty appearance, the result of her being gradually demoted from the maiden of the house to an orphaned servant girl who sleeps in the attic she shares with mice, her only friends.
Seizing a horse for a ride, Cinderella encounters "Kit" (Richard Madden), an "apprentice" we recognize as Prince Charming. Their brief but electric meeting inspires Cinderella to hope for a reunion at a royal ball in which the prince will search for an eligible bride. Tremaine forbids Cinderella to attend, even ripping the old dress she inherits from her birth mother. But Cinderella soon discovers that, as her mother told her, fairy godmothers are real. Hers (Helena Bonham Carter) magically transforms her into a radiant head-turner, driven to the ball in a pumpkin turned coach by what had just been a lizard and a goose.
The problem with Cinderella is that everyone knows the story in some detail. The fairy tale is so influential that it has basically inspired an entire genre, the rags-to-riches romance. If you're not familiar with Disney's animated classic, then maybe you know Rodgers and Hammerstein's musical (which The Wonderful World of Disney even adapted in 1997) or A Cinderella Story. Or Ever After. Or Ella Enchanted.

The reason the story is retold so frequently is that people love it. All of these versions have some angle to distinguish them, be it animation, a contemporary setting, a tongue-in-cheek sense of humor, or song and dance. This Cinderella lacks any discernible angle or feature. The screenplay by Chris Weitz (About a Boy, The Golden Compass) does not assume you've heard this story before. Nor does it assume you know Disney's enduring animated version of it, which it pays little homage. There's no irony, there's no snark, there's no "you've-never-seen-it-like-this" razzmatazz. It's Cinderella. There may not have been a definitive straight, live-action filming of this tale that's attributed to 17th century Frenchman Charles Perrault. But now there is and hours after seeing it, I'm still not convinced there needs to be.

On the plus side, Cinderella looks nice. No production budget has been reported, but this appears to be in the same general neighborhood as Maleficent ($180 M) and Alice ($200 M). There are far fewer visual effects, not really any action sequences, and, aside from 2014 Oscar winner Blanchett, no big name actors. But Cinderella still looks magnificent, boasting production design and costumes you could easily imagine the Academy remembering at the end of the year enough to bestow those minor technical nominations upon it. Moviegoers who are enchanted by flowing dresses, scenic locations, and ornate sets will recognize this as a big screen must-see. Those like me who appreciate such touches but still require a substantial story and characters for satisfaction may be just as underwhelmed by this as they were Maleficent.

Director Kenneth Branagh is versed in period storytelling, having only recently transitioned to mainstream movies (like Thor and Jack Ryan: Shadow Recruit) after decades of adapting and helming Shakespeare comedies and tragedies. Branagh brings flair and polish to the proceedings, but cannot elevate it to heights beyond the reach of Weitz's super familiar, unremarkable script. Neither can the actors, who are generally good, but not great. Blanchett doesn't go as big in the villain's role as Glenn Close's Cruella DeVil or Angelina Jolie's Maleficent. Tremaine is wicked, but you keep thinking an actress of Blanchett's stature will sell that more than it does. She's still the standout of this cast. Bonham Carter surprises only by her presence away from Tim Burton, Johnny Depp and Voldemort. Lily James, a largely unknown Brit who doesn't perfectly fit the blonde mold she is supposed to, clearly serves the pure-hearted title role better than a Disney Channel starlet would, but she misses an obvious chance for a star-making performance. Her castmates, most of them TV-seasoned Brits, do not upstage her or do anything to make the parts their own.

Sticking so close to the fairy tale's traditions and resisting reinterpretation and reinvention leaves Cinderella with very little wiggle room to surprise and subvert. One of the boldest decisions is to have Cinderella's footman (Tom Swacha) retain the characteristics of the lizard from which he was transformed. So, his skin has a green hue and he can't help but stick his long tongue out to catch a fly. That is honestly one of the most striking creative choices on display, raising questions about the project's necessity. The only ways you'll disagree are if you're a sucker for traditional romantic fairy tales, if you like the story of Cinderella but are not partial to any particular adaptation of it, or if you see the magic in returning to this well with the techniques and technology that 2015 offers live-action cinema.
In theaters, Cinderella is preceded by Frozen Fever, a brand new short adapted from Disney's mega hit. In it, Elsa wants to give her sister Anna the best birthday ever. The only problem is Elsa's got a cold. Her every sneeze produces a handful of tiny little marshmallow-like living snowmen. The original film's directors and voice cast all return for this short, which even boasts a new song from the Oscar-winning duo of Kristen Anderson-Lopez and Robert Lopez. What could have been a quick cash-in (which you might anticipate based on the merchandise arriving in tandem) instead displays some actual artistry and genuine regard for the people who made the movie such a behemoth. I'm no Frozen fan, but I found the 7-minute 'toon pretty enjoyable and can imagine those enamored with this universe excited enough to buy a Cinderella ticket primarily for it.