Old man comedy is basically a subgenre on to itself. While actresses who aren't Meryl Streep get mother of the protagonist roles after hitting 50 and pretty much nothing else after that, accomplished male actors get to continue acting much longer,

some of them enjoying lead roles into their seventies and eighties. Once in a while, these men will get a movie that lets them laugh at their advancing age: Grumpy Old Men, Last Vegas, Grudge Match, Youth, etc.

Going in Style appears to be in the same vein as such comedies, with its core ensemble consisting of Academy Award winners Michael Caine, Morgan Freeman, and Alan Arkin. The three men have a combined 246 years (now 247, with Freeman having just turned 80) between them. All of them have held old man duties before and despite being octogenarians, none of them has been hard up for work lately, with appearances in an assortment of blockbuster and prestige fare.

A remake of Martin Brest's somewhat obscure 1979 comedy starring George Burns, Art Carney, and Lee Strasberg, Going puts Caine in the foreground as Joe Harding, a retired steel worker who has not been receiving his pension payments lately. This is especially troubling since Joe's mortgage rate has just shot up, putting his house in default. While consulting with a compassionless banker (Josh Pais) who explains the predicament he's in, Joe becomes witness to a robbery that sees three masked men making off with over a million dollars in cash and not getting caught.
It takes a while, but Joe convinces his two best friends and former co-workers, Willie (Freeman) and Albert (Arkin), also in dire straits from the dissolution of their company's pension plan, that the three of them should rob the bank that's about to take his home. They'll steal only what they would have made from their pension plan and donate the rest to charity. Plus, a deep-pocketed insurance company will take the loss, so it's pretty much a victimless crime at least as far as needing moviegoers to sympathize with them.
The old New Yorkers quickly turn themselves into potential bank robbers with some guidance from Jesus (John Ortiz) and some pot grown by Joe's son-in-law (Peter Serafinowicz, convincingly playing American).
The screenplay by Theodore Melfi, which represents another step back following his directorial debut St. Vincent and crowd-pleasing Oscar-nominated follow-up Hidden Figures, does indeed include some age jokes. "Are you five-o?", asks Jesus, to which Joe responds "We're practically eight-o." But gladly it's not the endless parade of dumb old men gags that Last Vegas was. A romance develops between Albert and a well-preserved grocer (Arkin's Santa Clause 3 wife Ann-Margret). On a more serious note, Willie is experiencing renal failure and may soon die if he doesn't get a kidney, a battle he keeps secret from his friends.
Going doesn't rely too heavily on its high concept, relegating the actual heist to probably around ten minutes of screentime. And it does actually sympathize and humanize these characters, keeping the picture in line with the feel-good nature of Melfi's two prior screenplays.
Though you probably wouldn't suspect it (without seeing the PSA encouraging kidney donation that preceded the film in theaters), Zach Braff is the director of Going in Style. Braff, best known to TV viewers for his lead role on the long-running, much-syndicated hospital comedy "Scrubs", graduated to auteur status as writer-director-star of the acclaimed, hit 2004 indie Garden State. He followed that up with 2014's Wish I Was Here, a film few saw and fewer liked. Now, Braff, who has mostly faded from on-camera work, accepts director for hire duties here.

Does he bring anything to Going in Style that Melfi or a TV-seasoned director like Ken Kwapis wouldn't? Not noticeably. Braff has no illusions of this being anything but a mid-sized, off-season studio movie. It is not going to get good reviews, but there are much worse films than this in every genre, including the geriatric comedy subgenre.

It is nice to see living legends Caine, Freeman, and Arkin sink their teeth into roles slightly more substantial than the supporting duties they take in bigger new films. It is less nice to see Christopher Lloyd, making it to theaters for the first time in a while, looking and acting ancient (even though he's slightly younger than all three leads) as a senile older senior. But the whole thing, though never inspired or particularly amusing, is pretty harmless, even down to an inane final scene funeral fakeout.

Going in Style grossed a respectable $45 million domestic and $82 million worldwide on a production budget of just $25 million. It hits stores on Tuesday in a DVD and the Blu-ray + DVD + Digital HD combo pack reviewed here.
Blu-ray & DVD Details

2.40.1 Widescreen (DVD Anamorphic)
BD: 5.1 DTS HD-MA (English), Dolby Digital 5.1 (Descriptive Video Service, French, Spanish)
DVD: Dolby Digital 5.1 (English, Descriptive Video Service, French, Spanish)
Subtitles: English for Hearing Impaired, French, Spanish
Not Closed Captioned; Extras Subtitled
Release Date: August 1, 2017
Two single-sided, dual-layered discs (BD-50 & DVD-9)
Suggested Retail Price: $35.99
Blue Eco-Friendly Keepcase in Cardboard Slipcover
Also available as DVD ($28.98 SRP) and on Amazon Instant Video
VIDEO and AUDIO
Going in Style might not boast a huge budget, but it's substantial enough to ensure this has the polish of a studio film...and the perfection of a studio film Blu-ray. The 2.40:1 picture is sharp and vibrant, while the 5.1 DTS-HD master audio is sufficiently crisp and immersive.
BONUS FEATURES, MENUS, PACKAGING and DESIGN

Going in Style is joined by two extras on Blu-ray, one of which makes it to the DVD also.

First up is an audio commentary by director Zach Braff.

Given that Braff took the bold step of blocking certain film critics on Twitter, you thought this might have some venom. Or the fact that Braff began as a comedic actor, you might expect something funny. But it's entirely sincere, technical, and not terribly interesting. You learn about gun blanks, the diner from Goodfellas, production and costume design, and certain changes made in post-production. There are much worse tracks out there, but this is far from a must-hear.

On the video front, only on Blu-ray, we find a reel of eleven deleted scenes (13:11), which are presented without commentary or introductions. They include extended cuts of scenes between Alan Arkin and Ann-Margret's characters (bits that could have come from The Santa Clause 3 ten years earlier) and a scene of the guys driving under the influence amidst green screen.

The Blu-ray opens with a trailer for King Arthur: Legend of the Sword and a promo for 4K Ultra HD, a format this movie has not been released on. The DVD opens with trailers for Kong: Skull Island, King Arthur: Legend of the Sword, Wonder Woman, Dunkirk, Collateral Beauty, and American Wrestler: The Wizard.

The basic menu recycles the poster/cover art, with a brief excerpt of score looped over it for a few minutes.

Joining the plain black discs inside the standardly slipcovered eco-friendly keepcase is an insert that both supplies your digital copy code and encourages kidney donation.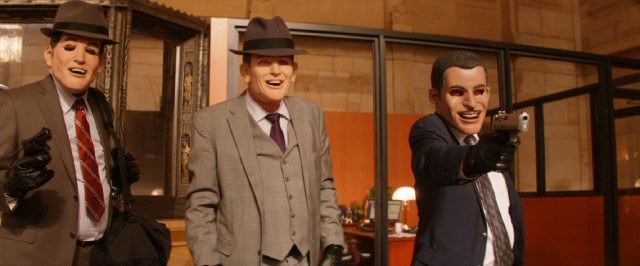 CLOSING THOUGHTS
Going in Style gives big leading roles to some of the most seasoned actors in Hollywood, but while occasionally fun, it's also a pretty predictable and unremarkable comedy. This remake hits home video with first-rate picture and sound plus an okay commentary and deleted scenes. It's strictly a rental and only then if you have considerable love for the old pros in the foreground.
Buy Going in Style from Amazon.com: Blu-ray + DVD + Digital HD / DVD / Instant Video