Though time has turned it into landmark cinema, the original 1933 King Kong was a monster movie. Sure, you could read into it and find some still-meaningful social messages,

but it was nonetheless a movie about a giant ape endangering others and himself. That's one big reason why Peter Jackson's 2005 remake, made as an excessively epic prestige film, felt off. Now, twelve years after that expensive showcase of motion capture visual effects, the dormant franchise is resurrected not at Universal but at Warner Bros. Pictures in the form of Kong: Skull Island.

"Finally! Another King Kong movie!" is probably not the reaction of most people upon discovering this project. More than ever before, though, film culture is all about tentpoles and recognizable brands. The mid-sized movie has largely disappeared in favor of bigger and bigger budgeted fare designed to play to crowds all over the world. Skull Island is clearly born more out of this culture than anything resembling pent-up demand.

Wisely, Warner's film cannot be easily called a sequel. I'm not sure how you should classify it, actually, but the words "aspiring reboot" spring to mind. It requires knowledge of no previous Kong adventure and in fact asks moviegoers no more than to sit back and enjoy the ride. Even if this were opening at Christmas the way Jackson's version did, no one would find any serious film aspirations here. Despite the unabashedly sentimental end credits, this is purely a popcorn movie and one that opening the week between the hit Logan and blockbuster-to-be Beauty and the Beast gave unusually heavy competition far removed from the traditionally busy summer and holiday seasons where expectations have long been higher and scrutiny more intense.
After a prologue sees enemy pilots parachuting down on a desert jungle island during World War II, the rest of the movie takes place in 1973, shortly following the US' exit from the Vietnam War. That setting has two obvious effects. One, it gives the filmmakers a reason to populate the soundtrack with the same types of catchy period tunes you loved in movies like Remember the Titans and Guardians of the Galaxy. Two, it lets them take inspiration from probably the greatest Vietnam War movie of all time, Francis Ford Coppola's Apocalypse Now.
That dark, soul-searching journey is evoked several times. One assumes it is a favorite film of director Jordan Vogt-Roberts, whom like Jurassic World's Colin Trevorrow, arrives here having helmed one warmly-received, but little-seen indie comedy (Vogt-Roberts' is 2013's The Kings of Summer). Another seeming model for this would be any of the movies with Jurassic in their title, though as the gold standard Spielberg's original Park is the biggest influence (even if one of four credited writers was also among those billed on World).
Anyhow, in 1973, a top-secret mission is arranged for a party to visit a mysterious island whose surrounding storm systems have made it impossible to access. Hired for big bucks to guide the mission is James Conrad (Tom Hiddleston), an expert British hunter-tracker. Also on hand are a US Army Lt. Colonel (Samuel L. Jackson) with some lingering bitterness for how things played out in 'Nam, a pretty but serious war photographer (Brie Larson, using her Room Oscar for...a hopefully fair payday), some young American soldiers who were ready to go back home, a couple of scientists, and the government official (John Goodman) who conceived the mission.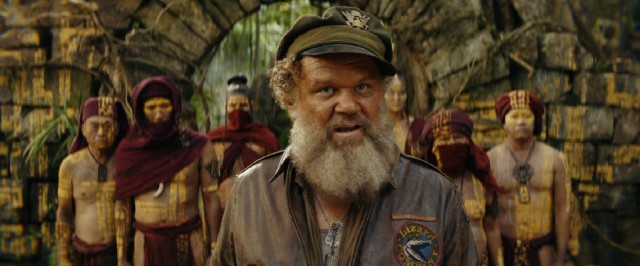 These diverse strangers arrive at Skull Island and swiftly have their minds blown by the sight of the giant,

helicopter-swatting ape Kong. He's not the only fantastic beast calling this place home. There are also giant skeletal lizards, an enormous water buffalo, humongous spiders, some snatchy airborne things, and allegedly gigantic ants we hear once but never see. Basically, it's Jurassic Park without the prehistoric foundation and amber-preserved mosquitoes.

Kong: Skull Island is not a smart movie, but it is more often than not a fun one. The real star? Not Kong himself, any of the impressively visualized creatures, or the respected top-billed actors. No, the real MVP is John C. Reilly, who injects the proceedings with regular humor as Hank Marlow, the wildly-bearded World War II vet castaway of the prologue, who has spent the past 29 years living here, losing his mind, missing the Cubs and his wife, and remaining in harmony with the silent natives. More Dennis Hopper's photojournalist than Colonel Kurtz, Reilly has all of the biggest laughs of the movie. Not only that, but he also supplies some welcome heart, putting this journey into the context of a life that turned out much different than expected. If the Oscars were more open minded and not so far away, this performance would be a Supporting Actor contender.

You might wish Kong had more humor or maybe even more heart overall. But the target audience may just want to see big creatures doing stuff and they indeed get that here. The action seems almost a tad subdued. That may not be the word that those releasing a $190 million effects-heavy movie want to hear, but it actually makes this a more enjoyable viewing than the previous Warner tentpole it most resembles (The Legend of Tarzan), the one whose universe it's supposed to share (2014's Godzilla), and a lot of big movies that are content to just be loud, busy, and dumb.

As expected, Kong did not have the same drawing power as the bold send-off Logan or the much-anticipated Beauty, which may make you question the wisdom of Warner trying to go big again in March a year after doing so with Batman v Superman. But, so long as you go in with the right expectations and can get over the fact that yes, Hollywood is returning to the King Kong well, you might find this endeavor somewhere between perfectly harmless and consistently diverting.

With grosses of $168 M domestic and $566 M worldwide, Kong doesn't seem like a disappointment, even though it fell short of Godzilla's numbers stateside. The film recently hit Blu-ray, Blu-ray 3D, DVD, 4K Ultra HD, and digital. Here, we review the Blu-ray 3D + Blu-ray + Digital HD edition.
Blu-ray 3D & Blu-ray Details

2.40:1 Widescreen
5.1 DTS-HD MA (English), Dolby Digital 5.1 (Descriptive Video Service, French, Spanish); 2D-only: 7.1 Dolby TrueHD/Atmos (English)
Subtitles: English for Hearing Impaired, French, Spanish
Not Closed Captioned; Extras Subtitled
Release Date: July 18, 2017
Suggested Retail Price: $44.95
Two single-sided, dual-layered discs (BD-50s)
Blue Keepcase
Also available on Blu-ray + DVD + Digital HD ($35.99 SRP), 2-Disc DVD ($28.98 SRP), 4K Ultra HD + Blu-ray + Digital HD ($44.95 SRP), and Amazon Instant Video
VIDEO and AUDIO
Kong: Skull Island happily offers more than just sensory stimulation, but that doesn't mean it is less than potent as a piece of audio-visual entertainment. Whether you're watching in 3D or 2D, the 2.40:1 compositions are vibrant and sharp by Blu-ray standards. Similarly, whether enjoyed in Dolby Atmos/TrueHD 7.1 in 2D or in the 5.1 DTS-HD Master Audio mix of the 3D disc, the lively soundtrack should delight while giving your home theater a good workout.
BONUS FEATURES, MENUS, PACKAGING and DESIGN
All the extras are relegated to the 2D Blu-ray. They begin with Creating a King, which holds two featurettes. "Realizing an Icon" (11:39) gives us the project's origins, with everyone justifying this standalone film's existence. Then, "Summoning a God" (12:47) considers the character's newest incarnation in the context of his history in film and more so in terms of visual effects.
"On Location: Vietnam" (5:38) celebrates filming in Vietnam, with Tom Hiddleston tour complementing crew member speaking highly of the local crew members.
"Tom Hiddleston: The Intrepid Traveler" (6:53) lets the actor talk about Hawaii,

Australia, and Vietnam, scenic places where the film spent time filming.

"Through the Lens: Brie Larson's Photography" (2:19) presents photos that the actress actually took with her real working camera, with comments from director Jordan Vogt-Roberts.

"Monarch Files 2.0 (Companion Archive)" (7:58) gives us 1970s-fashioned research film and recordings on Skull Island and its creatures. Connecting the film to Godzilla, the theming here is impressive and fun.

A solo audio commentary by director Jordan Vogt-Roberts supplies the enthusiasm you expect of a filmmaker making his big budget debut. He touches on a mix of technical and creative issues, revealing a lot of fun references, homages, and details of plans that didn't pan out. This movie might not be something people are itching to revisit with the director talking over it, but Vogt-Roberts succeeds at making it a decent use of time and a good venue for explaining his decisions.
Finally, we get a reel of four deleted scenes (3:45), which give us more of Samuel L. Jackson's character

including his introduction to James Conrad.

The discs open with trailers for upcoming disaster movie Geostorm and prequel comic book Skull Island: The Birth of Kong, followed by a promo for 4K Ultra HD.

The static menu adapts the cover art, with score briefly accompanying it.

Surprisingly, no slipcover topped my review copy. Joining the two fairly plain (but lightly themed) discs inside the standard keepcase is a digital HD insert whose front supplies you a unique code and link to a survey about the movie, which seems both interesting and unusual.
CLOSING THOUGHTS
Kong: Skull Island is a perfectly fine second-tier popcorn movie. Letting action and effects complement story and characters, it's entertainment for the masses that doesn't leave you thinking or wanting more but does give you adequate bang for your buck. Warner's Blu-ray 3D edition boasts terrific picture and sound plus a good assortment of bonus features. It definitely warrants a viewing.
Buy Kong: Skull Island from Amazon.com:
Blu-ray 3D + 2D / Blu-ray Combo Pack / DVD / 4K Ultra HD + Blu-ray / Instant Video