The leap from Broadway stardom to Hollywood stardom is not an easy one to make, but the 1960s saw two actresses do just that while winning cinema's highest honor in the process. Julie Andrews had been on New York's stages for nearly ten years when cameras started rolling on her film debut, Mary Poppins.

That musical would become a massive hit and Andrews would win the Best Actress Academy Award over My Fair Lady's Audrey Hepburn, who was chosen to fill the role Andrews had originated on Broadway. Just a few years later, Barbra Streisand, already a Grammy-winning musician and Emmy-winning television special star, would follow the second of her two stage musicals to the big screen. This too would result in box office success and a Best Actress Oscar win.

The first and still one of the best regarded of Streisand's nineteen narrative film acting credits, Funny Girl is based on the real life of Fanny Brice. A popular comedian, singer, and actress of stage, radio, and screen from the onset of adulthood to her death in 1951 at age 59, Brice could easily be one of the many yesteryear entertainers whose names and faces grow unfamiliar as those alive during their fame grow scarce. Instead, Brice would be immortalized in the Tony-nominated 1964 musical and again in this high profile 1968 adaptation from legendary director William Wyler (Ben-Hur, The Best Years of Our Lives, Roman Holiday).
A working class Jew from downtown New York City, Fanny (Streisand) is neither attractive nor talented in traditional ways. Her attempt to break into a burlesque act finds her getting fired almost immediately, as she is unable to keep up with the dance moves besides being plagued with skinny legs and a large nose. But Fanny's impassioned song earns her another chance and while she is a disaster on stage in roller skates, she is one that thoroughly entertains the crowd. Soon, she gets invited to join the famed Ziegfeld Follies of powerful impresario Florenz Ziegfeld (Walter Pidgeon).
Ziegfeld is horrified to see one of his lavish/gaudy straightforward musical numbers turned on its head and into a comedic bit by a fast-thinking Fanny and a serendipitous pillow, but the audience's enthusiastic response keeps Fanny employed and her instincts respected. Among Brice's many newfound admirers is Nick Arnstein (Omar Sharif), a wealthy and handsome man who makes his living as a gambler. After a few years, Nick and Fanny manage to get on the same page and be married.
Their marriage is anything but ordinary, with Fanny flourishing as a somewhat unprecedented comedienne and Nick accruing substantial debts when his ordinarily good luck runs cold. Those conflicting fates create tension that Fanny cannot ease by bearing some of the family's financial burdens. The proud Nick resists a lucrative business opportunity Fanny planned to secretly bankroll and winds up in serious legal trouble shortly thereafter.
For many musicals, story and characters are secondary to entertainment value. Song performances are treated as the main attraction and the content linking them can range from incidental to pure afterthought. Funny Girl, however, possesses an unmistakable interest in its dramatic,

comedic, and romantic material, using songs sparingly and never at the expense of its storytelling. Isobel Lennart, a longtime screenwriter who got off Hollywood's blacklist by naming names for the House Un-American Activities Committee, adapts her own libretto with clear respect for the real people it dramatizes and a good understanding of how to keep it palatable for viewers.

Though Wyler had been directing shorts and features since the 1920s, he managed to stay relevant by not resisting the industry's stylistic movements and technical advances. It's tough to see much separating this movie, Wyler's penultimate, from something like Finian's Rainbow, a Broadway musical adaptation from the same year directed by young, rising Francis Ford Coppola, soon in the helm of The Godfather. In his mid-60s, Wyler is comfortable with quick edits, acrobatic camera movement, and more realistic sets, all things that tended to be eschewed for the first several decades of the medium. Obviously, technique alone is never enough, but attached to Lennart's sharp script and the charismatic lead performances by Streisand and Sharif, the results are quite pleasing.

Funny Girl adheres to the standards of the day, running 155 minutes with overture, intermission, and restoration credits. But that is far from the endurance challenge it implies, with enough human interest substance to keep you engaged throughout. Sure, what was considered funny in the 1910s-1920s doesn't draw many laughs today and being filtered through the late-1960s doesn't change that. You can question the titular adjective, but those in Brice's heyday would not. Besides, who watches old comedy films expecting to slap their knees and split their sides? Even if Funny Girl falls after the edge of what I consider the start of modern film (The Graduate), it clearly still belongs to an older tradition. Such classical movie musicals didn't really go away until the early 1970s and they require different expectations than their contemporaries in other genres.

That isn't to make excuses for Funny Girl or suggest it's any less relevant or entertaining than films like Midnight Cowboy and Easy Rider. It's just a drastically different experience that works in different ways and appeals to different parts of the brain. But it does still work and appeal, which is what matters forty-five years after its original release.

Streisand's Best Actress victory, which she shared with The Lion in Winter's Katharine Hepburn via the most significant tie in Oscar history, would be Funny Girl's only Oscar win out of eight nominations. It would lose three of those, including Best Picture, to Oliver! and others to Rosemary's Baby (Supporting Actress), Romeo and Juliet (Cinematography), The Thomas Crown Affair (Original Song), and Bullitt (Film Editing).

Though one of Blu-ray's biggest backers, Sony has not been flooding the marketplace with a steady stream of titles from their rich, voluminous library. In fact, like most other studios, this one has largely resisted releasing anything on the format that's too old for the 18-49 demographic to have grown up with. Funny Girl narrowly misses that cut-off but Sony makes an exception seemingly only to capitalize on Streisand's endless fanbase along with the gift-giving nature of Mother's Day. Though it seems a stretch to believe that many Moms out there are craving some vintage Streisand on Blu-ray Disc, Funny Girl nonetheless presently holds a most impressive sales rank of 350 on Amazon.com, the retailer to whom this release is exclusive for the time being.
Blu-ray Disc Details

2.35:1 Widescreen
5.0 DTS-HD MA (English), Dolby Digital 5.0 (French, German, Italian, Spanish)
Subtitles: English, English for Hearing Impaired, Arabic, Chinese Simplified, Chinese Traditional, French, German, Hindi, Italian, Japanese, Korean, Spanish - Castilian, Spanish - Latin American, Thai, Turkish; Not Closed Captioned
Extras Subtitled in English, French, German, Italian, Japanese, and Spanish
Release Date: April 30, 2013
Suggested Retail Price: $19.99
Single-sided, dual-layered disc (BD-50) / Blue Keepcase with Side Snap
Also available on Amazon Instant Video
Previously released as DVD (October 23, 2001) and in The Barbra Streisand Funny Girl/Funny Lady DVD Box Set (February 22, 2005)
VIDEO and AUDIO

In a strategy that seems strikingly similar to their short-lived Superbit line, Sony will soon reissue a number of their most popular catalog titles in Blu-rays prominently touting that they are "Mastered in 4K" for "Maximum Picture" and "Expanded Color" that's "Optimized for 4K Ultra HD TVs." Funny Girl doesn't make the same claim as loudly,

but the case does bill an "All-New 4K Restoration of the Feature Film... mastered from 4K Source" as the top Special Feature. I expect others will determine whether Sony's 4K approach makes a difference, but this release of Funny Girl, having no alternate high definition edition to compare to, looks quite terrific.

The film has clearly been sufficiently restored and as a result, it is free of any wear, tear, and imperfections you'd expect given its age. The 2.35:1 visuals are at all times vibrant and very well-defined. A few shots aren't as sharp as you'd like, but that seems to reflect the camera focus and not anything done more recently. While this likely isn't a film that would lend itself to a rerelease of great interest to the most technophiles, such revisitation would also be most unlikely to gain anything at all over this outstanding presentation.

Sound is offered in 5.0 DTS-HD master audio and it too is good, once you crank up the volume. The mix is so clear that you can easily tell when lines are pulled from different recordings or synched in post-production. Levels are fairly steady and I hardly noticed the lack of the usual .1 channel supplied by the subwoofer. Interestingly, Sony has chosen to make this one of the titles on which they pile the foreign dubs and subtitles. The studio includes four of the former and a staggering thirteen of the latter (not counting the English and English SDH options).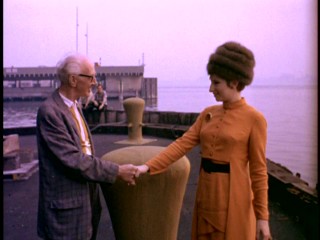 BONUS FEATURES, MENUS, PACKAGING and DESIGN

Bonus features are the one area where this release might dismay fans. As on DVD, the film is joined by two vintage featurettes from the time of its theatrical release, both remaining in standard definition.

"Barbra in Movieland" (10:09) covers the production's visit to a Hoboken, New Jersey train station, viewing the filming of the "Don't Rain on My Parade" sequence from the perspective of an old caretaker named Charlie. The more promotional "This is Streisand" (5:34), meanwhile, celebrates the actress, pitching her primarily with a slideshow of photographs as an actress for the ages who is destined to add to Wyler's list of Oscar-winning leading ladies. And she did!

It's disappointing that nothing else has been dug up or produced in the twelve years since the movie first came to DVD. It shouldn't have been hard for Sony to find the original theatrical trailer for this and it would have been in their interest to likewise include one for the 1975 sequel Funny Lady, lowly regarded today but a nominee for five Oscars and six Golden Globes in its day, with which the movie has been bundled on DVD.

A few minor items are dropped from Funny Girl's DVD: dated selected filmographies for Wyler, Streisand, Sharif, and Pidgeon; trailers for three other Sony Streisand films; and the ability to watch six musical numbers on their own. The trailers would have been nice, but they hardly seem worth missing.

Selecting the menu's "Previews" listing treats you to somewhat random trailers for Playing for Keeps and Amour.

The straightforward menu plays full-sized clips to some orchestration. Like all Blu-rays should but few except Sony's do, this disc both supports bookmarks and resumes playback.

The packaging shows no less effort than a Sony Blu-ray given general retail release, featuring reverse side artwork and a unique full-color disc label, but no slipcover.
CLOSING THOUGHTS
Count Funny Girl among the 1960s musicals that hold up well. Barbra Streisand's Oscar-winning debut may be more important to her fans than film buffs, but this dramatization of one of show business' first comediennes has more going for it than just that. Sony's Blu-ray adds no new extras, but delivers a dynamite feature presentation that can be considered a benchmark for films of this era. This Amazon-exclusive disc will not disappoint fans wanting to own the film with its best picture and sound available.
Buy Funny Girl from Amazon.com: Blu-ray / DVD / 2-Movie DVD / Instant Video