By Kelvin Cedeno

Audrey Hepburn is one of the few actresses of her era who is easily recognized by today's young people, even those who are merely casual movie fans. At first it may seem a bit strange that Hepburn has recently gained a sort of pop icon status that teens and twenty-somethings embrace.

Seeing her countenance printed on t-shirts in a store such as Hot Topic is even more surreal. But when one actually visits her films, it becomes apparent why her fame has been able to break generation boundaries. Hepburn had the unique ability to be both old-fashioned and modern, elegant and spunky. One film that showcases both of these sides is the 1957 musical Funny Face.

Funny Face tells the story of Jo Stockton (Audrey Hepburn), a verbose Manhattan bookshop assistant who one day finds her store raided by fashion magazine Quality for a photo shoot. When photographer Dick Avery (Fred Astaire) notices how unique Jo's face is compared to the usual Quality models, he convinces his boss Maggie Prescott (Kay Thompson) to bring her on staff. Jo and Maggie are reluctant at first, but Dick manages to persuade both. They all fly to Paris for the magazine's new advertising campaign featuring none other than Jo herself. With each new photo shoot scenario, Jo grows more self-assured and at the same time, more attracted to Dick. Complications arise, though, in the form of Professor Emile Flostre (Michael Auclair), a philosopher whom Jo is a great admirer of and who may have more on his mind than philosophical discussions.
It's easy to tell where the story is going, and in fact, the storyline is the site of Funny Face's biggest flaws. The audience can usually figure out the next plot point before it occurs. Then again, most romantic musicals are fairly predictable. Putting the presentation under scrutiny rather than the story content is where Funny Face shines. The film has a visual flair to it that's surprisingly modern despite the film's age. Many shots are carefully framed and photographed from angles not usually found in a 1950s production. Of course, one can't talk about Funny Face without mentioning the costumes, most of which are stunning. The film is credited as being one of the first to bring modern, high-end fashion to the big screen. It's impressive seeing such daring and lavish designs brought into an era known for its homey, laid-back simplicity.
Besides costume designs, the other aspect of Funny Face that must be addressed is the woman in those designs: Audrey Hepburn. It would've been very easy for her to get lost in the shuffle and grandeur of Paris and its fashion. Instead, she holds her own and proves she's more than just a pretty (or "funny") face. Her character change from mousey and bemused to radiant and confident is believable. With ease she juggles scenes of glamorous sophistication with those of off-beat quirkiness (most famously seen in her beatnik club dance that was recently used by Gap in an ad campaign for skinny black pants).
It would be unfair to put so much focus on Hepburn without discussing Fred Astaire. After all, Audrey wasn't acting against a tennis ball on a stick. In this film, like most of his others, Astaire essentially plays himself. While that should be a criticism, Astaire is so charming and adept as a singer and dancer that one doesn't really care. During the filming of Funny Face, he was suffering from the intestine-swelling Crohn's disease, but one wouldn't be able to tell here. He still manages to give off the exuberance and quality that audiences came to expect of him.
The criticism thrown at the film most often arises at the age gap between Hepburn and Astaire. Hepburn was in her late 20s while Astaire was in his late 50s. It seems a curious criticism to throw at this film specifically when most of Hepburn's love interests (such as Humphrey Bogart, Rex Harrison, and Cary Grant) were significantly older than her. In fact, Hepburn specifically requested Astaire for this film. (Astaire had appeared in the 1927 stage musical that had the same title and some of the same songs.) Funny Face's romance isn't as convincing as it ought to be, but it has nothing to do with the actors. Both of them turn in good performances for their respective characters. The problem stems from the film's script. It does little to develop the relationship between Jo and Dick. We never find out why or how she becomes so enamored with him outside of a couple of quick, platonic kisses he pecks her with.

Likewise, we never really know when Dick falls for her. He spends most of the film treating her as a casual friend, then suddenly he's serenading her. It almost feels as if huge chunks of character development were cut out, resulting in a rushed and unconvincing relationship. It's only thanks to the life Hepburn and Astaire infuse in their characters that the audience is able to swallow the film's overly simplified story.

The insubstantial script is really the movie's only flaw. The musical numbers by George and Ira Gershwin may not stick with one after the film, but they're pleasantly written and performed. Most memorable about the film are its visual flair, choreography, and performances from the two leads. These traits elevate a somewhat ho-hum script into a sweet and charming musical. It may not be the best from either Audrey Hepburn or Fred Astaire, but it's pleasant enough entertainment, which is more than what most films can aspire to be.

With Audrey Hepburn being so popular with many age groups lately, Paramount has been taking full advantage. Last year, Breakfast at Tiffany's was re-released with an improved transfer and new supplements. Funny Face follows suit in its 50th Anniversary Edition, in stores this week. How does it compare with the other two releases? Read on to find out.
DVD Details

1.78:1 Anamorphic Widescreen
Dolby Digital 5.1 (English),
Dolby Digital Mono 2.0 (English, French, Spanish, Portuguese)
Subtitles: English, French, Spanish, Portuguese;
Closed Captioned
Release Date: October 2, 2007
Suggested Retail Price: $14.99
Single-sided, dual-layered disc (DVD-9)
Black Keepcase with Side Snaps
Replaced by 2-Disc Centennial Collection DVD
VIDEO and AUDIO
Funny Face returns to DVD in a 1.78:1 anamorphic widescreen transfer that significantly improves upon the previous edition. That disc's picture was dark, grainy, and harsh looking. This new 50th Anniversary transfer is brighter, cleaner, and smoother. Funny Face is a very colorful film, and the bold hues are replicated naturally and faithfully. While the image is occasionally soft, this is more often than not an artistic choice, and the transfer overall is detailed without being overly enhanced. The only real problem with the picture is a minor and understandable one involving a number that takes place in a dark room under intense red lighting. In this scene, the edges are a bit jagged and rough in contrast to the crisp, smooth look of the rest of the movie. Red often gives problems on film, anyway, and this flaw isn't terribly distracting. The restoration as a whole is well done and is leaps and bounds over the previous one.
A 5.1 Dolby Digital surround sound track is included in addition to the original mono track. There isn't really a startling difference between the two. Both tracks sound clear and satisfying enough for their age, with the 5.1 track expanding the music a bit more. Mono tracks in Spanish, French, and Portuguese are also included.
BONUS FEATURES, MENUS, and PACKAGING

For being a designated a 50th anniversary edition, the supplements for Funny Face are the most disappointing aspect of this set. We start with two new featurettes, the first of which is "The Fashion Designer and His Muse" (8:11).

In this, we hear from modern fashion designers on the film's memorable costume design. A few interesting notes about Hepburn's relationship with Givenchy pop up, but not much more than that. Most of it is mere praise for how ahead of its time the wardrobe was and how well Hepburn wore it all.

"Parisian Dreams" (7:42) is a bit more interesting, though not by much. The role Paris plays in the film is discussed, as is the input of photographer Richard Avedon (whose life is the film's loose inspiration). Still, like the previous piece, the comments offered are mostly praise for the production and little else.

The remaining supplements are carried over from the previous DVD release. "Paramount in the '50s" (9:37) is essentially a greatest hits reel for the studio in that decade. Clips are shown from noteworthy works such as Sunset Boulevard, The Ten Commandments, To Catch a Thief, and Audrey Hepburn movies including Funny Face. It's a fluff piece, but one can't help but be entertained by seeing so many classic films showcased back to back.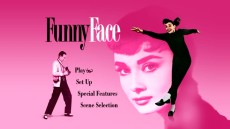 A photo gallery (54 stills) is included, presenting various promotional and behind-the-scenes photos as well as a few posters. The supplements cap off with the film's theatrical trailer (2:24), a rare find on most DVDs nowadays.
While Paramount should be commended for diligently including trailers on their discs, the 50th anniversary edition of Funny Face is still lacking in supplements. The two new featurettes offer next to nothing about the film's creation. Roman Holiday and Breakfast at Tiffany's both received solid "making of" featurettes in addition to the more detached, praise-infested featurettes similar to those here. Tiffany's also included a commentary track, something that would've brought this edition up considerably. Concept designs and sketches of the film's costumes also would've made good additions to the gallery. It's a shame that in a 50th anniversary edition, one comes away from the DVD not knowing very much at all about Funny Face's production.
The static menus apparently took the film's song "Think Pink" a little too close to heart. The main menu silently replicates the cover art while all the others feature various shots of Hepburn and Astaire saturated in pink. All of the menus and bonus features (save for "Paramount in the '50s") are 16x9 enhanced. In a nice touch, a menu appears at the start of the disc with the option to view the film and supplements in English, Spanish, French, or Portuguese.
CLOSING THOUGHTS
Funny Face is a lightweight and cheerful little musical that, while not without problems, is a nice diversion from the more bombastic entries in its genre. This 50th Anniversary Edition DVD presents the film itself well with solid audio and great picture. Unfortunately, the extras are rather anemic. For fans of musicals and/or the two leads, the disc is a worthy purchase. As for those who own the previous disc, this new one is worth double dipping on the improved transfer alone, even if the supplements are negligible. Anyone else curious about the film is encouraged to give it a rental.
More on the DVD / Buy from Amazon.com / Buy Centennial Collection DVD from Amazon.com