Among other things, Mount Everest, the tallest mountain in the world, has spawned a blockbuster 1998 IMAX documentary, a 2007 Canadian miniseries, a 24-hour webcam feed,

a giant Walt Disney World roller coaster and countless books. Now, here is Everest, a feature film dramatization whose terse title implies it could be for the mountain what James Cameron's Titanic is to that shipwreck.

This Everest, a technically stellar medium-budgeted IMAX 3D production, tells the story of a few overlapping commercial expeditions to the Himalayan peak that occurred in the spring of 1996. Our focus primarily lies with a New Zealand-based outfit called Adventure Consultants, which has overseen a number of trips to summit the 29,000-foot mountain without so much as one fatality. Led by the amiable Kiwi adventurer Rob Hall (Jason Clarke), the Consultants have the expertise and resources to put this daunting achievement within the realm of possibility for amateur climbers with money to spare.

We come to know some of those clients, including Beck Weathers (Josh Brolin), an outspoken Texan who arrives at the airport in a Dole-Kemp T-shirt; Doug Hansen (John Hawkes), a postman with two other jobs who is trying again to summit Everest after coming close; and Yasuko Namba (Naoko Mori), a Japanese woman down to the final one of the Earth's seven summits.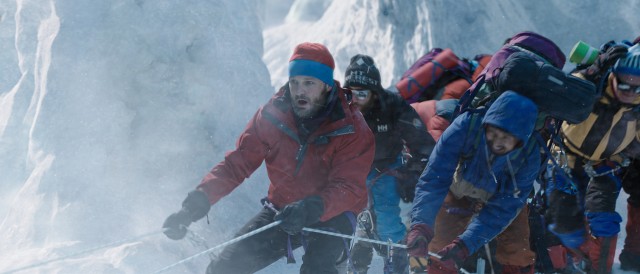 Rob warns these hopeful climbers of the pain and potential digit loss in store for them. Still, the operation seems prepared for everything with a clear itinerary and a stock of oxygen bottles. Competing tours, led by the laid-back Scott Fischer (Jake Gyllenhaal) and a stoic European (Ingvar Eggert Sigurđsson) have their own methods for getting people to Everest's peak safely. But of course, all of them are battling the elements, which are beyond extreme there.
As Rob ushers most but not all of his clients to Earth's highest point, the movie predictably becomes a survival story. Unforeseen changes in weather have Rob, his clientele, and fellow guides fighting brutal winds, freezing temperatures, and avalanches. Communication to the Consultants' tent-based headquarters below (manned by Emily Watson and Elizabeth Debicki) and on occasion to wives back home (Keira Knightley and Robin Wright) offer occasional respite from the frigid environment that can easily become a final resting place for anyone hoping to just pass through.
Everest is no more or less than a thrill ride. It doesn't have the powerful story of, say, Gravity or Interstellar. But like those films, it looks to make major impact visually. On that level, the movie succeeds. It is full of breathtaking compositions and convincing illusions. Character development isn't spectacular and it's a challenge to distinguish one man from another when blitzed with snow (helping things out are the characters' thoughtful decision to wear distinct colors). You can predict with some accuracy who will and who won't survive this journey, though there is a little room for surprise, which the film accentuates.
Everest is directed by Iceland's Baltasar Kormákur, who has been making a name for himself in Hollywood as a helmer of Mark Wahlberg action flicks (Contraband, 2 Guns). He is more up to the project's technical challenges than its dramatic ones.

We never quite understand why this story is being told on this scale instead of the many others the mountain could tell. But seasoned British screenwriters William Nicholson (Gladiator, Unbroken, 2012's Les Misérables) and Simon Beaufoy (127 Hours, Slumdog Millionaire, The Hunger Games: Catching Fire) do a decent job of earning and holding our interest in the well-being of these thinly-drawn characters.

With its deafening sound design, Everest could compete for some technical Oscars if it finds an appreciative audience and resonates enough to be remembered three months from now. One sure thing is that this film will lose a considerable amount of power being shrunk down to a modest-sized television with no separate speakers. Like documentaries made explicitly for IMAX, this one will never mean more than it does on a giant screen with a pulsing mega soundtrack.