By Kelvin Cedeno

Though today it is recognized worldwide as a brand, the Disney name once belonged to a visionary. Walt Disney was a man who pushed the limits of what art could do. Anyone who thinks otherwise should look no further than 1940's Fantasia.

A project near and dear to his heart, Fantasia combined two of Walt's passions: art and music. While his expertise lied in visual mediums and he was no musician, Walt still possessed a keen sense of what an aural experience could provide.

A marriage of classical notes and images, Fantasia took feature animation to places it had never before been.

As you know, Fantasia is not a traditional animated film. Titled "The Concert Feature" at one point, this experience has no central protagonist or antagonist, no overarching plot, and not even any dialogue save for linking segments. Instead, it takes various pieces of classical music and marries them to animation to create a unique form of entertainment.

The compositions included in the program are as follows: Johann Sebastian Bach's "Toccata and Fugue in D Minor" using abstract imagery, Pyotr Ilyich Tchaikovsky's "The Nutcracker Suite" with the theme of seasonal changes, Paul Dukas' "The Sorcerer's Apprentice" starring Mickey Mouse as an apprentice whose magic spins out of control, Igor Stravinsky's "The Rite of Spring" set to the evolution of the world, Ludwig van Beethoven's "The Pastoral Symphony" using Mount Olympus characters of Greek myths, Amilcare Ponchielli's "Dance of the Hours" as performed by different animals to demonstrate the times of day, Modest Mussorgsky's "Night on Bald Mountain" with the theme of evil and supernatural creatures, and finally Franz Schubert's "Ave Maria" in which a forest is transformed into a natural chapel. Each of these pieces is conducted by the legendary Leopold Stokowski and hosted by noted music critic and historian Deems Taylor.
The conjunction of classical music and animation is brilliant. Every nuance in the orchestration can be fully visualized in a manner that would be too confining in live-action. Animation allows for a fantastical and surreal approach where the sky is the limit. It helps that the film never limits itself to one single style. Here we get everything from realism ("The Rite of Spring") and impressionism ("Toccata and Fugue") to horror ("Night on Bald Mountain") and farce ("Dance of the Hours"). There's really something for everyone to connect with.
Not every segment works as well as others. "The Rite of Spring" is an endurance test, to say the least, and other sequences like "Toccata and Fugue" and "The Nutcracker" have their share of lulls. Personally, I appreciate this film much more as an adult than I did as a child, but there are moments where the program drags and almost becomes self-indulgent. One thing is certain, however: even when it's not exactly stimulating, Fantasia is still a work of art.
The two standout sequences for me perhaps speak volumes about my own tastes as they're the most whimsical pieces in the film: "The Sorcerer's Apprentice" and "Dance of the Hours." Some film snobs may say that these are the two most popular sequences because they're the most childish and the least artsy. That's rubbish. "Dance of the Hours" may enthrall smaller children more than, say, "Ave Maria," but adults can clearly see that this is about more than dancing hippos. It's a spoof of pretentious ballets that purport to be more than what they truly are. "The Sorcerer's Apprentice" may not seem as biting, but it's a triumph in staging and design. There's a reason Sorcerer Mickey has become a corporate symbol; his exploits are the most creative and inspiring the character has ever experienced and are likely to remain so.
As is often the case for art works considered ahead of their time, Walt's dream project unfortunately failed to win over audiences. World War II didn't help, cutting off international markets at this time. While it was undoubtedly a major blow for him, Walt's concept of fusing music and image didn't fade away. It was brought back in the simpler, more modern approaches of Make Mine Music and Melody Time. Fantasia continuations were considered throughout the years as the project was always intended to be an ever-changing attraction. Those intentions finally came to fruition at the turn of the century (and millennium) with Fantasia 2000.
Headed by Walt's nephew Roy E. Disney, Fantasia 2000 sought to provide a new experience that emphasized varying musical and animation styles more directly. It more or less follows the same pattern started by the original, but this time with different celebrity hosts introducing each segment rather than one unifying commentator. Among these are comedian Steve Martin, conductor Itzhak Perlman, composer Quincy Jones, Bette Midler, James Earl Jones, magicians Penn and Teller, conductor James Levine, and Angela Lansbury.
There are eight segments in total, though one of these ("The Sorcerer's Apprentice") is recycled from the original. The new segments include Ludwig van Beethoven's "Symphony No. 5" using abstract butterflies, Ottorino Respighi's "Pines of Rome" with flying whales in the Arctic, George Gershwin's "Rhapsody in Blue" about intertwining New York city residents in the style of Al Hirschfeld, Hans Christian Andersen's story "The Steadfast Tin Soldier" set to Dmitri Shostakovich's "Piano Concerto No. 2, Allegro, Opus 102", Camille Saint-Saλns' "Carnival of the Animals, Finale" using an oddball flamingo and his yo-yo, Edward Elgar's "Pomp and Circumstance, Marches #1, 2, 3 & 4" starring Donald Duck as an assistant on Noah's Ark, and Igor Stravinsky's "Firebird Suite - 1919 Version" set against the death and rebirth of a forest.
Many critics of Fantasia 2000 find it's not weighty enough to sit alongside the original. Condemning this installment as a poor man's concert feature is unfair. The two films have different goals. The 1940 one is more experimental in nature. It staunchly sticks to the idea of making the music and images one inseparable experience. Fantasia 2000, on the other hand, is a little looser is its conjunction of aural and visual delights. It is also more concerned with entertaining its audience. One major thing in the newer film's favor is how vastly different its musical choices are. While the visual presentations of the original are distinct from one another, the classical compositions chosen don't seem terribly unique from one another to those who aren't versed in the musical arts. 2000's choices are easier to distinguish and that gives each piece more of an identity.
Technology, of course, changed in the sixty-year gap between the movies and the animation reflects that. We see computer animation in "Symphony No. 5", hand-drawn animation in "Pomp and Circumstance", and everything in between with pieces like "Piano Concerto No. 2." Even the techniques within these differ. "Rhapsody in Blue" is traditionally animated but digitally painted whereas "Carnival of the Animals" is done with watercolors. The entire film gives a nice sampling of different styles and mediums to achieve the intended effect.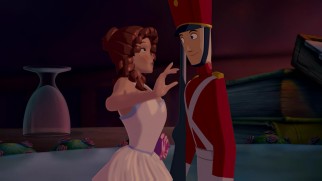 Unfortunately, the word "sampling" can also be used as a detriment to Fantasia 2000. The whole thing is far too short, running 70 minutes before end credits.

That's ironic since it can be debated that the over 2-hour original film is too long. Both have the same number of sequences, but most of the ones in 2000 are shorter than even Disney's standalone short subjects. Another couple of sequences or so would've helped make it feel a bit more substantial.

While both movies offer incredible experiences, if I had to side with one, I'd have to make what some would deem to be the sinful choice of Fantasia 2000. Yes, it's less risky and groundbreaking, but I enjoy the art of storytelling. Several of the segments in the original don't tell a story so much as present dazzling images impeccably timed to the score. This is perhaps why I find it a little harder to sit through; there isn't much to invest in on an emotional level.

The two standout sequences from the newer film, "Piano Concerto No. 2" and "Rhapsody in Blue" both tell involving stories without betraying the purpose of the project. Disney's always prided themselves in the way they tell their tales, and their interpretation of "The Steadfast Tin Soldier" feels distinctly them, a classic tale told in a timeless manner. "Rhapsody in Blue" predates films like Crash and Babel in how we see several independent storylines weaving in and out of each other. We feel for the characters of the piece and relate to how melancholic and humdrum their lives are, making the resolution of each arc all the more satisfying.

No matter what you prefer, however, there's something for everyone in these two complementary films. One sets out to accomplish a lengthy, serious experiment while the other aims to please in a brisk, lighthearted manner. It's almost worth watching them back to back to get one well-rounded experience. Their mesmerizing artwork and spirited orchestrations inspire and motivate the senses in a way only Disney can achieve.

Long discontinued on DVD, Fantasia and Fantasia 2000 recently returned to general retail at the end of November alongside Disney's not particularly kindred live-action The Sorcerer's Apprentice. Though added to the Platinum Edition line and confirmed as part of Blu-ray's Diamond Edition equivalent, the movies wound up not being a part of that collection, making their Blu-ray debuts as simply a 4-Disc Special Edition 2 Movie Collection with a Blu-ray Disc and DVD for each movie. A 2-disc DVD-only collection is also available at a slight discount.
REVISIONS

It's important to note the history of Fantasia and how that's affected this new Blu-ray release. In its original Roadshow version, the film ran 125 minutes. Re-releases edited it down and back up again, the common deletion being seven minutes of Deems Taylor's interstitials (including the central segment with the "soundtrack" character). Those portions remained the same way for so long that when Disney sought to restore the 118-minute cut back to the 125-minute roadshow version for the 60th anniversary, most of Taylor's audio was either missing or in a state of disrepair. Voice actor Corey Burton was brought in to dub over all of Taylor's scenes, even the ones with surviving audio, for consistency's sake. That dubbing remains present on this new Blu-ray. It's understandable why that has to be, but it's also a shame that the original Taylor audio that exists isn't included elsewhere in this set.

Another noteworthy change involves the infamous Sunflower character. In the original "Pastoral Symphony" sequence, one of the centaurettes was a servant girl who bore more than a few qualities of the popular African American stereotypes from the production era. She was awkwardly edited out for the 1969 re-release. For the 50th anniversary reissue in 1990, the edits were still noticeable but done more smoothly. This new 2010 release handles the edits in the best way, yet. At 1:19:32, the image is cleanly cropped with the tiny portion of the character's head that would've made it in digitally removed. The frame slowly and convincingly zooms in elsewhere at 1:20:44 unlike the more artificial zooms and pans found on the 2000 DVD.

A shot in which Sunflower was the sole focus is cut, so to make the now out-of-synch music catch up, 1:21:18 skillfully repeats two shots in succession. 1:21:23 marks the first time the character has been digitally removed from the frame in question, keeping the framing intact and without the extreme close-up found on the last release. Finally, 1:26:24 digitally erases her again, allowing for a carpet to magically (and fittingly) unroll itself.

I can understand why many are bothered by these edits as they're not representative of the film as originally released. Not only that, but it's not as if it were a directorial decision; these edits were made after Walt had passed away, so you can't technically defend this with the concept of "filmmaker intent." At the same time, though, I also understand Disney's viewpoint on the matter. Parents often find the most innocuous things offensive and give Disney grief for them. A racial stereotype would be catastrophic. Ideally, the Sunflower character could've been hidden away in an alternate viewing mode only accessible through the bonus material. It also seems a little bit of a double standard to remove that yet (rightfully) leave in the breasts found in the "Night on Bald Mountain" sequence. In the end, though, I find it hard to be really upset. Modern technology allows for the changes to be seamless for those who don't know of Sunflower's existence and doesn't seem glaring for those of us who do. I'm not saying film revisionism is right if you're able to mask it cleverly enough, but it is what it is, and I'd rather take these new edits than the ones found on previous releases.

Fantasia 2000 has one tiny change and that's in the form of a classy tribute card to Roy E. Disney added to the start of the picture.
Blu-ray and DVD Details

Fantasia: Pillarboxed 1.33:1 (Original Aspect Ratio)
Fantasia 2000: 1.78:1 (DVD Anamorphic)
Blu-ray: DTS-HD 7.1 (English), Dolby Digital 5.1 (French, Spanish)
DVD: Dolby Digital 5.1 (English, Spanish, French)
Subtitles: English for Hearing Impaired, Spanish, French
Closed Captioned; Extras Subtitled
Release Date: November 30, 2010
Suggested Retail Price: $45.99
Four single-sided, dual-layered discs (2 BD-50s & 2 DVD-9s)
Blue Keepcase in Holographic, Embossed Cardboard Slipcover
Also available in 2-Disc DVD ($39.99 SRP)
VIDEO and AUDIO
With pillarboxing, Blu-ray preserves Fantasia's original Academy Ratio of about 1.33:1. Disney has yet to drop the ball when it comes to their animated canon on Blu-ray, and this film is yet another amazing restoration effort. Narrow aspect ratio aside, Fantasia just by its very nature demands to be a demonstration disc. There's a wildly varied palette of colors on display, and they all pop off the screen on a regular basis. The image is immaculate in its cleanliness and sharpness, allowing the viewer to see background textures and even cel shadows.
The live-action bits also impress; somehow they're scrubbed as clean as the animation without a waxy loss of detail. Other than some very minor color banding in some of the orchestration spotlights, this restoration is perfect.

Being transferred directly from the digital source, there's no excuse for Fantasia 2000 to look anything less than flawless. Thankfully, it meets those expectations in the 1.78:1 widescreen aspect ratio. That ratio is a happy medium, presenting more visual information than either of its theatrical exhibitions but not quite the full open matte image from the CAPS files. Both the live-action and animated segments are razor-sharp and burst with vivid colors. Some of the hues used in this film are even brighter than the original's, but there's never any noise or other digital defects. Once again, the hand-crafted work can be appreciated in full as we see everything from painterly brushstrokes to finely tuned outlines. This is a top-notch transfer.
| | |
| --- | --- |
| | |
Fantasia has been given a new DTS-HD 7.1 track that's shocking in its clarity. Music is obviously the driving force of this feature, and it comes as a relief to hear so many different layers and elements to the orchestrations. Walt Disney originally released the film in what was called stereophonic sound, a precursor to modern day surround sound. That original mix is no longer in existence, but this new one does an excellent job of carrying on that idea, filling the entire field with wall-to-wall sound. The orchestrations are separated as they would be in a live orchestra, and the richness and clarity of the audio almost makes it sound as it's been re-recorded (which was curiously done back in 1982 by Irwin Kostal). This is not only the best the film has ever sounded, but it's the best track for any Golden Era movie on the format.
Fantasia 2000's 7.1 track is likewise stunning, though it's also less surprising given its age. Because the live-action bits often move the speaker around the screen via stylish windows, the audio follows them around to create a directional experience. The music is the important aspect, however, and that's been replicated beautifully. Every instrument comes in crystal clear and has a definite live feeling. It's not overblown or painfully loud, but natural and inviting. It's reference quality to be sure.
Similar thoughts can be attributed to the included DVD versions of both features. The pictures, of course, don't reveal some of the fine detail that the HD counterparts do, but they're strong for the format. Gone are the speckles and hairs found on Fantasia's previous DVD, as are the compression artifacts from Fantasia 2000's original release. Audio for the latter is pretty similar, though the audio for the original is a leap in quality from the 60th Anniversary disc. It's comforting to know that even though they tout Blu-ray front and center, Disney hasn't neglected their DVD transfers in the way other studios have.
Continue to Page 2 >>
Support great cinema and this site -- Buy Fantasia & Fantasia 2000 from Amazon.com:
Blu-ray + DVD Combo / DVD / 2000 Fantasia Anthology DVD