DVDizzy.com | DVD and Blu-ray Reviews | New and Upcoming DVD & Blu-ray Schedule | Upcoming Cover Art | Search This Site
Adore: Blu-ray + Digital Copy Review
Adore

Theatrical Release: September 6, 2013 / Running Time: 111 Minutes / Rating: R

Director: Anne Fontaine / Writers: Doris Lessing (book The Grandmothers), Christopher Hampton (story & screenplay); Anne Fontaine (story)

Cast: Naomi Watts (Lil), Robin Wright (Roz), Xavier Samuel (Ian Western), James Frecheville (Tom), Ben Mendelsohn (Harold Western), Sophie Lowe (Hannah), Jessica Tovey (Mary), Gary Sweet (Saul), Alyson Standen (Molly), Skye Sutherland (Young Roz), Sarah Henderson (Young Lil), Isaac Cocking (Young Tom), Brody Mathers (Young Ian), Alice Roberts (Roz's Grand-daughter), Charlee Thomas (Lil's Grand-daughter)
Buy Adore from Amazon.com: Blu-ray • DVD • Instant Video
The Australian drama Adore centers on two women who have been best friends since childhood. Lil (Naomi Watts) and Roz (Robin Wright) are Seal Rocks beachfront neighbors. They spend so much time together people sometimes mistake them for lesbians.

Even Roz's husband Harold (Ben Mendelsohn) entertains that notion when Roz balks at the idea of moving for his new job as Sydney University's theater director.

The ladies soon prove just how heterosexual they are by sleeping with each other's hunky teenaged son. For years, Roz and Lil have spent nice days in the company of their sons. Lil's Ian (Xavier Samuel) and Roz's Tom (James Frecheville) have become strapping young men and, within close proximity, each makes a move on his best friend's mom. It seems strange for these four who have always been like a family to suddenly pair up sexually in the only non-incestuous way.

Lil is widowed and the relocated and soon divorced Harold doesn't know about this development, which allows the two couples to live in apparent bliss for two fast-forwarded years. Then, as feared and expected, the boys' eyes begin to wander, prompting Lil and Roz to put a stop to their intergenerational romances and make their sons find more age-appropriate partners. Though they do, it cannot compete with the love they had.
Adore plays like a middle-aged woman's fantasy romance novel. In fact, the film is based on the 2003 novel The Grandmothers by Nobel Prize-winning British author Doris Lessing, who passed away in London last month at 94. It's tough to believe there is a respectable source to this sensibly-composed but very stupid exploration of "cougars" in action.

It is bizarre to think that this project was deemed worthy of Watts returning to Australia, where her acting career began in the late 1980s and continued until she left in the early 2000s for the American stardom she has maintained. Or that it attracted Wright to journey all the way there.

True, each is well into her forties, a dangerous age for attractive actresses for whom job offers inevitably slow. Still, Watts, fresh off her second Best Actress Academy Award nomination (for the Indian Ocean tsunami drama The Impossible), seems very much in demand by directors all over the world. Wright, who has never flourished despite

filling leading lady roles in two of the most beloved films of all time (The Princess Bride and Forrest Gump), remains as productive as ever, appearing in acclaimed major movies like Moneyball and collaborating with directors like David Fincher, Robert Zemeckis, and Robert Redford.

The two actresses seem much better than the material here, though neither elevates it to an intelligent place. Their casting seems to be driven by the thinking "Well, if you've got to have two Sheilas old enough to have sons of legal age, they might as well be skinny blondes who look good in bathing suits." Watts and Wright, whose Aussie accent is plenty passable, spend much of the film in bikinis, challenging your understandings of middle age spread and cellulite. Their young love interests accordingly are shirtless much of the time.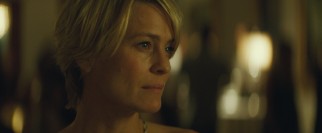 Luxembourg-born, French-based actress-turned-director Anne Fontaine is no novice to feature films or erotic material; her filmography includes Coco Before Chanel and Nathalie..., the film remade as America's Chloe. Fontaine gives her latest a title you expect to see in one of the foreign language categories on an Oscar ballot. She presents the film as art house fare, capturing the evident beauty of Australia's coast. But there's nary a spark nor sizzle to this overlong drama, which seems written as provocative and scandalous, but plays more pitiful than disturbing or bold.
Adore had little impact at the North American box office, grossing $319 thousand in a September run that saw its theater count drop from 57 down to 9. Theatrically distributed by Exclusive Media, the film was released to Video On Demand (VOD) the same day by partner Paramount Home Entertainment. Tomorrow, Paramount brings Adore to DVD and Blu-ray, the latter disc equipped with a code for a downloadable digital copy and UltraViolet.
Blu-ray Disc Details

2.40:1 Widescreen
5.1 DTS-HD MA (English)
Subtitles: English, English for Hearing Impaired, Spanish
Not Closed Captioned
Release Date: December 10, 2013
Single-sided, dual-layered disc (BD-50)
Suggested Retail Price: $39.99
Blue Eco-Friendly Keepcase
Also available on DVD ($29.98 SRP) and Amazon Instant Video
VIDEO and AUDIO
Adore's Blu-ray does a fine job of presenting its digital video. The 2.40:1 visuals showcase sunny, photogenic Australia and also feature a number of dark and indoor scenes, while the picture stays sharp and spotless throughout. The 5.1 DTS-HD master audio is also exemplary, nicely distributing music and atmosphere.
BONUS FEATURES, MENUS, PACKAGING and DESIGN

Other than the aforementioned digital copy,

Adore isn't joined by a single thing on Blu-ray, not even trailers for other Paramount releases or Adore's own preview, sadly.

The static menu presents imagery in the style of the cover artwork. The Blu-ray supports bookmarks, but doesn't resume playback.

An insert providing your unique code and directions for redeeming the digital copy and UltraViolet is the only thing joining the plain blue disc inside the eco-friendly keepcase.
CLOSING THOUGHTS
I'm at a loss to say anything positive about Adore. While nicely photographed, it is a complete non-starter dramatically, a cheap romance novel in a European art cinema wrapper. You'd have to be a pretty huge fan of the leading ladies or their boy toys to want to endure this long, dumb drama, which Paramount treats to a fine feature presentation and nothing else (besides a digital copy) on a severely underwhelming Blu-ray Disc.
Buy Adore from Amazon.com: Blu-ray + Digital Copy / DVD / Instant Video


Related Reviews:
New: Jayne Mansfield's Car • And While We Were Here • The Deflowering of Eva van End • As I Lay Dying
Robin Wright: The Conspirator • Forrest Gump • The Princess Bride • Moneyball • New York, I Love You • Beowulf • A Christmas Carol
Naomi Watts: The Impossible • The Ring • You Will Meet a Tall Dark Stranger • J. Edgar • Eastern Promises • Movie 43
Xavier Samuel: Plush • The Loved Ones | James Frecheville: Animal Kingdom | Ben Mendelsohn: Killing Them Softly
The Reef • Strictly Ballroom • Australia • The Great Gatsby • Margot at the Wedding • Chloe
DVDizzy.com | DVD and Blu-ray Reviews | New and Upcoming DVD & Blu-ray Schedule | Upcoming Cover Art | Search This Site
Search This Site:
DVDizzy.com Top Stories:
Reviewed December 9, 2013.


Text copyright 2013 DVDizzy.com. Images copyright 2013 Exclusive Media, Gamut, Screen Australia, Screen NSW,
and Paramount Home Entertainment. Unauthorized reproduction prohibited.