It happens all the time. TV shows that have been on the air for several years bring in new cast members to mix things up. It may be to explore new dynamics, to have young blood onboard, or to replace departing actors who have decided it's time to move on. The last reason would appear to apply to "Reno 911!".

But while the Comedy Central "COPS" parody introduced two new personalities in its sixth season, the three they replaced didn't leave on their own accord.

"Reno" killed off a trio of core officers: chesty Clementine (Wendi McLendon-Covey), quiet, suspected lesbian Kimball (Mary Birdsong), and mustachioed knucklehead Garcia (Carlos Alazraqui). To add insult, neither they nor their deaths are acknowledged in anything but a fastly-muttered line (despite the previous season's "To Be Continued..." cliffhanger) until a distasteful cremation gag well into the season. News of the actor firings behind the personnel changes drew disapproval from fans who counted the axed characters among their favorites.

Joining the fray in their place are former guest stars Joe Lo Truglio (whose collaborations with the "Reno" creative team dates back to MTV's mid-'90s cult hit "The State") and Ian Roberts (of improv group "Upright Citizens Brigade"). Lo Truglio now plays Frank Rizzo, a highly experienced but not recommended deputy who uses unorthodox methods. Roberts is Jack Declan, by-the-book sergeant with some anger issues.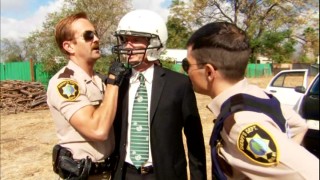 Despite the cast changes, "Reno 911!" proceeds much as it has been since 2003, using improvised sketches from set-ups to pose as a mock documentary series on inept Nevada police officers. Short-shorted lieutenant Jim Dangle (Thomas Lennon) and his officers are bumbling, incompetent, and often wildly inappropriate. Our glimpses of life at the station are complemented by responses to calls from and about local weirdoes. Many episodes also include one of the department's amateurish public service announcements on topics like senior abuse, suicide prevention, and keeping harmful items out of reach. These often stand as a highlight.
There is no disputing the improvisational talents of the cast, many of whom have regularly mined laughs simply by staying in character and thinking on their feet. However, the comedy is more hit-and-miss in Season 6, and unfortunately more of the sketches fall flat than connect. There are definitely some funny bits, often in the form of subtle tags that twist our perception of everything that's preceded them. But the troupe seems more interested in amusing themselves (as a passing commentary remark acknowledges) and pushing the envelope than entertaining viewers here. Some of the stereotype humor just feels lazy.
The new characters don't really add any flair (of the two, Lo Truglio's comes closer). They definitely don't pick up any slack, not that there was any perceivable slack to be picked up from the existing roster. The least funny cast member, Kerri Kenney-Silver as the foul-mouthed Trudy Wiegel, is retained and remains prominent. That's not surprising because she's a creator/executive producer along with Lennon and regular director Robert Ben Garant, who delivers some fine one-liners as redneck deputy Travis Junior. Rounding out the force are the top-billed returning actors Cedric Yarbrough and artificially big-bottomed Niecy Nash, who, while rarely gut-busting, supply consistency and spirit, and also boost the show's diversity numbers (according to the 2000 Census, less than 3% of Reno's population is African American).
The regular "Reno" cast has grown familiar not only from this series but small parts in countless recent comedy films.

The same is true of guest stars, who often make repeat visits. This season features appearances from several people recognizable to those outside of comedy aficionados, people like Rainn Wilson of "The Office", George Lopez, Superbad's Jonah Hill, Carmen Electra, and the ubiquitous Jane Lynch. Comedians less likely to be household names may generate more excitement from those in the know and they also tend to be given more creative and extensive work.

Season 6's recurring guests seem neatly classifiable as success or failure. Among the good are the show's most frequent long-time presences: Nick Swardson as the ridiculously-clad, often-suspect roller skater Terry Bernadino; and Toby Huss as derelict Big Mike, who we learn was once police sergeant and now lives out of a landlocked boat. Also amusing are "Upright Citizens Brigade" co-founder Matt Walsh as a lonely isolated campground ranger and, from MTV's "Human Giant", Rob Huebel, Paul Scheer, and Aziz Ansari as thrice-appearing business scam artists. Approaching regular cast member status, Wanru Tseng entertains as sex slave-turned-secretary Cindy, an Asian stereotype too outlandish to offend.

Other ethnic caricatures fail to divert. Excitable Mexican radio host El Chupacabra (Nick Kroll) and his breast-shaking sidekick (Jessie Camacho) induce cringes each time their bilingual program turns up (which is about every other episode). The jail yard videotape transmissions of Wiegel's executed ex-boyfriend (Kyle Dunnigan) also register more as painful than anything else.

One of the show's bigger problems: obscenities. The language has grown more vulgar, but without increasing the humor. Much of the time, it feels like the DVD's rampant F-bombs aren't as funny as the bleeped versions that are aired. There's just something jarring about hearing this much profanity and disappointing when it seems to be used to stand as humor rather than to creatively enhance it.

One day before Season 6's finale airs, The Complete Sixth Season of "Reno 911!" can be had. Though the DVD dubs it Uncensored! and we do indeed get to hear the frequent profanity unbleeped, a few written occurrences of the F-word remain digitally blurred, as do some offensive hand gestures and implied male nudity. Carrying one less episode than the previous year, Season 6 takes us back down to two discs. This change is drastically reflected in the $26.98 list price, which is a full $13 lower than the otherwise-comparable 3-disc predecessor. Synopses follow, with a star graphic (

) indicating the season's best episodes.
Disc 1
1. 601 / Training Day (21:33) (Originally aired April 1, 2009)
We learn about the department's two new officers and witness first-hand Rizzo's methods as he and Jones (Yarbrough) try to bust drug dealers.

2. 611 / Extradition to Thailand (21:33) (Originally aired April 8, 2009)
Junior and Jones accompany a confessed murderer (Patton Oswalt) on a flight back to the scene of the crime: Thailand.
3. 607 / Digging with the Murderer (21:33) (Originally aired April 15, 2009)
The department is temporarily relocated to a seafood restaurant. To shorten his sentence, a serial killer (Rainn Wilson) promises to take Dangle and Williams to one of his burial sites.
4. 605 / Dangle's Murder Mystery, Part 1 (21:33) (Originally aired April 22, 2009)
Dangle hosts a murder mystery party at the Nevada Historical Society. While awaiting a suspect, Junior and Declan dine at an Italian American wedding ceremony.
5. 606 / Dangle's Murder Mystery, Part 2 (21:02) (Originally aired April 29, 2009)
The murder mystery gets real as the attendees try to figure out who killed Dangle's ex-wife.
6. 610 / We Don't Want the Pope (21:19) (Originally aired May 6, 2009)
The officers try their best to discourage a pope visit to Reno by showing his envoy the city's ugly nature.

7. 608 / VHS Transfer Memory Lane (21:03) (Originally aired May 13, 2009)
The cops revisit their late-'80s appearances while converting old evidence videocassettes to DVD.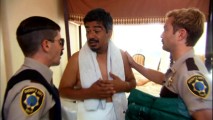 Disc 2
8. 612 / Helping Mayor Hernandez (21:33) (Originally aired May 20, 2009)
Dangle and Junior help Mayor Hernandez (George Lopez) deal with a hooker he accidentally married. Rizzo threatens the soccer coach who hasn't been giving his son enough playing time.

9. 613 / Getaway Trailer (21:33) (Originally aired May 27, 2009)
Rizzo and Weigel bond while trapped in a suspect's moving mobile home together. Dangle and Junior protect a dog they believe is a state witness.

10. 615 / Stoner Jesus (21:03) (Originally aired June 3, 2009)
Dangle demands the sheriffs attend his belated 10th anniversary Princess Diana tribute. A rowdily-partying cast of a local Jesus Christ Superstar requires officer attention.

11. 602 / Deputy Dance (21:34) (Originally aired June 10, 2009)
The department enlists famous local linoleum pitchman Levon French (Craig Robinson) to help make a deputy recruitment commercial.

12. 603 / Viacom Grinch (21:34) (Originally aired June 17, 2009)
Junior and Declan crack down on Spongebob Squarepants copyright infringements by seizing illegal merchandise.
13. 609 / The Midnight Swingers (21:19) (Originally aired June 24, 2009)
Jones and Raineesha (Nash) go undercover to a key party in the hopes of busting a suspect.

14. 604 / Secret Santa (21:18) (Originally aired July 1, 2009)
None of the sheriffs know who "the other three" officers are and why they're suddenly being seen and heard more often than usual. They do know they don't want them to be a part of Secret Santa.
15. 614 / Wiegel's Couples Therapy (21:33) (Originally aired July 8, 2009)
To take advantage of her available couples therapy time, Wiegel gets Raineesha to pose as her partner.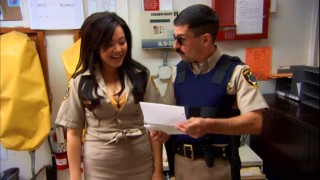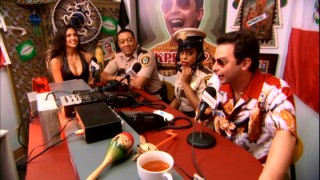 VIDEO and AUDIO

"Reno 911!" finally made the jump to widescreen in 2009 and so the DVD presents these episodes in anamorphic 1.78:1. Picture quality appears to improve a bit,

but it's still the same handheld documentary-style visuals viewers are now used to. In the stereo audio, the theme and transitional music is mixed quite a bit louder than the rest of the show and that's mildly annoying. So is the lack of subtitles, which is normal for a Paramount TV DVD, and closed captioning, which is not.

BONUS FEATURES, MENUS and PACKAGING

As usual, the biggest bonus in length and number is audio commentary. Eight of the set's 15 episodes are accompanied by cast chats. Some TV show DVDs find participants struggling to sustain a single episode commentary. Though the people behind "Reno" have sat and recorded thoughts many times before (slightly more than 1 out of every 3 episodes has been covered to date), they still find it easy to share and be interesting. The series' format helps (these actors aren't simply reading lines they've been given) and so does the fact the cast's camaraderie yields lively, comfortable atmospheres.

The actor commentaries are provided as follows:
"Extradition to Thailand" - The whole cast minus Joe Lo Truglio
"Digging with the Murderer" - Thomas Lennon and Niecy Nash
"Dangle's Murder Mystery, Part 2" - Lennon, Nash, Ian Roberts, Robert Ben Garant, and Kerri Kenney-Silver
"Helping Mayor Hernandez" - Roberts and Lo Truglio
"Getaway Trailer" - Kenney-Silver and Lo Truglio
"Deputy Dance" - Lennon, Garant, and Kenney-Silver
"Viacom Grinch" - Garant and Roberts
"The Midnight Swingers" - Nash and Cedric Yarbrough

Every one of these tracks offers some value and the varying line-ups ensure different perspectives. Much of the discussion refers to what's onscreen and we get some fun stories from shooting and thoughts on guest stars. The bigger groups spark some of the livelier and wider conversation, but the groups of two can be more candid and insightful. For instance, the talk on "Helping Mayor Hernandez" reflects the new guys' improv experiences, while Garant and Roberts share how long-reaching storylines are often born spontaneously. Gathering just the creators/producers on "Deputy Dance" inspires silly accents, but it improves. Then there are the pairings that seem to forget there's an audience, which can be fun (Lo Truglio and Kenney-Silver recalling their old fashion sensibilities) or less so (Yarbrough and Nash's ramblings on his weight).

While the most diehard fans will need no encouraging to listen to them all, less devoted viewers will appreciate knowing that these are more interesting and entertaining than most DVD commentaries and can be pretty easily consumed in batches or with some selectivity.
A few short video extras appear on Disc 1, where they're strangely presented in fullscreen with a colored border.
"Tupperware for Tampa Uncut" (13:07) is an extended version of a sequence from "Viacom Grinch", in which two salesmen (played by Rob Huebel and Paul Scheer) pitch the department a chance to expand and enhance their vacation time with a Florida resort getaway obtained by selling Tupperware. Amusingly, the enthusiastic yet terrible-sounding proposal is met with utter excitement by the dim-witted department that doesn't even notice the plant (Aziz Ansari) among them. This runs more than four times as long as it does in the episode and yet plays out similarly, a testament to the show's savvy editing.
Next up come two promotional "Profiles in Valor." Like the ones on Season 4's DVD, these shorts familiarize us with an officer through an in-character interview and censored clips. Profiled here are the new additions Sgt. Declan (2:16) and Dep. Rizzo (1:47).
The video extras conclude with the full two cheesy musical commercials created for the "Deputy Dance" episode and parodying Flea Market Montgomery ads. With the help of green screen effects, a keyboard, and a dancing bikini-clad Asian (Debra Ling), Craig Robinson (of "The Office") sells linoleum (0:47) and then, joined by Raineesha and Wiegel, tries to recruit deputies (0:57).
One final bonus feature is one that most might not have a use for. It is a downloadable Windows Media digital copy of every Season 6 episode and bonus feature. The site isn't yet active, but it sounds like this one-year-offer is completely free, making it a sweet inclusion for those with laptops and other portable devices (though not iPods, iPhones, or PSPs, according to the details).
Each disc's busy main menu gives us a stylized montage set to the theme tune. Other menus are static and silent. Disc One opens with a relevant promo for the long-awaited, forthcoming "The State": The Complete Series DVD release.
The sixth season of "Reno 911!" takes up about as much shelf space as a standard DVD. Two clear slimcases slip into a cardboard box. The reverse side of the cases' artwork displays episode synopses and photography. There are two sheets held between the cases: one is your unique serial code for downloading the digital copies, the other is an ad for other Paramount/Comedy Central properties.
CLOSING THOUGHTS
"Reno 911!" may not have been unrealistic to halve its female sheriffs, increase its number of mustaches, and amplify the profanity used. But despite the mockumentary look, the show's comedy isn't proportional to its authenticity. Season 6 confirms that, offering a significant decrease in quality. One can't lay blame on the new actors, but whereas last season joked about jumping the shark, this season appears to actually do such a thing. Perhaps the goal was simply to avoid repeating itself and if so, the 2009 episodes obtain mild success. Even with the drop, the show still delivers laughs and is easy to watch, which is more than can be said for most contemporary TV series.
The DVD may be a bit light on extras, but what's offered here is enjoyable and the reasonable price tag makes this set pretty attractive for fans. That said, I'm convinced it'd be even better (and more "COPS"-like) if the bleeped broadcast soundtracks were included as alternate audio tracks.