I've always felt that the main reason people rag on The Godfather Part III is because it follows two of the greatest films of all time. Without having to live up to those extraordinary pieces of cinema, this 1990 sequel would probably be considered a decent film.

That's not something we could ever put to the test, but with Paramount releasing the third installment to Blu-ray individually this week, I seized an opportunity to evaluate it on its own merits as much as possible.

Truth be told, Part III doesn't only suffer from its two predecessors, it benefits from them too. After all, the history and weight of these characters established in Francis Ford Coppola's 1970s epics contributes a great deal of power and intrigue to this final chapter. The flaws of this untimely threequel actually become more pronounced with some distance, the trilogy's links and many personalities not as fresh in mind.

Part III opens in 1979, though it makes virtually no attempt whatsoever to establish the setting. In fact, close high definition viewing reveals that the movie jumps around from 1979 to 1980 and back, via conflicting newspaper dates. The lack of period authenticity, evident in characters' clothes and hairstyles, seems forgivable in that it's tough to identify and appreciate the fashions of a decade earlier. Someone now making a film set in 2003 might similarly assume they're close enough to the time in question not to have to do much. But it's indicative of a deeper problem, namely that director Coppola and author/co-screenwriter Mario Puzo are unable to recreate the passion and perfection that define the first two films.
An aging Michael Corleone (Al Pacino) desperately wants the family business to remain legitimate. He is given the Order of St. Sebastian from the Vatican, whose ownership stake in real estate giant Immobiliare (a real company with real ties to the Roman Catholic Church whose fun-to-say name is rarely uttered outside this film) is sold to Michael's group.
As Michael develops diabetes, he finds a potential successor in Vincent Mancini (Andy Garcia), the illegitimate son of Michael's older brother Sonny. Inheriting the temper of his father (who died before he was born), Vincent is adamant on taking down Joey Zasa (Joe Mantegna), a publicity-attracting rival enforcer Michael sees as no real threat, and carries out the order when a stroke sidelines Michael. In his personal life, Vincent gets close to Michael's daughter Mary (Sofia Coppola). The first cousin romance makes little sense, not only because of the incestuous nature but because there seems to be little common ground between the bland teenage girl and the roughly 30-year-old playboy. Michael forbids the relationship, repeating that "It's too dangerous."
Michael's own love life might be reopened with the reappearance of his since remarried ex-wife Kay (Diane Keaton), who insists he let their son Anthony (Franc D'Ambrosio) drop out of law school and pursue a career as a professional singer. The repentant Michael obliges, setting up Anthony's Easter weekend operatic debut in Palermo, Sicily as the site of the film's climax. The overlong sequence, whose extended looks at the opera serve as heavy-handed metaphor for the violent treachery going on behind-the-scenes both at the Opera House and beyond, makes for a somewhat unsatisfying finale to this great century-spanning saga of an Italian-American family.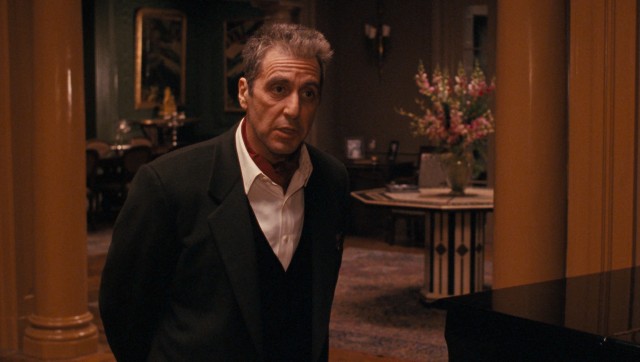 You can't fault Coppola for wanting to return to this well. After the 1970s brought him more success than any other decade brought any other filmmaker, Coppola's career unraveled with a series of setbacks. The ambition that had ultimately served him well through disastrous circumstances on Apocalypse Now undid him on One from the Heart,

bankrupting his San Francisco-based production company. Coppola attempted to rebound by directing commercial pictures, like The Outsiders and Peggy Sue Got Married. Though such movies turned profit, others did not and Coppola's reputation as a virtuoso had undoubtedly diminished some. Returning to the greatest and most personal achievement of his career with Puzo and many cast members onboard could not have been a difficult decision.

Released on Christmas Day 1990, The Godfather Part III was a decent box office performer, its demonic $66.666 M domestic gross equaling $126 M today when adjusted for inflation, about the equivalent of Shutter Island. It also became the rare sequel to earn an Oscar nomination for Best Picture. While all that sounds good, the film is universally accepted as the trilogy's weak link and regarded as a pretty significant disappointment. Few would argue that it wasn't a distant second in quality among 1990's organized crime films behind Martin Scorsese's gangster opus Goodfellas. I'll go further and point out that The Freshman, a comedy from the same year that saw Marlon Brando virtually reprising his most iconic role for laughs, is also a far more entertaining and satisfying successor to the first two installments.

A lot of the blame for Part III's failings is assigned to the unconvincing Sofia Coppola, who undoubtedly provides one of the all-time weakest performances in a widely-seen, highly-anticipated film. Some of the vitriol aimed at the director's daughter, who has since become a respected writer-director (and far more employable than Francis), ought to go to Winona Ryder, whose eleventh-hour bow-out due to exhaustion, anxiety, and depression necessitated the much-maligned, nepotic casting.

Sofia isn't the film's only false note. Pacino's Michael Corleone feels less like a reprisal and more of a reflection of where the actor was at. After earning Oscar nominations for the first two films, Pacino was overlooked for this installment (he did get a Supporting Actor nod the same year for his villainous turn in Dick Tracy). While you don't want to read too much into that omission, it's impossible not to notice that Michael suddenly resembles Pacino's outspoken modern characters (caricatures?) more than the introverted, sensitive antihero developed in 1972 and 1974. While Pacino is widely accepted as one of film's greatest actors, there's definitely a distance between his magnetic early performances and, say, everything from Scarface on, when "over-the-top" became his go-to mode. That's not to say Pacino doesn't do a lot right here, just that the character's evolution isn't much in line with what we've seen from him thus far.
The film loses a lot from the departure of Robert Duvall, who rejected returning due to a low salary offer. His consigliere Tom Hagen is killed off with a line, though Hagen's son, an ordained priest (played by John Savage), hangs around as a sign of true good. Though presumably anyone asked would have leapt at the chance to make this movie, Coppola assembles a serviceable cast out of never too famous character actors, like George Hamilton, Joe Mantegna, and Don Novello. Eli Wallach, already a living legend at age 74, is a standout. Another is Andy Garcia, who has never been better (and has never again been Oscar-nominated).
After making their Blu-ray debuts in September 2008's 4-disc The Coppola Restoration trilogy box set, the first two movies got their own standalone Sapphire Series Blu-ray Discs in February 2010. Tomorrow, Part III finally becomes available on Blu-ray by itself in a case all its own. Why anyone but packaging nuts would want that, let alone now with physical media sales continuing to decline, remains something of a mystery.
As in all home video releases to date, though not specified and oddly never rerated by the MPAA, Part III is presented exclusively in a director's cut running nine minutes longer than the theatrical edit.
Blu-ray Disc Details

1.78:1 Widescreen
Dolby TrueHD 5.1 (English), Dolby Digital 5.1 (French, Spanish)
Subtitles: English, English for Hearing Impaired, French, Spanish, Portuguese
Not Closed Captioned; Extra Not Subtitled
Release Date: May 13, 2014 (Disc first released September 23, 2008)
Suggested Retail Price: $22.98
Single-sided, dual-layered disc (BD-50)
Blue Eco-Friendly Keepcase in Embossed Cardboard Slipcover
Still available on DVD ($19.99 SRP; September 23, 2008) and Amazon Instant Video
Previously released in The Coppola Restoration Trilogy Blu-ray & DVD (September 23, 2008); DVD (May 24, 2005); and DVD Collection (October 9, 2001)
VIDEO and AUDIO

The Godfather Part III was not privileged enough to receive The Coppola Restoration label given its two predecessors in the box set it shared with them. That seemed like a strange but significant distinction and it remains the case on this repackaging, which bears the director's signature but leaves blank the place where the first two movies proclaim "The Coppola Restoration." Made clear by the disc's 2008 file dates, this third installment has definitely not been given a new transfer for this overdue standalone Blu-ray release. As such, the movie looks good, but continues to leave room for improvement.

Not looking as classic as the first two movies, the 1.78:1 presentation is a tad grainy and features some imperfections. The visuals are stylized, given tints of gold and brown. The element can get really dark at times, but it's usually clear, clean and vibrant. It lacks the definition of today's films but still offers plenty in this regard, allowing you to notice details like an anachronistic Barbie box, a conflicting copyright date and nonsensical article on New York Times covers, and Andy Garcia's improbably furry chest.

It's odd that in 2008, Coppola would bestow a special designation on the first two films and not this one. Obviously, the first two are superior, but Coppola has treated the series like a trilogy since it became one. You wouldn't expect him to scale back efforts on this labor of love just because people don't think as much of it or because it's not as old. While Part III doesn't look as dazzling as its predecessors or as terrific as it could, this Blu-ray still seems to stand as the film's finest representation on home video to date.

Sound is offered in Dolby TrueHD 5.1 and it doesn't seem to lack anything that more prevalent DTS-HD master audio mixes have. The soundtrack is full of peaks and valleys, a design that may have you lunging for the remote on loud sequences like the big helicopter attack set piece if volume levels are a concern. The sound quality is good, with dialogue remaining crisp and being complemented by familiar themes (which fortify every scene for which they are recycled) and a bit of atmosphere. Player-generated subtitles translate Italian dialogue into English. All subtitle streams use the same easily-read, non-standard yellow font.
BONUS FEATURES, MENUS, PACKAGING and DESIGN

The only bonus feature is Francis Ford Coppola's 2001 audio commentary, which the package describes as "original" and "provocative." In it, Coppola insists on calling the film The Death of Michael Corleone. Among his mentions of contributing family members and preserving friends on film, the director defends and explains his daughter's criticized casting to the hilt. Other topics making an impression here: the rushed production born out of Paramount's financial troubles, his soft spot for cousin love,

his reasoning for Michael's new hairstyle, comparing the imagery and themes to those used earlier, his relating to Michael Corleone, and ideas that were considered for a dismissed fourth film.

There is a lot of Godfather III material included on the trilogy set that you miss out on here, including a trailer, a photo gallery, and storyboards, not to mention the wealth of trilogy-encompassing documentaries, featurettes, Easter eggs, and miscellany, like an interactive family tree and short films. You'd have to hate bonus features to prefer these standalone releases.

The basic main menu plays score over a shot that only looks static. Par for Paramount, the disc does not resume playback, but does let you place a slew of bookmarks on the film to conveniently continue incomplete viewing.

The insert-less, eco-friendly keepcase is topped by a sleek, embossed cardboard slipcover repeating the same artwork below.
CLOSING THOUGHTS
In my first viewing of The Godfather Part III not closely preceded by its two forebears, I found a film whose flaws go well beyond falling short of perfection. This universe and these characters are too rich to see no value in Part III, but this overdue sequel simply cannot match or recreate the outstanding drama of the two masterpieces it follows. With this review, my belief that Part III could stand on its own merits has been shaken. This finale really cannot be viewed or judged individually, but as the weak link in one of cinema's greatest trilogies.
Even this film's biggest supporters would be foolhardy to buy Part III on its own, when they could currently own the entire trilogy and a substantial bonus features disc for just over $4 more. The trilogy collection appears to be recently out of print, but a franchise this enduring cannot remain that way long. The only way to justify going for the individual movie releases is to possess an irrational need for having movies in their own cases instead of sharing one.
Buy The Godfather Part III from Amazon.com: Blu-ray • DVD • Instant Video

Buy The Godfather Trilogy: Blu-ray • DVD