In the opening minutes of Miracle at St. Anna, an aging black war veteran watching John Wayne in The Longest Day utters to his television, "Pilgrim, we fought for this country too." That would appear to be the cue for viewers to settle in for a feature-length reminder

that a few dark-skinned men were among the Americans who fought in World War II. That very idea sparked director Spike Lee to enter a verbal feud with Clint Eastwood which made news most of last year. Fortunately, Lee's film offers a little more substance than the one lesson, but it is still unlikely to go down as one of the great WWII dramas.

Miracle spends its first quarter-hour in 1983 New York, where said vet becomes one of the first USPS workers to go postal. His seemingly unprovoked murder of a stamp customer prompts an investigation and one young, desperate reporter (Joseph Gordon-Levitt) is eager to get a scoop. The slightest hint of a breakthrough takes us back to 1943 Italy, where we spend most of the film with members of two groups of the 92nd Infantry Division, the all-African American units nicknamed "Buffalo Soldiers."
In the midst of crossing a river, the troops come under German attack. Eventually, our attentions fix on four men. The largest and gentlest of the four, Train (Omar Benson Miller), saves the life of an Italian boy (Matteo Sciabordi). Despite the language barrier, the grateful child takes to his rescuer, who he names Chocolate Giant and licks. Needing medical care, he joins the company as they wind up in a tiny Italian village where an extended family lays low. The other American soldiers include thoughtful staff sergeant Stamps (Derek Luke), cocky sergeant Bishop (Michael Ealy), and useful interpreter Hector (Laz Alonso).
While the Americans seek to stay alive against the odds, protect the child, and re-establish communication with other divisions, we are exposed to some of the other perspectives in Tuscany. There is the old man who believes fascism and Mussolini are the way. There are partisans whose violent anti-Nazi stance causes conflict. Most simply want peace, order, and stability restored. We also get a few glimpses of the Germans, whose appearance is signaled by bombastic martial fanfare of trumpets and drums, as if to remind us they're the bad guys.
The titular miracle remains a mystery for the most part, until a late flashback reveals how a brutal massacre looms over the proceedings.
It's tough to believe that Lee needs 160 minutes to tell this fictional epic, which resolves with who-will-die carnage and an epilogue that feels more akin to a sentimental commercial, the kind no longer on TV. One genuine idea emerges: that the black Americans feel less persecuted abroad than they do back home. To help convey this, Lee cannot resist one of his favorite tricks, which is to paint white characters as racist and reckless, black ones as reasoned and profound. The director slipped such stereotypes into his contemporary bank heist thriller Inside Man, so one can hardly be surprised that a period piece would consider race in such terms. Granted, there is a historical basis here that is both significant and widespread. But that just makes Lee's simplistic techniques all the lazier and more offensive.
We don't get much opportunity to get to know the characters and what makes them tick. Yet, time is made for an attractive Italian woman (Valentina Cervi) to bare her breasts and coyly dabble in random sexual politics. There is room for cameos made by the likes of past Lee performers John Turturro, John Leguizamo, and Kerry Washington. And most bizarrely, there is also another chance for Lee to take a curious shot at oft-quoted film critic Pete Hammond, with Peter Frechette again playing a bozo bearing his name.
Miracle at St. Anna bombed at the box office, grossing under $8 million on a $45 M budget. Its underperformance is one of the things most frequently cited as support for the Walt Disney Company's just-announced agreement to distribute live-action DreamWorks films under the much-reduced Touchstone Pictures banner.
DVD Details

2.35:1 Anamorphic Widescreen
Dolby Digital 5.1 (English, French, Spanish)
Subtitles: English, French, Spanish
Closed Captioned
Release Date: February 10, 2009
Suggested Retail Price: $29.99
Single-sided, dual-layered disc (DVD-9)
Black Keepcase in Cardboard Slipcover
Also available on Blu-ray Disc
VIDEO and AUDIO

Picture quality on this 2.35:1 anamorphic widescreen transfer is quite satisfying. The material set in the early '80s offers stunning sharpness and clarity. The more dated bulk has a few touches of Saving Private Ryan stylings; grain, grit, and jerky motion. But it also pleases in its intended ways. As commendable, the Dolby Digital 5.1 soundtrack provides near-constant atmosphere, not only in the requisite combat sequences but in subtler and as effective ways throughout.

Much of the film's dialogue is spoken in Italian and German; it is translated by an auto-activated subtitle track.

BONUS FEATURES, MENUS and PACKAGING

On Blu-ray, Miracle at St. Anna is joined by an hour of exclusive special features in deleted scenes and two featurettes. The DVD is altogether void of bonuses and you can be sure space considerations are less an issue than encouraging upgrades to the high-def format that most customers continue to steer clear of.

The disc launches with an anti-tobacco ad, an action-oriented Blu-ray promo, and trailers for Confessions of a Shopaholic, Blindness, and Doubt. The Sneak Peeks menu holds all but the first and adds previews for The Boy in the Striped Pajamas and Happy-Go-Lucky.

The forgettable main menu feigns dimensionality by moving still images of characters in combat. Both it and the similar yet static submenus provide score excerpts.

Miracle at St. Anna is housed in a wasteful cardboard slipcover that repeats everything underneath. The only insert is a booklet promoting Blu-ray. In case you miss that, there's also a sticker on the slipcover advertising the movie's availability on that format.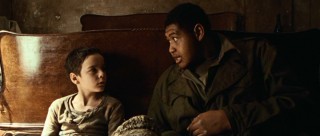 CLOSING THOUGHTS

Miracle at St. Anna proves to be relatively involving. But when the nearly three hours have passed, one has a tough time recalling what justified the runtime or the film's existence.

On the upside, Spike Lee's WWII film won't be mistaken for the many others that cinema has given us over the years. On the downside, it really has no reason to be remembered. Nearly everything here, from the torn limbs to the unconscionable slayings, has been seen before and in more striking ways. The one potential wild card -- race -- is treated unsatisfactorily by a director who clearly has strong, questionable views on the subject.

Touchstone's DVD delivers a knockout feature presentation, but leaving off all the bonus features to be Blu-ray exclusives is always a lame tactic. It should be enough to encourage potential owners to either rent or wait for the inevitable price drop instead. If you're really inclined to do either, I would advocate the renting.

More on the DVD / Buy Miracle at St. Anna from Amazon.com: DVD / Blu-ray / The Book