"Robot Chicken" has become one of the longest running shows in Adult Swim history by poking fun at the pop culture institutions of Generations X and Y with stop-motion animation involving toys and figures.

Created by 39-year-olds Seth Green and Matthew Senreich, the series took to television in 2005 and will soon begin its seventh season in Cartoon Network's late night programming block. In addition to its 120 11-minute episodes, the show has been expanded to a half-hour timeslot for a Christmas special and three Star Wars parodies.

The latest one-off, the Robot Chicken DC Comics Special, premiered last September and now comes to DVD and Blu-ray on Tuesday, just a couple of weeks after Man of Steel fever has subsided. Like the Star Wars specials, this half-hour installment is made with the blessing and participation of the copyright holder, in this case the rich and storied DC Entertainment empire. Batman, Superman, and their many famous respective adversaries are all fair game and give their fans unversed in "Robot Chicken" some incentive to check this out.
Like the show from which it springs, the DC Comics Special is sketch-based and almost entirely without a prevalent narrative. It's all about drawing laughs from bizarre scenarios and irreverent treatment of beloved personalities. Superman, for instance, erases his enemies' memories with a kiss, a rarely invoked but legitimately established power of his. Batman repeatedly has his back broken by Bane, who celebrates his act with jazz hands. Two-Face takes his coin-flipping to extremes as he uses it to make every decision on a bathroom visit.
The humor is adolescent in nature and one imagines that as many viewers have grown into "Robot Chicken" fandom as have grown out of it. The series is at home on Adult Swim, where random, subversive, crude, surreal, and dark animation comedy is the main course. It's a strong brand that has maintained popularity beyond the niche college audience you most expect. Though it can occasionally rise to art, Adult Swim programming is entertainment first and foremost. This special qualifies as that, so long as you aren't above a juvenile chuckle.
Green, Senreich and their long list of writers get some humor out of obscure DC characters and of anything else that suits them. There is a song closely resembling Armageddon's "I Don't Want to Miss a Thing" that's actually performed by Steven Tyler. He's far from the only celebrity contributing here. The voice cast includes such actors you'd recognize on-camera as Neil Patrick Harris, Alfred Molina, Nathan Fillion, Breckin Meyer, Aaron Paul, Megan Fox, Paul Reubens, and, of course, Green himself, who performs the lion's share of the franchise's dialogue.
With under 23 minutes of content including credits, the special inevitably opts for quick and numerous laughs, some of which it earns. The humor never gets sophisticated, smart, or esoteric, but a few gags benefit from some prior knowledge, like a Batman insult drawn from Christian Bale's Terminator Salvation set tirade. In short, it feels like a reasonably diverting half-hour of television, given barely more thought and time than an ordinary, less thematically unified "Robot Chicken" episode.
VIDEO and AUDIO
As you would hope and expect, the special boasts practically perfect picture quality in this Blu-ray's 1.78:1 widescreen presentation. This outing maintains the show's slapdash aesthetic, in which mouths are CG-animated separately to save time. Such a measure is understandable given the demanding nature of stop-motion and the series' crude sensibility.
The Dolby TrueHD 5.1 soundtrack is lively and immersive. Some profanity (namely, the F-word in its many forms) remains bleeped in the feature presentation, while other expletives are uncensored, suggesting it comes down to creative decision (or maybe just Adult Swim Standards & Practices). English SDH subtitles are provided for the special, but not the many extras I'm about to discuss.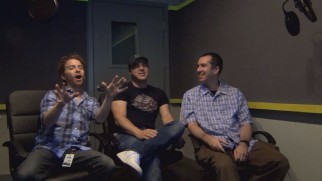 BONUS FEATURES, MENUS, PACKAGING and DESIGN

Recognizing that a 23-minute special might be a hard sell on its own, the Blu-ray packs on the bonus features, assembling over two hours of visual and aural supplementation, the former of which are all presented in HD.

The extras begin with "The Making of the RCDC Special" (10:15), which takes us behind the scenes, revealing it was written as quickly as you suspect (a couple of weeks) and then covering the elements that went into creation,

from recording famous actors to the modification of figures, construction of sets, and the painstaking photography.

"RCDC's Aquaman Origin Story" (1:27) finds the writers disputing whose idea it was to make Aquaman the hero of the special.

Next up come three ways to enhance playback of the special, none of which can be combined. "Chicken Nuggets" lets you leave the special for short clips of scene-specific video commentary from "Robot Chicken" creators Seth Green and Matthew Senreich and DC chief creative officer Geoff Johns (comic book writer Robert Kirkman joins them three-quarters of the way in). Far from an ideal presentation, this would have been much more easily digested as a picture-in-picture track instead of asking you to press enter every few seconds when the Robot Chicken logo appears, leave, and return.

The first audio commentary features writers Geoff Johns, Tom Root, Zeb Wells, Mike Fasolo, Matt Beans, and Kevin Shinick. The laughs flow as they credit one another for gags, elaborate on the jokes, marvel at the voice cast, point out the subtle details, and reflect on cut bits and other revisions made along the way.

The actors' commentary features Abraham Benrubi, Alfred Molina, Seth Green, Matthew Senreich, and Tom Root. They talk about their experiences with comic books, their collections, and their high school shaving difficulties. Green provides a creator's perspective regarding characters' appearances, Molina reflects on playing Doctor Octopus in Spider-Man 2, and there's general commenting on the jokes and ideas as they surface. Neither track is a must-hear, but each gives some insight into the makers' mindset.
"DC Entertainment Tour" (7:16) offers a candid look at an evidently cool workplace, as Green, Senreich, and Johns explore DC's toy graveyard, video game testing area, product room (which they raid), and comic book archives. This piece illustrates the series has ample reason to make a special about any entertainment giant with a sense of humor.
"Stoopid Alter Egos" (3:46) shows us crew members playing dress up as DC superheroes first to promote the special on Hollywood Boulevard and then to celebrate the production at a wrap party.
"Outtakes" (2:01) show us voice actor goofs and silliness.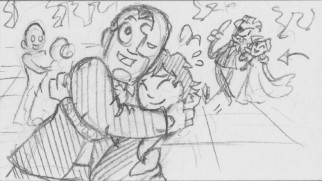 Ranking among the disc's most substantial inclusions, Thirteen "Cut Sketches" (15:15) present deleted bits as animatics, voice recording session clips, storyboards, and story pitches, many of them with explanatory writer introductions.

While much of these are little more than brief gags, some are more substantial, like a bathroom sequence and a Twilight-themed Teen Titans prom.

The listed on-disc extras conclude with "5.2 Questions" (2:13), a short from DCComics.com which has Green, Senreich, and Johns reveal their favorite DC superheroes, late night snacks, and graphic novels.

A 10-second Easter egg surveys the superhero figures, but I have no idea how you can find it other than digging around the disc's files on a BD-ROM drive.

The final extra is found within the eco-friendly blue keepcase: an insert supplying your unique code for redeeming an UltraViolet stream of the special from now through July 2015. Another insert lists special features and promotes the official website of production company Stoopid Monkey.

The menu plays the special's opening score over a static shot of villains hidden Trojan Horse-style inside the Unicorn cake. The disc doesn't support bookmarks, but does resume playback of anything unfinished.
CLOSING THOUGHTS
Robot Chicken: DC Comics Special applies the enduring stop-motion comedy series' signature irreverence to famous superheroes and villains. The results are what you would expect: there are some laughs to be had, so long as you're not above crass and immature gags. There's nothing brilliant or lasting about the satire, but it makes for a relatively entertaining twenty-three minutes.
Loaded with bonus features, the Blu-ray adds considerable value to the lightweight special it presents flawlessly. That may be enough to encourage a purchase from those who enjoyed the program or simply want to see it. It does strike me as more of a one-time viewing than something to regularly revisit.
Buy Robot Chicken: DC Comics Special from Amazon.com: Blu-ray / DVD