"Workaholics" has already been renewed for fourth and fifth seasons, which makes it one of the most successful shows in the twenty-year history of Comedy Central and

one of the network's very few live-action sitcoms to endure for more than a few years. The renewal came in January and Season 4 hasn't yet been scheduled. Nonetheless, Season Three, which aired from May 2012 to March 2013, hit DVD and Blu-ray this week.

"Workaholics" is a show that's easy to describe and easy to jump into at any episode. The series centers on three young men who are housemates, carpoolers, co-workers, and even cubicle mates. Though in their twenties, these best friends have a common mindset you'd expect of immature adolescents. There isn't much to distinguish the leads by personality: Anders "Ders" Holmvik (Anders Holm) is somewhat of a go-getter, Adam DeMamp (Adam DeVine) is kind of vain, excitable, and holds delusions of strength, and Blake Henderson (Blake Anderson) is sort of easygoing yet unpredictable. If you haven't seen enough of the show to know character names, then you'd likely identify Ders as the tall one, Adam as the short one, and Blake as the one with the wild hair and mustache.
I've had conflicting feelings about "Workaholics" since I first saw it nearly two years ago. I find each character obnoxious and unlikable. They're all about getting high and misbehaving while coasting through life in a meaningless job.

Sitcom leads need not be role models, but they generally need some redeeming qualities to want to visit their world each week (or as the case increasingly is, en masse). And yet, this show manages to somewhat overcome its lot of losers with moderately diverting scenarios and the occasional on-target gag.

Most of the latter come in the form of 1990s nostalgia that kids who grew up on Nickelodeon will love. "Workaholics" is one of the first shows to celebrate '90s culture on a regular basis. While the rest of film and television continue to pay tribute to and/or remake the works of the '70s and '80s that they grew up with, these three leads, who are also creators, executive producers, and sometimes writers, are unusually young to be in a position of power and accordingly lean heavily on pop culture references that have meaning to them. Not since "I Love the '90s" has cable television paid as much homage to the decade that ended fourteen years ago. I'm the perfect age to enjoy these jokes, but find it regrettable to have to endure such idiotic antics to get the occasional winning nod.

Immaturity pervades this series and every one of its storylines. Season Three opens with some of the most brazen blasphemy I can recall seeing on basic cable (a subsequent episode goes as far or even further). The season ventures outside the workplace more often than not and assumes the forms of action, horror, and sci-fi thrillers at times, neither of which are bad things. But these protagonists are just the worst. They don't ever talk like normal people. So lacking in taste are they that they literally can't go an entire episode without talking about the size of their penises.

While the show isn't oblivious to the guys' lack of social graces and casts them as underachieving underdogs, it glamorizes their jaded, self-absorbed, drug-fueled lifestyles, making them some kind of antiheroes for their lazy generation. Even more troubling is that though the actors describe the characters as dumber versions of themselves, their beyond inane audio commentaries and interviews reveal themselves to be even less tolerable than their fictional versions. For these young men to succeed when far more creative and talented individuals fail to get anything resembling their opportunities is unfortunate. Not that many of the over one million viewers tuning in each week realize how their viewership is shaping the state of contemporary comedy television in a regrettable way.
One begins to see the effects of the series' success in Season Three, which runs as long as the first two seasons combined, a more traditional twenty episodes, albeit divided into two batches on the air. Once limited to original music, the show now has room in its budget to feature tunes from the likes of Vanessa Carlton, Daniel Powter, The Black Keys (who also cameo), and Xzibit. There's also room to land guest stars you recognize by face if not name. Alex Borstein, Daniel Stern, William Atherton, Robert Englund, Sally Kellerman, Tom Green, Rumer Willis, Tim Heidecker, Kiersten Warren, and Bruce McCulloch each feature in an episode, all of them ending up delivering embarrassing content in exchange for some youth relevance and credibility.
The series even seems to treat television as a tease for uncensored DVDs, as profanity flows here (although most nudity remains blurred). As the show ups its crudeness, the laughs seem to grow fewer and further between. It takes almost a perfectly-timed joke to cut through the rampant and increasing air of unpleasantness.
Disc 1

1. The Business Trip (21:21) (Originally aired May 29, 2012)
The guys and their boss Alice (Maribeth Monroe) drop acid in a hotel in an attempt to land a contract during a business convention.

2. True Dromance (21:21) (Originally aired June 5, 2012)
The guys cheat on their dealer Karl (co-creator and most frequent director Kyle Newacheck)

by buying "grass" from a tattoo parlor employee (Rumer Willis).

3. Fat Cuz (21:21) (Originally aired June 12, 2012)
The guys get Adam's obese cousin (Jeff Howard) a job so they can use his handicapped parking permit.

4. To Kill a Chupacabraj (21:17) (Originally aired June 19, 2012)
The guys take Montez (Erik Griffin) to small claims court after he sells them a broken hovercraft.

5. Good Mourning (21:22) (Originally aired June 26, 2012)
In the wake of a co-worker's death, the guys try to show two Swedish girls a good time.
6. The Meat Jerking Beef Boys (21:21) (Originally aired July 3, 2012)
Ders' father (William Atherton) visits, prompting Ders to pass a house for sale as his own, while Blake and Adam turn their place into a meat factory. (In a bit of foresight backfire, a found G.I. Joe: Retaliation ticket stub features, nine months before the movie's delayed release.)
7. The Lord's Force (21:21) (Originally aired July 10, 2012)
The guys befriend two religious bodybuilders who are kicked out of their church for being gay.
8. Real Time (21:06) (Originally aired July 17, 2012)
After bombarding their boss with drunken voicemails, the guys spring into action to get them erased.
9. Ders Comes in Handy (21:06) (Originally aired July 24, 2012)
Ders tries to make things right after accidentally breaking up Montez's marriage.
10. Flashback in the Day (21:21) (Originally aired July 31, 2012)
We see how the guys first met in college, with Blake and Adam being freshman roommates, Ders as their RA, and Karl as a janitor.
Disc 2
11. Booger Nights (21:22) (Originally aired January 16, 2013)
Offended their workmates don't find them funny, the guys set out to prove otherwise at a co-worker's roast.
12. A TelAmerican Horror Story (21:22) (Originally aired January 23, 2013)
During a supermoon, the guys stay at the office in the presence of a supposedly possessed portrait.
13. Alice Quits (21:21) (Originally aired January 30, 2013)
Alice the boss quits and is replaced by her superior (Daniel Stern), who quickly makes work hell for the guys.
14. Fourth and Inches (21:15) (Originally aired February 6, 2013)
The guys get hooked on sports gambling and wind up betting big on a high school football game.
15. Webcam Girl (21:16) (Originally aired February 13, 2013)
After striking out with real girls, the guys start a relationship with an adult webcam performer (Tyler Kain) on Valentine's Day.
16. High Art (21:21) (Originally aired February 20, 2013)
While Adam and Ders pitch ideas to their old classmate who's opened a new night club, Blake joins Karl's street art collective.
17. The Worst Generation (21:21) (Originally aired February 27, 2013)
The guys hang out with residents from Adam's grandfather's retirement home.
18. Hungry Like the Wolf Dog (21:22) (Originally aired March 6, 2013)
The guys and Jillian (Jillian Bell) get stranded in the woods at night and try to survive.
19. In Line (21:21) (Originally aired March 13, 2013)
Adam runs afoul of drug addicts trying to buy a new video game, while Ders tries to score with a Goth girl.
20. The Future Is Gnar (21:21) (Originally aired March 20, 2013)
This season finale imagines a near-future where machines have taken over at TelAmeriCorp.
VIDEO and AUDIO
In this digital age, it seems tough to mess up a new movie or TV show on Blu-ray. Comedy Central does not pull off that feat, as "Workaholics" boasts razor-sharp and pristine 1.78:1 picture. As before, sound is offered both in Dolby TrueHD 5.1 (the default) and Dolby Digital Stereo 2.0, each leaving the show's soundtrack completely uncensored, save, for some reason, "Tubba Sparks", the guys' nickname for a bathtub full of a banned drink. Why there isn't the option to hear the censored soundtracks that air on TV, I don't know. You can make the case, as the new "Arrested Development" (whose first episode guest stars the "Workaholics" trio) does, that bleeped profanity is funnier than the real thing. It's not like it should take any more work to include either. I did notice that the audio seemed to be slightly out of sync on one episode.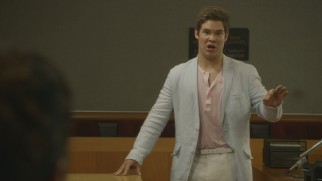 BONUS FEATURES, MENUS, PACKAGING and DESIGN

As usual, every "Workaholics" episode is joined by audio commentary by the cast/creators, dubbed "Drunkmentary." If you hoped or feared that these guys have grown up since last time, the show itself should prove otherwise.

As usual, the three leads, their regular director/fellow creator/occasional co-star Kyle Newacheck, and various writers and producers keep the level of discourse shockingly low, as their crude observations and attempts to break legal boundaries (few of which are actually edited out) are peppered with farts, burps, inside jokes, sexual accusations, auditing threats, and random, repeated utterances of "That's hot."

Additional HD video extras appear on Disc 2.

A reel of bloopers (9:31) shares takes blown by laughter, unused improvisations, and playful behind-the-scenes material never intended to air.

"Alternate Takes" (9:05) share with us variations of existing bits from the season.
Montez serenades his wife in colorful green screen environments in his "My Queen" music video (2:58),

seemingly created for the show's official website.

Finally, we get three episodes of "Workaholics: The Other Cubicle", the web series that puts the show's secondary characters -- Montez, Jet Set (the late Jet Set Hudson), and the silent Waymond Womano (Waymond Lee) -- in the foreground. In "Bill for a Day" (2:51), Montez and Jet Set reluctantly let another co-worker (Bill Stevenson) set up in their cubicle. "Over the Top" (2:32) finds Jet Set arm-wrestling Waymond. "Nap Time" (2:52) finds Jillian joining the guys and understanding their need for siestas.

The menu uses stop motion to fill and unfill the three leads faces with degrading titular graffiti while a complete, extended version of the theme song plays. Annoyingly, these Blu-rays do not resume playback or track your progress. Every episode is divided into five or six chapter stops.

The eco-friendly keepcase's lone insert advertises the show's online Complete Guide to Celebrating Half Christmas.
CLOSING THOUGHTS
"Workaholics" is fairly easy to watch and has its funny moments, but it leaves you feeling stupid and dirty. It's sad that this depraved program is the best comedy that basic cable television has to offer young adult creators and viewers. As it grows more successful, the series seems to be getting nastier, grosser, and less funny. This group is capable of producing something smarter and less crude, but as long as this job is serving them well, what reason do they have to aim higher?
Comedy Central's Blu-ray is incredibly low-priced and treats the series to high quality video/audio plus plenty of bonus features including insufferable commentaries on every episode. I can't recommend the show, but those able to enjoy it should find this release one of the best ways to do so.
Buy Workaholics: Season Three from Amazon.com: Blu-ray / DVD / Instant Video