Having seen every other film released by Disney Feature Animation, including all other late '40s anthology pieces, I went into Make Mine Music with reasonable expectations. Those expectations were reasonably met, as the nine shorts here form a modestly entertaining film that blend music and animation.
Unfortunately, it needs to be stated right here that Make Mine Music actually had ten segments originally. One of those, "The Martins and the Coys", has been entirely edited out of this DVD, hence the green screen at the start of playback:
Along with Melody Time and Saludos Amigos (which were both edited to remove cigarettes), the cutting of this anthology film is most troubling. The 7-minute "Martins and Coys" segment spoofs a hillbilly feud, and apparently this could be viewed as offensive to Southerners who are disgusted by the portrayal of ignorant rednecks, I guess. I've also heard that the 'comic gunplay' could give children the wrong ideas about lethal weapons. I wouldn't know, as I've never seen the short. What would make more sense is to include an explanatory introduction by Leonard Maltin which could place the film's 'offensive material' within the context of the era. Alas, it's tough to recommend the film on the principle alone that one-tenth of it has been removed. But on to the nine-tenths that are preserved...
The film opens with "Blue Bayou," a slow lullabye you might use to put young ones to bed.
This followed by "All the Cats Join In," a jazz interlude featuring Benny Goodman and his orchestra. In this piece, a pencil is continuously just drawing the elements, which conveniently excuses the mostly barren frames. The minimalist animation does work a little bit, and at least it's a little lively.
Third is another slow piece, "Without You" performed by Andy Russell. This is pretty dreary, but at least, it's short.
"Casey at the Bat" follows. This is a spirited telling of the classic Ernest Thayer tale. There is dialogue and running 9 minutes long, this is one of the film's longest pieces. It's also one of its best, and even if it more resembles the old loony antic-filled Warner Brothers cartoons than Disney animation, it works.
"Two Silhouettes" is next, with song from Dinah Shore. As you might suspect from the title, the primary elements of this number are two outlines of human forms. They dance and are accompanied by two cherubs, also in silhouette.
Next up is the 15-minute "Peter and the Wolf" narrated by Disney legend Sterling Holloway, accompanied by Prokofiev's famous themes, which Holloway (the voice of the Cheshire Cat and Winnie the Pooh, among others) introduces at the start. The short engages with its tight narrative, even if it ends abruptly.
The Goodman Quartet does the short "After You've Gone" piece, which again relies on abstract visuals, including rambunctious brass instruments and piano-playing fingers that double as torso-less dancers. It's very good - short, but pointless.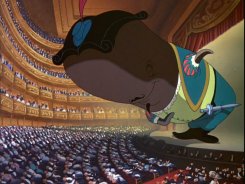 The Andrews Sisters perform "Johnnie Fedora and Alice Bluebonnet," a tale of headwear romance. The two department store lovers are separated when one is purchased. This 7-minute number is pretty charming, offering more to like than many of the film's other pieces. At least one question does go unanswered, though. Why aren't the hat owners startled by the fact that their accessories have eyes?
Make Mine Music ends with "The Whale Who Wanted to Sing at the Met," a 15-minute piece. Willie the Whale can sing opera, in three different voices, no less. This story naturally makes the newspapers in the human world. Tetti-Tatti, famous operatic impressario, sets out to sea to see this newsworthy whale, suspecting foul play; that the enormous mammal has swallowed a female opera singer. There's just something about this silly premise that makes it work, when you might not think it wouldn't. When Willie lets out "Figaro", it's one of the highlights of the film. Even if the short ends bittersweetly, it's an appropriate selection on which to end.