Being on basic cable channel FX gives television shows certain freedoms. The makers of "It's Always Sunny in Philadelphia" don't have to worry much about network standards and practices, keeping big-time sponsors and affiliates comfortable, appealing to a wide array of viewers, or delivering huge ratings. That liberates them to just focus on being funny. And they have, tackling subjects and scenarios that networks wouldn't think of touching, with amusing acrimony and extreme irreverence. The show can easily be deemed inappropriate for the young and for the old, but those who fall in between those remote demographics can find and have found plenty to like about this bold and humorous comedy.
The series centers on four close thirty-something friends living in the City of Brotherly Love. They're not smart or wealthy or successful or nice, but they're resourceful and always thinking of new ways to try to get ahead. Consisting of twins Dennis (Glenn Howerton) and Deandra a.k.a. "Dee" (Kaitlin Olson), chums from childhood Mac (creator Rob McElhenney) and Charlie (Charlie Day), and Dennis and Deandra's depraved father Frank (Danny DeVito), the gang owns and runs Paddy's Pub, an unpopular South Philly bar.
Their adventures are of the mundane variety and the laughs flow from the amusing characters, the distinctive tight-knit group dynamic, and the relatable interactions. The show is a clear product of partial improvisation, skillfully delivered by uninhibited, entertaining performers whom real life experience has rendered comedically compatible. An acquired taste, this original show doesn't get mired in aiming for broad appeal, opting to leave young adults with appetites for dark, dysfunctional humor heartily amused rather than semi-satisfying a larger cross-section of the population, as something like "Saturday Night Live" might.

The show's leading personalities speak like many youngish adults do. They talk fast and often over one another, changing tones on a dime, peppering in sharp barbs and random cultural references.

Other comedies were considered adventurous for not filling in designated laugh pauses with studio audience guffaws. "It's Always Sunny" doesn't even leave pauses, believing its viewers can judge what's funny or not and knowing if they're satisfied, they'll rewatch and catch any bits they were laughing too hard to hear.

Five seasons in, "Sunny" hasn't run out of steam or changed its ways, even as growing viewership has taken it far from being called TV's cheapest series. The show never relents from its cold, ironic tone for moments of heart or tenderness, something that may be off-putting to some (like those who miss the neatly-wrapped sitcoms of yore) but takes a certain nerve. It hasn't won a single award, but the show has won the undying appreciation and support of a loyal fanbase, the likes of which hasn't been seen since the kindred "Arrested Development" became the poster child for "too brilliant for network TV." (The 9.6 user rating "Sunny" now claims on IMDb is one of few to rival "Arrested"'s amazing 9.7; both scores are higher than those earned by wider-reaching fan favorites like "Seinfeld" and both English language versions of "The Office.")
Despite the gritty appearance, lewd antics, and earthy feel, this is almost art in its purest form. Little stands in the way of this comedy troupe and its audience. Nothing is perfect, though, and there is a hit and miss quality to this show. When it hits, it is often hilarious. When it misses, it is still eminently watchable. It's not always pretty to watch petty, vindictive underachievers bickering. But it's usually pretty funny.
This past May, "It's Always Sunny" began getting discovered by new viewers, as its reruns claimed two hours of Monday air on Comedy Central before the network's popular late night "Daily Show"/"Colbert Report" block. Still, this remains a show as likely to have been experienced on DVD as on television. Even smack in the middle of the industry's annual TV-on-DVD blitz with most of the big summer movies at least preorderable, The Complete Season 5 currently ranks highly on Amazon's bestsellers chart, appearing alongside decorated and far more exposed network and pay cable fare.
While the series is largely uncensored on DVD (black boxes still obscure Mac's anatomical towel drawings), it also largely is on FX, where the occasional bit of profanity goes unbleeped. As such the dirty words aren't a selling point. There is nothing too extreme, but the characters do use colorful language like many a person does.
Synopses follow and, while it was a challenge, I've limited myself to five favorite episodes of the season, which I've designated with a red star (

).
Disc 1
1. "The Gang Exploits the Mortgage Crisis" (21:48) (Originally aired September 17, 2009)
After Frank has trouble getting into the foreclosed home he bought, Dennis and Mac become a realty team. Deandra agrees to be a surrogate mother for a rich couple.

2. "The Gang Hits the Road" (21:12) (Originally aired September 24, 2009)
The gang's Grand Canyon road trip is repeatedly delayed in hilarious ways.
3. "The Great Recession" (21:08) (Originally aired October 1, 2009)
Hit by the poor economy, Dennis and Mac try to streamline Paddy's by adopting a Dave and Buster's model. Fired, Frank and Dee sell knifes and vacuums door to door.
4. "The Gang Gives Frank an Intervention" (20:31) (Originally aired October 8, 2009)
When his alcohol intake reaches annoying new levels of judgment impairment, the gang tries to get Frank help.
Disc 2
5. "The Waitress is Getting Married" (21:07) (Originally aired October 15, 2009)
Dee tries to break up the waitress' engagement to a man Dee dated in high school. Dennis and Mac help Charlie try online dating.

6. "The World Series Defense" (20:37) (Originally aired October 22, 2009)
In court, the gang pleads Dennis' thousands of dollars of parking tickets

by recounting their efforts a year earlier to get into a Phillies' World Series game.

7. "The Gang Wrestles for the Troops" (21:10) (Originally aired October 29, 2009)
The guys decide to host a wrestling benefit for the troops returning home from Iraq, a group that includes Dee's online boyfriend (though she might not admit it).
8. "Paddy's Pub: Home of the Original Kitten Mittens" (21:10) (Originally aired November 5, 2009)
Charlie's idea for cat-quieting kitten mittens inspires the gang to pursue Paddy's merchandising opportunities, a topic that raises a number of legal concerns for them and their go-to lawyer (Brian Unger).

9. "Mac and Dennis Break Up" (21:40) (Originally aired November 12, 2009)
Dee's comments on their co-dependency lead Mac and Dennis to take a friendship break. While Mac cleans up Frank and Charlie's place, Charlie helps Dee retrieve her new cat from inside her walls.
Disc 3
10. "The D.E.N.N.I.S. System" (21:18) (Originally aired November 19, 2009)
Dennis explains his five-step method for winning women's affections, a system he and the others then put to the test.

11. "Mac and Charlie Write a Movie" (21:10) (Originally aired December 3, 2009)
When Dee gets to be a featured extra in an M. Night Shyamalan film, Mac and Charlie write a Dolph Lundgren comeback movie script.
12. "The Gang Reignites the Rivalry" (21:11) (Originally aired December 10, 2009)
To prepare for Paddy's readmission into citywide flip cup championship Flipadelphia, the guys pay a visit to Dennis' frat house.
VIDEO and AUDIO
Remaining fairly true to its original design (and the pilot that cost between $85 and $200 to shoot), "It's Always Sunny" isn't the nicest looking show. Season 5 is the first to present it in 1.78:1 widescreen on DVD (and on air). The modest grade video tends to be a little blurry and grainy throughout. Mosquito noise isn't hard to spot.
Like previous seasons, the soundtrack is offered only in Dolby Surround. It's a little thin, although the frequently featuring score stretches back to the rear channel. Happily, the carefully selected and integrated samples of mid-'90s pop music (which the target audience will eat up) is all cleared for home video. This season's more memorable selections include Soul Asylum's "Runaway Train", Tag Team's "Whoomp! (There It Is)", and Seal's "Kiss from a Rose."
I wonder if Blu-ray, upon which this is the first season of "Sunny" released, would make the show look and sound better or just further underscore the technical limitations of production, since the latter -- not DVD resolution or compression -- are the cause of shortcomings.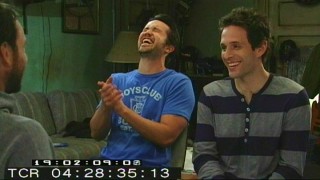 BONUS FEATURES, MENUS and PACKAGING

Bonus features begin with cast audio commentaries on six of the season's twelve episodes.

Rob McElhenney, Charlie Day, and Danny DeVito comment on "The Gang Hits the Road", delivering some behind-the-scenes information but more often just watching, being entertained, and reading characters. On "The Gang Gives Frank an Intervention", DeVito's few production tidbits are complemented by TV internist Dr. Drew,

who humorously discusses Frank's addictions, assesses the interventionist's techniques, and analyzes the show's characters.

On Disc 2, Day teams up with Glenn Howerton and Kaitlin Olson to talk about "The Waitress is Getting Married", returning us to the standard laugh-heavy observational format. Following suit, DeVito, Howerton, and Olson speak on "The Gang Wrestles for the Troops", touching upon guest star "Rowdy" Roddy Piper's method acting. Dr. Drew continues diagnosing characters and behaviors on "Mac and Dennis Break Up", where he is joined by Day and McElhenney. And Day, Howerton, and McElhenney supply another routine track on Disc 3's season finale "The Gang Reignites the Rivalry."

On the whole, the commentaries are good, not great. They're not must-hear extras, but they are a pretty neat way to rewatch the episodes with the people who most make them what they are.

Disc 1 supplies the pilot episode of FX's "Archer" (21:32), an animated workplace comedy about a smartass spy (voiced by H. Jon Benjamin). In this episode, Archer has to clear his feckless operations account at ISIS, the agency where he works with his mother (Jessica Walter) and feisty ex-girlfriend (Aisha Tyler). Featuring profanity, sex, and a touch of violence, this show would be at home on Adult Swim, where creator Adam Reed previously worked on "Sealab 2021" and "Frisky Dingo." I wasn't crazy about the show, but it provided a few laughs. Even if it didn't, it's ripe for discovering, making it a welcome and sensible inclusion here.

Disc 3 holds the bulk of the video bonus features.

The long Season 5 Blooper Reel (7:45) is full of the cast crack-ups you knew there had to be. Laughter is contagious and these outtakes steadily amuse.
A group of deleted and extended scenes (19:35) consists of four of the former and six of the latter. This is quite a bit better than your typical cut footage. Much of it is as funny as the show itself (if not funnier). The deletions are full-fledged cuts and the extensions aren't redundant or slight variations. Aside from not having a coherent narrative, this almost qualifies as a bonus episode by runtime and entertainment value.
A "Kitten Mittens endless loop" plays about 3 unique minutes of footage of various cats (presumably crew member pets) wearing Charlie's creations. The cats get toys and food to cushion the blow, but it's still a hoot seeing them struggle with and accept their paw coverings. As billed, it really does play ad infinitum unless you press "menu" or "stop."
"Phindin' Love in Philly" (4:30) compiles video dating profiles of three principal (Dee, Dennis & Mac) and two recurring (Mary Elizabeth Ellis' unnamed waitress and Artemis Pebdani's Artemis) characters. It's only mildly entertaining.
"Schwep Dream Sequence" (4:53), a.k.a. "The Gang's Fifth Season", is a montage of over 20,000 behind-the-scenes still photos from Season 5's production, taken with enough frequency and edited quickly enough by Dave Schwep to look like only slightly choppy video. In the absence of featurettes, this provides a nice, nifty glimpse at the making of the show.
Disc One opens with promos for FX, "The League": The Complete First Season, "Archer": Season 1, and It's Always Sunny in Philadelphia: A Very Sunny Christmas.
The creatively animated main menus have characters pop out of a dumpster in season-specific fashion as the show's signature public domain score and memorable Season 5 sound bites play. Like all of the show's menus and packaging (and this page), these screens are predominantly yellow.
The discs are packaged in a clear, standard keepcase, the interior artwork of which lists episodes and extras. An insert promotes the imminent new seasons of "It's Always Sunny" and "The League."
CLOSING THOUGHTS
"It's Always Sunny in Philadelphia" certainly isn't everyone's cup of tea and I took a while to warm to it. But at its best, it is perhaps the funniest show on television today. Season 5 just might be the show at its best; it at least shows no signs of creative fatigue. And like every TV show, seeing it on DVD at your own pace without commercial interruptions only strengthens it.
The three discs are lighter in content than they need to be and that may be to help justify a list price that's a little high compared to other contemporary TV DVDs. But the series' presentation and bonus features more than satisfy, earning this racy but oft-riotous program a clear recommendation.
More on the DVD / Buy from Amazon.com / Buy on Blu-ray / Buy Sunny DVD 6-Pack