By Reuben Gutierrez

If one were to judge a book by its cover, "Handy Manny" is Playhouse Disney's response to Nick Jr.'s popular children's programming, combining "Bob the Builder" with "Dora the Explorer." In many aspects, one would be right, but in the end, "Handy Manny" holds up well enough on its own merits. Leaving the big construction projects to Bob and his bulldozers and the yelling of Spanish lessons to Dora and Boots,

Manny is simply the friendly, bilingual neighborhood handyman with "You break it, we fix it!" as his motto. Apparently the citizens of Sheetrock Hills break things often, keeping Manny Garcia and his magical tools employed and viewers entertained.

With the instantly recognizable voice of "That '70s Show" star Wilder Valderrama, Manny comes off as a likable, believable hero-of-the-day. He charms the town (and surely the parents watching) with his wholesomeness and eagerness to help others. In his toolbox is a motley crew of big-eyed, talking tools that defy the laws of gravity as they bounce, balance, and float around town. The gang of herramientas (tools) are quirky little characters with witty names such as Pat the hammer (voiced by Tom Kenny), Stretch the tape measure (Nika Futterman), Squeeze the pliers (Nika Futterman again), Rusty the monkey wrench (Fred Stoller), and Dusty the saw (Kath Soucie). Adding a bit more flair are the pair of screwdrivers: practical and sometimes grumpy flathead Turner (Dee Bradley Baker) and the fun-loving Phillips Head Felipe (Carlos Alazraqui). Their antics and arguments remind one of pairs like Sesame Street's Bert and Ernie.

The other regular characters of "Handy Manny" include Mr. Lopart (Tom Kenny), Manny's next-door neighbor, and Kelly (Nancy Truman), the sweet owner of the hardware store. These two humans are locked into the same roles each episode, and do little beyond what they were created for. Mr. Lopart is essentially the antithesis of Manny: a stubborn man not nearly as happy-go-lucky as his neighbor. Every day when Manny heads into town, he passes by Mr. Lopart, who is usually trying to do a repair on his own. Manny offers to help and Mr. Lopart always refuses, resulting in some sort of comic outcome that always includes Mr. Lopart's comb over going astray. Kelly's daily routine is to greet Manny and the tools ("Hi Manny! Hi tools!") and have whatever he needs for the day ready for purchase.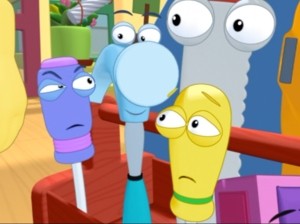 As on other children's shows, the writers use the power of repetition to stimulate a child's brain and teach a valuable lesson or new phrase. In addition to seeing Mr. Lopart and Kelly play their usual parts for the day, the tools and Manny sing the same two songs in each episode, much like the first few bars of a "Higglytown Heroes" song or the time-to-think "Noodle Dance" of the now-cancelled Playhouse Disney show "PB&J Otter".

Before setting off to a trusty repair job, Manny counts off in Spanish and the tools sing their "Hop Up, Jump In" song as they hop up and jump into Manny's tool box. The bilingual ditty manages to teach viewers a little bit of Spanish. They sing things like "come on, let's go" and then Felipe repeats with "Si vámonos." The second number, "We Work Together" (like rama lama lama ke ding a de ding a dong!), occurs near the end of the episode when the tools learn (again and again) the importance of teamwork to whatever the given project. Surely, after just a few episodes, parents and their preschoolers will have the songs memorized and be singing them at the most inopportune times.

The repetitiveness of the episodes provides the show's few shortcomings. The songs do well to reinforce the themes and the Spanish counting lessons, but they also reduce the show to a basic lesson of the day. Four of the five episodes on this DVD end up being about working together due to your own special skills. If Manny isn't fixing something (which he seldom does, since the tools seem to do most of the work), he's reassuring his tools that they each are special in their own way, but only when they work together will they find success. This is a terrific lesson to enforce over the course of a few episodes, but its overuse could turn viewers away if the show attempts to teach children the same lesson over and over again. One would think the tools would finally learn and get the picture after a few episodes.

For each negative aspect, there must be a positive one to make up for it, and "Handy Manny" surely gets extra points for the many little details that set it apart from other children's programming. One of the obvious benefits of the show is the subtle Spanish lessons intertwined in the show. Characters talk to each other in English and sometimes repeat their words in Spanish or vice versa, creating a bilingual atmosphere. Also, unlike Playhouse Disney shows like "Little Einsteins" and even Nick Jr.'s "Dora the Explorer", the episodes play without a narrator or audience participation (you know, where characters give long awkward pauses while they blink at the viewers until everyone's saved by a recording that finally answers their question). Another positive element of the show is the hardware terminology and little lessons Manny and the tools share, thanks to the producers' wise decision in hiring a curriculum consultant for the repairman lingo. For instance, Felipe the Phillips Head screwdriver advises to use the smaller Phillips Head screws over the larger flathead screws for a particular project. Pretty soon, little boys and girls all over the world will be helping mom and dad with their little fix-it projects (in Spanish, too!).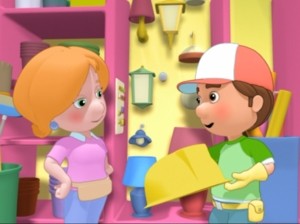 The less obvious details of "Handy Manny" that I found welcoming were the little things like diversity among the citizens of Sheetrock Hills. They come from different cultural and social groups like different world countries and even the handicapped community. Also, I found it delightful that the creators chose to break down gender stereotypes since they made the owner of the hardware store a female.
Nelvana Limited, the production company of the show, yields charm and attractiveness in their animation and design of "Handy Manny." Characters and their surroundings are made of soft solid colors and pastels that are never overwhelmingly bright or blinding. Their roundness and fat lines make the animation very "huggable" and easy on the eyes. At times, the smooth animation seems like a combination of CGI and traditional two-dimensional animation. It's not as plastic-looking as "Mickey Mouse Clubhouse" and not flatly 2-D like "Little Einsteins." Stylistically, "Handy" falls somewhere in the middle, offering a rounded cartoon style in the CGI design.
After debuting September of 2006, "Handy Manny" has managed to find its way to the world of DVD with this 5-episode compilation entitled "Handy Manny": Tooling Around.
"Squeeze's Day Off" (11:14) (Not Yet Aired)
No one seems to be needing repairs today, so Manny and the tools decide to relax with puzzles and music. On the other hand, plucky pair of pliers Squeeze is eager to keep on working and isn't comfortable with the absence of repairs.
"Amigo Grande" (11:15) (Originally aired October 7, 2006)
Mr. Chu, the principal of Sheetrock Hills Elementary calls to have a new flagpole installed, but it is too big for Manny and his tools to do by themselves. Manny calls his friend Ben and his special tool, Amigo Grande (Big Friend), a crane. The tools get the wrong impression and feel that Amigo Grande is more special than them.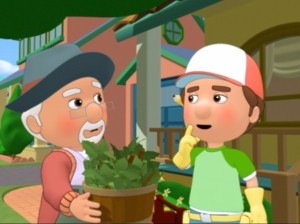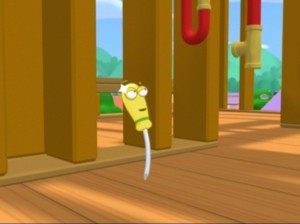 "A Sticky Fix" (11:15) (Originally aired September 16, 2006)
Mr. Noodlander (voiced by Valderrama's "'70s Show" co-star Kurtwood Smith) needs help fixing the Good Citizen trophy in time for the award ceremony. When Manny leaves the tools unattended with the special trophy goma (glue), Felipe and Turner argue over who's the smarter and stronger screwdriver, and find themselves in "a sticky fix."

"Pat the Screwdriver" (11:14) (Originally aired September 23, 2006)
Pat the Hammer is jealous that the screwdrivers Turner and Felipe are always used in repairs. While fixing the steps of Abuelito's front porch, Pat bangs his head too hard and gets selective amnesia, leading him to think he is a screwdriver.

"Supremoguy" (11:50) (Originally aired September 30, 2006)
Manny and the tools are eager to help Joe Bolotero at a home construction site. Felipe pretends that he is the tools' favorite comic book hero, Supremoguy.

His fantasy gets out of hand when he does everyone else's job.
Note: The added 35 seconds are closing credits for all five episodes.

VIDEO and AUDIO

It's getting harder to assess video quality on new shows since... well, being new, the image will almost always look great. There's a degree of softness to the animation, likely a creative decision rather than a shortcoming in the transfer. However, it's worth pointing out that "Supremoguy" does come off as a bit too soft; the episode does look rather fuzzy compared to others on disc.

The default audio track for each episode is a 5.1 Dolby Digital English track, which evenly balances the catchy music with the show's dialogue and a few effects. In addition, all episodes except for the not-yet-aired "Squeeze's Day Off" contain a Spanish track in Dolby Surround. It's interesting to note that the bilingual show remains bilingual even in Spanish, as any phrases in Spanish are said in English, and vice versa. It's especially helpful as Spanish-speaking children can learn a little English. Oddly, Wilmer Valderrama doesn't provide Manny's Spanish voice, despite knowing the language fluently.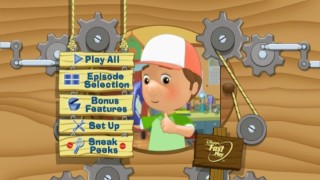 BONUS FEATURES, MENUS and DESIGN

"Build it with Handy Manny" is the lone bonus feature on this DVD. Like practically every other set-top game in Disney DVD history, this one is a simple and basic memory activity, requiring minimal button-pushing and basic knowledge of the same tools Manny uses. He asks you what tool should be used for several tasks

that lead up to building a dog house for his robotic dog Fix-It. Then you have to navigate around his shop to find where the tool is hiding. For repeat game play, the tools mix up their hiding places every time you start a new game. Unlike some other set-top games (that usually leave you feeling gypped after going through button pushing madness), Manny actually supplies winners with an actual reward: an interactive feature allows viewers to play with Fix-it by choosing commands to make him bark, spin, and jump. For anyone over the age of the target audience, the game merits at most two plays to determine its full functions.

All the menus are enhanced for 16x9 televisions, although only the main menu contains a loop of the show's score. It's nicely animated with spinning cogs set on a wooden board that opens to reveal Handy Manny and an introduction of his talking tools. Submenus offer stills of the characters with the menu options set in the same wooden theme.

As expected of a Playhouse Disney DVD, the disc is enabled with Disney's FastPlay and opens up with trailers for "Enchanted Tales": Follow Your Dreams, "Little Einsteins": Race for Space, "My Friends Tigger & Pooh": Super Sleuth Christmas Movie, and "Little Einsteins": Rocket's Firebird Rescue. From the Sneak Peeks menu, additional promos can be found for "Mickey Mouse Clubhouse": Mickey's Great Clubhouse Hunt, "My Friends Tigger & Pooh" and the Disney Movie Rewards program.

Enclosed on the case for "Handy Manny: Tooling Around" is a $6 coupon for use when purchasing said DVD and the concurrently-released "Little Einsteins": Rocket's Firebird Rescue. There is also a sticker advertising that this is Handy Manny's first time on DVD and includes a Never-Before-Seen episode (the claim is surely to be out of date a few months from now). Inside the DVD are the usual Chapter Guide inserts and advertisements for Playhouse Disney: Live! On Tour and the same shows and movies featured in the Sneak Peeks.
CLOSING THOUGHTS
Though "Handy Manny" is primarily aimed at children, this 20-year-old reviewer found the show attention-capturing and easy to enjoy. I even laughed out loud at some of the jokes. The entertainment value of the show could be credited to the facts that the episodes are short and that characters don't talk down to the audience to the degree of most other shows aimed at the preschool demographic. The back of the DVD case promises "fun the whole family will enjoy over and over again." They were right about one thing: the whole family may enjoy the show. Whether that joy can occur "over and over again" remains to be seen. Episodes come off as repetitive at times, but are smartly written with subtle bits of Spanish phrases and accurate facts about home repair and construction. Even with its shortcomings, "Handy Manny" is entertaining enough to not bore Mom, Dad, or Babysitter out of their mind. It's a nice alternative and the little nuances keep the show different and fresh in comparison to the other children's shows out there.
The DVD offers five short and sweet stories and one set-top game. The entire disc could probably do well to occupy a child for an hour's worth of "Handy Manny" entertainment until a new episode airs the following morning. I'd recommend this DVD to any parent looking for a fun, new and educational character to add to their child's DVD library.